Welcome to the 761st Tablescape Thursday! Recently Warren sent me an email sharing a dilemma he found himself in–his wife had placed him on a dish ban. 😉 I'll let Warren explain below.
"Recently, I had a problem. I love to create colorful, sometimes whimsical but also functional tablescapes for our frequent dinner parties, however, there are only so many different tablescapes one can set from a limited number of items. The attic storage space for my tablescape items is full and my wife, Kathie, has assured me that she would be mighty unhappy
if I came home with another set of dishes or glasses. HomeGoods is now off-limits. Undeterred, I decided to design tablescapes around "fancy cakes", which would serve as the centerpieces of the settings. Accordingly, I have taken up cake decorating (at which I am terrible but improving)."
In his email, Warren described three cakes he had created for dinner parties, including a fourth wintertime tablescape that was set for a small reception for a family friend. Warren said, "Kathie wanted to serve a Hawaiian Wedding Cake for the Easter dinner dessert. I decorated three cakes. The first two cakes were decorated with styrofoam cake forms, which I used for practice. The third cake was the real deal."
"On the first cake, I used a Crisco buttercream frosting, which was grainy; I could not get it smooth. Continuing the Hawaiian theme, I made royal icing hibiscus flowers for the top. There are a number of YouTube videos on how to make these flowers. Following the Wilton tutorial, I made about 60 of these flowers of which 25 broke and 14 were so bad I discarded them. I was
distracted chatting with my sister-in-law when adding the bottom border and it came out terribly. A row of purple roses partially hides the disaster. Although this cake did not make it into a tablescape, I liked the arrays of flowers on it."
Warren's beautiful Easter table setting… I think I see one of the practice "display" cakes there in the background.
A pretty floral table runner–perfect for spring.
Beautiful floral and bird-themed dinnerware!
If I read Warren's email correctly, I believe this cake is the real deal. Can you imagine cutting into this gorgeous cake?!
Sooo pretty!
Warren's Winter Table Setting for a family friend… How beautiful!
Love the candlelight!
Love how Warren decorates his cakes to coordinate with his beautiful table settings and dinnerware!
I think this is one of the "centerpiece" cakes Warren created.
Beautiful setting! Love those napkin rings!
Wow! I'm in awe of these cakes! They truly are works of art! Warren could literally have a whole second career teaching cake decorating!
It would be so nice if there was a way to preserve these indefinitely. Just beautiful!
Warren said, "And then there is the law of unintended consequences. I made a blueberry cake with lemon curd filling and a lemon buttercream frosting for a holiday party with neighbors. The buttercream frosting was too soft and I had trouble getting it to adhere to the cake. It stuck after I cooled the cake in the freezer. While it was still cold, I poured chocolate ganache over it and added buttercream roses. Proudly, I displayed the cake on a table with a lamp, which nicely illuminated the cake. Disaster! The heat of the lamp was sufficient to melt the buttercream frosting on the back of the cake; the frosting then oozed down onto the cake plate and then onto the table. My guests had a good laugh and then heartily ate the cake!"
Thanks so much to Warren for sharing his wonderful talents! His cakes all look so professional–prettier than most of the ones I've come across in most bakeries! Warren is such an inspiration! I really believe THIS is the secret to staying young–never stop learning and trying new things!
Looking forward to the beautiful tables linked for this week's Tablescape Thursday! (If you enjoyed this post, subscribe for free email updates when a new post is up here: Subscribe for post updates.)
Tablescape Thursday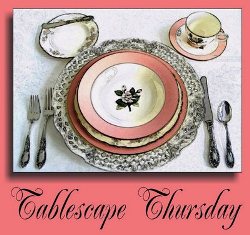 If you are participating in Tablescape Thursday, please be sure to add your permalink below, and not your general blog address. To get your permalink, click on your post name, then copy and paste the address showing in the address bar, into the "url" box when you link up. You'll need to include a link in your post back to the party to link up and participate. That's so visitors to your blog will be able to find the party and the other Tablescape Thursday participants. Please link up table-setting-related posts only for Tablescape Thursday. Please link up table-setting-related posts only for Tablescape Thursday.
You are invited to the Inlinkz link party!
*If a post is sponsored or a product was provided at no charge, it will be stated in post. Some links may be affiliate links and as an Amazon Associate, I may earn from qualifying purchases. *