Greenwood Plantation, A Greek Revival Home in St. Francisville, Louisiana
Greenwood Plantation, a Greek Revival home in St. Francisville, Louisiana, was one of my favorite homes of all the homes my friend, Linda and I toured on our trip to Louisiana. Greenwood is located in West Feliciana Parish which is about an hour's drive north of Baton Rouge.
In 1960, something terrible happened to Greenwood, it went up in a blaze of fire.
Source for photo above and below
Here's what was left after the fire…just the beautiful columns and chimneys. Heartbreaking!
The current owner, Richard Barnes (pictured below) and his father purchased the remains and rebuilt it exactly as it had been. Richard did much of the work himself, talk about a labor of love! He still lives in Greenwood with his wife and family. We arrived at the perfect time and were fortunate to have him as our guide for the tour of this home.
It was one of the best tours of the trip because he went into so much more detail than you would normally get during a home tour. He even invited us into a sitting room where our small group all sat down and visited with him, listening to the history and more recent happenings inside this amazing home.
Today, Greenwood stands proud again and has been the filming location for many movies and two TV mini-series. Some of the movies filmed at Greenwood are: Drango, Sister, Sister, Bonnie and Clyde, G.I.Joe: Retaliation and The Host. The TV mini-series, North and South were filmed here, too.
Greenwood Plantation was originally built in 1830 by William Ruffin Barrow. The style of the home is Greek Revival and it has 28 columns, spanning all four sides of the home. The original plantation spread over 12,000 acres and produced cotton and sugar cane up until the Civil War aka War Between The States. Today it's still a working plantation producing cattle, hay and pecans on over 300 acres.
Much of the expansive lawn in front of Greenwood is planted in Live Oaks. It's an amazing sight to see!
Some of the oaks had resurrection fern growing in them, how appropriate for this home with its history, huh?
Are you familiar with this fern? It looks dead during periods of drought but once the rain returns, it comes back to life and turns green again. It can even lose up to 97 percent of its water content and still come back to life when it rains. Most plants can only lose about 10 percent, any more than that and they usually die. It was in its possum stage and playing dead when we visited.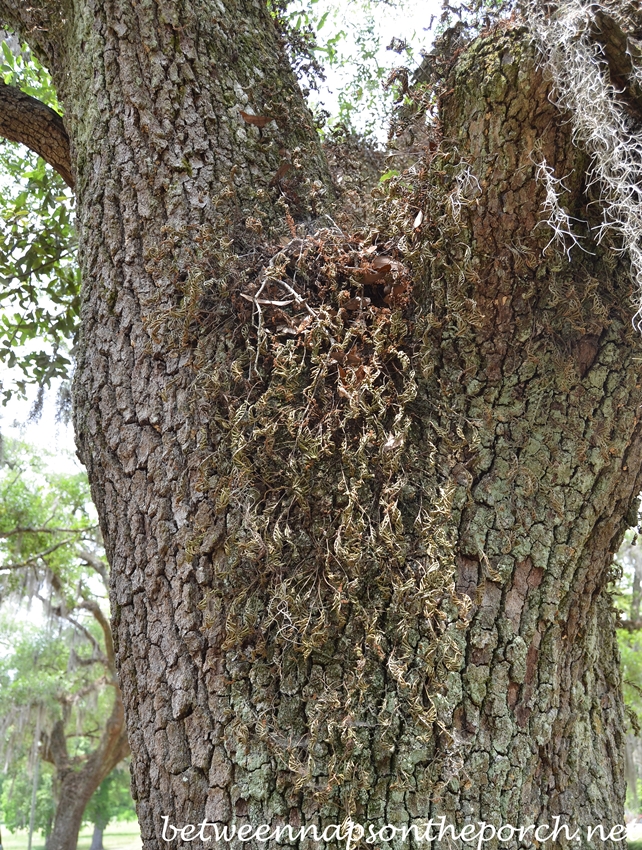 Let's go inside Greenwood and take the tour.
This grand entrance hall is 70 feet long. The doors off this baronial hall have silver door knobs and hinges.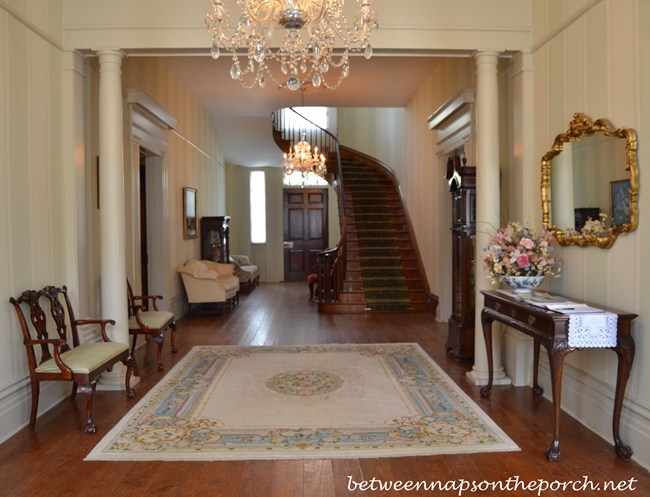 There were so many gorgeous chandeliers throughout the home.
I took a close-up of the one in the above picture as I descended the stairs after touring the upstairs part of the home.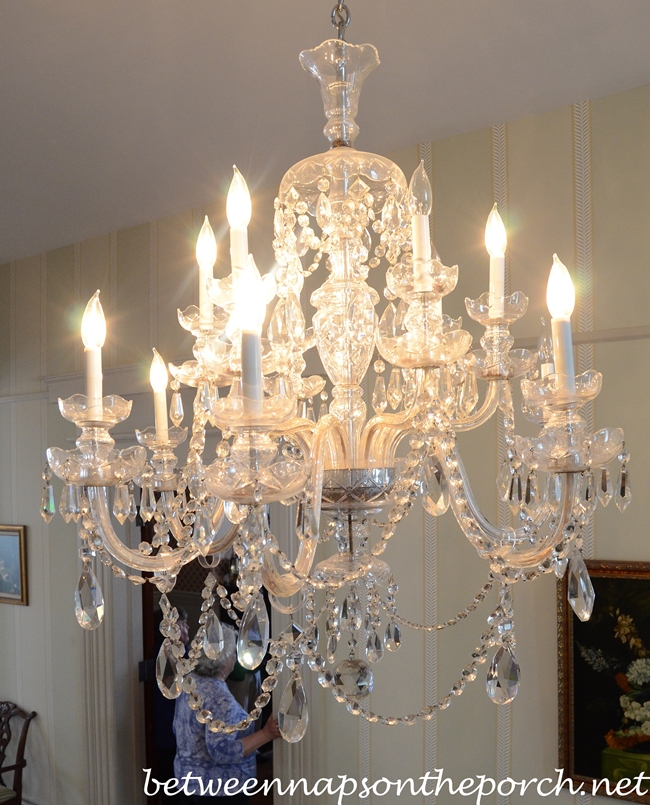 The owner, Richard Barnes, led us first into his study. One interesting fact Richard shared with us is that each time the home is used in a movie, they often decorate or furnish some of the rooms for the filming in that room. He's been able to acquire some nice pieces of furniture and even some antiques along the way. This was the fireplace in his study. I've forgotten the story behind the gun but I think it's a family piece.
I love old canes and have a small collection of antique and newer canes in my foyer as seen in this post: Cane Collection
A closer look…anyone else love old canes or love to collect them?
I think this was the parlor…another beautiful chandelier.
Close up of the chandelier in the parlor…
If I'm remembering correctly, the table here in the dining room was an original piece dating back to when the home was built. That's my friend, Linda, taking pictures on the other side of the room.
Update: Linda helped me out in the comments…she said, "Susan, if I remember correctly, Rick Barnes said that some furniture that had been given to relatives was returned to him when he placed the ads in the newspapers requesting pictures and information about the original Greenwood prior to him starting the reconstruction. He said he got over 350 replies to his ad which helped him immensely in gathering photos, furniture and the history of the house. Your pictures are great. I am so glad we toured this house. It is at the top of my list now."
Thanks, Linda. I remember that now! The dining table was one of those they were able to return to the home. I'm glad the furniture wasn't in the home when the fire occurred!
I can never resist taking pictures of chandeliers…you'll be seeing a lot of them as I post tours of the plantation homes we visited.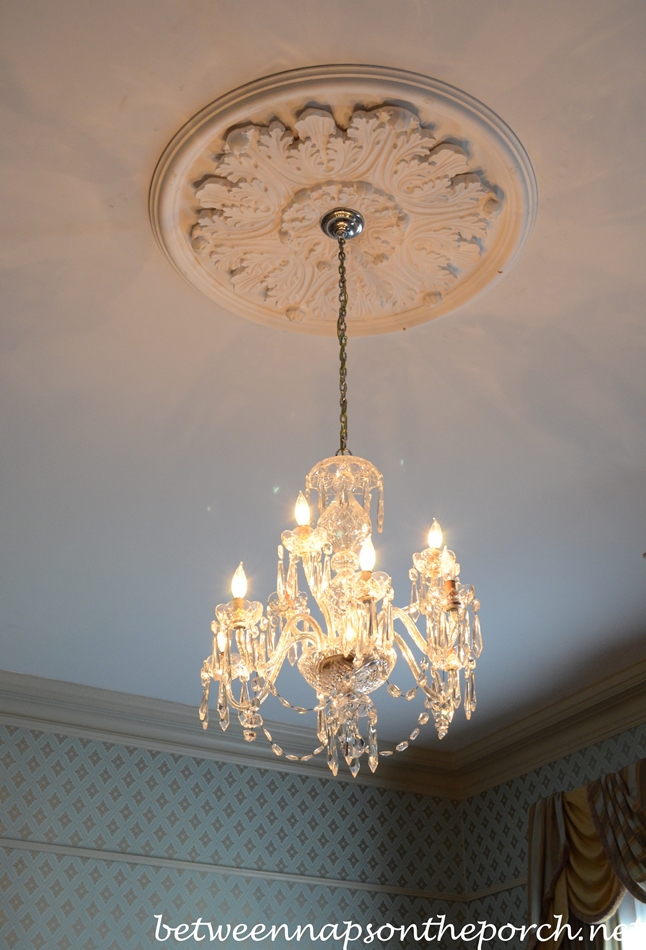 A beautiful antique sideboard in the dining room. Look at all the carving on those doors!
Another beautiful antique here in the dining room.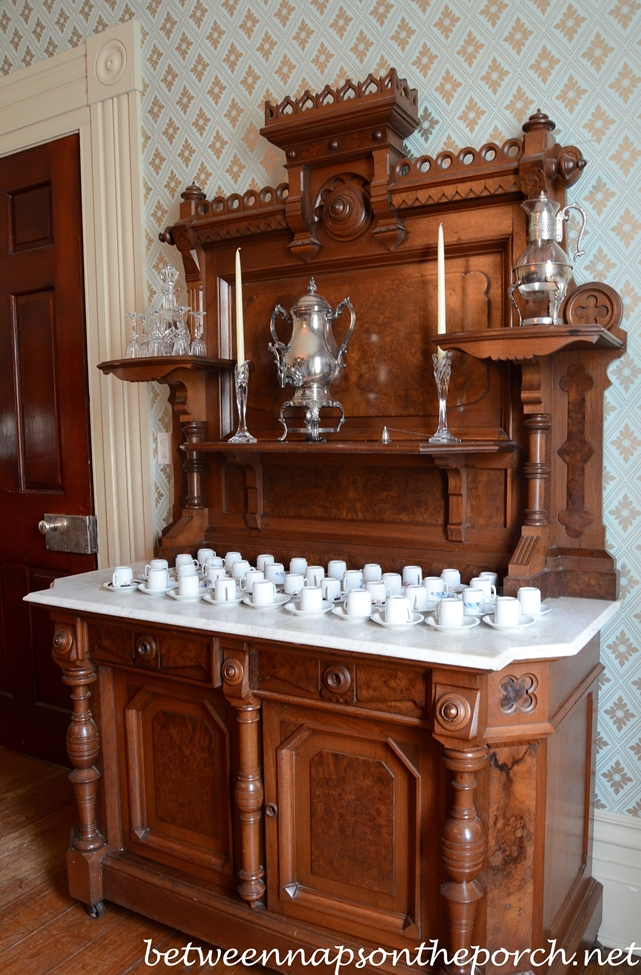 This post is getting so long with 21 pictures already, so I'm going to stop here for today. We'll tour the rest of the home either tomorrow or on Friday.
Update: Here's the rest of the tour for Greenwood: Greenwood Plantation, St. Francisville, Louisianna: Part II
*If a post is sponsored or a product was provided at no charge, it will be stated in post. Some links may be affiliate links and as an Amazon Associate, I may earn from qualifying purchases. *