Welcome to the 422nd Tablescape Thursday!
The leaves in my yard are changing color and both they and the acorns are falling like crazy right now. The oak tree in my front yard must have a special vendetta against my home. It's hurling acorns day and night at my bedroom windows and the metal roof of the front porch. Who knew autumn could be so violent. And noisy! lol
Despite the falling leaves, the last few days have felt much more like summer, than autumn. I love the heat so I was quite happy outside today as I set a table on the porch for this week's Tablescape Thursday.
A couple of weeks ago I shared a Halloween table in the color scheme of black and white. (View that table here: Halloween Table with MacKenzie-Childs Inspired Disheware)
So this week I decided to go in a different direction. This week's table is all about the traditional Halloween colors of black and orange, with some autumn reds and golds thrown in for fun.
The crows wanted to come out to play, you may remember them from previous tablescapes. They are probably my favorite Halloween decoration of all. I found them in Hobby Lobby 3-4 years ago. Wonder if they have them again this year…anyone know? I haven't been to HL in ages, I think it's time for a visit.
There's a lot of layering going on in this week. The table didn't start out with the woven twig chargers, but about half way through, it felt like the table needed something to ground it, something a bit rustic to contrast with all the busy pattern and color. They are really acting more as placemats in this setting.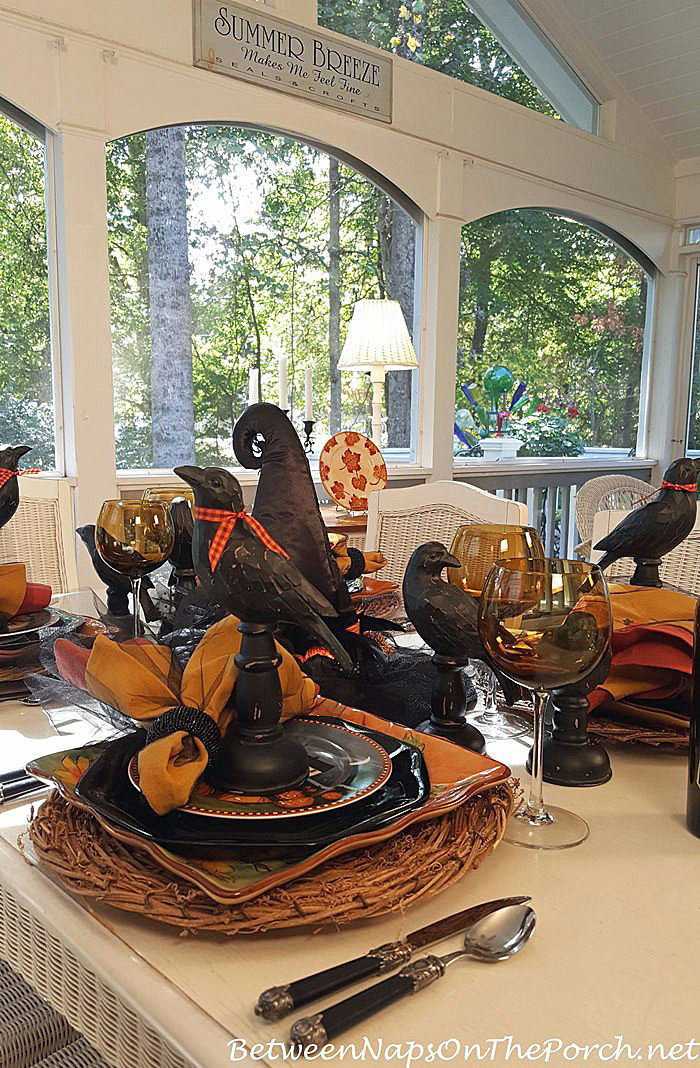 The crows at each place setting dressed up for the occasion wearing their finest bow ties.
A witches's hat makes for a fun centerpiece and adds just the right amount of height to the table.
When I began putting this table together, I knew I wanted to use these pumpkin-embroidered, golden-yellow napkins found this year in Marshall's. Something just didn't look right, though. Then I realized what it was: they were just way too bright.
Notice what a huge difference covering them with a little black tulle makes. So much better! Orange has always been my least favorite color, have no idea why. But I realized today, I really do like orange when it's more muted, running toward the rusty orange side.
Looking down with Mr. Crow in place atop the salad plate, black beaded napkin rings found years ago in Old Time Pottery for $1 each, add a bit of glimmer and sparkle to each place setting.
Top view minus Mr. Crow…
I love this Halloween dishware by Sakura, designed by David Carter Brown. Love all his whimsical designs! This pattern is called, "Pumpkin Hollow." Such a cute name!
I found four of the Pumpkin Hollow salad plates on eBay a year or two ago. A couple of months ago I searched for four more and was fortunate to find them on eBay once again.
I use this black flatware often in table settings. It's works well with so many patterns and is perfect for Halloween. You'll find it available on sale here: Black Flatware. It comes in a variety of colors. I also have it in white and in blue. I'm thinking of adding the burgundy to my flatware collection next. That would be another great color for fall!
Love this plate from the Pumpkin Hollow pattern featuring a cute doggie, owls and bats. The owls that frequent my backyard have been hooting it up the last few weeks. I love hearing them so, so much! Do you remember when I recorded them in this post: Night Sounds From the Porch ?
Another fun plate from this pattern featuring Mr. Moon in a star-filled sky watching a witch fly by. lol
An adorable black kitty pops up from inside a pumpkin in this plate. I used black plates found in A Classy Flea as the dinner plate for this setting.
These large square plates by Maxcera in the pattern, Terra Cotta Sunflower, work well as chargers for this setting. I believe I found those in Marshall's many years. It was either there or HomeGoods.
They can also be used as dinner plates. They are super versatile and work well for both summer and fall table settings.
Still looks like summer in my backyard, but the leaves are falling and very soon the trees will be bare.
Oh, before you go, be sure and pour yourself a glass of wine. I "hand-pecked" this bottle just for you! 😉 If you follow Between Naps On The Porch on Instagram, you got a sneak preview of today's table when I posted this photo. I think I found the labels in Michael's a few years back, been a while so hard to remember now.
Look what arrived yesterday. Now I just need a 20 gallon propane tank and I'll be all set for spending some time on the porch this winter. I'll share how this one looks and works once I get it out of the box and onto the porch. Don't need it right now, but I know that will change very soon.
Looking forward to the beautiful table settings shared for this week's Tablescape Thursday!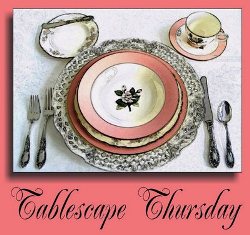 If you are participating in Tablescape Thursday, please be sure to add your permalink below, and not your general blog address.To get your permalink, click on your post name, then copy and paste the address showing in the address bar, into the "url" box when you link up. You'll need to include a link in your post back to the party to link up and participate.
That's so visitors to your blog will be able to find the party and the other Tablescape Thursday participants. Requiring a link back also prevents businesses and scammers from linking up to sell their products. (Yep, that really happens, unfortunately.)
Please, don't add your post name/blog name ALL IN CAPS…it tends to create big spaces between the rows of links.
*If a post is sponsored or a product was provided at no charge, it will be stated in post. Some links may be affiliate links and as an Amazon Associate, I may earn from qualifying purchases. *