Those wonderfully high temps we had here in the Atlanta area this past week are starting to fade away. It got rather chilly last night. As I write this mid-afternoon, it's still 59° outside. I know that's not cold to most folks but it definitely falls into the category of "sweater weather" for this girl.
Each year I put together a post with my favorites for surviving winter in comfort. Since our temps are starting to head south, I thought it was time to share what I'm pulling out this weekend and what I look forward to using this winter.
Flannel Sheets
I actually swapped out my summer sheets for my favorite flannel sheets a couple of weeks ago. I know that was a bit early, but I hate being cold. Have I mentioned that a time or 10 over the years? 😉
These sheets are so comfortable, I'm always reluctant to remove them come spring. They are the best flannel sheets I've ever had on my bed, and I've tried a lot of different ones over the years. Besides being super thick and warm, they don't pill up when washed. Love that! I also like that they are 100% cotton. The reviews totally speak for how awesome they are. You'll find these available here: Flannel Sheets
Warm Mist Humidifier
I purchased two of these Warm Mist Humidifiers last year, one for my bedroom and one for my office. I could not survive winter without them! I was so much more comfortable, I kept one of these running day and night. Loved it and will definitely be using both again this winter. You'll find it available here: Humidifier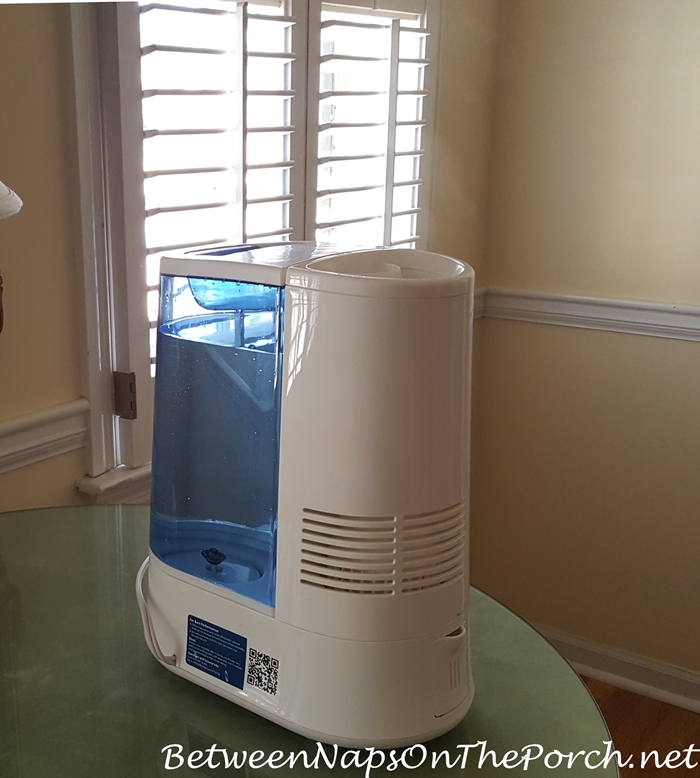 Heated Throw
A couple of winters ago, I purchased a heated throw because I always felt cold while working at my desk. I'm still using that original throw and love it!
Funny story (or not so funny): I could never understand why I was so cold here in the office during the wintertime. This past summer I had two of those gigantic outdoor roaches appear here in my office, a few weeks apart. We grow them HUGE here in the south!!! I mean, you could saddle them up and ride them, if you could catch them. Ugh!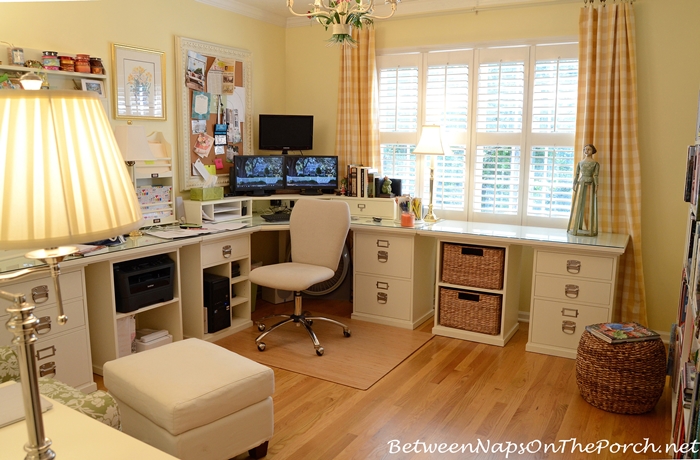 After the second one appeared, I called my termite company and had them spray around the outside of my home. About a week later I discovered that both the windows in my office were slightly open at the top, just enough to let a big bug come inside. Fortunately, I haven't seen a single bug since I raised the windows. I'm also guessing that's why it was so cold here in the office every winter because my son tells me it was never cold when this room was his bedroom.
I still love having a heated throw for my legs when working at my desk, though. It keeps me toasty warm when I'm not up and running around doing stuff. This is the throw I purchased and have really enjoyed and it's available here: Heated Throw
Last winter I purchased three of these throws when they were on sale. I bought one for my upstairs family room and two that I gave as gifts for Christmas. I love it and I've heard from my dil that she loves hers. It's big, soft and super warm! You'll find it here and I just noticed it's on sale again this year: Faux Sheepskin Throw
Mermaid Blanket
Have you seen these Mermaid blankets? I think they are a riot!
They have great reviews, I may just have to order one. Be great as a Christmas gift! lol
I love the colors of this one: You'll find them for both children and adults in a ton of colors here: Mermaid Blanket
Thermal Leggings
I discovered these thermal leggings early last winter. They were inexpensive so I ordered a couple of pairs. I loved them so much, I ordered two more shortly after the first ones arrived.
About the sizing: The first time I ordered them, I ordered them in "large" because I wanted them to be super comfy and not at all snug. I've had experiences in the past where I've ordered thermal leggings/long underwear and after a few washings/dryings, they became too tight.
The large size of these turned out to be a little too big, so I wear those to sleep in at night sometimes. The second time I ordered, I ordered them in the medium size and they fit great. So I'd say these run true to size. These aren't the super thin "silk" thermals that cost a lot more, but I find these are great for wearing under pants during the winter. I love them and you'll find them here: Thermal Leggings
Boots
I'm still wearing the boots I purchased for my trip to Italy. Love these so much! (To see all the boots/shoes I wore in rainy Italy during my 16 days there, check out this previous post: 6 Pairs of Shoes That Kept Me Warm, Cozy and Comfortable in Italy)
These boots are waterproof and super warm. I purchased them in black…
…and in brown. I've enjoyed them so much, I purchased a second pair of the black ones because I was afraid they would quit making them.
I wear a size 7 but bought these in a size 7-1/2 because I like to wear pretty thick socks during the winter. So I recommend going up a half-size if you'll be wearing heavy socks with them. The price is also very good for suede boots. You'll find them available in four colors here: Waterproof Boots
Ugg Shoes/Boots
Still love my Uggs that you guys suggested I try a few years back. Thanks for suggesting them! I purchased two pairs that winter and I'm still wearing both.
The pair on the left is the pair I wear at home around the house and out in the yard. They still look pretty great considering I practically lived in them for the first two winters after I purchased them.
I don't wear the pair on the right outside in my yard or around the house very much, I wanted to keep them looking new/nice for when I am going out some place. Every single time I wear them out, I get compliments from complete strangers. Every. Single. Time. I don't know what it is about those boots, but people love them.
If you are super cold-natured or live where it gets really, really cold, I can't say enough about how these boots keep your legs/feet warm. The rest of you may feel the cold, but your feet certainly won't! You'll find them available in a gazillion styles here: Ugg Boots/Shoes and here: Ugg Boots/Shoes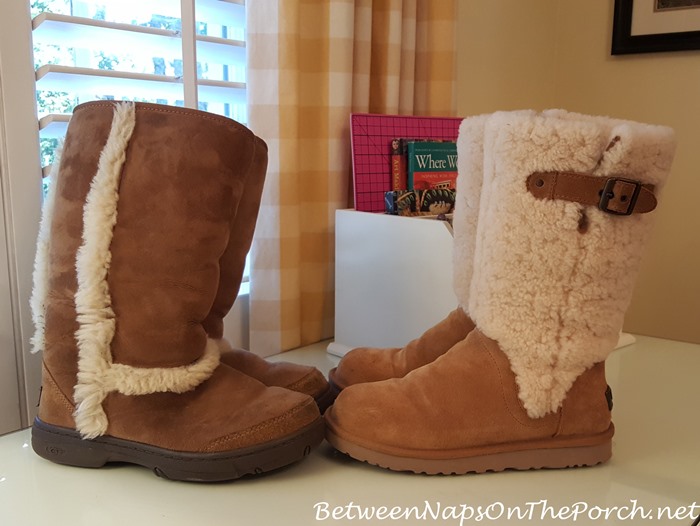 I'm eyeing this pair now. I don't have a short Ugg boot and I love how they look! They are available here: Ugg Boots
Corduroy Pants
Continuing with my theme of staying warm and cozy this winter, I live in soft, comfortable corduroy pants all winter long. I buy mine HERE. I love the "straight leg-curvy style." They fit me great and come in a ton of colors.
Long Sleeve T's
I'm still wearing these long-sleeve t-shirts (that I've shared before) under my regular shirts during the winter months. I purchased several in various colors a couple of winters ago in Wal-mart. The next year I found them there again. I'm going on my 3rd winter wearing them, so they've held up super well, especially since they are only around $6-$9 each, and less than that when you can catch them on sale. They are also cute enough that I don't mind when the sleeves show under my 3/4 length sleeve shirts. Love them! Just look for them in the women's department in Wally World.
Scented Candles
Love burning candles on the porch at night during the summer, but I especially love burning them during the winter here in my office. One of my favorites that I just discovered this winter is called, Fresh Balsam. If you follow Between Naps On The Porch on Instagram, you saw when I posted about it and some of the others I purchased on the last day of the Bath and Body Works sale a week or so ago.
Books
Can't survive winter without my favorite books! I listen to a ton of books on Audible, but my favorites to curl up with in front of the fire on a cold winter's night are my decorating/design/recipe books.
You'll find a lot of the ones I've featured from my office library here: Decor Books I Love (Click any picture link on that category page to read more about a particular book.)
What are your favorite ways to keep warm during the wintertime? Love hearing your suggestions!
*If a post is sponsored or a product was provided at no charge, it will be stated in post. Some links may be affiliate links and as an Amazon Associate, I may earn from qualifying purchases. *