A while back I shared some adorable Hand-Stamped silverplate spoons that were the cutest ones I'd ever seen. If you missed that post, you'll find it here: They Arrived and I Love Them! Plus, a Special Bird Sighting
I gave the "Drink Tea" spoon shown below to a special friend for Christmas,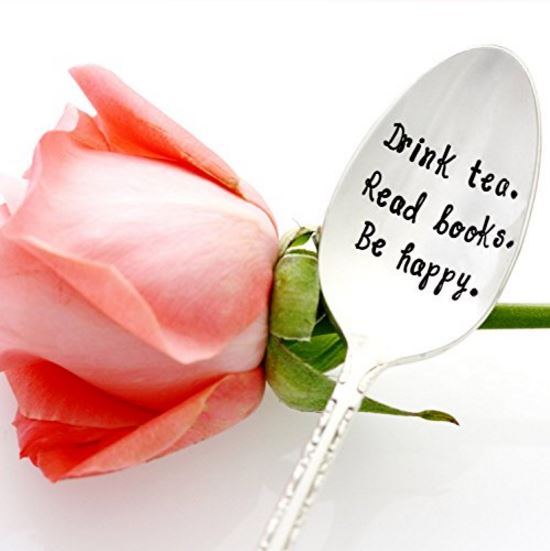 …along with a cute reindeer drink cozy like the one you saw in my previous porch post. The reindeer cozies are all sold out I think, but it's still available in a candle cozy here: Candle Cozy
Here's how I'm currently using my spoons: I have them all gathered together in a cute sugar bowl I found a few years back while antiquing/thrifting. I love having them here on the counter because I use a lot of spoons during the day. I also just love seeing them here.
I've mixed in some of my regular silver spoons, as well. Update: Several folks have asked where I purchased the spoons, I had them made here: Silverplate Stamped Spoons
This is similar to how I plan to use/display them…
…whenever I set up my hot cocoa bar on the porch for a fall or winter party. In the meantime, I love seeing and using them here in the kitchen.
I took your suggestion and had one made that says, "between naps on the porch." I asked for a bird and a tree since my favorite thing to do on the porch (other than reading) is bird watching.
Didn't it turn out cute!
I ordered another spoon and asked for the phrase, "the secret garden bloomed and bloomed" taken from one of my favorite books, The Secret Garden. I had it made once before, but realized later I really wanted it with a bird on it because a robin plays such a special part in the story.
If you've read the book, do you think the bird is really Mrs. Craven? It's as if she's come back in bird form to help Mary and Dickson heal the heart of her grief-stricken husband and save her son from a forlorn life. The robin helps Mary heal, too.
I came to that conclusion because of how much the robin loves and stays inside Mrs. Craven's favorite garden. Also, the robin is the one who reveals where the key to the garden door is hidden. He's definitely one clever little robin to orchestrate so many wonderful discoveries in the garden.
If you're interested in purchasing a spoon with a fun or inspirational saying, or having one made with your favorite quote or sentiment, I purchased mine here: Hand-Stamped Spoons. To have one made with your favorite quote, saying, or phrase, go here: Custom Silverware.

Thinking Ahead to Spring
I had so much fun putting together a mini-fall wardrobe while things were on sale during the holidays, I've started scoping out the new spring clothes that are starting to show up in my favorite stores. (See my previous winter wardrobe post here: Winter Wardrobe Updates)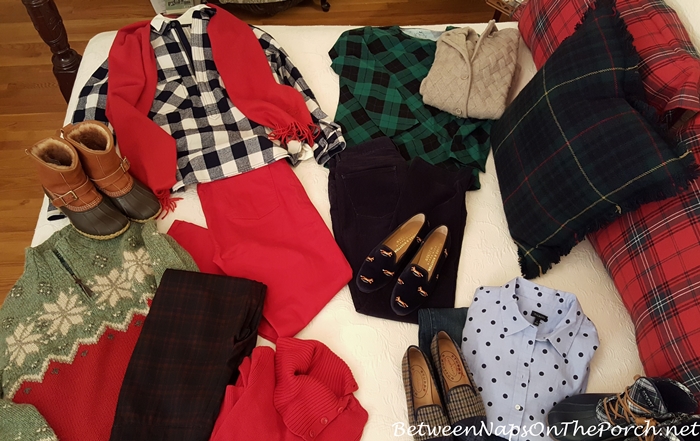 There was one particular sweater that I knew without a doubt had to be in my springtime wardrobe. It features a woody car headed out on vacation and apparently the suitcase was a bit overstuffed. Sounds like one of mine when I'm traveling! The suitcase has come open and sunglasses, flipflops, pants, etc… are flying out everywhere! LOL I love it! Looks like they will have a good excuse to go shopping when they finally get to the beach. lol
I almost bought it the first time I saw it because I was worried it would sell out in my size before it went on sale. I barely resisted! Thankfully a sale popped up that let's you buy 1 new spring item (that's not currently on sale) for 30% off with the code: JAN30. You better believe I jumped on that immediately!
Here's a close up of the sweater…absolutely LOVE it! Sooo cute! You'll find it here: Beach Trip Woody Wagon
Another sweater I'm eyeing for spring is this one–love the design/stitching on the front!
Here's a close-up of the front. I saw someone purchasing it in the store when I was there shopping, and immediately loved it. It has a touch of pink around the collar and on the sleeves. You'll find it here: Sweater. Don't forget to use the promo code JAN30, to get 30% off whatever full-price spring item you choose.
I love this time of year when the winter clothes are seriously on sale and the spring clothes are just appearing. I'm definitely getting a head start on my spring wardrobe this year!
I also purchased this adorable merino wool red sweater on sale, 40% off. The sizes are going fast now, unfortunately. You'll find it here: Red Sweater Use the code, SHOPSALE, to get the extra 40% off the already reduced sale price. It's available in three colors.
Update: My sweater arrived today and it's a little too big, so this sweater is generously sized. I had ordered a medium since I usually wear a shirt and maybe another layer underneath my sweaters. I'm going to reorder and size down to a small since the medium is definitely too big. Love the sweater, though!
I bought this plaid shirt last night, too. I thought it would look cute under some of my winter sweaters. You'll find it on sale 40% off the sale price here: Stewart Plaid Shirt
I have a few more things I want to share, but things are starting to sell out so I'm going to post this now. There were more sizes available last night than I'm seeing now. I guess I need to get these posts up much faster when I see the sales going on. You can see everything that's on sale here: 40% off Sale
Update:
Just noticed this cute blue polka dot shirt I purchased a few weeks ago is still on sale here: Shirt
I also ended up buying the Snow Globe Sweater, too. It's only $29.99 now. I paid about $20 more, but that was before Christmas. I love this sweater and wore for it on Christmas day. I love how it appears snow is falling all over the sweater. 🙂 My son noticed "the snow" when I was visiting during the holidays. He didn't realize it was snow at first and thought I had some lint stuck to my shirt. lol Can't wait to wear it next year during the Christmas season again! You'll find it here: Snow Globe Sweater
The plaid leggings I purchased are still available, reduced from $89.50 down to $39.99! I'm tempted to buy a second pair, they are fabulous…nice, heavy weight…very flattering!
You'll find them here: Plaid Leggings
*If a post is sponsored or a product was provided at no charge, it will be stated in post. Some links may be affiliate links and as an Amazon Associate, I may earn from qualifying purchases. *