Welcome to the 574th Metamorphosis Monday!
A few days ago I blogged about a unique company that specializes in making beautiful cashmere sweaters at affordable price points. I loved the story behind the company and ended up purchasing several of their sweaters. If you missed that previous post, you'll find it here: Two Hilarious Videos & Ordering Cashmere from a Company with a Sense of Humor.
Since I dislike being cold with a passion, I love sweaters and purchase a few new ones each year. I almost always purchase a Fair Isle sweater when winter comes around. This one below was the one I added to my sweater collection this year. You'll find it here, although most sizes seem to be currently out of stock: Fair Isle Sweater. If you like this sweater, bookmark the page and check it frequently. A lof to times an item you want will come back in stock or they'll get a few returns.
Since I shared my recent post about the cashmere sweater I ordered, I've had several questions about how I wash and care for my cashmere sweaters. Over the years I've touched on that topic a few times. I do like to keep my clothes looking as close to new as possible. That's the wonderful thing about buying quality-made clothing in classics styles: it's usually hard-wearing and you're able to enjoy it for many years since classic clothing really never goes out of style.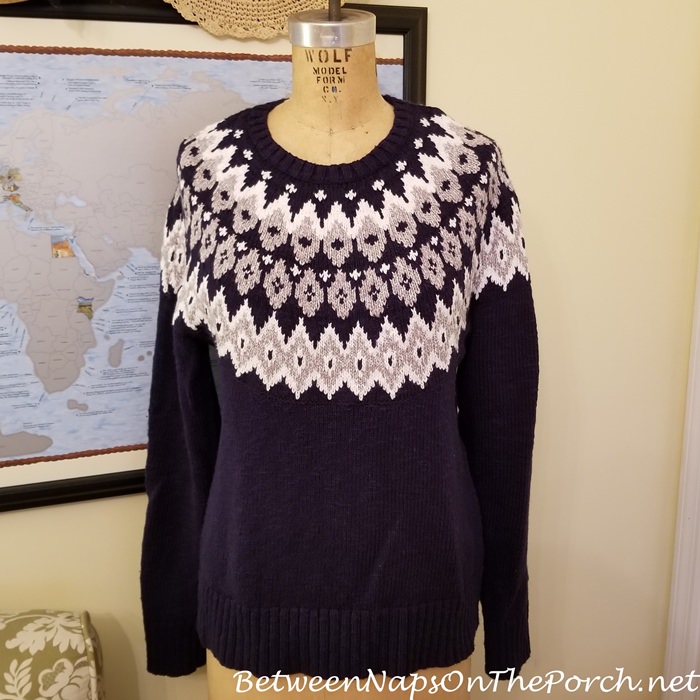 How I Care for My Sweaters and Keep Them Looking Great for Many Years
A few years back I got hooked on these shirt-jackets from J. Crew. I don't think they carried them this year. I ended up buying several from their online store, their online outlet and from eBay. Three of the shirt-jackets I purchased and wear are 100 wool. They are not scratchy in the least so I live in them during winter, wearing them over turtlenecks or long-sleeve shirts.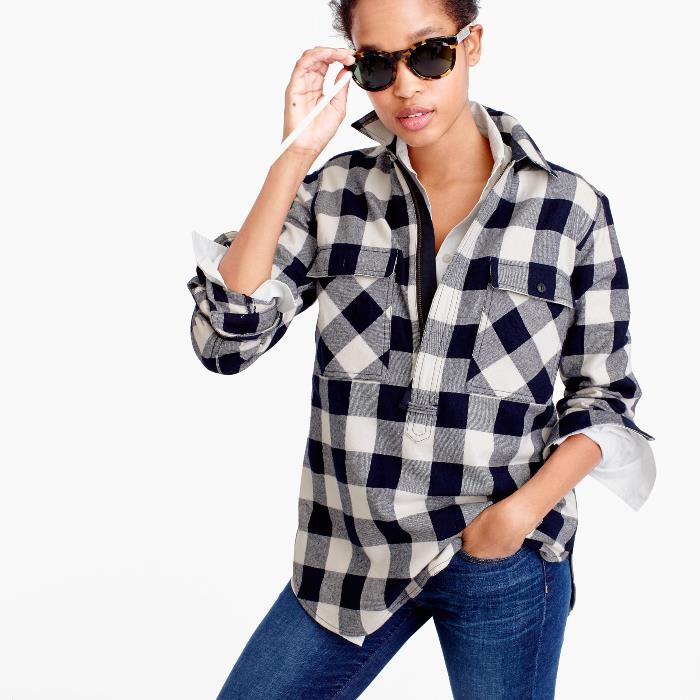 When they need to be washed, I do not dry clean them as recommended on the label since I've never liked the way my clothes look or feel after being drycleaned. Instead, I wash them in my favorite Wool/Cashmere Shampoo by The Laundress. It works great! (You'll find it available here: Wool and Cashmere Shampoo.)
When washing a wool or cashmere sweater, I add a couple of capfuls of the wool/cashmere shampoo to a tub of cold water. I usually wash each sweater individually in a little white tub I've had for years. Any large container like this will do.
I slowly swirled and move the sweater around, very gently scrubbing any areas like the cuff/sleeve areas that tend to get dirty more easily. When it's time to rinse the sweater, I drain off the soapy water, gently pressing the sweater against the side of the tub. I refill the tub with cold water and rinse out the suds. I usually rinse a sweater twice just to make sure I've gotten all the shampoo out.
When washing a sweater, especially a wool/cashmere sweater, you don't want to "wring" the water out. Wringing out a sweater, especially a cashmere or wool sweater, can pull them out of shape. So it's best to press the water out gently.
Once I've pressed the sweater up against the side of the tub or the sink and I've gotten out as much water as possible (without wringing) if I still feel like there's too much left in the sweater, I will next lay the sweater out on a big fluffy towel and roll it up in the towel. After about 10 minutes, I unroll it and either hang or lay it flat to dry.
Since my wool shirt-jackets aren't that heavy, I normally just hang them on a standing drying rack.
If it's a weighty sweater, I lay it out flat on this drying rack that I purchased a couple of years back. (You'll find this rack available here: Flat, Drying Rack with Fold Up Legs.)
Here's how my wool shirt-jacket looked after being washed. There was no fading and it came out feeling really soft and plush. Because I'm always wearing either a turtleneck or long-sleeve t-shirt underneath my sweaters, they don't need washing that often. The washing process goes quickly when they do need it.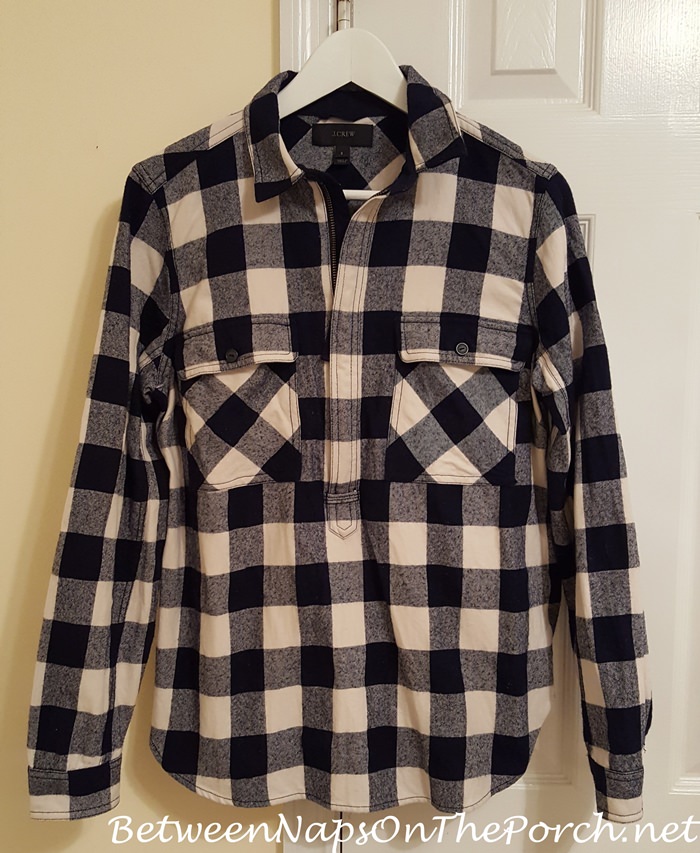 I really like this wool/cashmere shampoo because it doesn't leave behind a scent or smell on my sweaters at all. I purchased this shampoo here: Wool Cashmere Shampoo.
Since I've been so happy with The Laundress Delicate Wash and their Wool/Cashmere Shampoo, I decided to try their Signature Detergent for my other clothes. I like that it's "allergen-free." I ordered it last night and I'm eager to give it a try.
I wash all my every day, non-wool clothes in the handwash basket of my washing machine. I think this will be a gentle way to wash those clothes. You'll find it available here: Signature Detergent.
De-pilling My Sweaters
Whenever you wear a wool or cashmere sweater, or even a cotton sweater for that matter, they all tend to get little fuzzies on them, especially in the areas that get rubbed a bit, like underneath the arms and on the underside of the sleeves.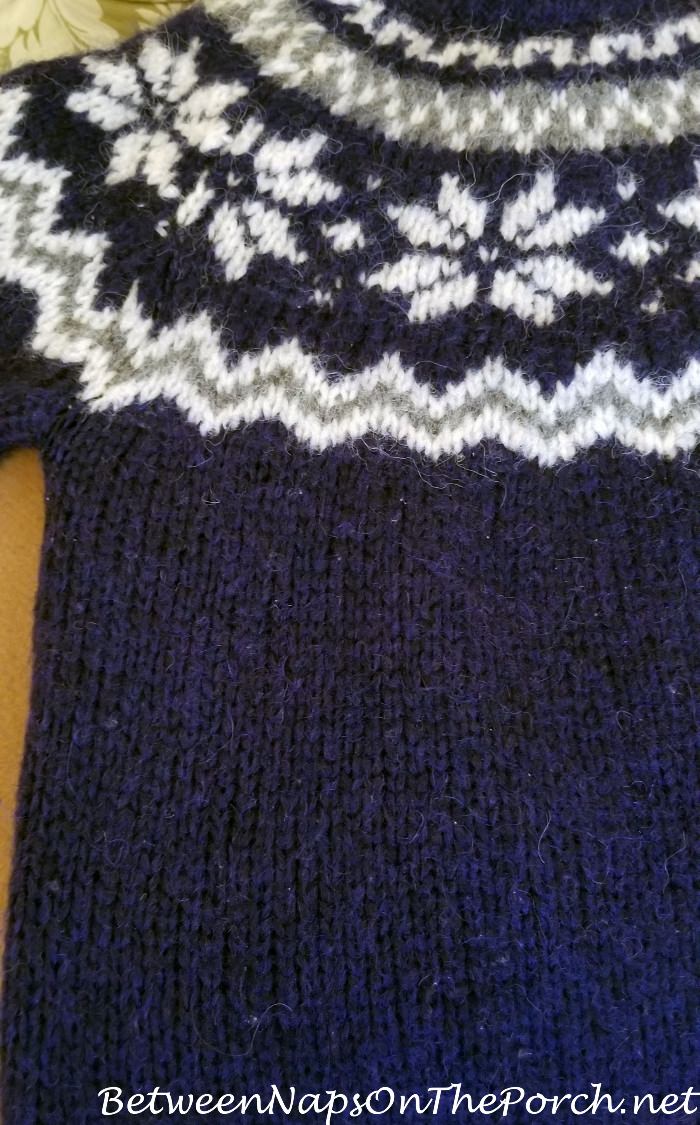 There are all kinds of devices out there for removing those little pills. A favorite of mine are these inexpensive sweater combs. They work great! This set is available here: Sweater Comb for Pills & Fuzz
For my wool/alpaca Barbour sweater, I used the comb above on the left that's designed for thicker sweaters. It's a little hard to see, but the darker pieces you see in the photo below are the pills it grabbed on a few swipes over the surface. I can't believe how easy and well this little sweater comb works!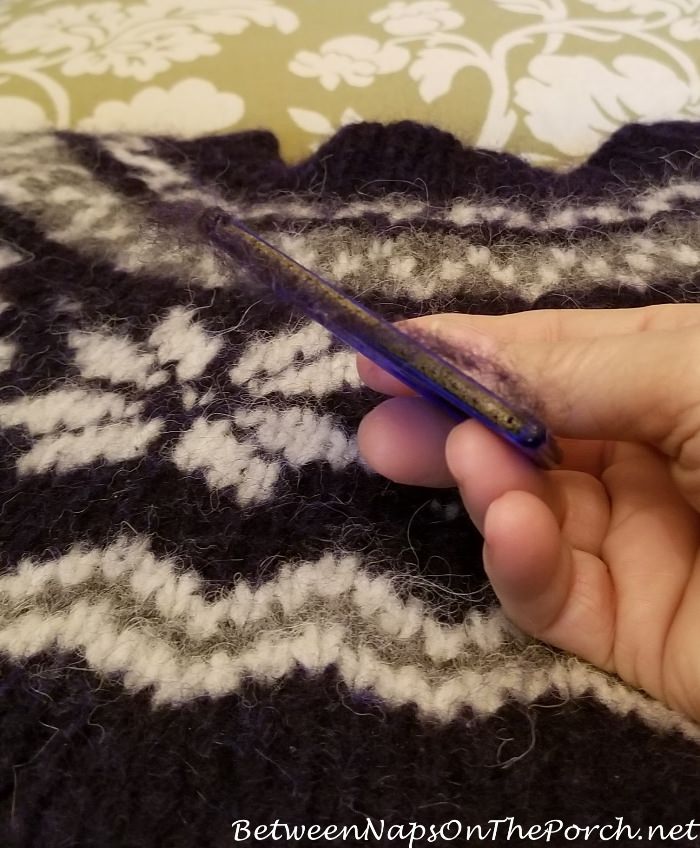 Here's how my Barbour snowflake sweater looked after just a few swipes across the top–so much better!
The combs also worked great on this cotton sweater.
You can see some of the fuzzies sticking up in front of the comb.
Here's what the comb picked up after one or two swipes. You can see the little pills it caught below. Really happy with how these sweater combs work!
For more delicate, lighter-weight sweaters like this cashmere sweater below, the comb on the right below works best.
You can see a few pills on this sweater in the picture below.
To remove the little pills/fuzzies, I lay the sweater out on a flat surface like a table, then holding the top of the sweater with my left hand, I pull the comb down the sweater with my right hand.
Here's how the sweater looked afterward–much better!
I can't recommend these two little combs highly enough. They work great and I love how small they are because I often take them along with me when I'm traveling during the fall/winter. I purchased the two I use in a set here: Sweater Combs.
Last night, out of curiosity, I purchased this battery-operated pill remover that appears to have good reviews. I'll report back and let you know how I like it once it arrives and I have a chance to test it out. In case you're interested in trying this one, you'll find it here: Sweater Depiller & Lint Remover.
Looking forward to all the wonderful Before and Afters linked for this week's Met Monday!
Pssst: Did you know Between Naps On The Porch is on Instagram? You'll find me on Instagram here: Between Naps On The Porch.
Like to know when a new blog post is up and available to read? Subscribe for email updates, it's free and your email will never be shared.
Subscribe here: Subscribe for free post updates via email here: Subscribe.
Metamorphosis Monday
Metamorphosis Monday is a party that's all about Before and Afters. If you are participating in Met Monday, please link up using the "permalink" to your MM post and not your general blog address. To get your permalink, click on your post name, then just copy and paste the address that shows up in the address bar at the top of your blog, into the "url" box for InLinkz when prompted.
In order to link up, you'll need to include a link in your MM post back to the party so the other participants will have an opportunity to receive visits from your wonderful blog readers.
This party has ended, click button below for the links to all who participated.
*If a post is sponsored or a product was provided at no charge, it will be stated in post. Some links may be affiliate links and as an Amazon Associate, I may earn from qualifying purchases. *