Happy Friday!
Over the last few weeks, there have been so many things I've wanted to share but none of them were quite enough to create a whole post about, so I today I'm putting them all into one post.
Contacted By a Match
So remember back when I did the Ancestry DNA test? If you missed it when I got my results back, you'll find that post here: Ancestry DNA. After I got my results from AncestryDNA, I uploaded them to GEDmatch which was completely free and gave me a ton of info, very little of which I understood. lol Maybe one day I'll take time to study all the various results it yielded to see if I can figure it all out.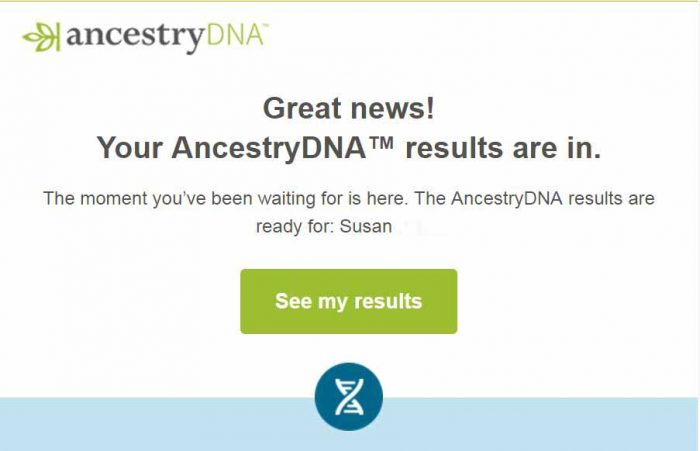 I haven't had time to really build much of my family tree at AncestryDNA. I'm still figuring out just how the site works. But something kind of fun happened! A few days ago I received an e-mail via AncestryDNA from someone who had noticed we are related. (You can opt in to have your email visible for contact or not, and I've chosen to let it be visible.)
The person who contacted me was trying to trace down our family connection. We are apparently 4th, 5th or 6th cousins. I haven't gotten very far with my family tree but after spending some time on it the last couple of nights, I'm starting to understand better how the site works. It's such a time-suck, though. You follow one link and that leads to 20 more discoveries, which leads to another 60. After a while, it's a bit overwhelming.
Hopefully I'll get better at knowing where to put my time and energy as I spend more time building my tree. I can see why folks get hooked on this genealogy stuff. I feel a bit like a detective as I discover more and more family members and add them to my tree. Sometimes you find things that really surprise you.
Anyway, I just wanted to share that this DNA test really opens up a lot of doors to reconnect with family you never knew you had. It's totally up to you if you want to pursue any of the connections. If you're like me and have lost much of your family (parents died when I was 19 and 22 and my brother and sister who were in very poor health have passed now) I really encourage you to take the test. There are no needles involved, you simply spit into a little tube and mail it off. Read more about that process when I did it here: Where Do I Come From Anyway
Once you get your results back, be sure and upload them to GEDmatch and Family Tree DNA, which is free. The cousin who contacted me actually noticed our family connection via the GEDmatch site. As I do a better job of completing my family tree at AncestryDNA, I think I'm going to reach out to some of the 1st, 2nd and 3rd cousins Ancestry has discovered. It was pretty awesome to hear from a cousin I didn't even know was out there.
DIY Shell Chargers
I thought it would be fun to take a photo of all the shell chargers together so you can see the difference adding sea glass made. From a few of the comments I've received, I think some folks thought I may have taken the old chargers apart and remade them.
Fortunately, I didn't need to do that in order to make them with sea glass because I had so many of the inexpensive, plastic style chargers that I was no longer using. I found them many years ago in Old Time Pottery for around $2 each, and after priming/painting them, they were perfect to use as a base for making the shell chargers.
I still really like the original non-sea glass chargers because I love how neutral they are and how they'll easily work with any beach/nautical dishware pattern. But I'm really glad to have the sea glass ones, too. Which do you like best?
Finally Decided on a Trash Can for the Potting Bench
Remember when I bought, assembled and painted my periwinkle potting bench? (Pssst: If you were one of the folks who wanted it but it was sold out, I noticed today that it's back in stock again here: Potting Bench)
I have so enjoyed using it this summer! I've been babying it a little and placing a large trash bag atop it when potting plants, but I'm sure I'll eventually just pot up plants right on top of the painted surface. Baby steps. lol
Anyway, right after I added the bench to the garage, I was really wishing I had a large trash can to go beside it. I was crushing on these adorable painted cans I saw in this photo at Lowe's.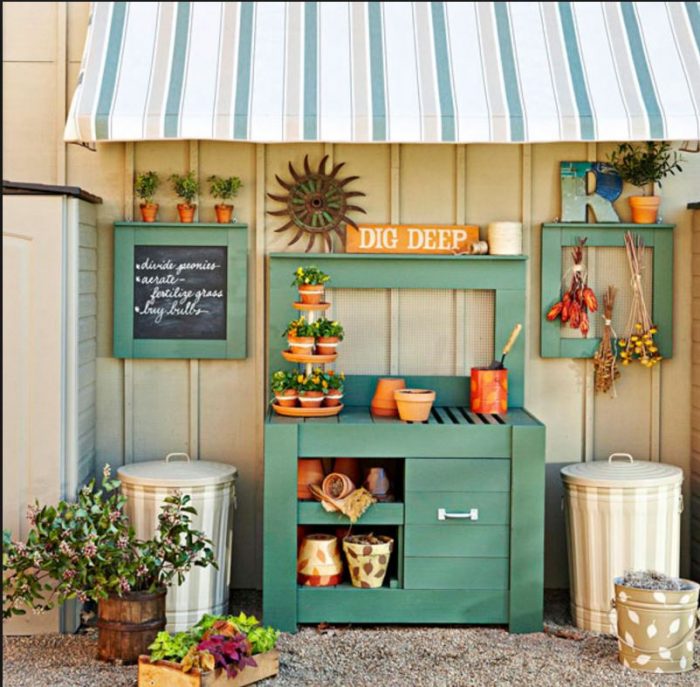 I eventually stumbled across the tutorial for painting them, and after reading it, I decided it was more work than I wanted to put into trash cans that I'd probably be banging into with garden carts and other stuff I store in the garage. But they are adorable, aren't they?
I liked their size because the opening is wide enough to throw away anything you may need to toss while gardening or working in a garage. I drove over to the Lowe's nearest me to check out the cans in their non-painted state and all the ones they had in stock were really banged up and dented.
It has been a pain not having a trash can in the garage because I'm always opening bird seed bags and other garden products in the garage and then have nowhere to toss the empty bags/wrappers. A few days ago I went online and found the same cans HERE and ordered one hoping it wouldn't arrive all dented up.
I'm happy to say it arrived in perfect condition, completely surrounded by those air thingies inside a gigantic box. And what's really funny is how much I like it in silver! I actually like the way the silver looks with the periwinkle color of the potting bench. I also love its retro look. Just wanted to share this in case you're in need of a large can to go beside your potting bench.
I believe these can be used outdoors because it says they are rust resistant. Plus, the photos show them in outdoor settings. So excited to finally have a great trash can for the garage! It looks so nice as it is, I don't think I'll ever go through all the work of painting it. If you get one and give it a fancy paint job, let me know! I would love to feature it for a Metamorphosis Monday some time.
The Foxtail Fern That Could
Three summers ago I wrote a post sharing some plants I had added to the deck. One was this cute Ponytail or Foxtail fern, aka Asparagus Fern. I love this fern, just love how fluffy it looks!
When I first potted it up, I put it in a large pot with several other plants. I was going for the "Fill, Thrill, and Spill" look. Each winter I place this planter in the garage to winter it over. Our winters can get really cold here.
The following summer I replaced some of the annuals with another pretty plant (forgotten the name of it now) and it all but tried to take over the whole container. The Foxtail fern was having to fight for some room! Eventually I cut back the other plant a bit to give the fern more space.
I can't remember now if the other plant eventually died out or what happened to it, but look at Miss Foxtail Fern now! She flat-out owns this planter!
A little spider built a web all between her branches earlier this spring and I didn't have the heart to dismantle it. She's still living there and I see her each time I go in/out the screened door near by. I like to think she's doing her part to keep the mosquito population down on the deck.
I rather like how Miss Fern looks filling up this planter. Sometimes one plant per container is all you need, especially if she's a fluffy, pretty fern.
*If a post is sponsored or a product was provided at no charge, it will be stated in post. Some links may be affiliate links and as an Amazon Associate, I may earn from qualifying purchases. *