Happy Weekend! It's raining here. Again. It's been raining here so much, I actually did an online search today to see if we were breaking any precipitation records. I didn't find the answer to that, but I did learn that Georgia is in the top 10 states for rainfall, ranking #7. I never realized we were in the top 10, we even get more rainfall each year than Seattle! Wow! I guess that's why everything is usually so green and lush here year around. I would love to see a comparison of our rainfall amount with that of Ireland. When I visited Ireland a few years back, as we traveled the roads, much of the green, lush landscape reminded me of home. Okay, enough about our monsoons, on to something a lot more fun!
A few days ago, a lovely BNOTP reader left a comment asking about the many lamps I purchased for my home back in 2021. They were one of the items I mentioned in this post, "My Top 10 Amazon Purchases for 2021." I had forgotten all about that post until that comment came through, and it started the wheels turning. I wondered, what would be my top 10 Amazon purchases for the year 2022–what items would make that list from the previous year?
This morning I scrolled back through all the things I purchased in 2022 via Amazon, and below you'll find the ten that turned out to be my favorites. You may recognize a few of these from previous mentions this past year.
1. Summer Sandals: For the summer of 2022, I purchased a new pair of these awesome travel/walking/everyday sandals. I loved this color and it was perfect for spring and summer! I can't wait to start wearing them again this summer. They truly are the perfect footwear when traveling in hot weather because they are super supportive and so comfortable. I also love wearing them for every day here at home. They are definitely my favorite summer sandal. You'll find them still available here: Summer Sandals.
2. Warmest & Most Comfortable Joggers for Winter: 2022 was the year I discovered my holy grail winter pants! I've been living in these pants all winter. They are also incredibly warm and comfortable. They are nice enough to wear out grocery shopping/errand running, but also perfect for daily wear at home. I just ordered two more pairs today so I'll be all set for next winter. I find they run true to size. You'll find these here: Fleece-Lined Joggers.
3. Retractable Utility Knife, Great for Breaking Down Boxes: On the practical side, I've really enjoyed this DeWalt retractable knife. After seeing how great it was for opening boxes, I ended up buying several. They come in handy in so many places. Currently, I have one in my basement utility/workroom, the garage, my office, and the kitchen–all the places I occasionally end up opening cardboard boxes or breaking down boxes for recycling. You'll find this super handy tool here: Retractable Knife.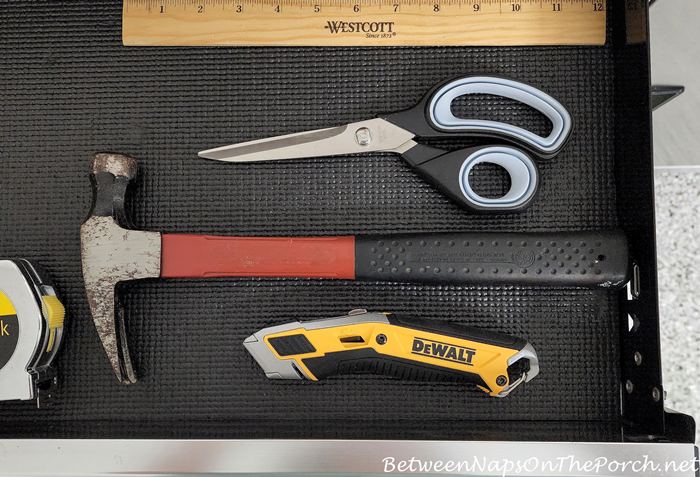 4. Weather Station: I am just a little obsessed with this weather station! After buying the first one last year, I ended up buying several more. I think they are really pretty and find them so useful.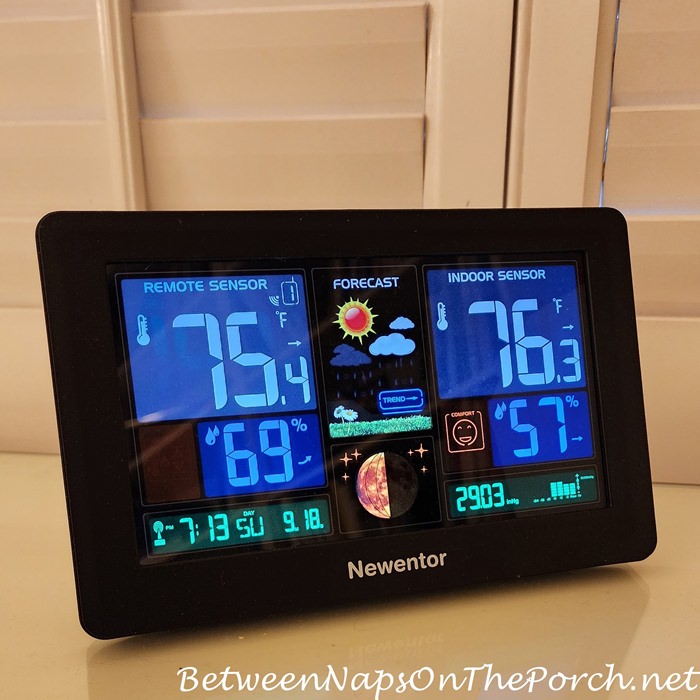 They have slowly but surely spread throughout my whole home–from my closet/vanity area, to the office, to the kitchen, and finally, to the utility room in my basement. I just love how they function and how pretty they are in any space. They also make great gifts. You'll find this beautiful weather station here: Weather Station.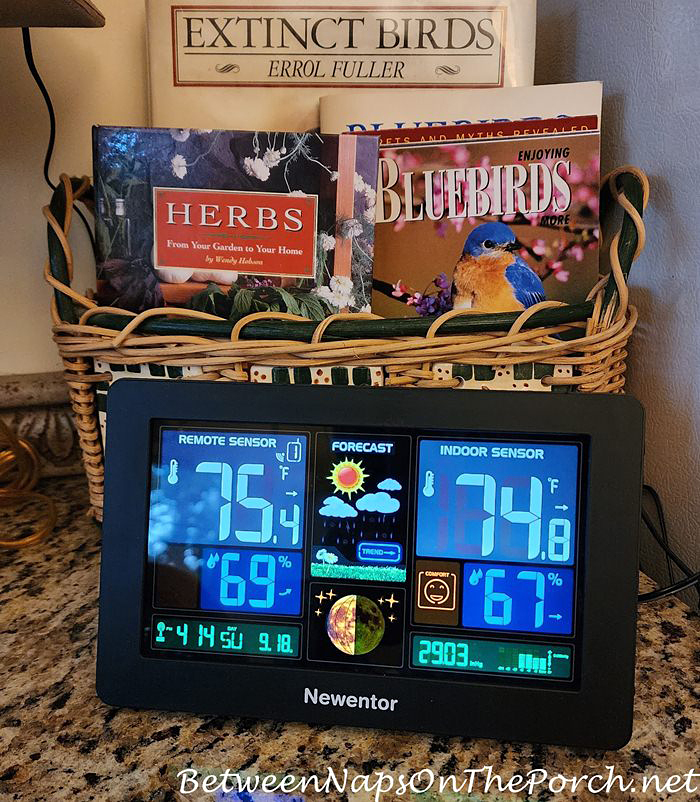 5. Amazing Super Cleaner: This amazing Super Cleaner has to get a mention because oh, my gosh–did I use it a ton this past year as I cleaned in the garage and basement during those renovations. I keep a bottle in every bathroom, too. I've never found anything that cuts through dirt/grime like this cleaner! It's amazing! You can check out its reviews here: Super Cleaner.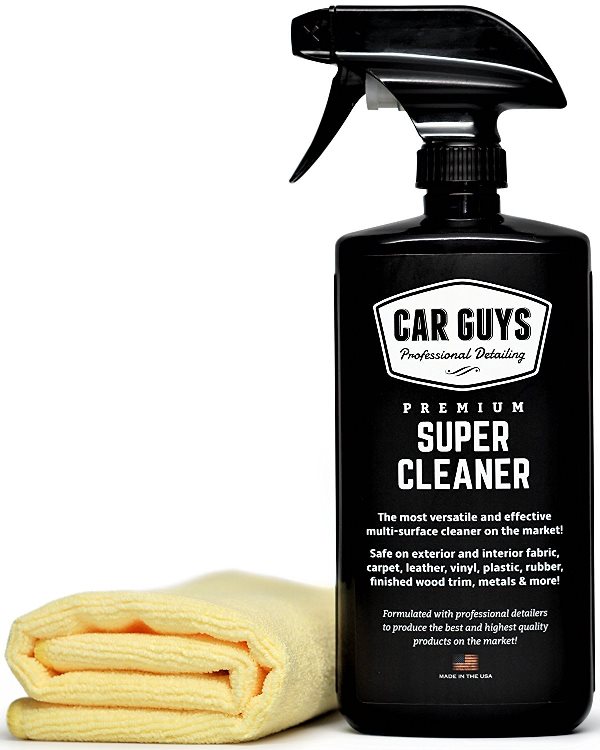 6. Comfy Office Chair: Last year I had to replace my office chair when the lift cylinder failed and there was no way I could just replace the cylinder itself. I tried, even buying a special tool set for doing that, but nothing worked. I really dislike having to shop for a new office chair because I'm super picky, but this one has worked out great! The only thing I would change about it is I wish the side arms went back a tad further, but I still like the chair enough that I would buy it again. You'll find it available in three colors here: Office Chair.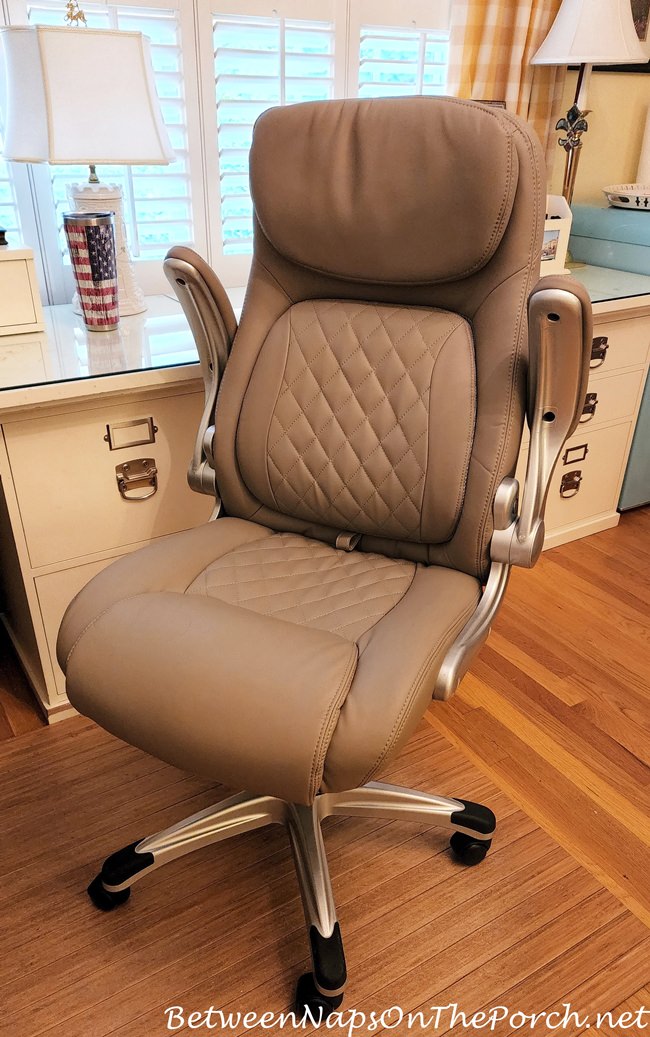 7. Solar Pathway Lights: Can't sing the praises enough about these solar lights I added to my front walkway last year!
Every night when I see them light up, they warm my heart with how beautiful they look! They are still going strong and are definitely one of my best and most favorite purchases for 2022. They are still available here: Solar Pathway Lights.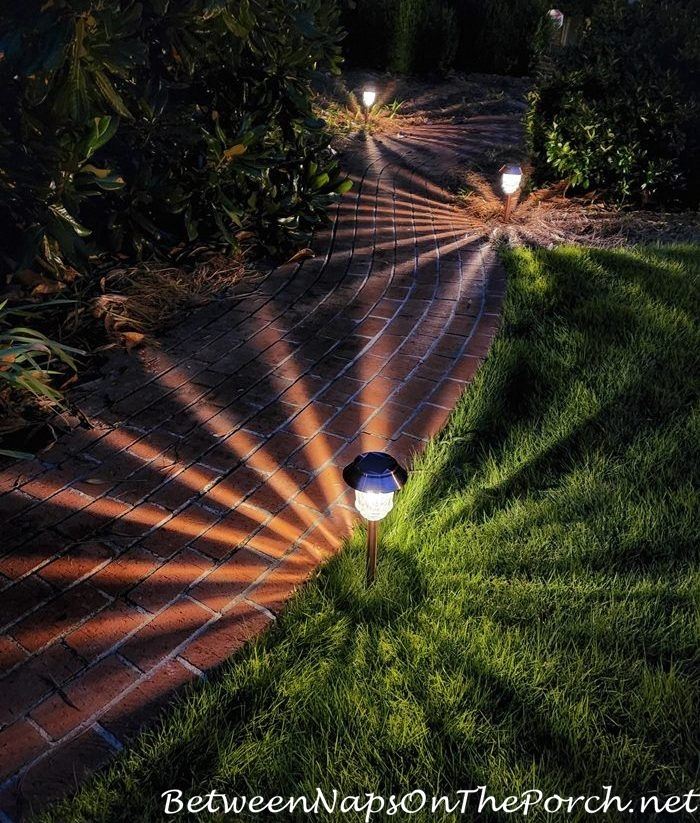 8. Bose Wireless Noise-Canceling Earbuds: Love, love, love these Bose wireless earbuds I purchased last year. I've always loved their noise-canceling earbuds for travel, great for using on a plane, but having them in a wireless version just took them to a whole new level of comfort. They sound amazing and really come in handy when I'm working here in my home office and my or my neighbor's gardeners/lawn keepers are here cutting the grass, edging, or blowing off the driveways. They are also great for blocking out noise when traveling and trying to sleep in a noisy location. These work for both iPhone and Android and are available in two colors here: Wireless Earbuds.
9. Utility Cart: Last year I purchased the utility cart seen on the far left in the photo below. I knew it would come in handy, but I had no idea how much I'd use it. It definitely comes in handy for Tablescape Thursday as I collect dishes from the various cabinets, but I also love using it when I go grocery shopping and have a bunch of groceries to bring in. I just push it over to the back of my SUV and load all the bags out at once, then push them over to the kitchen door where I move them from the cart to inside. I've been tempted to buy a second one for the basement where it would really come in handy for so many things!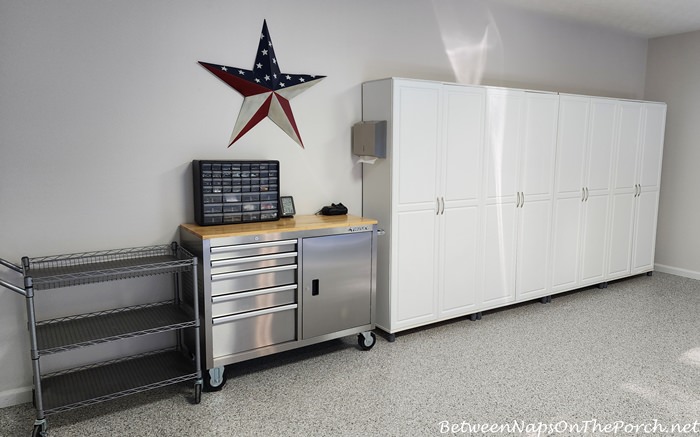 It was easy to assemble and rolls like a dream with the wheels swiveling to maneuver the cart wherever I need it. So happy with this purchase! This cart can be found here: Rolling Utility Cart.
10. Storage Cabinets, Two Styles: Several years back I added 6 cabinets to the garage. With the recent garage update/renovation, I added 3 more. I love how nice they look here in the garage and especially love how the doors keep everything so organized and clean inside.
I have them in two styles. One style is all shelves, from top to bottom and the other style has shelves in the top half with two large drawers down below. I really like a mix of both! I put all mine together by myself which was totally doable! Even standing them up after they are assembled is easy since the doors, which are heavy, don't get added until after the cabinet is standing. You'll find these cabinets available here: Cabinet with Shelves and here: Cabinet with Shelves and Drawers. They are also sometimes available online via Walmart.
A Bonus Favorite: Frozen Drink Maker: Last year I purchased this fun, frozen drink maker for my son and daughter-in-law. It's super easy to use and my son and I were cranking out the cold, beachy drinks in no time! They were both impressed with how they turned out–just like those you normally only get in a restaurant. During another visit, I made frozen slushy drinks for my two grandsons. They loved them! If you love to host summer parties and love frozen drinks, you need one of these! They also make excellent gifts. You'll find it currently on sale here: Frozen Drink Maker.
If you pick up the frozen drink maker and love Margaritas, these glasses are adorable. I purchased two sets for my son and daughter-in-law and we use them for more than just margaritas. You'll find them available here: Margarita Glasses.
Have a wonderful weekend! I'll be staying inside out of the rain this weekend–reading and finishing up a challenging puzzle I've been working on all this past week. I will definitely have to share this one once I finish it! Stay warm and dry this weekend!
*If a post is sponsored or a product was provided at no charge, it will be stated in post. Some links may be affiliate links and as an Amazon Associate, I may earn from qualifying purchases. *