Last summer I shared an issue I was having with my white painted deck railings. I love having a white porch and loved my white deck railings, but…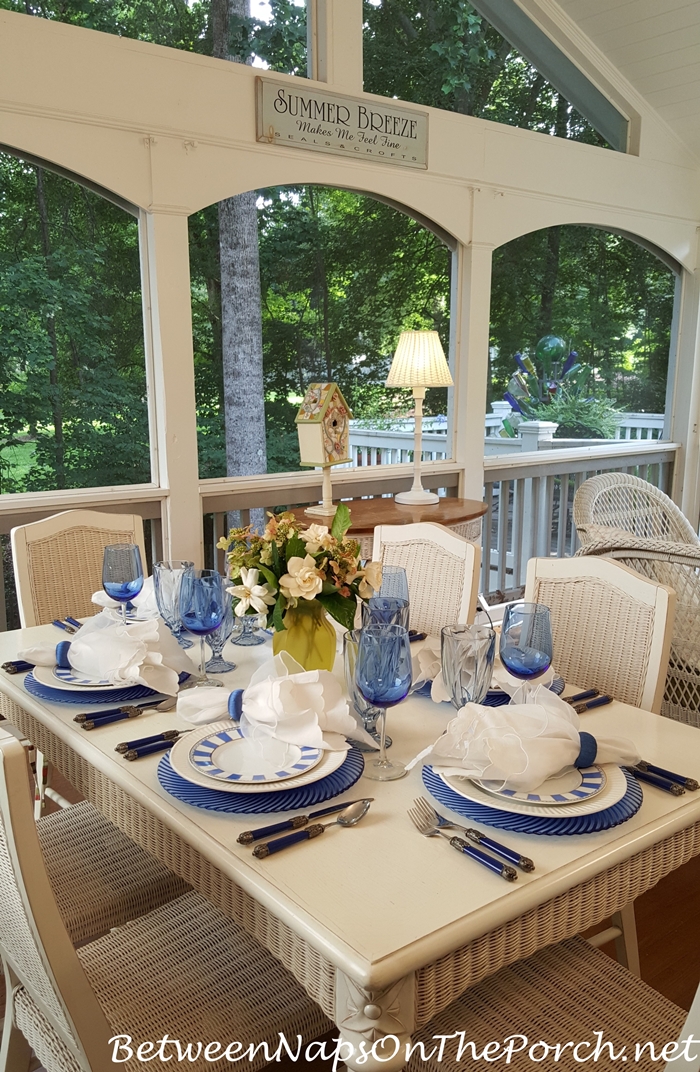 …I was not at all happy with how the tops of the deck railings were always looking. Even after having them freshly painted, they would be back looking like this in no time at all! Argggg!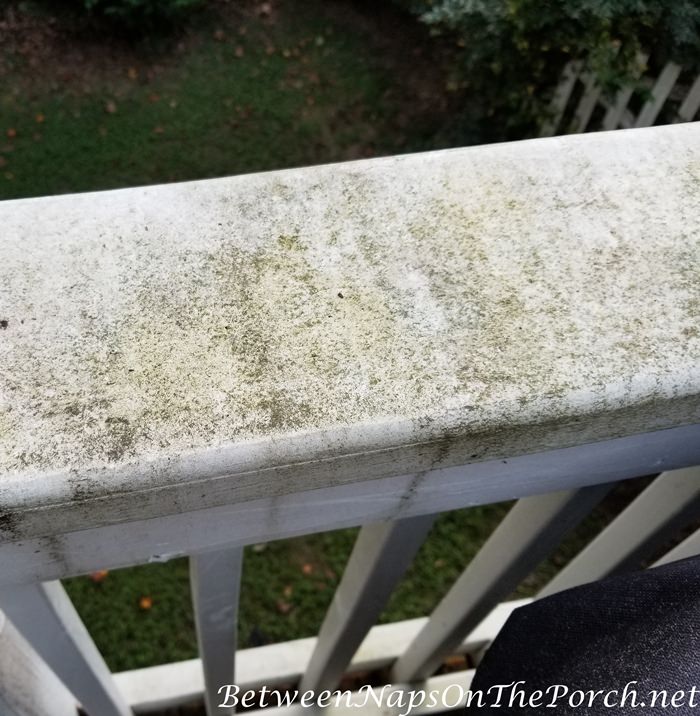 It's pretty much impossible to keep the top railing on a white deck looking nice when you have big trees close by as they are in my backyard. Once they do get stained by the overhead trees, it's impossible to get them even close to white again without a high-pressure washer and a lot of bleach.
In THIS previous post, I shared this inspiration photo. I'm not normally a two-tone kinda gal, but I was pretty desperate to find a solution to my forever messy deck railings.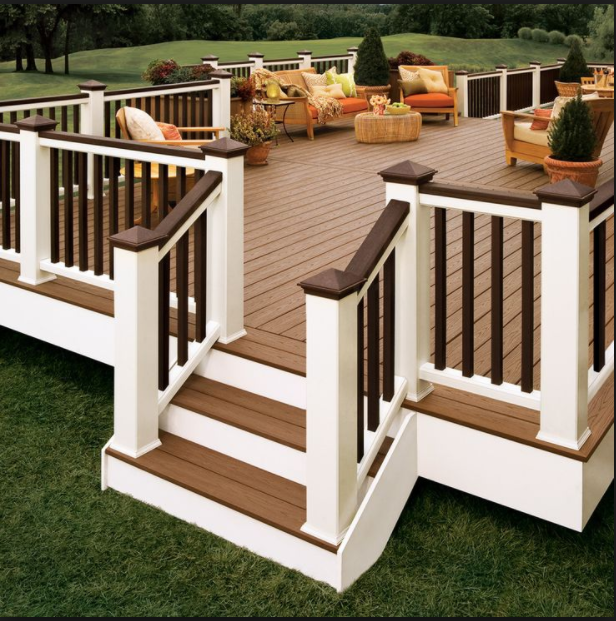 Here's how one of the decks looked after having the railing painted brown. I was surprised how much I liked the look! I really didn't mind the brown, two-tone look at all. But the real test was how it was going to weather the fall and winter.
After having the decks painted last summer, I purchased new deck furniture when it went on clearance at Home Depot.
Winter is almost over, although it's been pretty cold this week. I spent some time outside yesterday blowing off the decks. While outside, I noticed the new deck furniture is dirty from sitting under the nearby trees all winter. As soon as it gets a bit warmer, I'll give it a good cleaning for spring.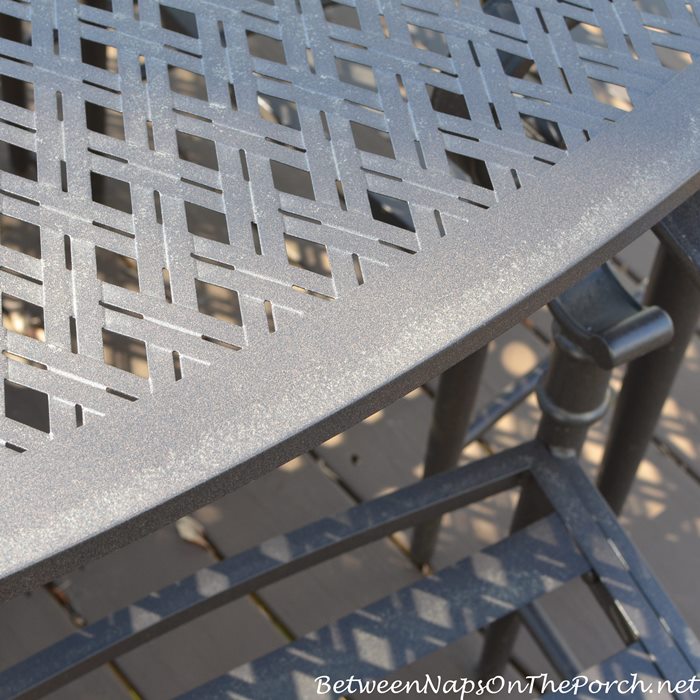 So how do the deck railings look? I'm sure they are filthy, but they look amazingly good! Yay!!!
Here are a few closer views…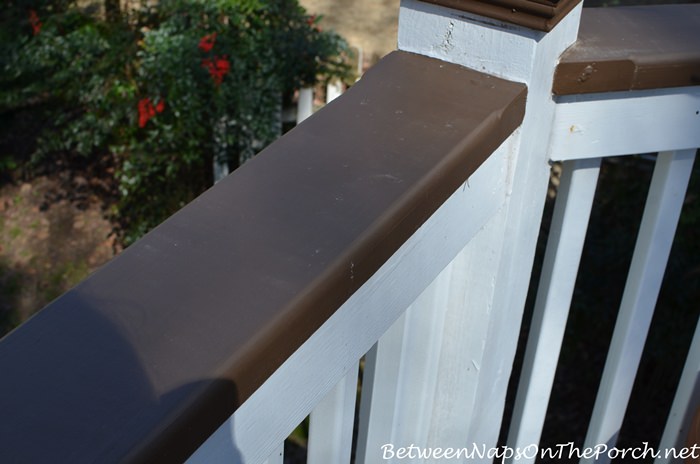 The white spots are probably pollen, it has already started here due to the warm temps we had for several weeks in February and early March. If this railing were still painted white…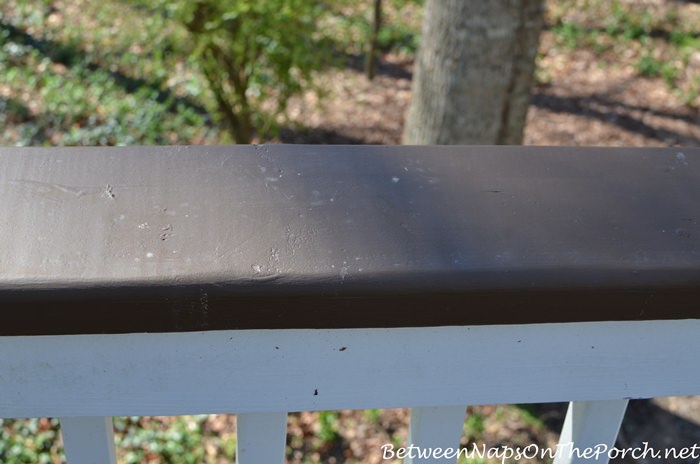 …this is how it would look right now because this is the same railing in a photo from last year.
The only negative to having the brown railings is bird poop shows up more noticeably, but I can totally live with cleaning off the occasional white bird poop if I don't have to deal with the above!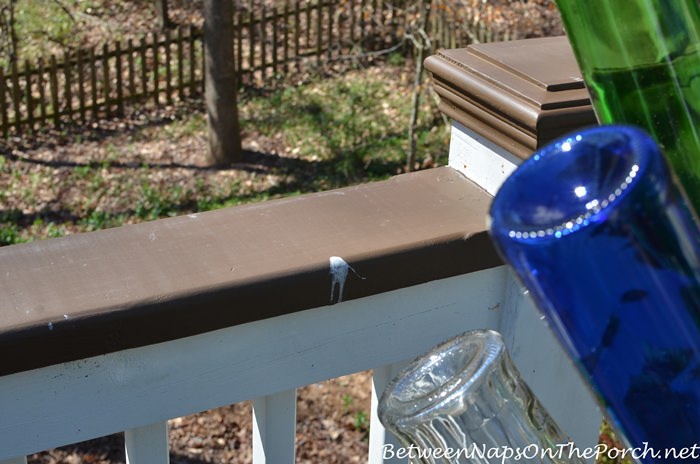 On the other deck where I have 4 feeders hanging from the pergola, there are a few more bird droppings. I haven't cleaned the railings all winter, so it's really not that bad considering.
They washed right off with a little Dawn detergent and a scrubbing wand.
I am so, so happy with my decision to have the railings painted brown. I can't wait until the weather warms up a bit so I can get out here and give the furniture and railings a good cleaning for the spring-summer season. It will be nice not having to have them professionally pressure-washed this year, only to have them looking filthy again a month later.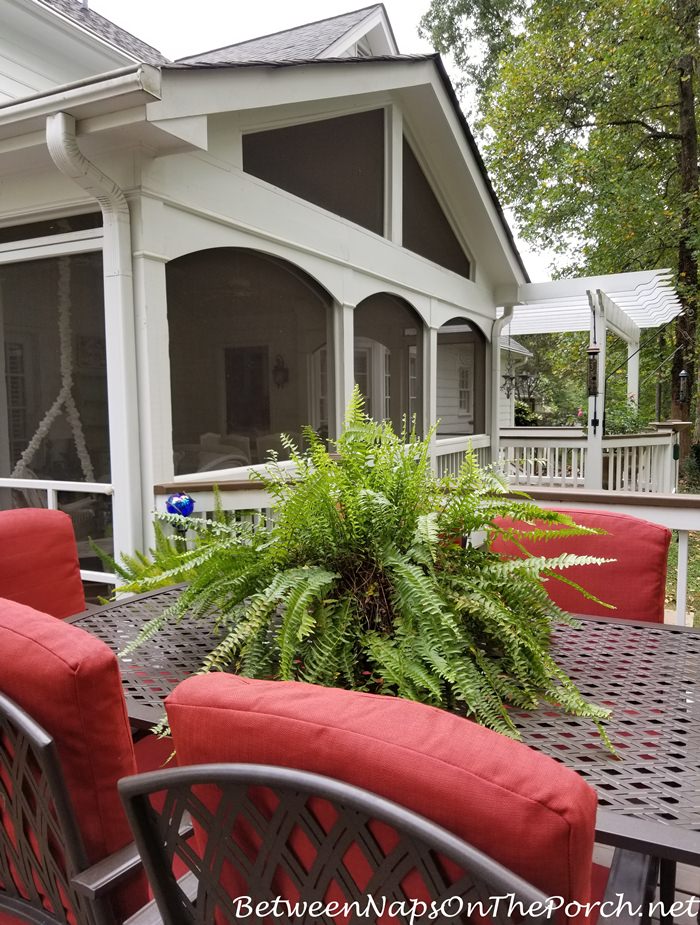 So, even though I know the deck railings probably look like this right now in reality…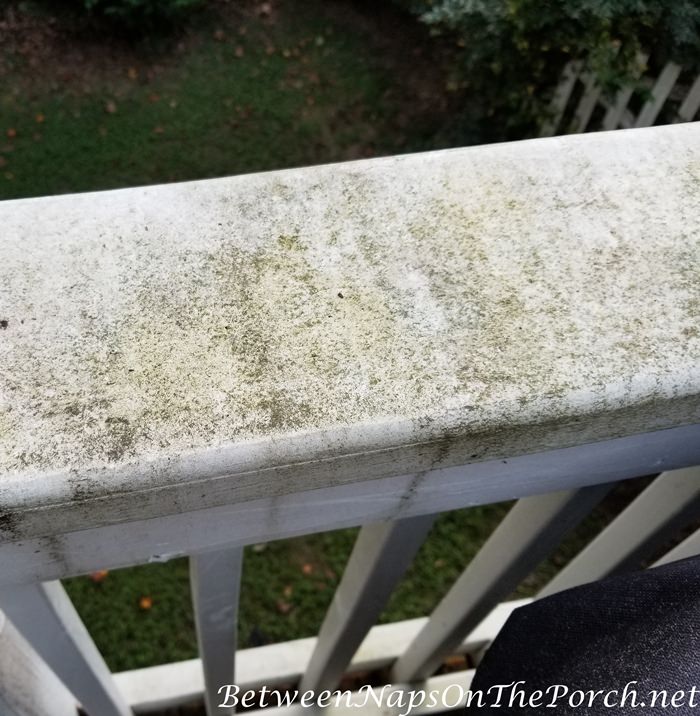 …all I'm seeing is this! So happy! 🙂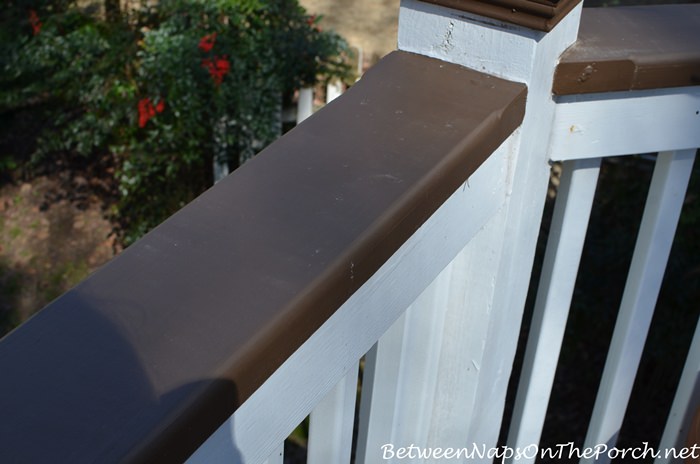 And soon it will look like this. Come on, spring! I'm so ready to see green, green, green again!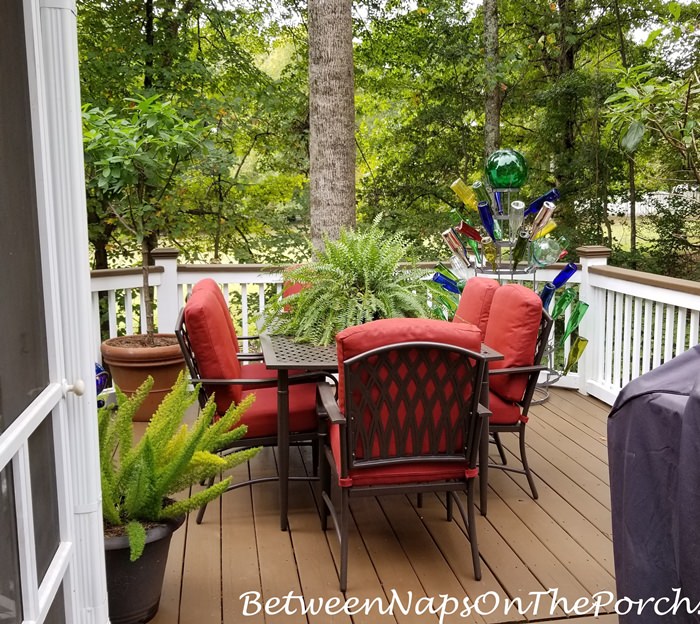 If you have white deck railings and struggle with keeping them that way, I can definitely recommend painting them brown to camouflage the dirt that's inevitable when you have a lot of trees in your backyard. You'll just need to sand and prime the railings first with a really good primer if they've been previously stained.
Hope this info is helpful if you have been dealing with this issue as I have for the last few years.
Happy Spring, dear Friends!
*If a post is sponsored or a product was provided at no charge, it will be stated in post. Some links may be affiliate links and as an Amazon Associate, I may earn from qualifying purchases. *