Welcome to the 476th Metamorphosis Monday!
Recently I shared a new tool I'm using for de-frizzing/curling/styling my hair. This thing is amazing, don't know how I ever lived without it! If you missed that post, you'll find it here The Best Hair Styler Tool I've Ever Used and this styling tool is available here: Styling Tool.)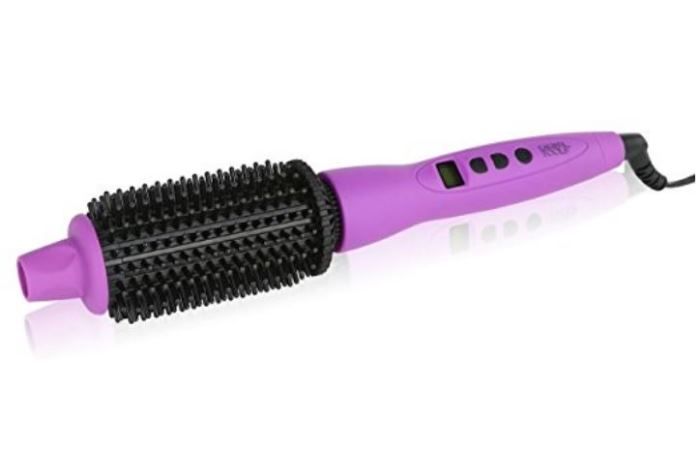 For this week's Met Monday, I thought I'd share the other products that I've been using for years, and absolutely can't do without when it comes to managing my unruly mane. So I guess you could call this a hair metamorphosis!
I shared this shampoo a few years back and I still love and use it every time I shampoo my hair. I hope they never quit making it because it's excellent. You can read more about this shampoo and purchase it here: Shampoo. It looks like they have changed the packaging but it's the same shampoo.
The conditioner is also, good, but for my color-treated hair, I need something a bit stronger.
This is my absolute favorite conditioner. It's not cheap, but it doesn't take a lot, so for me, it lasts a long time. I've been told by hair stylists and an associate in Sally Beauty Supply that it's not supposed to be available to the general public and is only sold to salons, but I've been purchasing it for several years here: Kerastase.
Here's how I use it: After I wash my hair, I squeeze out the water, then apply the Kerastase Nutritive to my hair. I leave the Kerastase in my hair while I finish showering, shaving my legs, etc…. When I'm ready to get out of the shower, I rinse my hair, forcing myself to not rinse too much out. It's easy to think you need to keep on rinsing because this stuff is super, industrial rich, so it always feels like there's still a lot of this nutritive/conditioner left, even after rinsing your hair. That's normal…don't rinse it all out!
If you wash your hair often, you may need to alternate the Kerastase with another conditioner, since it is so rich. My skin and hair tend toward the dry end, so my hair only needs washing every 4-5 days…it's been that way my whole life. So I use the Kerastase every single time I wash my hair. I always have one of these in the shower and one in reserve because I never want to run out. Again, you'll find it here: Kerastase.
After I'm out of the shower, I lightly towel dry my hair, then I spray 3-4 sprays of this Biolage Daily Leave-in Tonic on my still-wet hair.
I first purchased this Biolage Daily Leave-in Tonic in a hair salon after the stylist recommended it for my hair. I've been using it for probably 15+ years now. It takes so little, a bottle lasts for a very, very long time.
I'm not sure if it's still really necessary since I use Kerastase in the shower, but my hair is so thick, I figure it needs all the help it can get. This leave-in conditioner doesn't weigh your hair down, which I really like. If your hair can be hard to manage and lacks body, I can definitely recommend it. It's available here: Biolage.
I comb the Biolage through my hair using this detangling brush available here: Detangling Brush.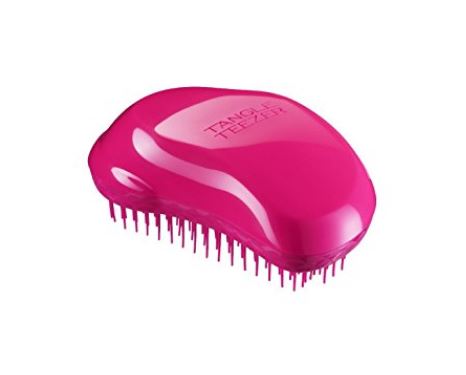 Next, I blow dry my hair by leaning over and throwing my hair over my head to dry it. I don't have the patience to dry is like they do in a salon because it would take forever. Stylist always remark (and sometimes even complain) about how long it takes to dry my hair. I can't tell you how many times they've just given up, and I've left the salon with still partially-wet hair. I even had a stylist once hand me the blow dryer and encourage me to do it myself as I do at home, she was so over trying to dry it the standard way. lol
After I blow-dry my hair (which I do in stages since I don't want heat on my hair for such a long stretch) once it cools off, this is the brush I use to brush it out. I have two of these, one in my dressing room and one in the bath/vanity area. I've also purchased it for family members because it's such a great brush.
I've been trying to think of a way to describe what it's like to use. The one word that keeps coming to mind is "thorough." When you brush your hair with this brush, it feels like it is literally brushing every single strand of hair on whatever section of your head/hair that you're brushing. Yet, it's sooo gentle on the hair. How they created a brush that brushes the hair so thoroughly and so well, yet doesn't break the hair, I do not know. It also feels really good to use, hard to explain…you just have to feel it. You'll find it available here: Brush.
Update: If you buy this brush, do not use soap/water on it to clean it. I noticed reviews on Amazon saying it fell apart after they soaked it or washed it in water. It's not plastic, it's a wood brush and the part that holds the bristles is rubber-like. I've always used a comb to clean hair from mine, but I just purchased THIS brush cleaning tool that I saw someone recommend in the reviews. I didn't know there was such a thing.
I've just recently started using this thermal protector occasionally before blow drying my hair since it takes so long to dry it. I ordered it after a You Tuber I follow recommended it. It doesn't leave your hair feeling greasy, which I really like. I haven't used it enough to give a total verdict on it, but the few times I have used it, I did like it. I purchased it here: Thermal Protector.
After my hair has completely cooled off from being blow-dried, it's time for the real magic! That's the only way I can think to describe what this awesome tool does for my hair! It literally leaves my hair feeling like I've been to a fancy salon and had a professional blowout. It gives my hair tons of body, soft curls and it gets rid of any frizzies.
I purchased mine here: Styling Tool. This version comes with its own storage bag, which I really like. That will come in handy for travel. I purchased the 1.5 inch size since my hair is below my shoulder, now–I've been letting it grow. You'll find the 1″ size for shorter hair at that link, as well.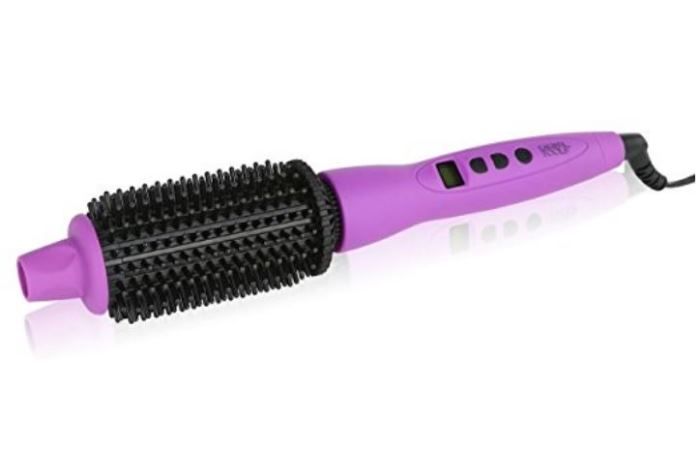 If I Had To Pick Just Two
If I had to choose just two products from all of the above, I would choose this awesome Styling Tool and the Kerastase Nutritive Conditioner. The Kerastase could probably undo any damage done by a less than stellar shampoo, and I can't live without my new styling tool! I would miss my brush, so I'd have to sneak it in, too!
Bonus Tip: After I returned home from being so sick with Influenza A in Germany, a BNOTP reader suggested these vitamins in a comment. I never take vitamins, but I was feeling so run down while fighting bronchitis left over from the flu, I decided to order them. I was also worried I would lose a lot of hair, that happens sometimes when my body goes through a stressful ordeal.
The box says to take two a day, but I've been taking just one a day. After taking them for a month, I feel the best I have felt in many years. I don't know if it's the vitamins or not, but even on days when I don't get enough sleep, I have so much more energy than I normally would.
I don't want to suggest you take these since I don't know your health situation. You should probably consult with your doctor first to be safe, but I just had to share them since I do think they have make a huge difference in how I feel each day and how fast I have bounced back from the flu and bronchitis. And I haven't had any hair loss like I normally would after being sick.
Thanks so much to Bella for suggesting these! She said in her comment that they are available at Whole Foods and on Amazon, and that's where I ordered them here: Vitamins.
Looking forward to all the wonderful Before and Afters for this week's Metamorphosis Monday!
Pssst: I post almost daily on Instagram. Follow Between Naps on the Porch on Instagram here: Between Naps On The Porch. If you enjoyed this post, subscribe for free email updates when a new post is up here: Subscribe for post updates.
Metamorphosis Monday
Metamorphosis Monday is a party that's all about Before and Afters. If you are participating in Met Monday, please link up using the "permalink" to your MM post and not your general blog address. To get your permalink, click on your post name, then just copy and paste the address that shows up in the address bar at the top of your blog, into the "url" box for InLinkz.
In order to link up, you'll need to include a link in your MM post back to the party so the other participants will have an opportunity to receive visits from your wonderful blog readers.
Please observe these few rules:
Please link up Before and After posts that are home, gardening, decorating, crafting, painting, sewing, cooking, fashion or DIY related.
Be sure to include a link back to the party in your post, so your readers will be able to find and visit the other bloggers who are participating.
Do not link up to the party if you're only doing so to promote or sell a product.
To those who are linking up: If you notice a shop or online store linking up to sell products (yes, unfortunately, that does happen) please let me know so I can remove their link and block them from participating in future parties. No one wants to click a link expecting a Before and After, only to find a spam link to an online business/store.
*If a post is sponsored or a product was provided at no charge, it will be stated in post. Some links may be affiliate links and as an Amazon Associate, I may earn from qualifying purchases. *