Welcome to the 646th Metamorphosis Monday, a blog party sharing fabulous Before and Afters!
Over the years, my monitor/desktop setup has changed several times. I've been using two monitors for many years. When I'm traveling and working from my laptop, I really, really miss having two monitors.
Many years ago when I had cable TV, I purchased a Smart TV to place above my monitors thinking it would give me something to watch or having running in the background when I was doing busywork–like sorting through the way-too-many photos I usually take of a project or table setting for the blog.
I had also planned to use it for watching YouTube videos since it was designed to connect to the internet, but the few times I attempted that, it was a pain to make it work with YouTube and the picture quality was never good. Eventually, I got rid of cable TV altogether since I almost never watched TV. It just wasn't worth the $$$ for the 15 minutes I watched while I ate lunch each day. Do I miss having Cable TV? Not one tiny bit–I have zero plans to ever have it reconnected.
The two computer monitors I had back then were pretty small–can't remember the size now. They were adequate, but I much prefer bigger monitors today.
This is how my office has looked for the past few years. I updated my smaller monitors to two, ViewSonic 24-in monitors. (This photo was taken a couple of years back when I purchased a new office chair.) I LOVED the quality of these monitors soooo much, when I set up a desk/mini-office in Ohio last year in the guest room at my son's home during the time I was there helping with my grandsons who were being homeschooled, I repurchased two more of these exact same monitors. They are truly the best monitor I've ever used. I think they were designed primarily for photo editing and they are dead-on accurate in color, or at least that's been my experience. (Monitors are available here: ViewSonic Monitors.)
Sooo, I've been toying with the idea of adding a third monitor for some time. It's a long story why it has taken me so long to do that. It has to do with the huge, huge delay I had in updating my 10-11-year-old computer to one that would work with 3 monitors.
The short version of that story is, over the years I have been storing all my photos in Office Picture Manager, a program Microsoft arbitrarily decided to no longer include in Windows, starting when they introduced Windows 8.
I was a Windows 7 hold out for many, many years, even past the time it was no longer being supported because upgrading to the latest version of Windows (that didn't have Picture Manager) would have taken my thousands of neatly organized photos and literally thrown them in a mess onto my computer.
If you ever want to hear the story of the day I literally cried for an hour after Microsoft forced a Windows 10 update onto my computer (thankfully, I was able to figure out how to reverse it!) let me know and I'll share it. It was an epic nightmare and Microsoft ended up being sued by a lot of people/businesses who awoke one morning to the same disaster.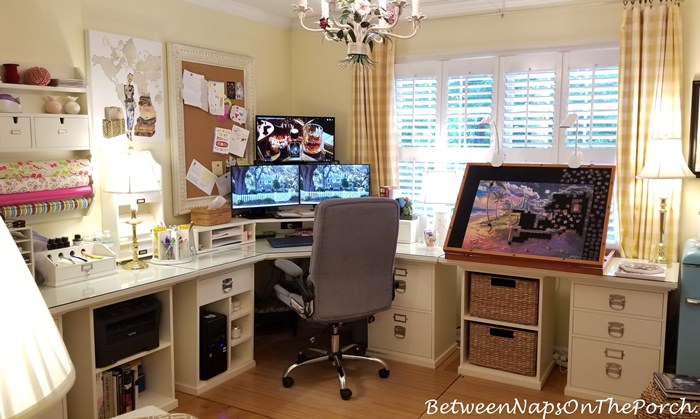 Eventually, after getting a ton of complaints, Microsoft (unbeknownst to me for a while) finally offered a downloadable version of Picture Manager that would work with Windows 10. Just Google for "Where is Picture Manager?" or "How to get Picture Manager back onto my computer" and you'll find quite a few articles on that topic with links where to download it.
It's another story, how I finally discovered Microsoft had finally made Picture Manager available for all of us Windows 7 holdouts–too much for today's post, but I'm happy to say that once I discovered it was available, I was able to upgrade my laptop and desktop to Windows 10 and have a whole new computer built that would work with more than two monitors. I just got my new computer about a week ago and it's awesome! It's definitely a lot faster than my old computer, despite having had my old computer upgraded a few times over the years.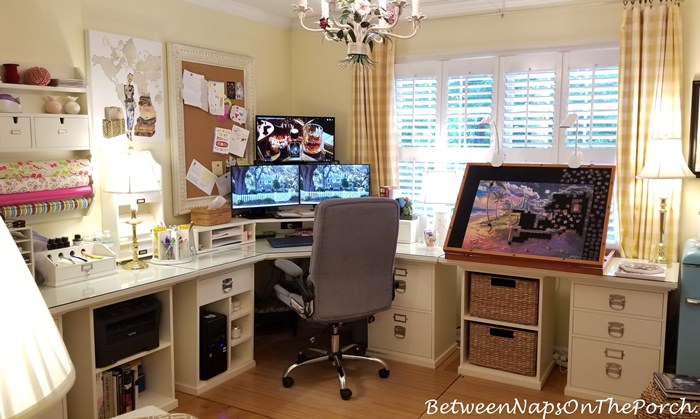 This is the arrangement I finally settled on for my three monitors.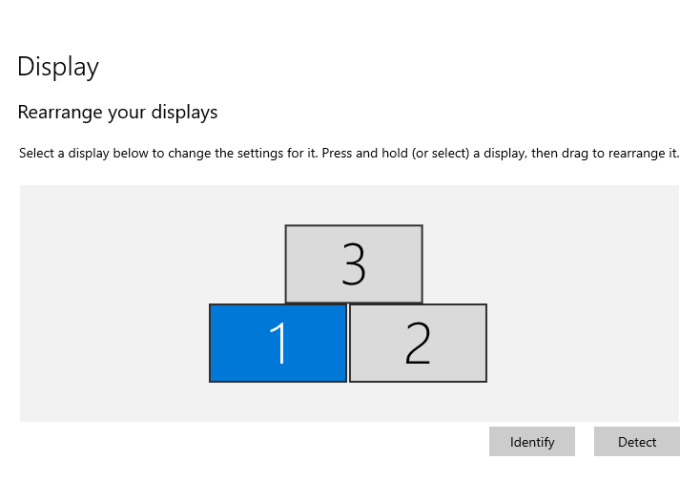 Initially, I set them all up horizontally because I couldn't figure out how to get the cursor to move easily from monitor to monitor when they were arranged with the third monitor above the other two. I did not like this setup below–it felt like I working inside a box. Literally! It doesn't look that bad in this picture below, but in real life, the monitors on the left and the right were all up in my grill! lol
This setup below would work out fine if you have a rectangular desk and can put the right and left monitors further back, but my desk is designed to fit in a corner and is curved in shape. That placed the two side monitors closer to me than I liked, especially the left monitor. I tried to work that way for a few hours but disliked it so much, I ended up moving the third monitor back to the top.
That's when (after a bit of Googling) I figured out how to make the cursor work logically when I moved it from monitor to monitor. After that, I was a happy camper! When the monitors are logically set up as shown below, you can literally circle seamlessly around and around or scroll from the top to either monitor below effortlessly. Windows makes it soooo easy to have multiple monitors! The computer recognizes that there are multiple monitors as soon as you plug them in.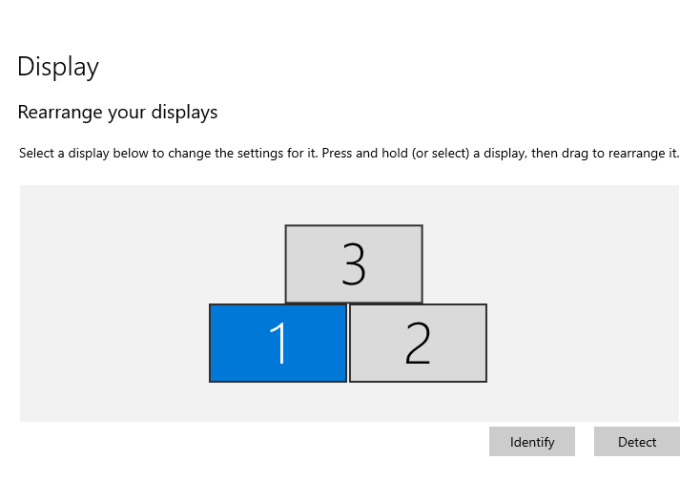 So this is my current layout. and I love it!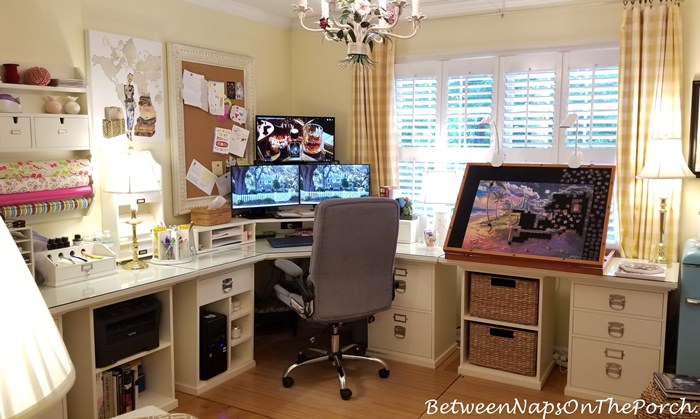 I purchased the exact same brand/style monitor for the third/top monitor, only I went with a larger size 27-inch size monitor for the top since I knew it would primarily be used for watching movies or YouTube videos while working here in the office.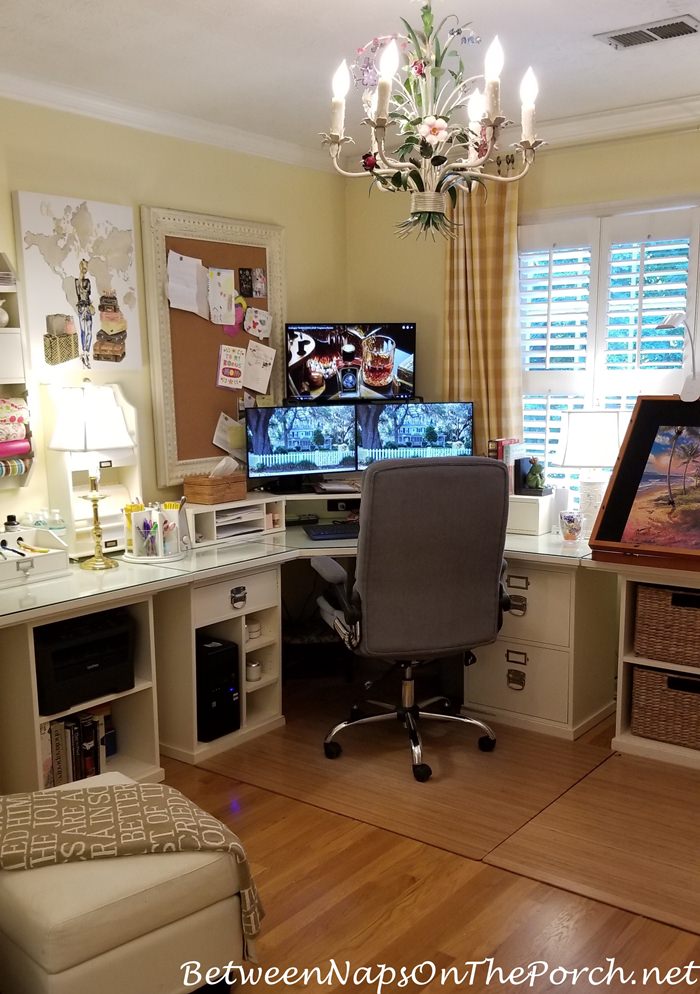 This is my view now when sitting in my office chair. The top monitor doesn't really look bigger in this photo, but it is. The top monitor is 27-inches and the two bottom monitors are each 24-inches. The top monitor sits slightly further back than the other two so that's probably why it doesn't look any larger than the lower ones in the photo. In person, it definitely looks larger.
These monitors are all available here: ViewSonic Monitors. The two 24-in monitors are the "24-inch, 1080p Factory Calibrated" at that link. The 27-inch monitor is the 27-inch, 2-K Factory Calibrated monitor at that link. I LOVE these monitors–hope they never stop making them!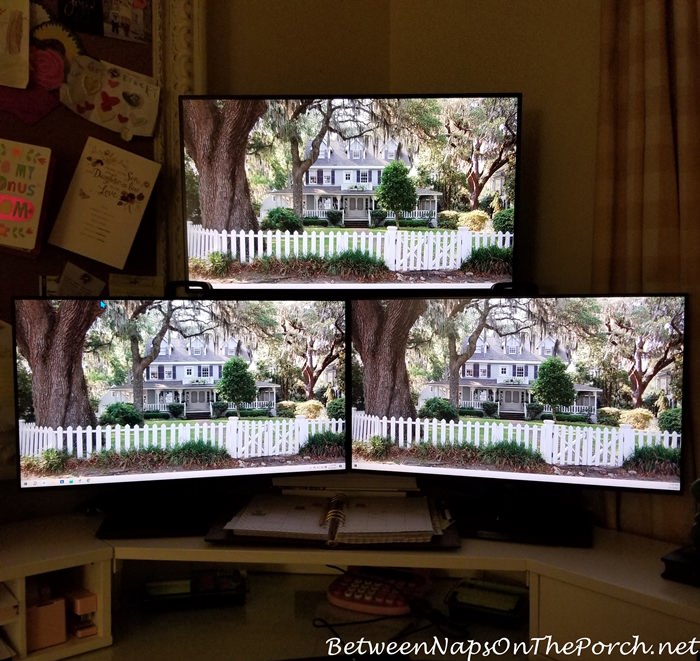 In this view below, I was watching a perfume review for Zoologist's latest perfume called Rhinoceros on the top monitor (See that video here: Zoologist Rhinoceros 2020) while I had the blog pulled up on the left monitor and the photos I wanted to use in a post pulled up on the right. This is how I primarily used this setup: I open up a new post on my main computer screen on the left, and once I have the photos edited and ready for a post, I bring those up on the right monitor. Then I just drag the photos I want to use into the post on the left monitor.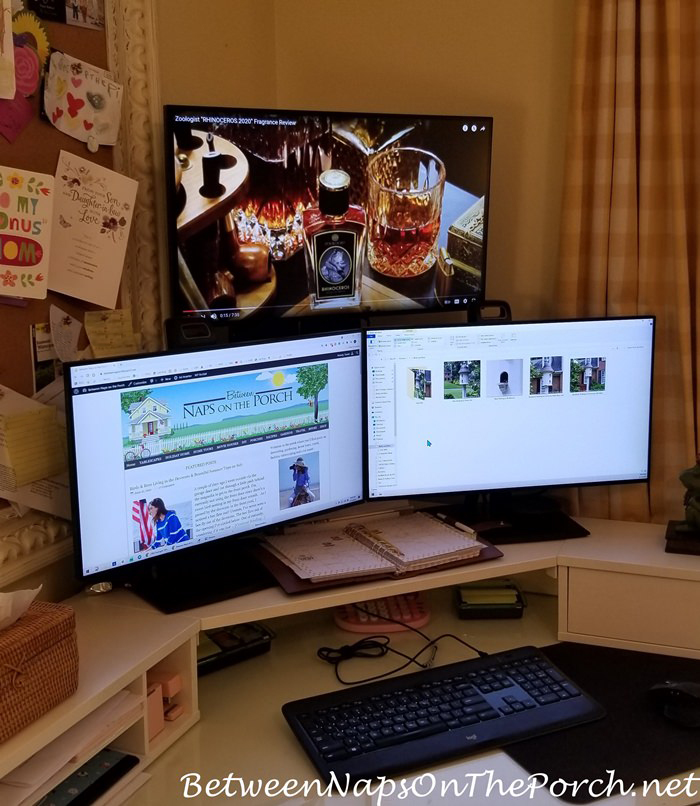 I really love having this third larger monitor when I'm working a puzzle on my puzzle board. It makes it so easy to watch a movie or YouTube video while playing or working here in the office. If you have any questions about this setup, please feel free to ask them in the comments below. This was truly so easy to set up! I could actually add a 4th monitor now if I wanted to, but I am completely content with three. This is my ideal setup for how I like to work.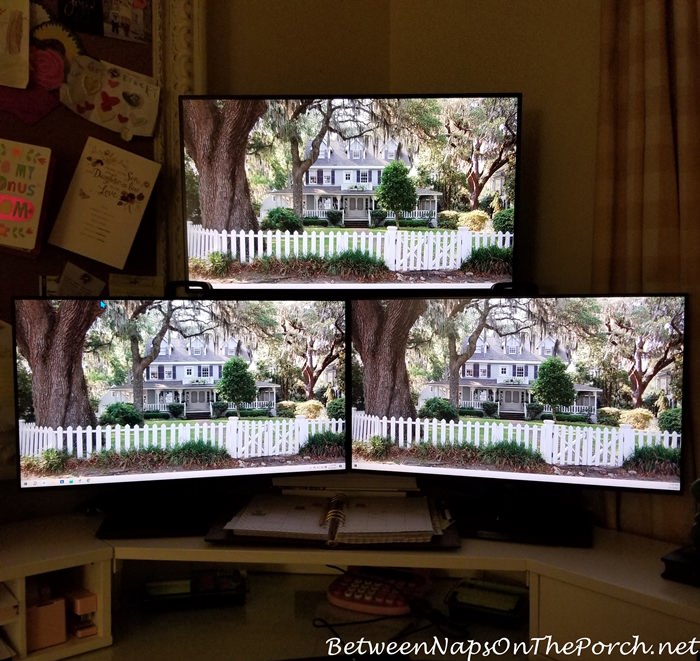 Looking forward to all the great Before and Afters linked for this week's Metamorphosis Monday!
Pssst: Did you know Between Naps On The Porch is on Instagram? You'll find me on Instagram here: Between Naps On The Porch.
Like to know when a new blog post is up and available to read? Subscribe for email updates, it's free and your email will never be shared.
Subscribe for free post updates via email here: Subscribe.
Metamorphosis Monday
Metamorphosis Monday is a party that's all about Before and Afters. Please link up your Before and After projects like DIY projects, room makeovers, craft projects even recipes. Any Before and After is great! Please do not link up Table Settings, save those for our Tablescape Thursday party on Thursday.
If you are participating in Met Monday, please link up using the "permalink" to your MM post and not your general blog address. To get your permalink, click on your post name, then just copy and paste the address that shows up in the address bar at the top of your blog, into the "url" box for InLinkz when prompted.
In order to link up, you'll need to include a link in your MM post back to the party so the other participants will have an opportunity to receive visits from your wonderful blog readers.
This party has ended, click button below for the links to all who participated.
*If a post is sponsored or a product was provided at no charge, it will be stated in post. Some links may be affiliate links and as an Amazon Associate, I may earn from qualifying purchases. *