Welcome to the 610th Metamorphosis Monday, a blog party sharing fabulous Before and Afters!
Today is going to be a busy day around here. The two screened doors for the porch are being delivered and painters will be here cleaning and painting the front porch and washing the decks and the exterior of the screened porch. The cleaning/painting was actually supposed to be done earlier in the spring but several extended trips to see family and help with my grandsons this summer caused everything to be pushed forward a bit.
For today's Met Monday, I have a small update to share here in my home office. For the past 10 years, I have been seeking the perfect desk chair. I just know it's out there somewhere! Ha!
In the past, I really focused on finding a chair in a neutral or cream color, thinking that would work best with the furniture in this room. (Furniture is from Pottery Barn and available here: Pottery Barn Bedford furniture in this room.)
Of course, that very much limited the pool of desk chairs from which I could shop. Recently, I was searching again for a chair that would better suit my needs. The one I had wasn't bad for working, but it sat a bit more upright than I would have preferred and wasn't that comfortable for sitting over long periods of time.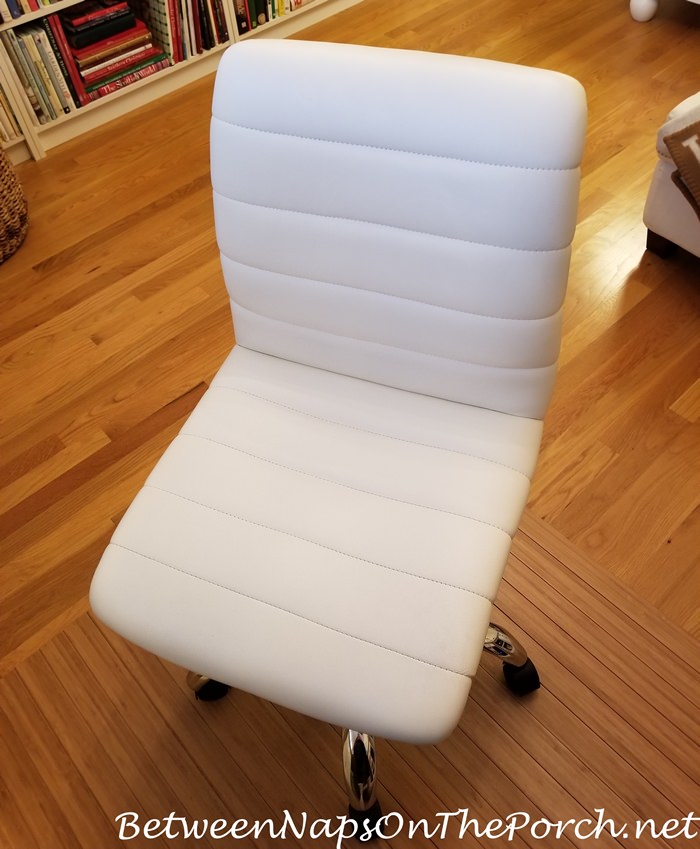 I came across the chair you see below and though it wasn't in my preferred cream/lighter color, it was at least a neutral color.
It also had a lot of the features I had been hoping to find, plus the reviews were looking pretty good.
Assembly was easy. The only issue I had was that I couldn't figure out how to adjust the "tilt" feature. The chair is supposed to be designed where it will tilt back to whatever angle you prefer. More on that in a sec.
Here's a close up of the chair. The color is probably a smidge lighter than it appears below. It's super comfortable and has plenty of padding. I'm very pleased with how it sits.
Normally a chair with arms will not work for my desk because, by the time I adjust the chair to the height I need, the arms often hit the desk as I move forward. This chair lets me have the best of both worlds.
When I need to scoot up close to my desk, I just raise the arms upward. When I'm sitting watching a YouTube video or something on Acorn TV and want to be more comfortable, I can lower the arms back down. They adjust up and down with little effort. Love that feature of this chair!
The other feature that I really wanted was the ability to adjust how upright the chair sits. The other chairs I've purchased in the past did not allow for adjusting the slant/tilt of the back of the chair and sometimes they felt too upright for my comfort. This is the lever you use to adjust the tilt of the back.
(I usually get questions about the wood chair mat I use here in the office, You'll find it available here: Chair Mat.)
At first, I couldn't get it to adjust and there were no instructions with the chair explaining exactly how to do that. I contacted the company and they promptly replied with a helpful diagram showing how the adjustment is done.
I was missing a step. Prior to using the lever to adjust the tilt, the knob shown at the bottom of the diagram has to be turned to the left to adjust the strength–the strength of what, I'm not sure.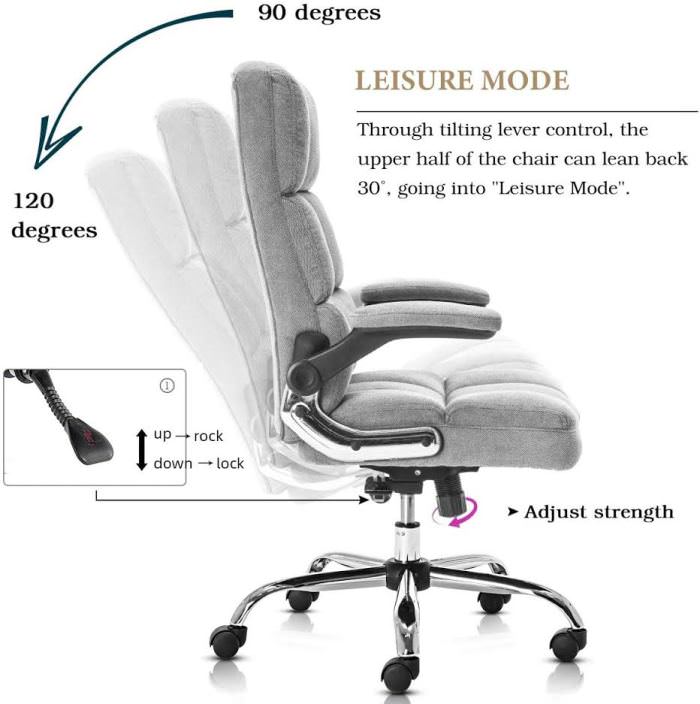 This is the knob that had to be turned. At first, I couldn't budge it. I ended up laying the chair over on its back and using both hands I was able to turn the knob to the left.
Apparently, that loosened something up because after I did that, I was able to tilt the back to a position I found comfortable, then I used the lever below to lock it into place. Of course, this chair can also be adjusted up and down to suit a person's height with the lever that's located on the other side of the chair, not shown in my picture below. So this chair has a lot of built-in adjustment features.
Another thing I like about this chair is that the seat is deep, but not so deep that I require a pillow behind my back. I'm around 5'4″ tall. If the chair seat were any deeper from front to back, I would need a pillow behind me.
So far, I'm pretty happy with this chair. The seat is very padded. It's not hard, but not mushy either. I think it looks okay with the other furniture/fabrics in this room, as well. So overall I'm very happy with this office update.
If you need a chair with adjustable back tilt, adjustable height, and arms that can be moved back and out of the way when needed, you'll find this chair available here: Desk Chair with Arms That Can Be Raised.
It's available in several colors. I was very tempted by the leather version.
When I was visiting my son and daughter in law the past few months, I purchased this chair for the small desk I work at in their guest room. The back doesn't tilt but I was pleased with how well it sat. It's very cushy and comfortable, both in the seat and in the back. So if you don't need arms on your desk chair, I definitely feel comfortable recommending this one. You'll find it available here: Comfy Desk Chair.
The painters should be arriving soon! Looking forward to sharing a newly painted front porch real soon!
Looking forward to all the wonderful Before and Afters linked for this week's Met Monday!
Pssst: Did you know Between Naps On The Porch is on Instagram? You'll find me on Instagram here: Between Naps On The Porch.
Like to know when a new blog post is up and available to read? Subscribe for email updates, it's free and your email will never be shared.
Subscribe for free post updates via email here: Subscribe.
Metamorphosis Monday
Metamorphosis Monday is a party that's all about Before and Afters. Please link up your Before and After projects like DIY projects, room makeovers, craft projects even recipes. Any Before and After is great! Please do not link up Table Settings, save those for our Tablescape Thursday party on Thursday.
If you are participating in Met Monday, please link up using the "permalink" to your MM post and not your general blog address. To get your permalink, click on your post name, then just copy and paste the address that shows up in the address bar at the top of your blog, into the "url" box for InLinkz when prompted.
In order to link up, you'll need to include a link in your MM post back to the party so the other participants will have an opportunity to receive visits from your wonderful blog readers.
Update: Please do not link up table settings/tablescapes for Metamorphosis Monday. Please save those for our Tablescape Thursday party on Thursdays. Recipes are fine because that's definitely a "Before and After" but please save your beautiful table settings for Tablescape Thursday. Pretty vignettes (transformations) you've created on atop a chest or somewhere in your home are great for our Before and After party, but let's save the actual table settings for Tablescape Thursday.
This party has ended, click button below for the links to all who participated.
*If a post is sponsored or a product was provided at no charge, it will be stated in post. Some links may be affiliate links and as an Amazon Associate, I may earn from qualifying purchases. *