Thanks so much for all your input on Saturday's post about the hall/basement door I recently had replaced. After reading all the comments, I was leaning toward having the door installation redone. (Read the comments here: Is This Door Too Short?)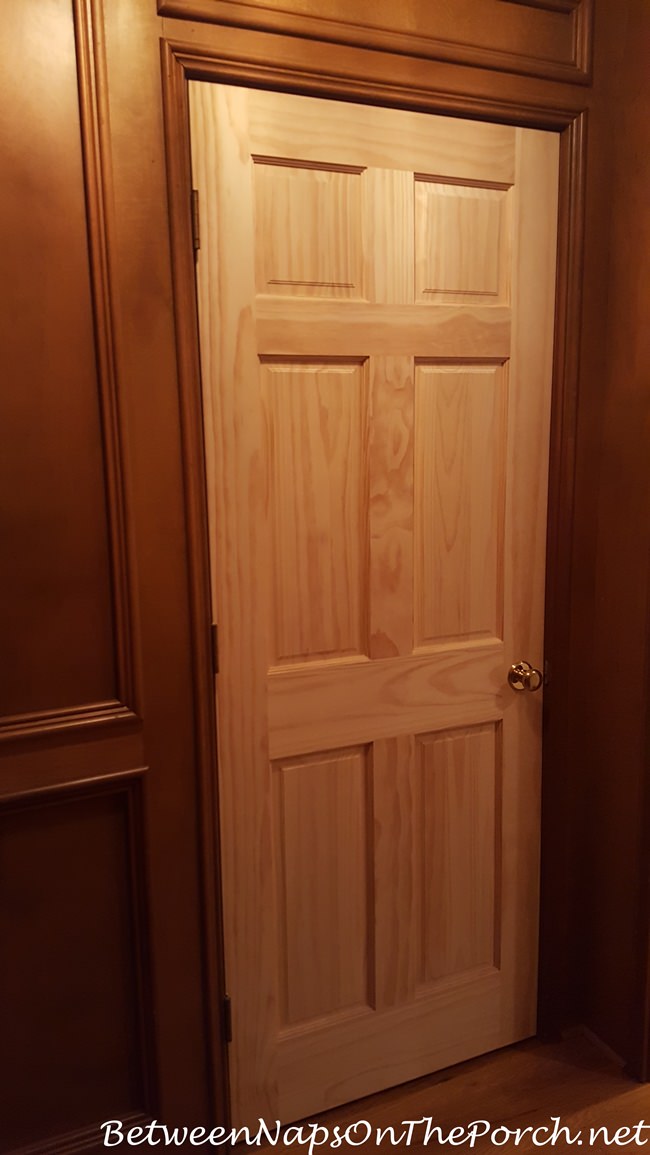 I've had such mixed feelings about this situation and that's not normal for me. Normally when work is done in my home and there's a problem, I don't hesitate to ask that it be corrected. But this situation was difficult since I had a feeling it would probably look okay from the hall side once it was stained.
But I was worried that I'd always regret not having it redone when coming up the basement stairs. That's where it really looked too short.
Yesterday I visited Home Depot to purchase the last four shelves I needed to complete the task of replacing all the shelves in the garage cabinets. Those are all done now, every shelf (except the fixed shelves) has been replaced. That's one project that can be checked off my long to-do list!
Oh, and the old shelves–the ones I removed, they didn't end up in the county landfill. I called a dealer who has a booth in an antique store and he was glad to get them (all 23!) since he's always in need of shelving.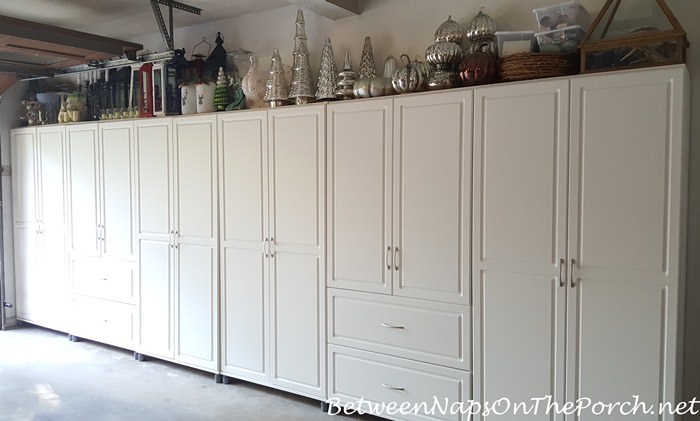 While in Home Depot today, I walked over to the door department and spoke with one of the associates working there. I asked what the normal height was for a door to be cut and without hesitation, he said 1/2 inch.
I showed him the photos of my door and asked what he thought. After seeing the photos he recommended I request a replacement. Between your comments on Saturday's post and his input, I decided to go ahead and ask that it be replaced. He filled out some paperwork in their system and gave me a phone number to call.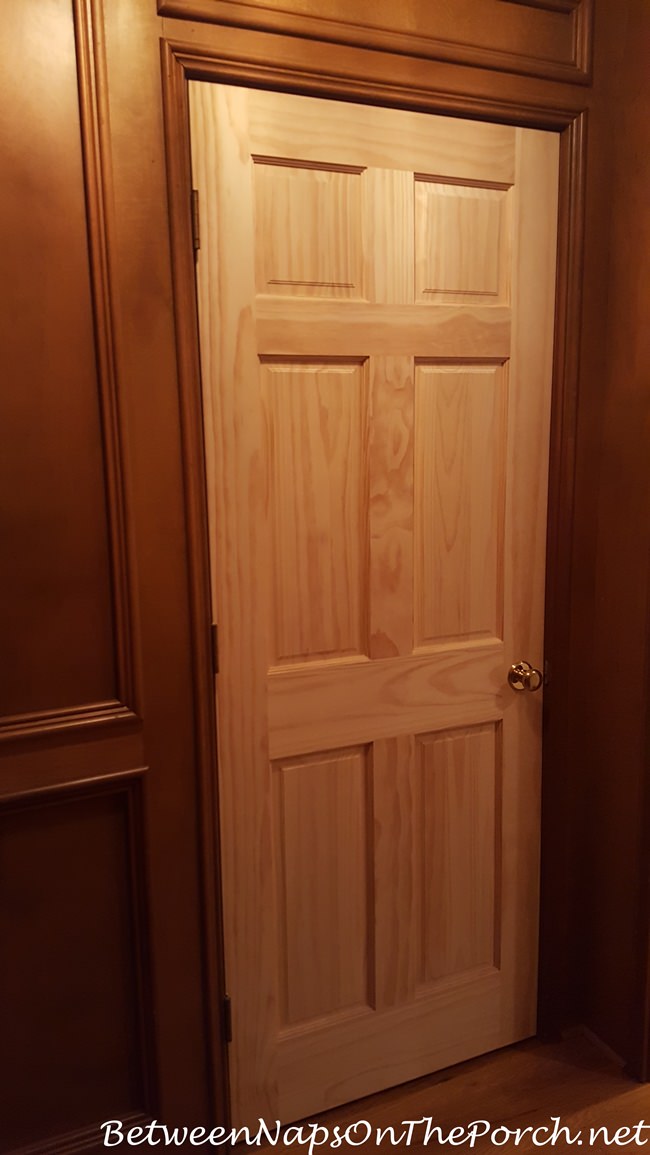 Quotes
In the meantime, I've gotten a quote for having the house pressure washed (it's been a few years) and for having the decks cleaned and stained. I'm getting a second estimate for that this week, then I'll make a decision who to use and that process will get underway. Hopefully I can get the door replaced quickly since whoever I use for the pressure washing/deck cleaning and staining, will also be staining the door.
I'm probably going to hold off painting the basement…that project always seems to get tossed onto the back burner. The quote I had for that was $2000! That seems a bit much for priming, caulking and painting one room, even if it is a pretty large room.
Fence Replacement
I'm working on so many things right now, my head is spinning! I don't know why I'm in such a nesting phase! Maybe my body knows winter is coming and it's trying to get ready.
The sections of fencing that face the road on either side of my house have been taken down and put back up several times over the years when tree work had to be done in the backyard. You can see the fence in this older photo when I was in the process of landscaping the front yard. Part of it is actually missing since the post broke off when they removed the fence to take out some Leyland Cypress that needed to come out.
You can see that missing section even better in this photo taken from the backyard. By the way, the Leyland Cypress have grown so much since this photo was taken. I think by next summer, they will be well up above the second story again! They are already sticking up well above it, so another year and they will be really giving my neighbors and myself a bit more coverage.
Anyway, back to the fence…all that taking down and putting back up of the fence has taken a toll, so today I visited a local fence company and set up an appointment to get an estimate for having those two sections that face the road, replaced.
When they are replaced, I'd like to do something fun with the gates. Each side has its own gate. I'll be googling and checking out Pinterest for some pretty gate designs, but I think I have an idea of what I may want.
Transferring Memories from VHS and 8mm to DVD
I visited a local company today to start the process of having all the VHS and 8 mm tapes of our family vacations, my son's birthdays, Christmases, Swim meets, Disney trips, Scouting events etc… all converted over to DVD. The reason I'm doing this is mainly because I'm worried that these old tapes will wear out or deteriorate over the years. A DVD is a much better way to store those precious memories. Once they are on DVD, it will be so much fun to watch them again…and way more convenient.
The process will go something like this: They will take the 23 tapes I took in today and put each tape onto its own DVD. They are booked out 4-5 weeks so it will be a while before they get started.
I'm also thinking of having all the birthday recordings put on one disk and all the Christmas recordings put on another disk. If I do decide to do that, I will need to watch all the DVDs (once those are made) and note the times on each DVD of any birthday events. Ditto for the Christmas recordings.
Then the company I'm using will go through the DVDs using my detailed notes, and put all the birthdays on one DVD and all the Christmases on another. So there would be one DVD with nothing but birthdays, hopefully in chronological order, and one for all the Christmases.
The process to have all 23 tapes put onto DVDs is $350. It doesn't matter how much is on a tape (5 minutes or 2 hours) the cost is the same per tape. Once I sit down and go through all the DVDs, noting the times of all the birthday events and Christmas events, the fee for them to take my notes, and copy over all the birthdays events onto one DVD and all the Christmas Mornings onto another DVD is $40 for every 1/2 hour they work. So it's not cheap. He said it usually takes just an hour or two. They only charge for the time they are actively working, not for the time the machines are doing the copying.
I wish we had always started a fresh tape when we filmed a birthday or Christmas, but we didn't. Fortunately, 3-4 birthdays are all on one tape but some are mixed in on other tapes with vacations, swim meets, etc… I'm just thankful there are places that do this type work because I wouldn't want to even attempt it.
So, there's a lot going on and I'm looking forward to sharing more about these projects as they get done. Oh, and did I mention that my desktop computer shut down this morning and refused to start back up. Yup, that was how the day started. It's on the other side of Atlanta right now being repaired…typing this on my laptop.
New Phone
I also purchased a new phone, the new Samsung Galaxy Note 8. It's awesome! I'm still learning all the bells and whistles. The fingerprint unlock is working great, I haven't tried the Iris Scanner or Facial Recognition, yet.
I love that whenever I'm home, it knows it and doesn't lock my phone. Same for when it's actively connected to my Bluetooth speaker in the car listening to a book on Audible. I've only had it about 3 days so I've just scratched the surface of what it can do, but so far I'm in love!
This is the theme I currently have on the phone. If you're looking for an amazing theme for your Samsung Galaxy phone, look for those by Echo Visuals in the Theme Store. Her themes are amazing, my absolute favorite! I've purchased many over the years, they are only $2.99 each.
I took a screen capture below of the one I'm using right now, but it's not the same as actually seeing it animated. In this theme, when the phone is locked, snow falls, owls fly right at you coming from the direction of the castle, the bunny moves his head like he's eating grass from the snow, and the horse runs across the screen. 🙂
Update: Just found this theme on YouTube so you can see it in action here: Winter Castle. Click on the full-screen icon for a better view. Of course, it's much better in person on a phone.
Here's just a few of her Halloween themes below, I have all three of these, purchased last Halloween. They are animated so lightning flashes and the pumpkins glow. lol
She creates new themes for every holiday, so I always love seeing what's available in the Theme Store for the seasons/holidays. They are all beautiful, hope Echo Visuals never stops making them!
There are a few other smaller projects I'm working on, some I'm super excited about, but I think this is quite enough to share for now. lol If you're feeling a bit overwhelmed right now, I understand! Me, too!
See you tomorrow for Tablescape Thursday!
Pssst: I post almost daily to Instagram. Follow Between Naps on the Porch on Instagram here: Between Naps On The Porch.
*If a post is sponsored or a product was provided at no charge, it will be stated in post. Some links may be affiliate links and as an Amazon Associate, I may earn from qualifying purchases. *