How is your weekend going? I've been working on a lot of things around here and I thought I'd share some of them with you in case they are helpful. Remember this door that I shared recently in a post? It's located in a small hallway…
…that's right off my living room.
The door leads down to my partially-finished-in basement…just needs paint and flooring. I had the basement work done when I added on the screened porch in 2008. It's a heated and cooled space, just like the upstairs.
The door had needed to be replaced since it was damaged on one side by a previous homeowner's dog, and sadly, I no longer need the kitty door.
The door was installed and I'm very happy with it, although there is one thing that is nagging at me. I used Home Depot for this and they sent out a local company that's been in business for many years. They did a great job on the install, but there's one thing that's got me concerned. After it was installed, I noticed there's a pretty big gap under the door. It's big enough that I can stick all my fingers under the door, up to my palm.
I asked the guys why they cut it so short and they said that they cut it the same length as the door that was already there. Well, the door that was there was the original door from when the home was built in 1982, and at that time the floors were carpeted. I've had hardwood flooring throughout my downstairs for many years now. At one point during our conversation, he said, "Well, it could have been cut longer" acknowledging that he cut it shorter than it had to be.
It bothers me that instead of assessing the situation and noting that the door that was there was shorter than necessary, he just copied it and cut this one the same way. The door is right at 3/4 inch up from the floor. From reading online, 1/2 inch is mostly the norm, but sometimes doors are cut 3/4 inch up from the floor if the door is opening over a thick rug or there's some specific reason for it. I don't think I'll notice it as much once it's stained, especially since I had never really noticed or thought the door that was there, looked too short.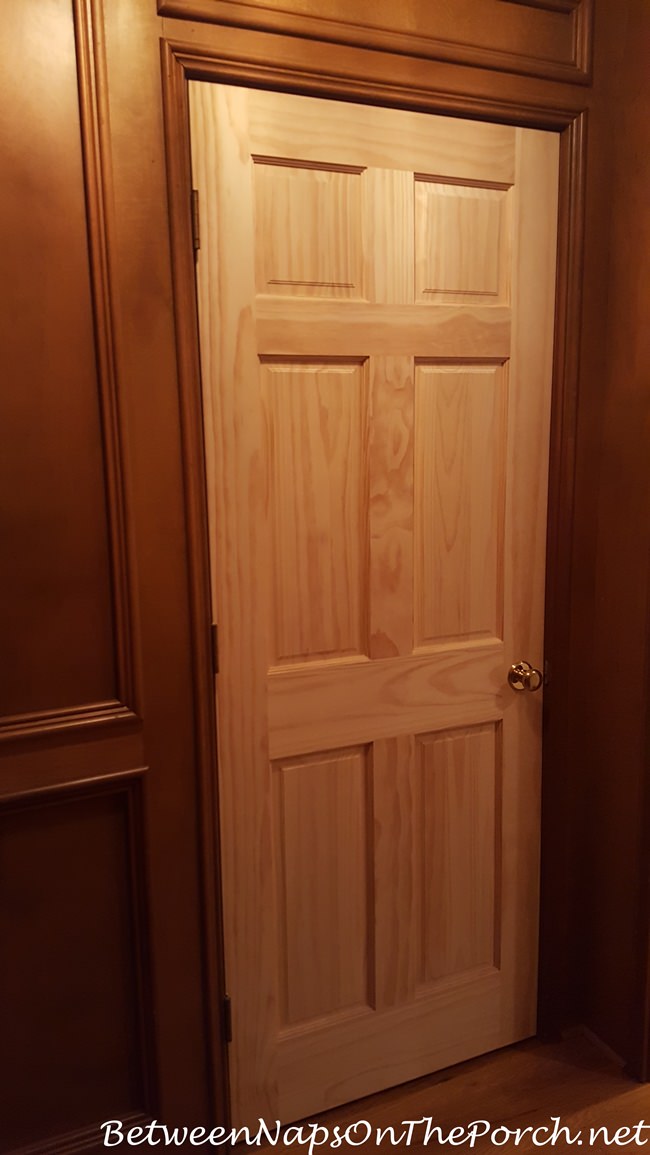 What do you think? Be honest, would this bother you? If you know someone who knows about doors/construction, please ask them if this is okay/acceptable and let me know what they say.
Of course, no one ever gets down at this view. I think once it's stained and blends in, I won't notice that it's a bit shorter than it had to be.
Of course, it's most noticeable when you're coming up the basement stairs, then you tend to notice the light coming from under the door. Argggg. Let me know your thoughts.
Deck Washing and Staining…the never ending job
Today I had the company that painted the interior of my screened porch a couple of years ago, come out to give me an estimate on cleaning and staining the decks. I think I'm going to go with a solid stain this time since every year I have the decks cleaned, it seems to remove much of the stain when I've used a transparent stain. I'm hoping a solid stain will last better. The representative for the company said it would last better.
I would be tempted to have the decking replaced with a composite decking material because at least that would eliminate the need to have it restained every two years, but that would be very expensive and those seem to have mixed reviews online.
I was going to wait until after the decks were cleaned and stained again to put the new furniture together, but I decided to go ahead and put it together now. I put the chairs together weeks ago, but I went ahead and put the legs on the table last night. The guy from the painting company helped me turn the table upright while he was here. I'll share a photo of it all put together and in place once the decks have been cleaned and restained. Here's how it looked online when it was available.
I have all the furniture, lamps and such back out on the porch now, and the bottles are back on the bottle tree. You may remember I had removed them when Irma was on her way to Atlanta.
I had planned to give the porch a good mop down while all the dining chairs were inside, but I was tired of walking around them in the breakfast room and decided I could just push them aside when this fancy mopping system I've ordered arrives.
Anyone have the Mopnado? I always hate mopping because it so inefficient. I never feel like the floor is really getting clean. And I hate wringing out the mop. Yuck!
The Mopnado rinses and wrings out the mop for you when you press down on the handle. I watched a video in the reviews and liked how it worked, so we'll see once it arrives. It's rated 4.4 stars (out of 5) after 4000+ reviews, so that sounds promising. You can read more about it and watch the video in the reviews here: Mopnado.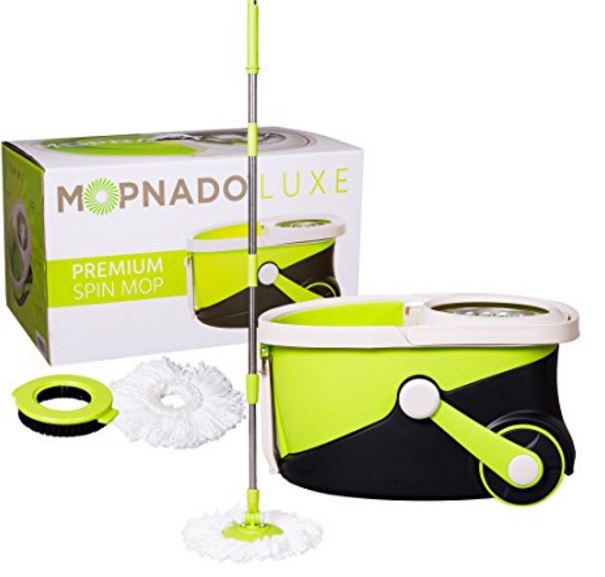 Basement Cleaning
I've been cleaning out the other side of the basement…the side that's not finished in at all. Today I donated four bags of kitchen gadgets, old games/toys and other household goods. I also had a company come out today that takes away rubbish and stuff you don't want. They took away some sections of fence that were taken down when the trees were removed in the backyard. They also took away some left over molding, scrap wood and a board we had painted for my son's Brio train set. It was so good to get all those things out of the basement.
I think I'm going to go ahead and have the partially finished section of the basement painted. It will need caulking, priming, etc… So sometime in the next few weeks I'll be choosing paint for the basement. I'm thinking about white trim and a light, neutral, tan/khaki color for the walls.
On the to-do list:
Decks cleaned and stained
Deck rail painted brown (more on that later)
Basement door stained
Basement painted (after that it will just need flooring…got any ideas? Berber, maybe?)
New fencing installed to replace sections that were removed when tree had to be removed, would love to add back a pretty gate 🙂
Denim Do Over
Also, for those folks who asked what was wrong with Denim Do Over…a plugin that I was using to create the carousel at the top had malfunctioned. I was able to finally figure out the problem, remove the plugin and some code, and DDO is back up now. I even added a new post! You'll find that here: Denim Do Over.
It's been a busy few days around here, and that doesn't cover all I've been working on, but that's enough for now. lol I'm looking forward to sharing some updates around here real soon. I need to do some fun things, too–like decorate for fall! 🙂
I received this email today, love it when Talbots has a good sale on their current/upcoming season's fashions. You find all their new autumn arrivals here: Autumn Fashions. I'm eyeing a few of their striped turtlenecks, a ruffled denim jacket, a polka-dot shirt and a beautiful vest. Hard to decide which to use for my 30% off, I love them all!
Pssst: Let me know what you think about the door. Too short or fine as it is?
*If a post is sponsored or a product was provided at no charge, it will be stated in post. Some links may be affiliate links and as an Amazon Associate, I may earn from qualifying purchases. *