Thanks so much for all the lovely emails and the comments on our 600th Tablescape Thursday post! Appreciate those so much! It's been so busy around here with two little ones home fulltime, I haven't had a chance to reply but I will be doing that very soon.
I had hoped to post yesterday but I spent the day putting a desk together and setting up a little office space here in the guest room of my son/daughter-in-law's home. I had been using this small desk below purchased several months back during a previous visit, but I was really, really missing my double monitors.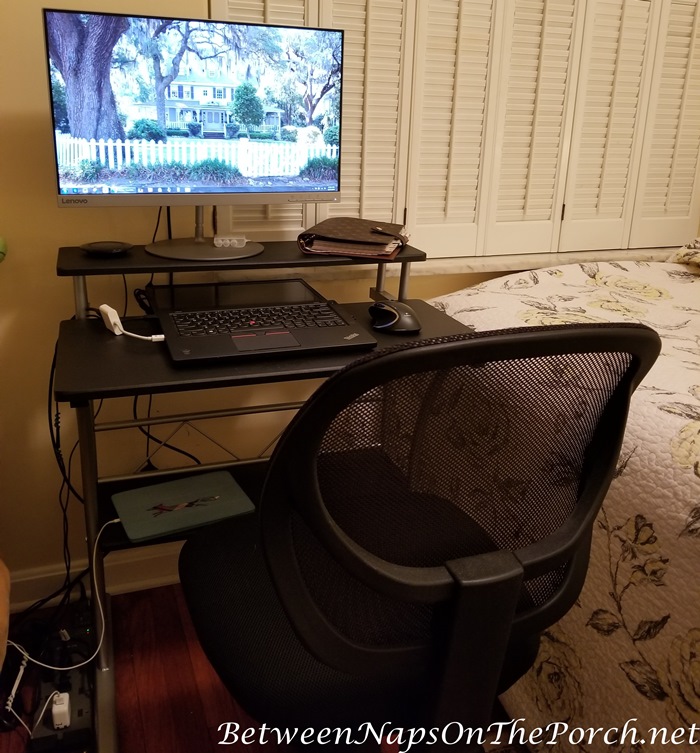 I purchased a slightly larger desk and a new chair and gave my previous desk/chair to my daughter-in-love who is using them while she's working from home these quarantine days. I'm still waiting on a few more things to arrive, but for the most part, my little workspace is quite functional now. I'm looking forward to sharing it with you for this Metamorphosis Monday.
It's always an adventure living and working with a 3 and 6-year-old in the house. When my monitors first arrived, I opened the box but didn't get them out since the desk still hadn't arrived. The next day, I found this. Pretty sure this is the work of Charlie, the 3-year-old. He's been playing non-stop with a huge container of cars I brought from home, cars his dad loved playing with at his age.
When I saw this, it reminded me of a previous visit. On that visit, I was working at my computer as my son/dil were preparing to leave for an evening out. From my room, I heard my dil (who was putting on her shoes) say to my son who was still getting dressed upstairs, "There are cars in my boots!" to which my son replied, "Well, there are Leggos in my underwear drawer." We all burst out laughing. I know the day will come when we will all miss these little surprises. Doesn't that sound like a great name for a parenting book: Cars in my Boots and Legos in my Underwear Drawer. Ha!
My Go-to Breakfast
If you've been reading BNOTP for a while, you may know I don't cook very much unless I have family or friends coming over. So I'm always trying new things that I find in the grocery store, especially those that are quick and easy to cook. Several weeks ago, before the C-word was all that was in the news, I purchased a few items and liked them so much, I took a few photos to share in a future post.
Often for breakfast, I will eat a boiled egg because it's fast, easy and a good source of protein. I have to eat protein in the morning, can't just eat toast and jelly or oatmeal or anything that's high-carb or sugary without eating something more substantial or I'll have a big slump mid-morning. So these are perfect for a fast, easy breakfast.
Lately, I've been adding a couple of veggie cakes to my breakfast and they are sooo good! I usually microwave them so they are ready in seconds, but they are also really good cooked in the oven. Between the two (Veggie and Butternut Squash) the Veggie Cakes are my favorite. So if you give them a try, try the Veggie ones first. Two veggie cakes and 1 boiled egg is around 210 calories. It's a fast, very filling breakfast for a modest amount of calories.
Tip: I sometimes mix together a spoon full of mayo with a little sweet-pickle relish to create a little dip for my boiled egg. It's a lazy egg-salad sandwich without the bread. lol
I've also been enjoying these with my hard-boiled egg and they are yummy! Two Zucchini Pancakes with a hard-boiled egg is around 190-200 calories–again a fast, tummy-filling breakfast that's pretty low in calories.
I just purchased this adorable little egg cooker a couple of weeks back. I thought it would come in handy for those days when I'm out of hard-boiled eggs. I don't like boiling my own eggs because it seems like one always cracks or I end up boiling them too long. This device will let you choose exactly how you want them: soft-boiled, hard-boiled, poached or scrambled. It will even make omelets. It has 4.6-star rating after 23,290 reviews so I'm looking forward to trying it when I get back home.
If you like hard-boiled eggs for breakfast, in salads or for making deviled eggs, you'll find this cute little cooker available here: Rapid Egg Cooker.
What's your fast, go-to breakfast? Would love to hear!
*If a post is sponsored or a product was provided at no charge, it will be stated in post. Some links may be affiliate links and as an Amazon Associate, I may earn from qualifying purchases. *