Whenever I visit my son, daughter-in-love and grandsons in Ohio, we always go on hikes. When my son was growing up, we used to go on hikes as a family, but not near as much as my son, dil and grandsons do now. They go almost every weekend unless it's raining or snowing. I love that! It's such a great way to get in some good exercise while enjoying the sights and sounds of nature.
The area my son lives in is surrounded by parks that are great for hiking. We've hiked in a different park almost every time I've been there. During my last trip there, my son and daughter-in-law wanted to try a park they had never visited, Oakes Quarry Park. After hiking there twice now, I must say it's not my favorite, but it is an interesting place to visit.
This was the sign at the entrance in case you would like to read more about the history of Oakes Quarry Park.
Because Oakes Quarry Park was once an active quarry, there are acres and acres of what feels a bit like being in the desert, only without the sand. I didn't think to take any photos of the desert-like sections, but here's one spot where water had pooled from the recent rains. I really prefer hiking through wooded areas, but I must admit this was an interesting experience.
On our first hike through Oakes Quarry Park, my son spotted this gigantic mountain of rock, and the next thing I knew we were climbing up and crossing it. After climbing up to the top, I held back waiting to hear if my son and dil could see how far this mountain of rocks went and if there was a place to get down. It probably doesn't look like it in these photos, but we were pretty high up. My son yelled back that he could see the end, so I reluctantly joined them walking out across the rocks.
Normally I wouldn't mind a bit of adventure…
…and going outside my comfort zone.
It's a great way to make new friends…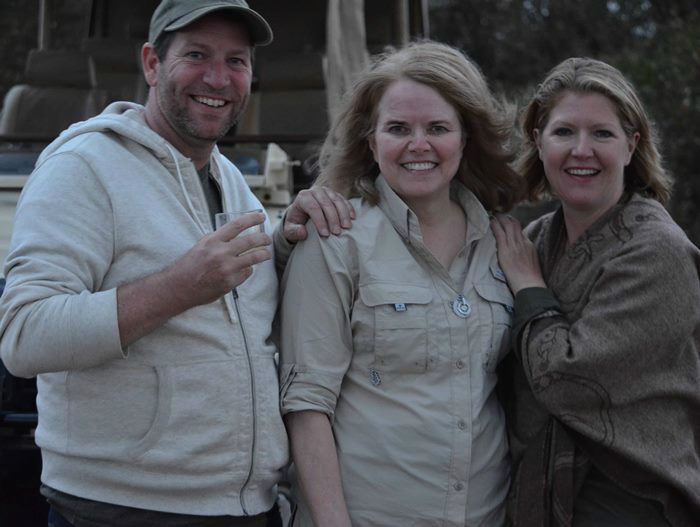 …and gives you some fun stories to tell later.
And the payoff is usually pretty fantastic!
I just didn't want anyone spraining an ankle and having to make a trip to the hospital, a great place to stay away from right now, if you know what I mean.
Once I had almost reached the end of Rock Mountain, I turned around and took this photo of what we had all just walked across. Ugh. In all fairness, we eventually found some pretty wooded areas through which to hike, but this was definitely not my favorite of all the hikes that we've done.
A Couple of Weeks Later
A couple of weeks later on a Saturday morning, my son disappeared for about 1-1/2 to 2 hours. My daughter-in-law said he was out hiding fossils for a fossil hunt he had planned for the boys later in the day. Umm, that sounded interesting! Turned out, we were headed back to Oakes Quarry Park. I was promised there would be no rock climbing this time. lol
My son had purchased these: a dozen fossil bricks. Each small brick contained a real fossil inside.
He was only gone for about 1-1/2 to 2 hours and it's a 25-30 minute drive to the quarry and another 25-minute drive back. Based on that, I thought the fossils would all be hidden over a relatively small area of the quarry. Ahhh, nope! I don't know how he did it, but he managed to hide those blocks over about a 2-3 mile area of land because we ended up walking around 4 miles that day on our fossil quest.
My son had printed off the map of Oakes Quarry Park that he found online. On the map, he had marked where each treasure/fossil was located, creating a treasure map for the boys to follow. That's what he's carrying in his left hand below.
The map (and Dad) guided the boys in the general direction where a fossil could possibly be buried or hidden. Usually, they ended up being found behind a shrubby bush or under a rock, although two were actually buried a few inches deep in the sand.
Fossil found!
This was a fun, fun activity with the boys. It was 89 degrees out that day, but it felt like 95 in the sun! The last time I can remember being that hot was when I was in Egypt! We stopped often for water breaks and despite the heat had a blast on this fossil adventure.
Fossil Hunters!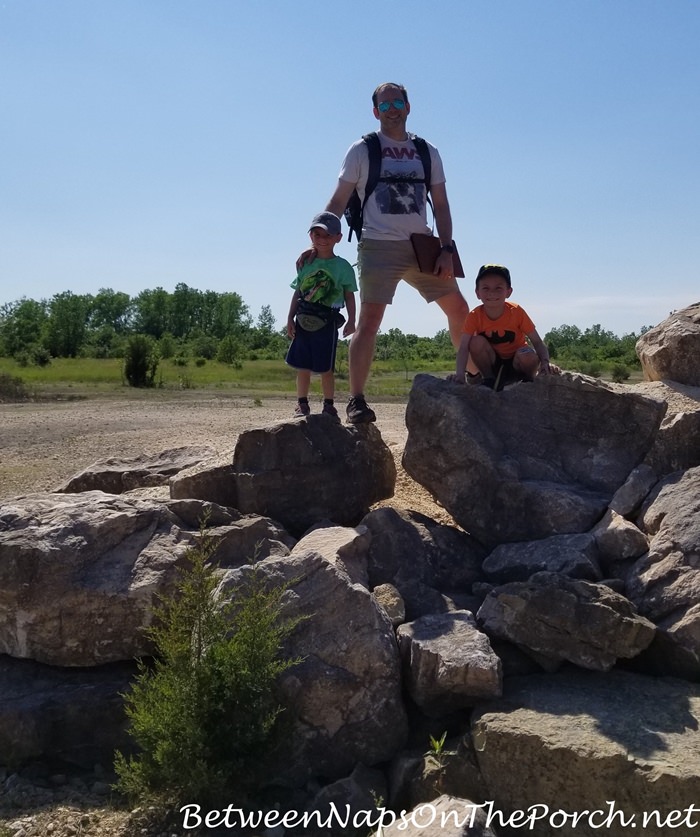 If you have children or grandchildren who you think would enjoy a fossil hunting adventure, this is the kit my son purchased and it's available here: Fossil Kit. I think these kits would make great birthday or Christmas gifts.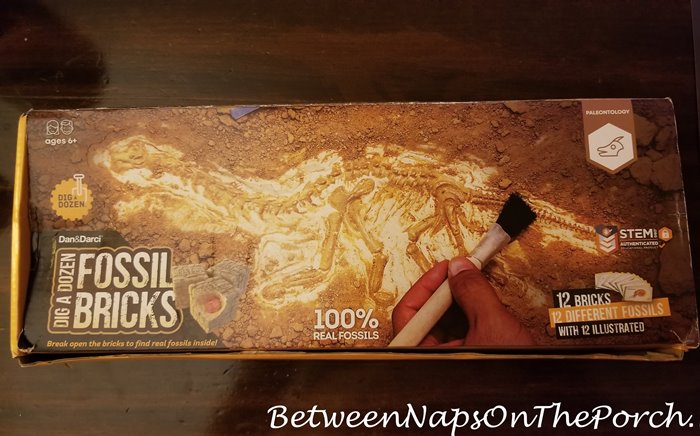 A single fossil is hidden inside each block. Somewhere out there in Oakes Quarry Park, there are still two hidden fossils, waiting to be found. My son did a great job of mapping out where they were hidden, but we were never were able to find two of them.
Some info about what comes in the kit.
The boys had a blast breaking open the blocks once we got back home.
Here are a few of the fossils they found inside the blocks.
I think this may be my favorite picture from our fossil hunting day.
Two brothers on an adventure, following their fearless leader into the wilderness. 🙂
*If a post is sponsored or a product was provided at no charge, it will be stated in post. Some links may be affiliate links and as an Amazon Associate, I may earn from qualifying purchases. *