Welcome to the 459th Metamorphosis Monday!
I've been on a major flannel shirt and sweater kick this fall. Actually it started last fall when I went through all my sweaters and donated those that were too big or just not my taste anymore. I hadn't realized it until lately, but in the past I've had a tendency to buy sweaters that were really about a size or two, too big for me, thinking that was necessary for them to fit over the shirts I wore underneath. All that did was make me look extra fluffy, not a look I'm going for! lol
After donating so many sweaters, I've been working on beefing my sweater wardrobe back up. I only purchased a couple last fall, but this year I've been on the hunt. I picked up two sweaters while in Ireland a couple of months ago. One was actually a cardigan, but what I've really needed were more pullovers.
I also discovered L.L. Bean flannels this year. I have one of their flannel shirts purchased many years ago, I think from a vintage clothing shop. L.L. Bean has had several sales already this season, and they have another one going right now: 25% off everything! The sale ends tomorrow, check it out here: L.L. Bean 25% off Sale.
Today, I thought I'd share some of the updates I've made to my fall wardrobe, kind of a winter wardrobe metamorphosis. I've been really focused on adding in classic, quality styles, sweaters and shirts that I know I'll enjoy wearing for many years.
Unfortunately, the first one I'm sharing is an L.L. Bean sweater that has sold out, I think it sold out during the sale they have going on right now.
However, if you love this Fair Isle sweater, they have this same pattern in a beautiful cardigan style available here: Fair Isle Cardigan.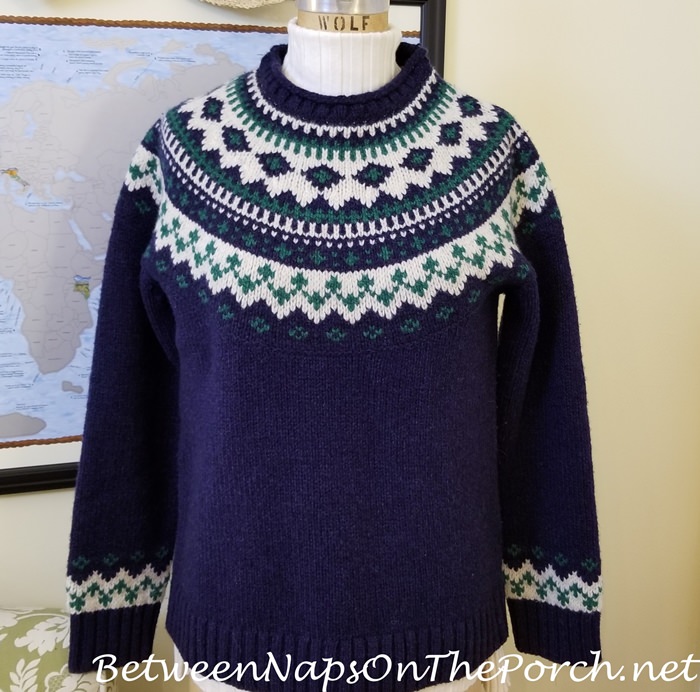 I purchased a Legends turtleneck from Sundance to go under it. I loved the look of their ribbed turtlenecks and thought it would be really pretty poking out the top of a sweater. These turtlenecks are perfect for wearing under a sweater because, though warm, they are not bulky. They cling to the body in a form-fitting way, so they don't add any bulk/weight under a sweater. Love that! You'll find them available in a lot of different colors here: Ribbed Turtleneck.
I never buy sweaters in a beige/neutral color like this one below since they don't normally look great with my pale complexion. But I loved how this Fisherman knitted sweater looked on the model at the L.L. Bean site, so decided to give it a try with some of their flannel shirts underneath, thinking that would add some great color.
I can wear it with any of the L.L. Bean flannel shirts that I've purchased, but I like it best with the darker colors like this Black Watch plaid flannel.
It was this picture that made me think I could pull it off, as long as I paired it with a darker flannel shirt. Such a great look!
I purchased the exact same flannel shirt as seen on the model. I forgot to untuck the collar for the picture. They look great though, worn either way. You'll find all the L.L. Bean Flannel shirts available here: Relaxed Fit Flannel Shirts and Slightly Fitted Flannel Shirts.
I find they run generously sized, so you may need to size down one size. L.L. Bean is also great with exchanges.
Another flannel shirt I purchased this fall was in the color called, Princess Mary.
It looks great with either the L.L. Bean Fisherman sweater or this Talbots patchwork sweater purchased last fall. The camera did not pick up the pretty colors in this shirt…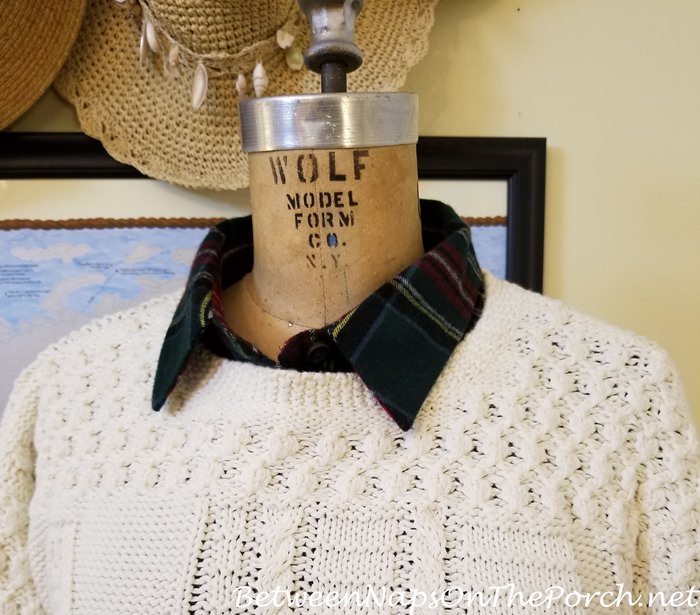 …but here's a better photo from a previous post showing the true colors in this shirt. I'm obsessed with L.L. Bean flannel shirts! I'm going to wear them all winter long and you'll have to force me to give them up this spring! lol This one is available at the same links above for flannel shirts.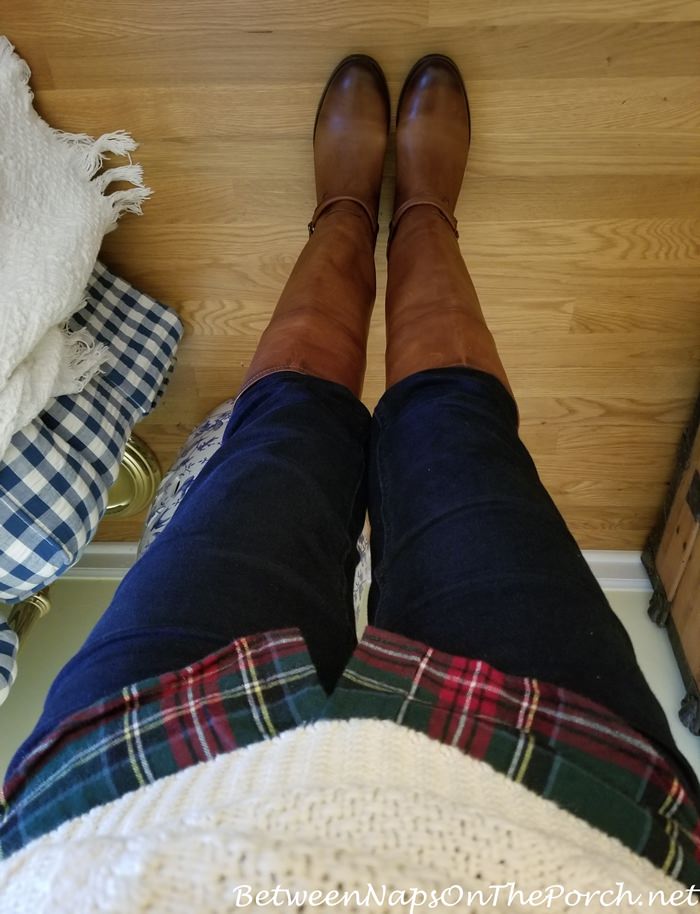 I added this J. Crew sweater last fall during one of their awesome sales. Here I've paired it with another beautiful L.L. Bean flannel shirt.
Love how these look together…very Christmasy! This plaid/tartan pattern is called Stewart Victoria at the L.L. Bean site. Again, you'll find all the L.L. Flannel Shirts available here:Relaxed Fit Flannel Shirts and Slightly Fitted Flannel Shirts.
A sweater I added recently and I'm over the moon about is this Barbour Fair Isle sweater. I love Barbour jackets/coats, so was super excited to see they had come out with a gorgeous Fair Isle sweater. This sweater is very generously cut, so it falls easily down over the hips and covers the tush. Love that!
I bought it in my normal size, but it's so generously sized, I may have to exchange it for a size smaller. So keep that in mind, if you order it. Seems like all the better brands are sizing their clothing up a bit these days.
Here's how it looks on the model.
I love how it looks with my Sundance ribbed turtleneck sweater! You'll find this Fair Isle sweater available here: Barbour Sweater.
Try the code tnucknew and it may give you 10% off. This is another sweater that I know isn't going to last for long. Fair Isle sweaters are so popular again now, even though they are a classic, forever style.
Another sweater that I just purchased this winter is this cutie! I have always wanted one of Ralph Lauren's Polo Bear sweaters, but normally they are so expensive. The prices the older ones go for on eBay are insane!
I've discovered that I can wear a boy's size "Large" in Ralph Lauren. Here's how I figured it out: I ordered the sweater below in a Boy's size Large and X-Large. When they arrived, the large was perfect.
Per Ralph Lauren's customer service, an X-Large Boys will fit anyone the height 64 inches to 68.5 inches and weighing 116 lbs to 138 lbs. Actually, I fit within that parameter and I found the size Large sweater fit me. So if you wear a size 4-6 top, you should easily be able to wear a Boy's size Large. I think a XL would probably fit someone who wears a size 8-10 top. Sneaky, huh? And a good way to save a little, if you wear those sizes.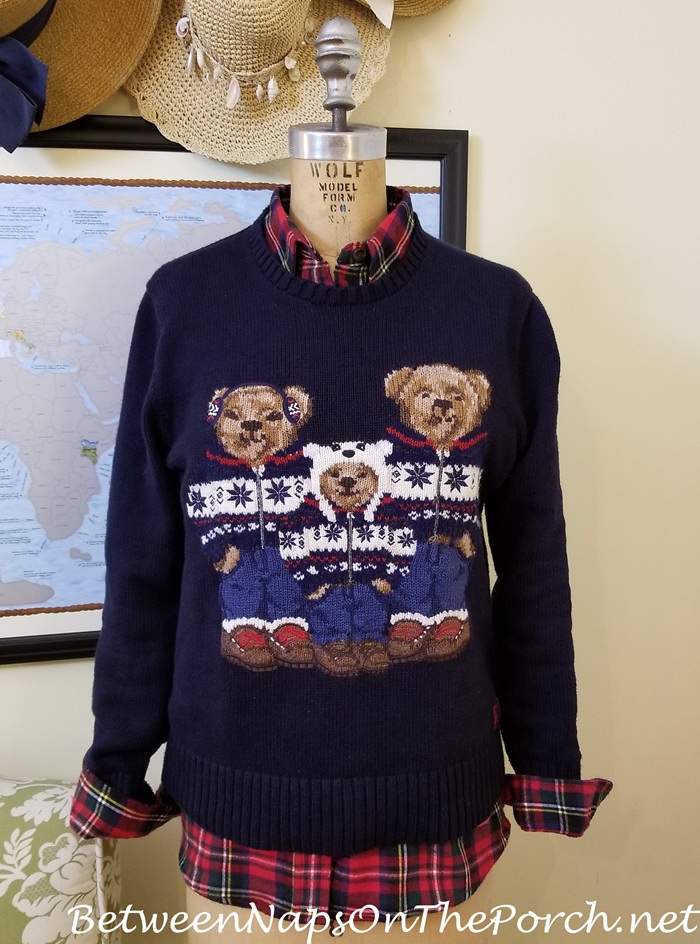 I'm obsessed with this adorable sweater and love pairing it with this red L.L. Bean flannel that's in the color, Prince Charles Edward. The shirt is available here: Red Plaid Flannel Shirt. Again, the flannel shirts are a bit over-sized, so you may need a size smaller than you normally wear.
The sweater is available here: Polo Bear Sweater. Ralph Lauren is currently having a 25% off sale, but I'm not sure if it includes this sweater or not. It wasn't on sale when I purchased it, but I did get free shipping.
I also love this one. Sooo darn cute. A bear wearing a reindeer sweater is almost more than I can resist. lol It's available here: Polo Bear Wearing Sweater. I think the pricing is great for the quality, Ralph Lauren does quality like no one else.
Since discovering I can wear a Boy's Large in Ralph Lauren, I've purchased two more sweaters. This one is currently on sale, 25% off, is part wool and cashmere, and is only $101. For a wool/cashmere blend, that's an awesome price! It's available here: Aran Wool-Cashmere Sweater.
I'll probably give it the L.L. Bean flannel shirt treatment, too…or buy another one of the Sundance Legends ribbed turtlenecks to go underneath.
Update: This sweater arrived today and I LOVE it! Unfortunately, it's a bit small so I've reordered it in a Boy's XL. I guess the sizing for the bear sweater is a bit different for this sweater. The Boy's Large almost fit, so I think the Boy's XL will be perfect. Just wanted to mention this in case you order it.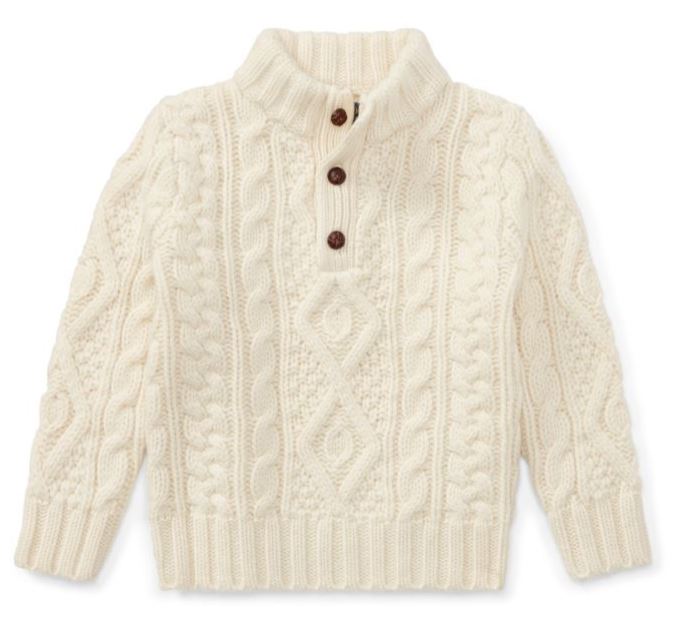 The other Ralph Lauren sweater I purchased is this adorable reindeer sweater, again in a Boy's Large. It's part wool and is only $71! You'll find it in two colors here: Reindeer Sweater.
I think shopping in the Ralph Lauren's Boy's department if you wear a woman's size 4, 6, or 8 top is the biggest shopping secret I can share this winter! It also works for Vineyard Vines. I wear an XL in their boy's Shep Sweaters.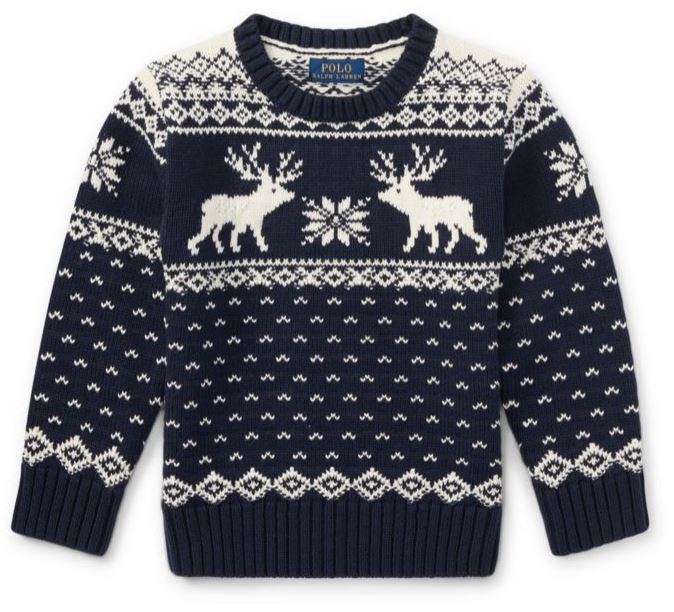 Happy Sweater shopping, Friends! Stay warm!
Looking forward to all the great Before and Afters for this week's Met Monday!
Pssst: I post almost daily to Instagram. Follow Between Naps on the Porch on Instagram here: Between Naps On The Porch. If you enjoyed this post, subscribe for free email updates when a new post is up here: Subscribe for post updates.
Metamorphosis Monday
Metamorphosis Monday is a party that's all about Before and Afters. If you are participating in Met Monday, please link up using the "permalink" to your MM post and not your general blog address.
To get your permalink, click on your post name, then just copy and paste the address that shows up in the address bar at the top of your blog, into the "url" box for InLinkz.
In order to link up, you'll need to include a link in your MM post back to the party so the other participants will have an opportunity to receive visits from your wonderful blog readers.
Please observe these few rules:
Please link up Before and After posts that are home, gardening, decorating, crafting, painting, sewing, cooking, fashion or DIY related.
Be sure to include a link back to the party in your post, so your readers will be able to find and visit the other bloggers who are participating.
Do not link up to the party if you're doing so to promote or sell a product.
To those who are linking up: If you notice a shop or store linking up to sell products (yes, unfortunately that does happen) please let me know so I can remove their link from the party. No one wants to click a link expecting a Before and After, only to find a spam link to an online business/store.

*If a post is sponsored or a product was provided at no charge, it will be stated in post. Some links may be affiliate links and as an Amazon Associate, I may earn from qualifying purchases. *