Today I've pulled together some of my favorite ideas for decorating and entertaining for the Thanksgiving and Christmas holiday season. Hope you find this helpful as you decorate, craft, cook and prepare for your festive holiday parties and gatherings.
Click on the BLUE title below to access that post for more details.
Follow Between Naps On The Porch on Instagram for more of my holiday posts: BNOTP on Instagram
Both the adult and kiddos will love this napkin fold. Easy to make, too!
Decorate a Mantel for Fall and Thanksgiving and an Autumn Fire Screen
I look forward to pulling this fire screen every fall, it's a favorite.
How to Repair Those Dead Christmas Tree Lights
Sometimes the fix is an easy one, but the secret is in knowing where to look.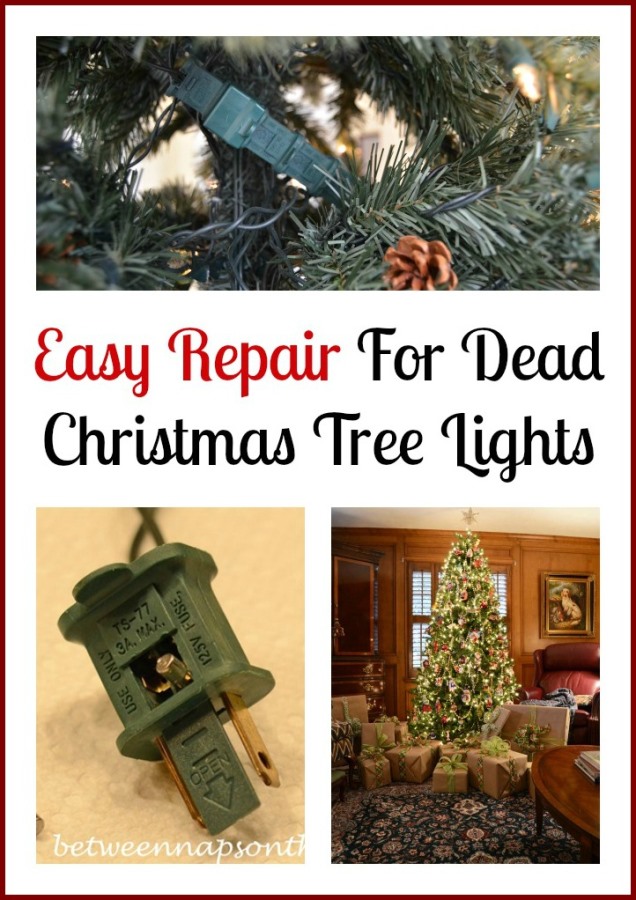 Pottery Barn Inspired Garland Tutorial
I was obsessed with this picture when I first saw it in a Pottery Barn catalog. Since the cost of the garland was outside my holiday decorating budget, I decided to make my own. You'll find all the steps to making your own PB inspired garland in this tutorial.
Here's how the garland looked on my front porch one year. This year, I've been searching for 10 foot garland, I'd love to redo this garland this year, following the same steps as before in my tutorial, just using garland that's a bit beefier and about a foot longer. It's hard to find realistic looking garland that's 10 feet long and not 9, but that extra foot would help since the columns are pretty fat. Maybe I should look for some that's even longer and wrap the columns 4 times. lol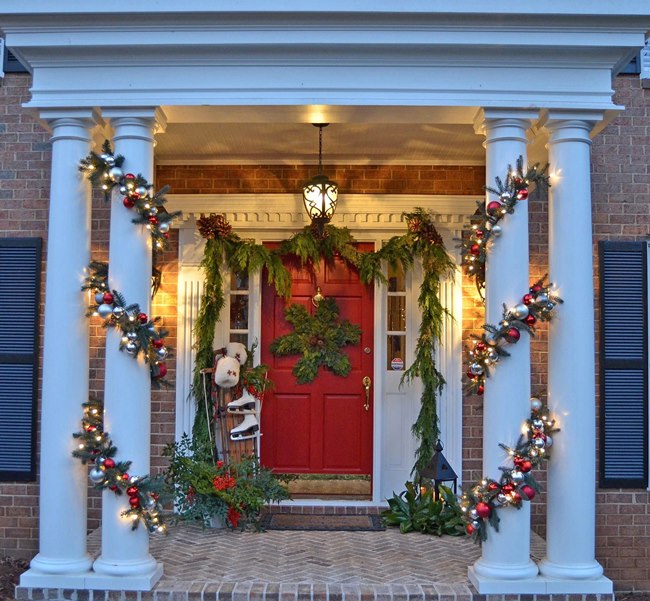 An Insanely Awesome Champagne Punch: Great for Parties or a Christmas or New Years Brunch
This is by far my favorite drink to serve for a holiday party. Makes several batches because this punch is always a big hit and goes really fast. Also, it's a good idea to have a few copies of the recipe on hand, because everyone always wants to know how its made.
The Easy Way To Hang Wreaths on Exterior Windows, Even Those Second Floor Windows
This has to be my favorite decoration for the Christmas holiday season, hanging wreaths on all my windows. It's super easy to do and this tutorial shares all the details.
Set Up A Hot Cocoa Bar To Enjoy All Winter Long
I had so much fun putting this Hot Cocoa Bar together and you'll find the link to the tutorial for making the sign in this post, as well.
Make This DIY Sign for Your for Your Hot Cocoa Bar
In this tutorial, I share very detailed steps to make this Hot Cocoa sign.
An Inexpensive Way to Wrap Presents & Turning on ALL Your Christmas Trees At Once via Remote
A fold that looks complicated, but really isn't. Tip: Works best when using two napkins…explain why in the tutorial.
Twas the Night Before Christmas
Set the scene for a nostalgic Christmas, may remind you of a past Christmas from your childhood.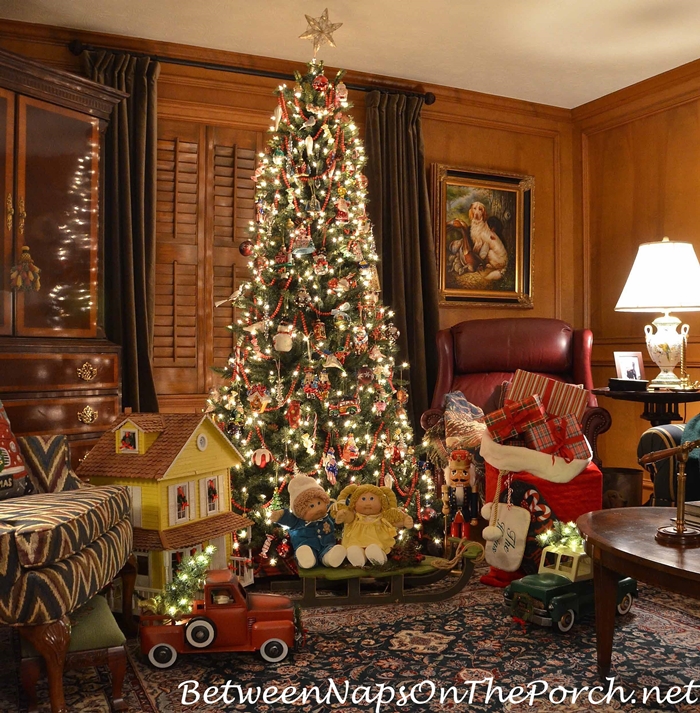 Decorate Your Door With Triple Wreaths: Grandinroad Knockoff
It took me a while to figure how to hang triple wreaths down my front door. I'm sharing how I did it in this tutorial.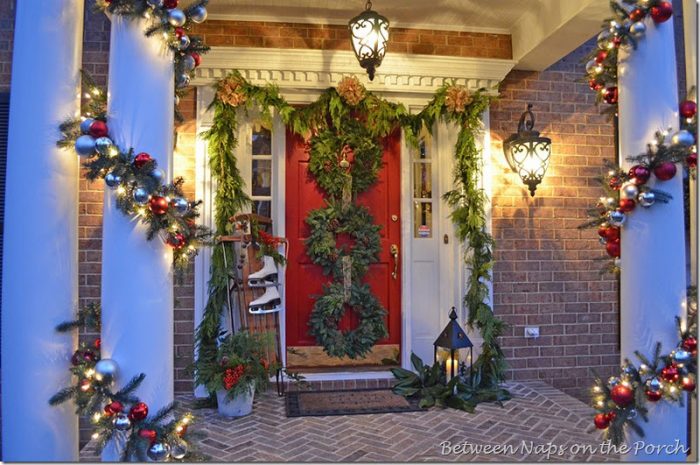 21 Drinks Great for Holiday Parties
So many wonderful, easy-to-make recipes in this post!
Cranberry Trifle for Christmas Dessert
This trifle is soooo good and super easy to make. Your guests will think you slaved all day just for them. 🙂
Make a Colonial Williamsburg Apple Tree for Your Holiday Table
This is probably my favorite centerpiece to make for the Christmas holidays. I love that's it's made from all natural ingredients available in the grocery store and/or you own backyard.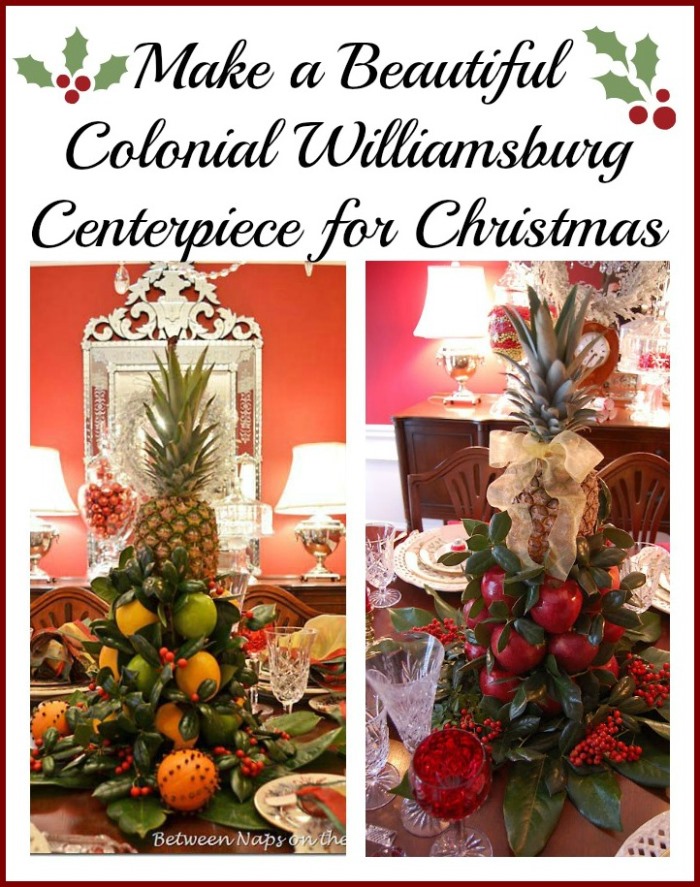 Served this soup for one of my Christmas parties and it was a big hit.
Emergency Substitutions for Common Ingredients
Christmas Mice Ornaments, Make Great Present Toppers Too!
Top off your presents with these adorable easy-to-make Christmas mice.
Such a fast and easy way to dress an entry table. Works great as a table centerpiece, too!
Decorate a Lantern, Mailbox or Pergola for Christmas
This is a really easy arrangement to make for a gate, post, lantern, pergola or mailbox. If you don't have a magnolia tree in your yard, use holly or another long-lasting evergreen. There's a lot of faux greenery available out there that would work well for this, too.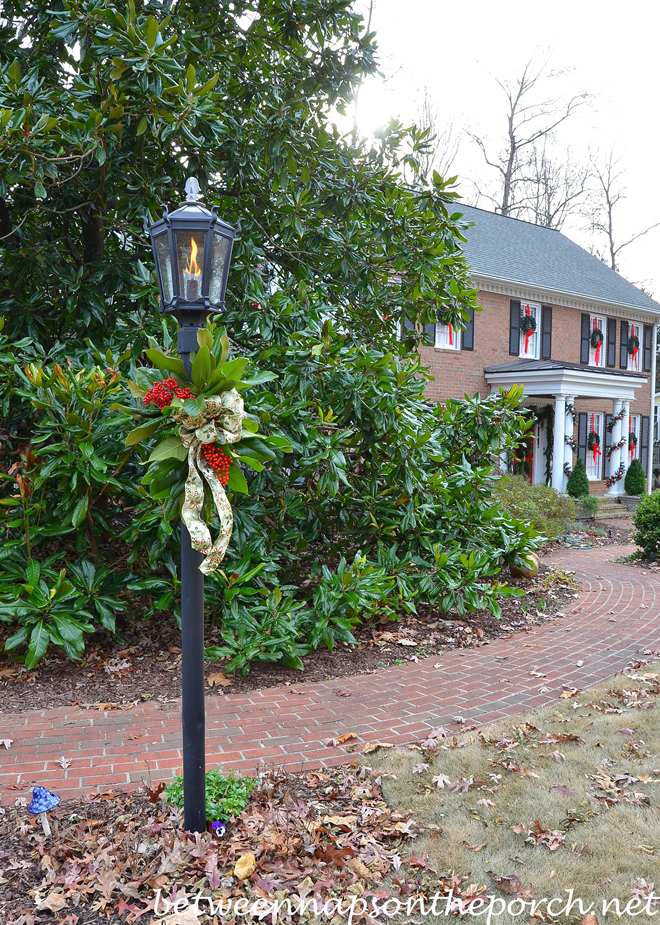 Decorate a Porch for Christmas
Decorate your porch and enjoy it all through the holiday season, even if you're just viewing it from inside your home, snuggled up by a warm fire.
Snowman Spice Cake Dessert and Centerpiece
Bake this adorable Snowman Spice Cake for a festive holiday dessert! He'll make a great centerpiece for your holiday table!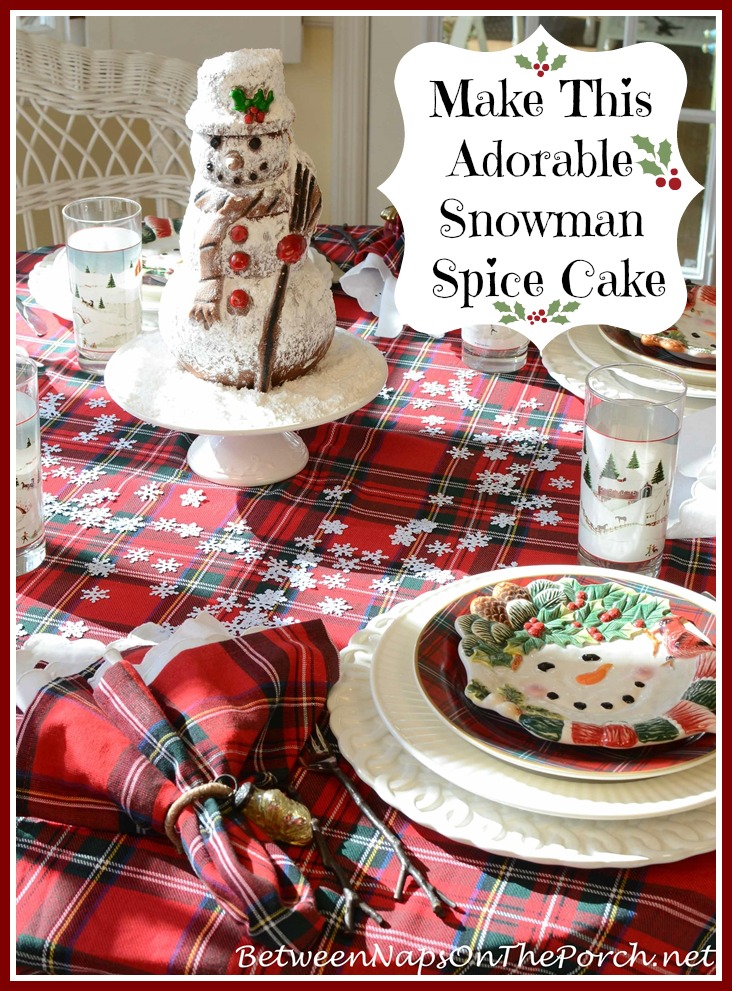 Make a Yummy Roasted Pumpkin Soup for Chilly Fall Days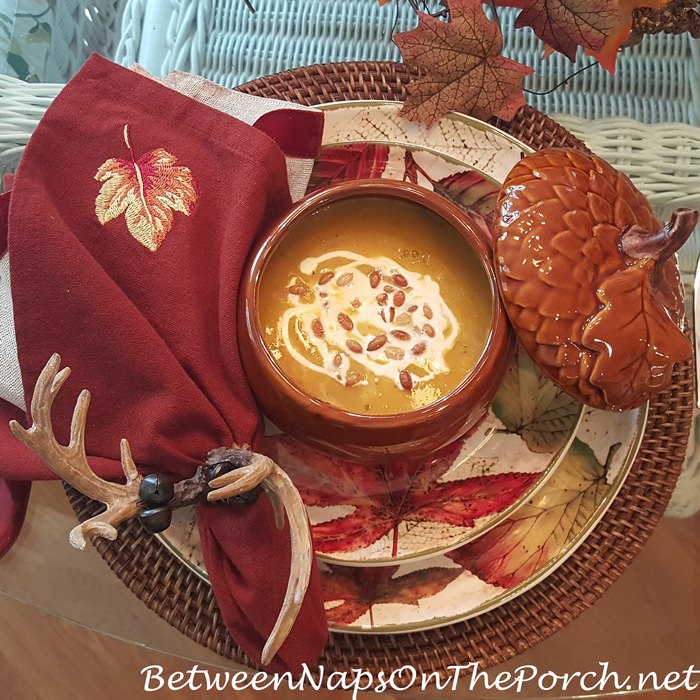 Decorating with Preserved Boxwood Wreaths
Tour the Home in the Movie, A Christmas Story
I had the opportunity to go inside the actual home pictured in the movie, A Christmas Story during a visit to Cleveland. What a fun time that was!
I even hid under the sink like Randy did! lol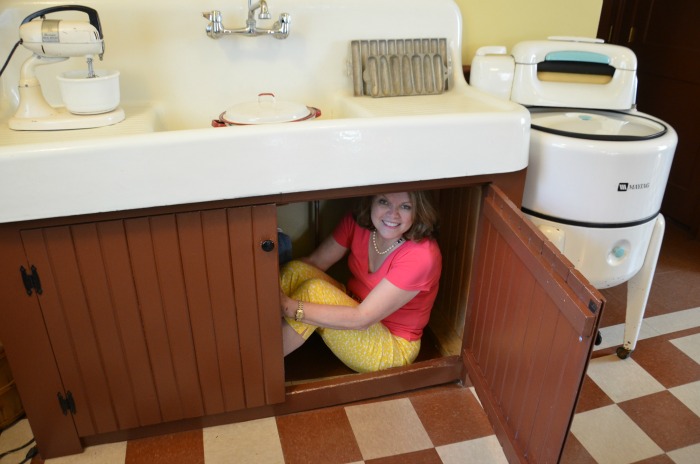 Hope you enjoy these holiday decorating and recipe ideas and that they make your holidays a bit less hectic and a lot more festive!
Love you, and thanks for being here reading, I cherish your visits and always appreciate your lovely comments!
As I always say and hope you never forget, YOU are the very best part of Between Naps On The Porch!
Follow Between Naps On The Porch on Instagram for more of my holiday posts: BNOTP on Instagram
*If a post is sponsored or a product was provided at no charge, it will be stated in post. Some links may be affiliate links and as an Amazon Associate, I may earn from qualifying purchases. *