Welcome to the 57th Metamorphosis Monday!
On a previous Met Monday, I took you into my "formal" living room that really isn't a formal living room. It's actually been more of a storage room over the years…which is kind of sad since it's the very first room you see when you walk into my home. I have some big plans for it…one day. You can read about those HERE in this previous Met Monday post.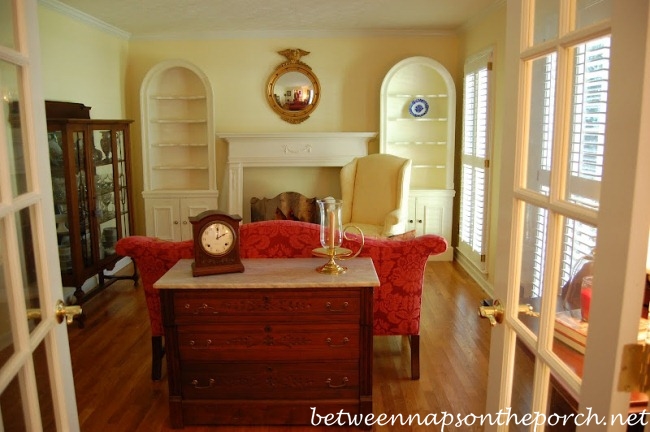 When I found one of the main components for this metamorphosis, these 85 year old cabinets/niches you see below, I called up my contractor and had him come take a look.
He had concerns about having enough space to build a wall in which to sink the cabinets since the space is limited due to how close the window is to the niche on the right side. He also was concerned about it being deep enough for the fireplace. By the way, I won't be using this mantel…most likely one will be built on site for the space. I suggested having the fireplace jutting out a bit into the room with the niches set back a bit. He looked at me like I had just grown an extra head or two.
Fast forward to a couple of months ago when I attended the monthly board meeting for a garden club of which I'm a member. We meet each month in this wonderful historic home pictured below.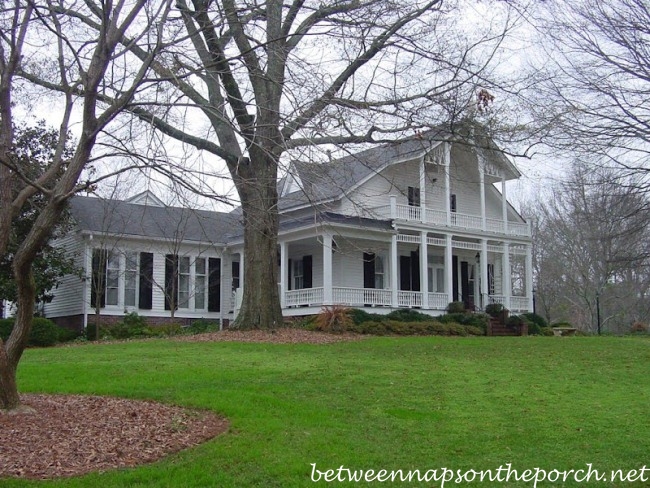 We always have our meetings in the dining room of this beautiful old home. Each month, just for fun, I treat myself to a peek into the adjacent rooms and soak up the beautiful furnishings and architecture. Look what I found in the parlor/music room…how have I missed it?! I finally remembered to take my camera last week and snapped a few pics for you all. This is it…just what I need to do in my future library!
Notice how tight the space is between the cabinet/niche over by the window…and notice how the cabinets are set back a little with the fireplace protruding out a bit into the room. Yep, this is just what I needed to show my contractor. 🙂 And it's been right under my nose for the last 3 years!
Here's a little close up of the left cabinet/niche…
And here's the one on the right. This room was a bit tricky to photograph because there is a huge grand piano right smack in the middle. You can just see a bit of it in this pic below.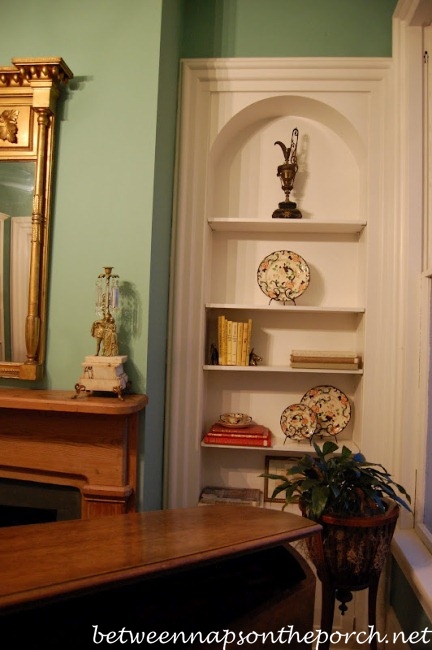 Yep…I think it will work just fine…can't wait to show these pics to my contractor…now I just need to save my pennies and get my dream of a library actually underway.
Looking forward to seeing all your "Before and Afters."
Metamorphosis Monday is an opportunity to show a "Before and After" project in your home. It can be as elaborate as a whole new room addition or as simple as re-doing your decor with the changing of the seasons. Maybe you have a "trash to treasure" project to share…we'd love to see it! If you don't have a "Before" pic to share, describe as best you can what the room or item looked like prior to the renovation.
If you are participating in Metamorphosis Monday, please be sure to add your permalink below, and not your general blog address. If you aren't sure how to obtain your permalink or have any questions about using Mr. Linky for this post, just click HERE for detailed instructions.
Don't forget to copy and paste the Met Monday logo button to your computer so you can add it to your side bar and your Met Monday post. That way visitors will know that your are participating in Metamorphosis Monday.
Please be sure to link back to the host blog, Between Naps on the Porch, so your fellow bloggers who are participating today, will get lots of visits, as well.
Please do not add your link below until your Met Monday post is actually published to your blog.
Fabulous "Before and Afters" await your visit:
Unfortunately, the participant links are missing from this post because the linking service BNOTP was using for this party is no longer active.
*If a post is sponsored or a product was provided at no charge, it will be stated in post. Some links may be affiliate links and as an Amazon Associate, I may earn from qualifying purchases. *