I have just a few favorites to share from September and among them I definitely have to sing the praises of these corduroy pants I ordered from Talbots. I love their cords because they don't add inches/lbs to your body like some corduroy pants tend to do. They hug the body just right. I always buy their "curvy" fit in pants or jeans–that just works best for my body shape. The curvy fit is super comfortable and I love how it fits my hips without big gaps in the waist.
All their pants (including their jeans) are currently on sale, $20 off. You'll find the curvy fit in a bunch of different colors on sale here: Corduroy Pants–Curvy Fit. If you wear their regular fit, you'll find those on sale in several colors here: Corduroy Pants–Regular Fit.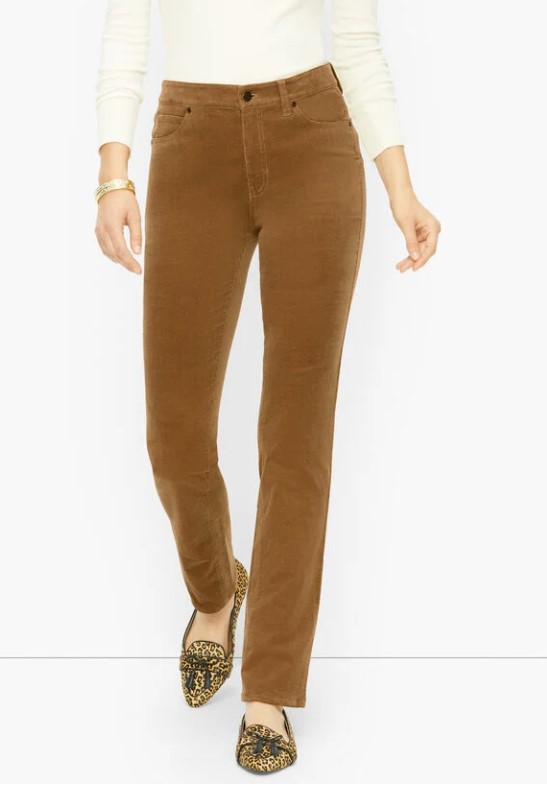 Had to share this super comfortable sports-type bra that I just discovered last month. I found it when I went in search of a bra that was mostly all cotton–I love cotton for comfort and breathability! I purchased a couple and liked them so much, I bought 4 more.
Update: To wash these, I wash them by hand using my favorite wash, The Laundress Delicate Wash available here: Laundress Delicate Wash. I remove the pad (which is one long piece) before I hand wash them, then just replace it after the bra is dry. I hang them to dry. I wouldn't put them in the dryer since they are mostly cotton. They come in a variety of colors, I really like this pale pink color. It's supportive and looks great underneath shirts. Definitely a favorite! You'll find it for a really reasonable price here: Comfortable Cotton Bra.
These bras do not have to be dry cleaned, I wash mine out by hand and hang to dry. Read further down into the description…the dry cleaning part is obviously a misprint since they are mostly cotton. Note the care information in the last line below.
Have you ever noticed the yellow pillows in the chairs in this room when I've shared this room in the past?
These pillows are from Crate and Barrel and I've had them for at least 20 years, probably more like 25. I love the fabric from which they are made–it's a soft, buttery-yellow, corduroy fabric. The only thing I've never cared for is how stiff/upright they are.
I don't know why it's taken me this long to get around to replacing the insert inside. Funny how we walk by something every day and then one day it dawns on us that it could really use an upgrade. lol
Here's the old insert that was inside. It doesn't look that stiff here but it definitely made those yellow pillows stiff.
Here's how they looked after I purchased down/feather inserts for them–much better!
I like the more relaxed vibe and it makes the pillows look/feel more expensive. I purchased the same insert for these pillows that I've purchased for other pillows in the past, and it works great. If you have some stiff, uncomfortable pillows lurking in your home, you'll find the insert I've been buying for my pillows here: Down and Feather Pillow Insert.
Last month I purchased a bunch of beautiful, whimsical fashion books to decorate and fill the Hemnes bookcase I added to the guest room. The guest room has become a little respite/getaway/reading space since it's rarely used for overnight guests. I won't list all the delightful books I purchased in this post since I did that in a previous post, but if you love fashion and a bit of whimsy, you'll find that post with the full list of books here: A New Bookcase and Picture/Bookcase Light for the Guest Room.
One last purchase last month that I really like and can recommend is this sleep mask. Occasionally, I will stay up quite late finishing a book, a puzzle, or sometimes a blog post. I tend to be a night owl. When that happens, I'll sleep in a bit the next morning and a sleep mask really helps.
I'm super picky about sleep masks–they have to be completely adjustable. I really don't like a mask that hugs the head too snuggly. I'm also picky about the kind of fabric from which they are made. I really like this one because the strap is adjustable so I can make it as loose as I like. Also, it's made of cotton, at least the part that touches the face. I like how the nose part is adjustable so it doesn't press down too firmly on the nose. Super comfortable!
After it arrived and I saw how much I liked it, I ordered a second one to keep in my travel suitcase for those rare times I travel. You'll find this sleep mask available here: Cotton Sleep Mask.
I'm sure I'm leaving something off. If I think of another favorite from last month, I'll come back to this post and add it here at the end.
Happy Wednesday to you! I hope your week is going great! Looking forward to sharing a table tomorrow for Tablescape Thursday!
XXX
*If a post is sponsored or a product was provided at no charge, it will be stated in post. Some links may be affiliate links and as an Amazon Associate, I may earn from qualifying purchases. *