Welcome to the 582nd Metamorphosis Monday!
Whenever I visit my son, daughter-in-love and grandsons, I'm usually here for a few weeks. Initially, I worked from my small travel laptop at their dining room table during my visits, but one day it dawned on me that I could fit a smallish desk into a corner of the guest room.
I purchased a large monitor thinking it would help take the place of the double monitors I use at home. This was definitely a better system than trying to see the little screen on my laptop.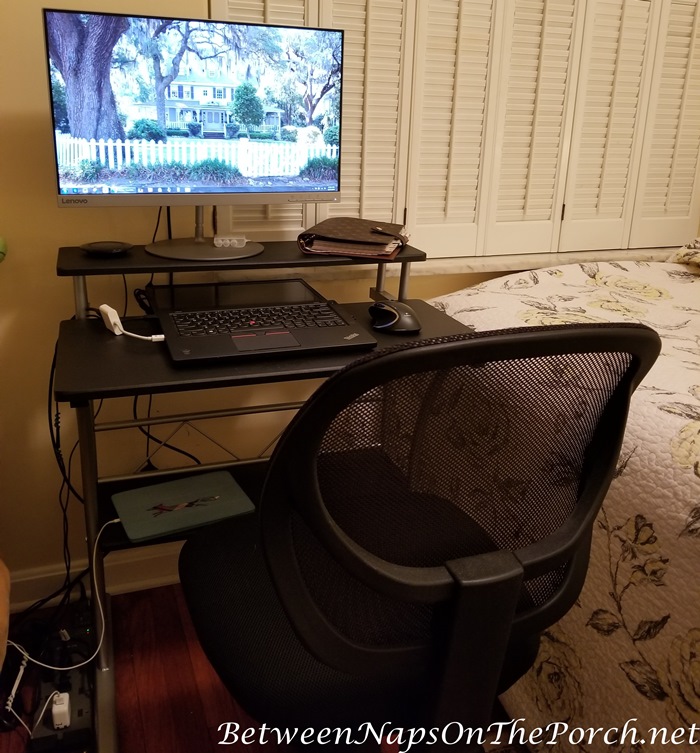 If you've been reading BNOTP for a while, you may remember my office setup back home. You can see the double monitors in this picture. The large, black monitor-looking thing is actually a TV which I should probably remove since I discontinued cable TV a couple of years back. The only reason I haven't removed the TV is because it's a "Smart" TV, so technically I'm supposed to be able to watch YouTube videos on it, but the few times I have, it was a pain to get it to work. Wonder if Smart TVs are more user-friendly these days?
With the schools closed and unsure how long my visit would be this time, I was dreading working for an undetermined amount of time on my travel laptop with just a single monitor. Double monitors spoil you very quickly!
The other problem I have working with this setup is that many of the photos I need for blog posts are on my large computer at home. Realizing I actually have enough space for a slightly larger desk here in the guest room, I decided to order a bigger one and recreate my setup at home.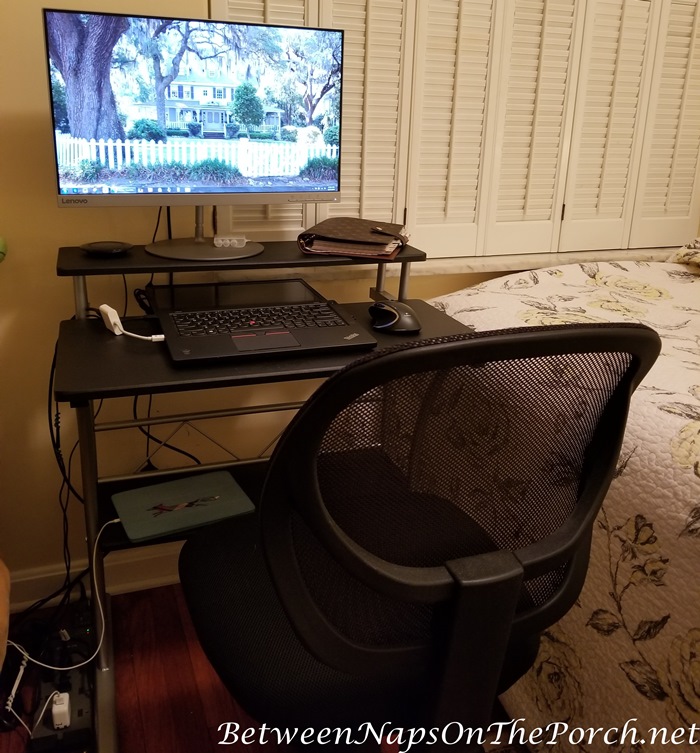 This was the desk I purchased. I really liked the design because it has a shelf designed to hold my CPU tower that I brought from home. I ordered this desk before I ever left home, but it took over a week to arrive. Apparently, everyone is trying to set up a home office these days for obvious reasons.
I also purchased two monitors to recreate my setup at home. So far, the new desk is working out quite well! I've ordered a large mouse pad and it should be arriving this week. In case you or someone you know is trying to set up a home office right now, I thought I would share all the elements I purchased for this home-away-from-home office.
This desk was reasonably priced and very easy to set up. The only tricky part was the tray for the keyboard, but the manufacturer has a video online to help with that part. This desk is available for purchase here: Office Desk for Working at Home.
The monitors are slightly bigger than the ones I have at home. They are in a word: Awesome! I like them soooo much, I've already purchased another set for my office back home. I was afraid they would be out of stock or out of production by the time I returned home, so I went ahead and ordered them a few days ago. They are incredibly easy to adjust and have the best picture quality of any I've ever used. I absolutely love them! If you need a great monitor, you'll find these available here: Monitors.
I decided to duplicate the keyboard/mouse I use at home to make working here as seamless as possible. You'll find the wireless, back-lit keyboard/mouse combo I use here: Keyboard & Mouse.
These are the speakers I purchased for my setup here. I'm very pleased with how they sound! You can see them tucked behind the monitors in the photo above. You'll find them available here: Bose Speakers.
At home, I have a little spinning caddy for holding pens, pencils, scissors, etc… I ordered this cutie a few days ago. It should arrive this week. You'll find it available in several colors here: Pen/Pencil Caddy.
I use pencils a lot, especially for taking notes and writing in my desk agenda. I purchased a pencil sharpener for my desk. It's visible there on the left side of my desk in the photo below.
My oldest grandson gets the biggest kick out of sharpening his pencil each day before we start homeschooling. School is closed here indefinitely as I'm sure it is where you live. I'm very pleased with how this one works and how easy it is to empty. You'll find it available here: Pencil Sharpener.
It's these little things that I miss from home and duplicating them here has made such a difference!
These are my favorite pencils, they are all I use at home so I ordered some for here, too. You'll find these here: World's Best Pencil.
I've ordered this large 16 x 18-inch mouse pad since I love working on a big mouse pad at home. The one I use is the wrong shape to fit on my new desk, but this XL square one should work great. I love a big mouse pad because I never have to worry about pushing the mouse off of the pad. You'll find it available here: XL Mouse Pad.
This is the mouse pad I'm using until the big one arrives. Living in quarantine with two very active little boys, ages 3 and 6, I thought we could all use a few giggles. 😉 I'm going to miss this mouse pad when my big one arrives. You'll find it available here: Kitty Mouse Pad.
At home, I do a ton of Google searches each day. I have a microphone plugged into one of the many USB ports on the back of my computer so all I have to do is bring up Google and speak my search terms. I've really missed that when working away from home, so I purchased a mic for here, too. This is the one I use both here and at home. It's inexpensive and works great.
At home I have it set up out of sight behind the monitors on my deep desk. Here I have it laying on my desk without the stand attached. This is another "spoils-you-quickly" thing. I love not having to type when doing a Google search! I know that sounds silly but you can do multiple searches so quickly when you can just speak the terms, no worrying about spelling or anything.
You'll find the microphone I use here: Microphone. To use it, I just plugged it into a USB port and it was up and running. It has spoiled me for Google searches and for dictating emails into Gmail.
I gave my previous desk and chair to my daughter-in-law since she's now working from home. This was the chair I purchased for my new desk setup. It's not bad, but I wish it had more padding in the seat and the back.
This is exactly the kind of desk chair I prefer (leather/no arms) and I would pay 4X what this one cost for one just like it with a bit more padding in the seat and the back, if I could only find it. You'll find this one available here: Leather Office Chair.
To make up for the lack of padding in the back, I purchased a back cushion. It's awesome and I can definitely recommend it! It will also work in a car since it attaches with a long strap. You'll find it available here: Supportive Back Cushion for an Office Chair.
Ignore the maze of cords behind my desk and check out the footrest I'm using. I've thought about buying one of these for ages but could never find one I liked. This one is great and just what I wanted!
Here's how it looks when you're using it. It swivels so you can adjust it however you wish. If you're short like me and have trouble sometimes with your feet reaching the floor when working at your desk, you'll find this one available here: Under Desk Foot Rest.
I only need it at my desk here if I'm using my keyboard on the main part of the desk (instead of on the keyboard tray) and have to raise my chair up. I think I'll take the footrest back with me when I return home. It will come in handy there, too.
Trying to duplicate my favorite items for my little desk space here, I purchased a pop-up Post-it dispenser like I use at home. (It's available here: Post-It, Pop-up Note Dispenser.) It should arrive this week.
These are my favorite post-it notes for the dispenser because they are lined. Love that! You'll find these here: Post-it Notes.
Recently, my ancient calculator at home died and this was the one I purchased to replace it. I purchased it again for my desk here. If you need a calculator, you'll find it available here: Calculator.
I'm quite happy with this little office setup. The things that have made the biggest difference are the incredibly beautiful monitors, the Bose speakers and of course, the larger desk. The chair is fine as long as I have the new supportive pillow in place.
I hope this post is helpful for anyone who may be needing to set up a home office during this "work-from-home" period or even for a more permanent basis. We are all going to get through this difficult time and there will be stories to be told for years to come.
I'm looking forward to hot summer days real soon! Cheers! 🙂
Looking forward to all the wonderful Before and Afters linked for this week's Met Monday!
Pssst: Did you know Between Naps On The Porch is on Instagram? You'll find me on Instagram here: Between Naps On The Porch.
Like to know when a new blog post is up and available to read? Subscribe for email updates, it's free and your email will never be shared.
Subscribe here: Subscribe for free post updates via email here: Subscribe.
Metamorphosis Monday
Metamorphosis Monday is a party that's all about Before and Afters. If you are participating in Met Monday, please link up using the "permalink" to your MM post and not your general blog address. To get your permalink, click on your post name, then just copy and paste the address that shows up in the address bar at the top of your blog, into the "url" box for InLinkz when prompted.
In order to link up, you'll need to include a link in your MM post back to the party so the other participants will have an opportunity to receive visits from your wonderful blog readers.
This party has ended, click button below for the links to all who participated.
*If a post is sponsored or a product was provided at no charge, it will be stated in post. Some links may be affiliate links and as an Amazon Associate, I may earn from qualifying purchases. *