I'm super excited to share my January favorites with you because it was a great month! I have to start with this awesome garden cart that I purchased in hopes I could for once, keep my potted annuals alive through the winter. It has worked so well!
After I got the cart and put it together (minus the sides since I didn't want to use those) I placed my rather sad-looking plants on it and created an alarm on my phone to remind me to bring them in each night before nightfall. On the sunny days, I pull them out into the driveway for the day to soak up the sunshine.
This is working great and they are looking so much better now. Some sunny days I forget to pull them out so I decided today to also set a daily alarm for mid-morning to remind myself to pull them outside. When spring gets a bit closer, I'll start fertilizing them to encourage more blooms. Love this cart and love that the tires won't go flat as they used to on my previous garden cart. If you need a garden cart for hauling around flowers, mulch, bags of soil, and lots of other stuff, you'll find this one here: Garden Cart with No Flat Tires.
I've been putting these dried mealworms out all winter for my birds and they LOVE them! I mean REALLY, REALLY love them! The bluebirds are usually the first to fly down as soon as I put them out each morning. This is a big 5-lb bag so it lasts a long time. It's the best price I've ever found for them so I continue to buy this brand throughout the year. If you love making your backyard birds happy, you'll find these here: High-Protein Dried Mealworms.
This treadmill I shared a few weeks back has been awesome! I hop on it multiple times a day, sometimes for a short session, other times for a bit longer. I love having it right here in my office because it's a constant reminder to not sit too long. I don't think I've missed a single day using it. Love it! You'll find it here: Treadmill.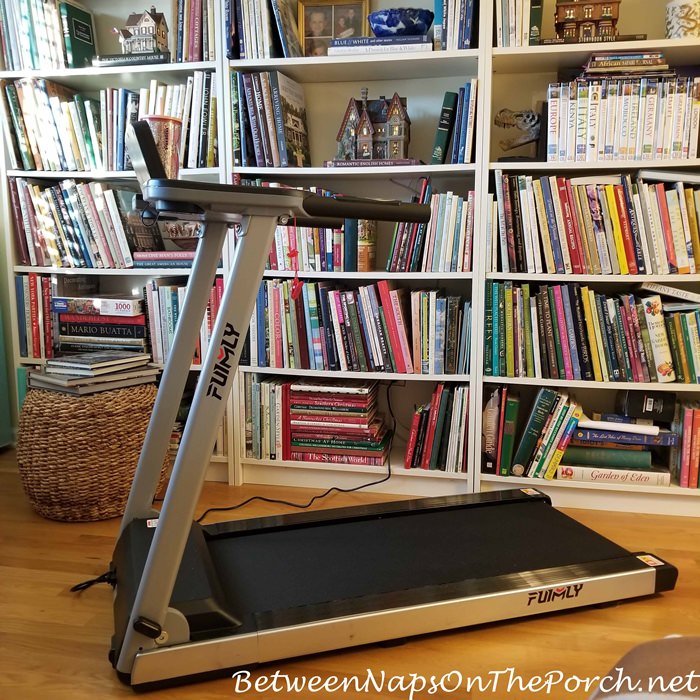 I love Tervis mugs and just purchased this a few weeks back. I love how it keeps my iced tea and iced coffee nice and cold without sweating/dripping onto my desk. I use it without the lid. I love the suns on this one, it's such a fun way to start my day each morning! It's available here: Insulated Mug/Cup.
Over the years, I've purchased this long cashmere sweater in two different colors and I continue to love them! I keep one in my office at all times because I love to grab it as I'm running out the door for an errand. I prefer to wear it in place of a coat because it doesn't add bulk–I can't stand trying to drive while wearing a bulky coat. I talked to my daughter-in-law today and she told me that she wears her's all the time, almost every day. I don't think it's currently on sale but keep an eye out because we are coming up on the time that they often do go on sale and it's usually a really good sale. You'll find it here: Long Cashmere Sweater.
I shared these pants a few weeks ago and I have really enjoyed wearing them on especially cold mornings. They are the equivalent of Uggs in pants form. Seriously! I bought them in both Medium and Large since I wasn't sure which size would work best. The Medium size turned out to be the best size so I find they do run pretty true to size. They may feel a tad snug when you first put them on but they loosen up as you wear them, kinda the way jeans do–or at least that's been my experience. When I wear them, I normally have to bump the heat down in my home a few degrees since they are so warm. You'll find these here: Super Warm Sherpa-lined Pants.
Love this fun LV bag I purchased last month. I've been wearing it almost non-stop since it arrived. It's no longer available in the stores since it's from a few years back, but I was able to locate one here: LV Shearling Bag.
The seat cover I purchased to protect my car's seat from denim transfer/denim stains is still working great! It's exactly what I need for fall and winter when I wear a lot of jeans. You can see the bluish color along the edge of the seat where it's been doing its job protecting my seat. If you fight the "denim" issue in your car, you'll find this seat cover in several colors here: Seat Cover/Protector.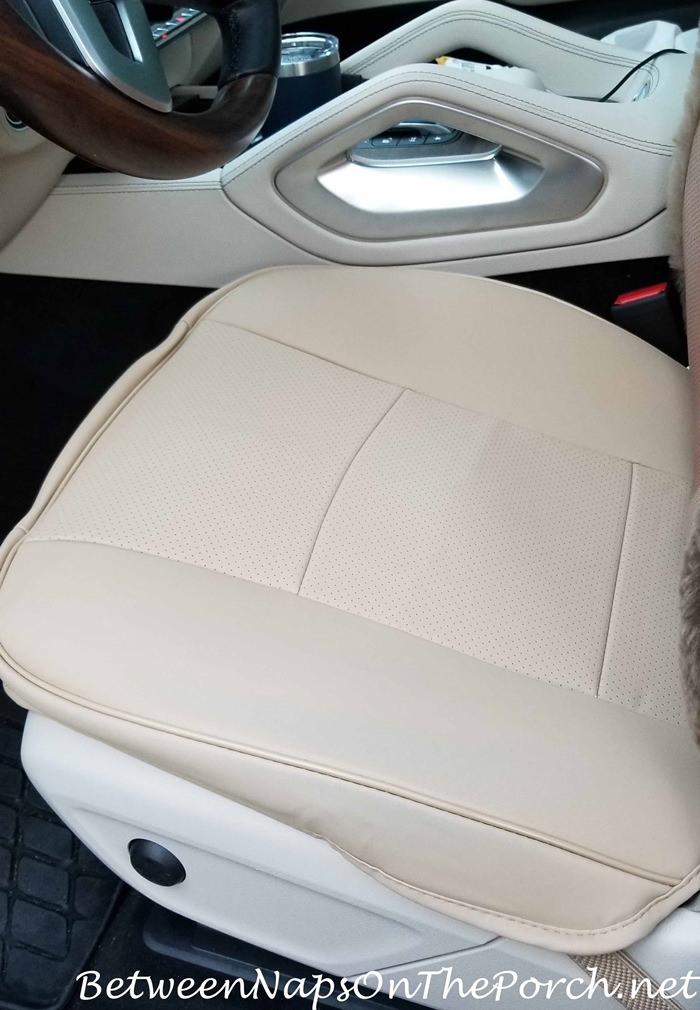 I'm always so surprised how fast dust accumulates on my desk in my office, especially around the monitors. I dust and it seems like it's back in no time. I decided to buy an air purifier for my office and I chose this one after reading the reviews. I do think it has helped! With as much time as I spend here in my office every day, I'm really happy to have it here running throughout the day. It's quiet and I find the sound it makes while running to be very soothing. I love it! You'll find the one I purchased here: Air Purifier for My Office. They also make bigger ones for really large rooms or multiple rooms.
Recently, I shared this table setting for Tablescape Thursday. I noticed that the colorful drip candle I've had in this bottle for years is finally getting kinda low. I love how these look in table settings, especially tucked into a color bottle. I just ordered two more drip candles so I can replace this one and maybe start another one in another bottle at some point. If you want to create this look for a table, especially a romantic Valentine's Day table, you'll find these candles available here: here: Colorful Drip Candles.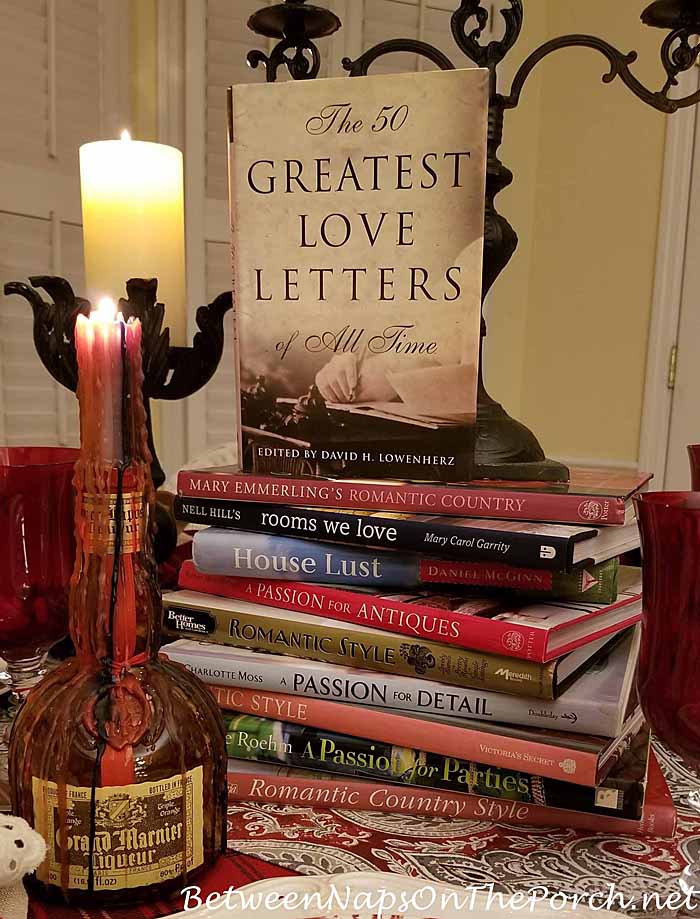 I made a big pot of vegetable beef soup last month and froze half of it. I love having this soup in the fridge and freezer so I can pull it out for a quick meal on cold winter days. It smells sooo good while it's cooking!
If you love a good, hearty soup for winter, you'll find the recipe for this one here: Vegetable Beef Soup.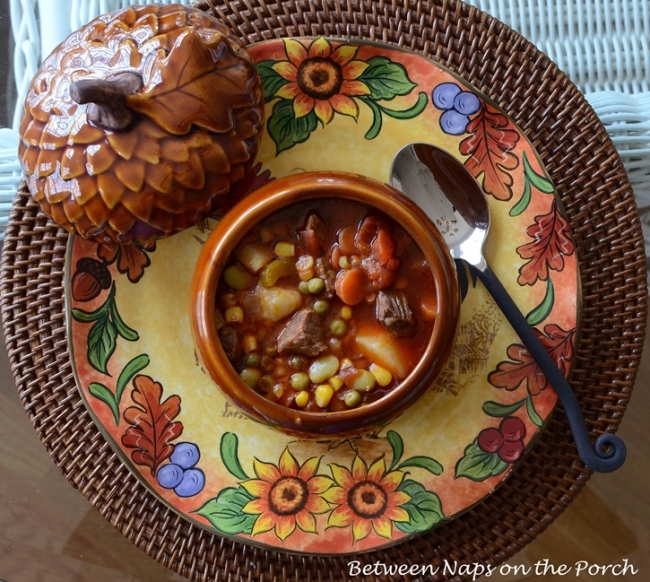 Hope you are staying cozy and snuggly warm this winter!
*If a post is sponsored or a product was provided at no charge, it will be stated in post. Some links may be affiliate links and as an Amazon Associate, I may earn from qualifying purchases. *