I'm late in sharing March favorites. There are really so many I could share since I've purchased a number of things over the past month while setting up a mini workspace and shopping for spring clothes online during the time I've been visiting with my son and daughter-in-law. I've narrowed it down to my absolute favorites and I hope you find these favorites helpful.
A few summers back, I put together a surprise outdoor table setting for my son/dil and grandsons while they were away from home for a few hours.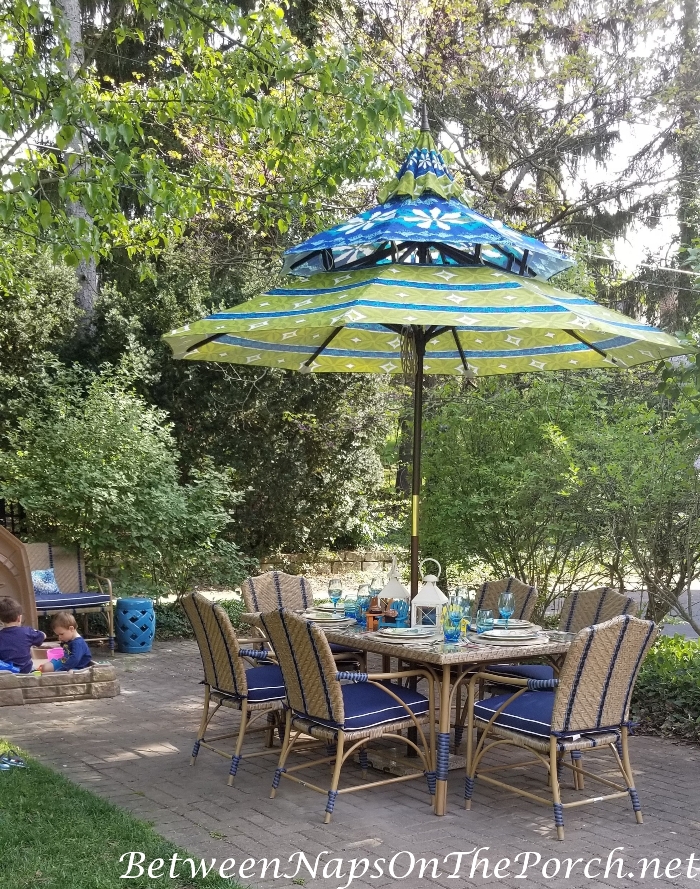 I had shopped in Pier 1 the day before and had texted over to my daughter-in-law photos of some of the cute, summery melamine dishware I was finding. I really like melamine for outdoor dining, especially when there are little ones around. Plus, this melamine was so much heavier and nicer than any I had ever seen. That's the day I discovered all melamine is definitely not the same!
This was the pattern my daughter-in-law liked best. I loved all the little sea critters so was secretly glad she chose this one.
Here's how it looked in the surprise table setting I put together that summer.
Each plate depicts a colorful, sea creature. (See more of this table here: Summer Dining Outdoors: A Mostly Child-Friendly Table Setting.)
Update: I've had a few emails asking about the large outdoor umbrella seen in this previous post. This umbrella was purchased a few years ago.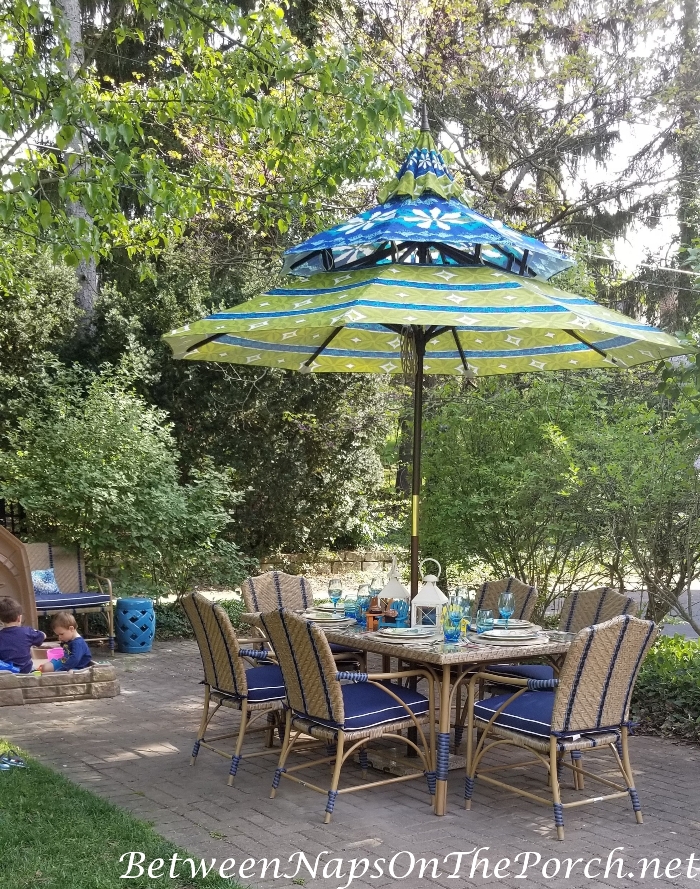 I LOVE this style umbrella so much, I purchased one for my own deck, too. I don't see this exact color available right now, but you'll find it on sale in two more colors here: Patio Umbrella.
Every year these umbrellas sell out pretty quickly…this style is very popular. So if you love it, get it while it's on sale and still available…that's my advice based on experience. It's a bit more expensive than the cheaper umbrellas you find in all the discount stores, but then it's much, much larger, sturdier/heavier and much better made. It's a beautiful umbrella! Be sure to place the end under the table into a heavy stand to avoid having it tip over your table during a strong wind because it is a substantial umbrella!
Recently I came across these adorable coasters and loved them! I didn't order them at first because the shipping indicated they could take several weeks to arrive and I didn't want to wait that long. (Turns out that information was completely wrong.)
I ended up ordering these instead because the quoted shipping time was just a couple of days. I love these and have really enjoyed using them at my desk the last few weeks.
A few days ago I came across these again saved in my favorites and decided to order them knowing they would go great with the summer dishware we would soon be using. Despite the estimated long shipping time, they arrived in just two days! Have no idea why they quote such a long shipping time when they arrive very quickly!
Can't wait to use them for cookouts this summer. They will be great with the outdoor dinnerware we've been using the last few summers. If you love beach-themed pretties for summertime, these are available here: Ocean Themed Coasters. Ignore the quoted shipping time because they will probably come much faster as mine did.
This is one of the melamine patterns they have in for this summer…so pretty! You'll find it on sale here: Birds and Flowers Summer Dinnerware. They always have the best patterns for outdoor dining and the colors are so vivid! I love that it's dishwasher safe, too!
Since I only packed cool-weather clothing for the trip north this time, I recently purchased a few spring/summer clothes to get me through the warmer days ahead. It was love at first sight when I came across this adorable shirt! I haven't worn it yet, but it fits great!
I love the cute coordinating polka-dot, accent fabric that shows when you turn up the cuffs! I'll definitely be wearing it that way when I wear it this spring/summer. You'll find it on sale here: Blue and White Shirt.
I have a few pairs of white jeans at home but unfortunately, I didn't pack any for this trip. So I went ahead and ordered the ones I always buy for summer. I ordered them in my usual "curvy" fit since those are always the best fit for me. With the curvy fit, I don't get a big gap in the waist in back. If you have a smaller waist in proportion to your hips, you'll find the curvy fit jeans on sale here: White Jeans.
If you don't need the curvy fit, you'll find these jeans in the regular fit on sale here: White Jeans.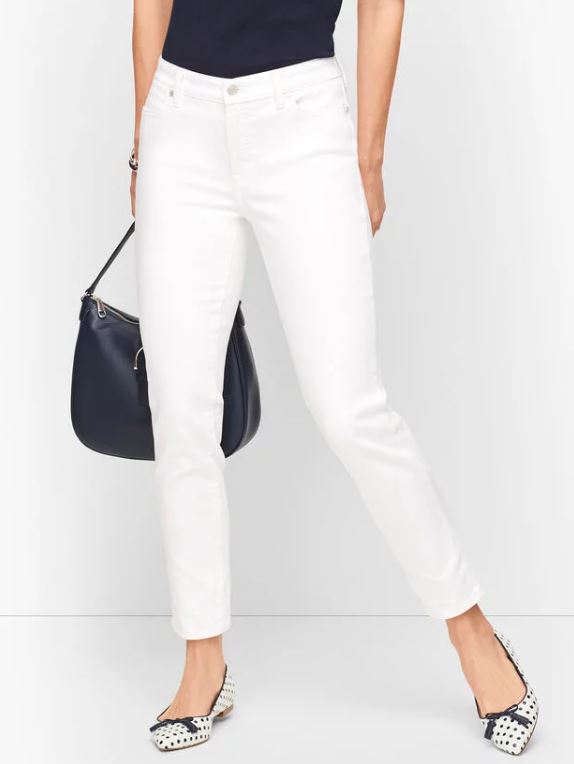 I've been eyeing these adorable sneakers. Wouldn't they be sooo cute with my new shirt?! You'll find them here: Blue and White Toile Sneakers.
Over the years I've used several jewelry polishing cloths on my gold bracelets. They do a pretty good job but I've always wished they were a bit stronger, a bit tougher at removing small scratches. I decided to try this brand since the cloth is actually impregnated with jewelers' rouge which I've heard is great at removing light scratches.
It worked sooo well, I just ordered a second one today because I want to make sure I have a spare on hand in case I can't find them later. I may never need the spare though since apparently these last a long, long time. The description on the cloth says to never wash the cloth, just use it until it's in shreds. I'm still glad I have a spare, though–since it worked so well on the small scratches I had on my bracelets.
You'll find these cloths available here: Jewelry Polishing Cloths
Can't remember if I shared this heater when I shared my desk/workspace recently. I'm always cold so love keeping a little heater near or under my desk. I really like this one because it has a lot of different modes/settings for all situations. It also has a built-in thermostat to help regulate when it runs. Probably my fave feature is the remote control that comes with it. I love not having to bend over under my desk to turn it on and off as needed throughout the day. It's available here: Space Heater.
If you've been reading BNOTP for a while, you know I have this sunhat in several ribbon colors. I love it and it goes with me whereever I travel. You can see me wearing it in Egypt at the top of the sidebar. It's available here: Sunhat.
As mentioned, I already have it in three bow colors. You can see it with a cream bow and navy bow in the photo below. Last summer I purchased it with the pink bow for my daughter-in-law and also picked up one for myself.
Unfortunately, in my rush to get to Ohio, I forgot to pack one of my hats. Since I already have my fave sunhat in three different colors, I didn't want to purchase it again, but I desperately need a sunhat for the long walks we've been taking the last few weeks.
I found this one online for a super reasonable price and ordered it. I really like it and it fits great! It's also adjustable for different head sizes.
I love the style because it's similar to my fave sunhat that I wear so often but don't currently have with me here in Ohio. It will be perfect for our spring walks in the coming weeks. You'll find it available here: SunHat
This is the other hat I bought, again the price was so reasonable, I couldn't resist getting it. I've been wanting one like this for ages–have seen them all over Instagram for much higher prices. They come with a lot of different embroidered sayings on them, but this was my fave. They are normally worn with the wording across the back, not sure why they are showing it on this way below. lol
Anyway, this would be the perfect hat for a beach trip or hanging out in the backyard on the patio or deck. This one is available here: Beach Sun Hat.
Love these summer sandals I purchased recently. They are sooo comfortable with excellent arch support, plus very reasonably priced! You'll find them available here: Sandals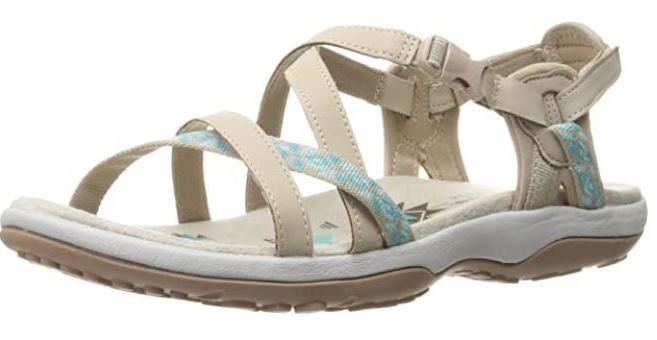 Recently, I shared these sneakers that I purchased while here in Ohio. They are incredibly comfortable and so supportive. I've worn them all day several times now and my feet were never tired at the end of the day. Amazing how a pair of shoes can make such a big difference in how you feel at the end of the day. I liked these so much…
…I purchased another pair in the all-white color for summer. They come in several colors and I can definitely recommend them if you're in need of spring/summer sneakers. These would be especially great if you're on your feet a lot. I'm shocked how reasonably priced they are for the support they offer!
You'll find them available in several colors here: Sneakers
Since I just purchased three new pairs of shoes, I needed a way to store them (along with all my winter shoes) while I'm here visiting with family. I ordered this shoe rack below and I'm so pleased with how it's working for holding my shoes and handbags. It's really a pretty shoe rack. My daughter-in-law loved it, as well. Even my two grandsons, ages 3 and 6, commented on how nice it was! lol
If you are in need of a pretty shoe rack or storage rack, this one is really nice and quite sturdy. It was also very easy to put together…only took me about 15 minutes. I purchased it here: Shoe Rack.
Another item I purchased recently was these microfiber cleaning cloths. I ordered them mainly for cleaning my eyeglasses and phone screen, but they will work on camera lenses, iPad screens and TVs, too.
I have plenty of these at home but didn't think to pack them. You can never have too many of these around the house. I keep them in all my handbags, as well.
I'm very pleased with how well these work. I ordered the 30 Pack because they are so reasonably priced. You'll find them here: Microfiber Cloths for Glasses
Hope you enjoyed these favorites! See you tomorrow for Metamorphosis Monday.
Stay safe, dear Friends!
*If a post is sponsored or a product was provided at no charge, it will be stated in post. Some links may be affiliate links and as an Amazon Associate, I may earn from qualifying purchases. *