Welcome to the 468th Tablescape Thursday!
I didn't get a chance to put a table together this week, in fact my porch is still not put back together since I took it apart in anticipation of Irma's arrival. I want to mop the floor and give it a good end-of-summer cleaning before I put everything back in place.
But I do have a treat for you! I took quite a few photos when I was shopping inside the Belleek Pottery store after touring their factory where their artisans create the beautiful pieces we know and love. So let's go pottery shopping together!
After seeing how Belleek Pottery is all hand-made, I had a much greater appreciation for their beautiful pottery. They do more than just the shamrock pattern for which they are so well-known, but I have to admit, this pattern is still my favorite of what they offer.
The basket-weave design with Belleek's signature shamrock design is so pretty! Belleek Pottery is known for its thin, delicate porcelain, known as Parian ware and for its luminous, white ceramic glaze. That's what give it that lustrous shine. Parian ware is a form of bisque porcelain, its name coming from Paros, a Greek island that's well-known for fine white marble.
John Caldwell Bloomfield started his pottery factory back in 1849 after he inherited land that turned out to be rich in minerals, perfect for making pottery. He started the factory during the years of the Irish potato famine with the hope it would provide work for his tenants. It wasn't until 1863 that the factory began producing the Parian ware for which Belleek is known.
Pretty vases and pitchers…
Belleek Pottery carries other patterns, as well. This blue, grey and white pattern was really pretty.
I really love the all white, simple but beautiful! The design makes me think of some of the weave patterns you see in Irish sweaters.
Their Aynsley Floral pattern is so pretty! Would be perfect for serving dessert and coffee in the spring or summer.
Update: I Googled to learn more about the Aynsley line and Wikipedia states that Aynsley is a company that was started by John Aynsley in 1775 in Longton Staffordshire. In 1970, the company was bought by Waterford, then in May 1997, Aynsley China was acquired by The Belleek Pottery Group.
Remember the bowls we saw being made by hand in the factory?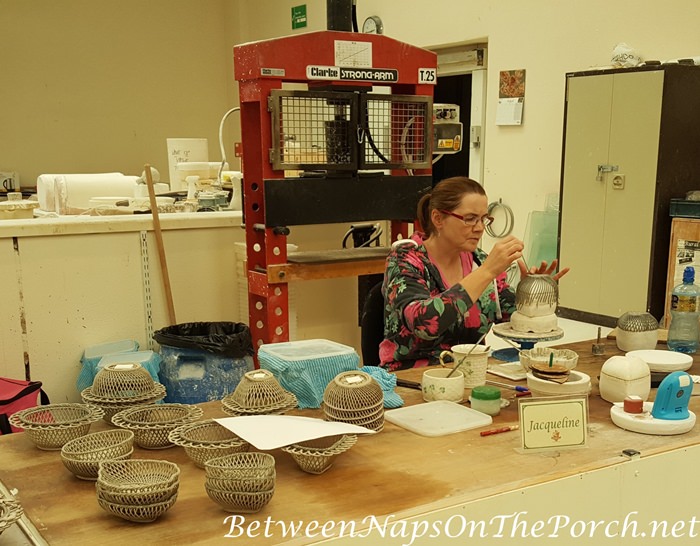 It was wonderful to see the finished pieces in the shop, especially after having just seen how each element of the bowl is made by hand.
They also had pretty glassware available for purchase, including Galway Crystal.
I think the Christmas pieces are from their Aynsley line, as well. I love the Santa in the sleigh with the reindeer. It would make such a cute centerpiece for a Christmas table!
This was the lamp I almost purchased. I really liked the simple design and it was on sale for a really great price. Even though it was out of stock, it could still be purchased for later delivery.
If you read THIS previous post, you know I ended up purchasing the castle lamp. It was the perfect souvenir from this tour where we were staying in castles all along the way. It hasn't arrived yet, will probably be another 4-5 weeks, I'm guessing. I'm looking forward to sharing it with you and where I end up using it here in my home office.
Another pretty lamp that was available…
Here's a better close up. It's hard taking photos of lamps when they are on.
A pretty porcelain figurine…this would make a great lamp base as shown in THIS previous post and in THIS post.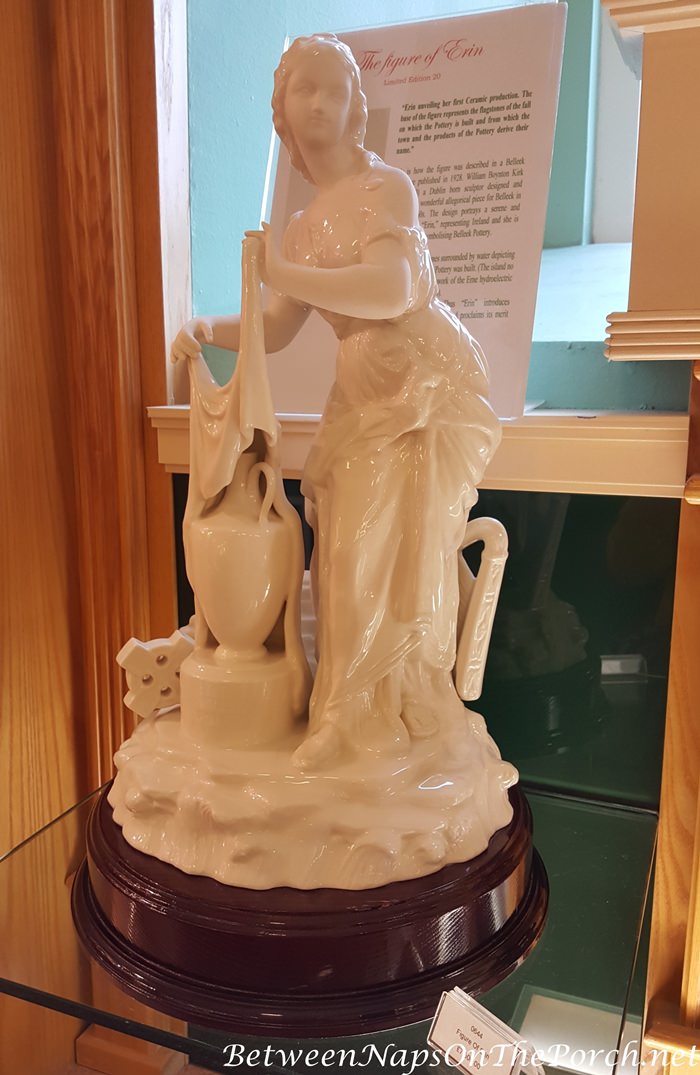 Hope you enjoyed this little shopping trip inside Belleek Pottery. Definitely recommend taking the tour if you ever travel to Ireland!
Take a tour and see how Belleek Pottery is made here: Tour the Belleek Pottery Factory.
Pssst: I post almost daily to Instagram. Follow Between Naps on the Porch on Instagram here: Between Naps On The Porch.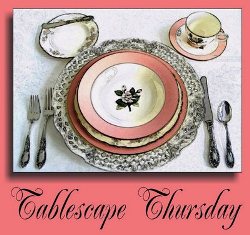 If you are participating in Tablescape Thursday, please be sure to add your permalink below, and not your general blog address.To get your permalink, click on your post name, then copy and paste the address showing in the address bar, into the "url" box when you link up.
You'll need to include a link in your post back to the party to link up and participate. That's so visitors to your blog will be able to find the party and the other Tablescape Thursday participants. Requiring a link back also prevents businesses and scammers from linking up to sell their products. (Yup, that really happens, unfortunately.)
Please Note: After 1 week, party links are still available to view by clicking on the blue button below.

*If a post is sponsored or a product was provided at no charge, it will be stated in post. Some links may be affiliate links and as an Amazon Associate, I may earn from qualifying purchases. *