Any post sharing my favorites for this past month has to include the cute Chickadee and Pine Flannel Sheets I tripped across a few weeks back. After they arrived and I saw how nice they were, I immediately ordered another set. Love 'em! If you need a cozy, heavy-weight flannel sheet for your winter bed, you'll find these here: Chickadee and Pine Organic-Cotton Flannel Bedding.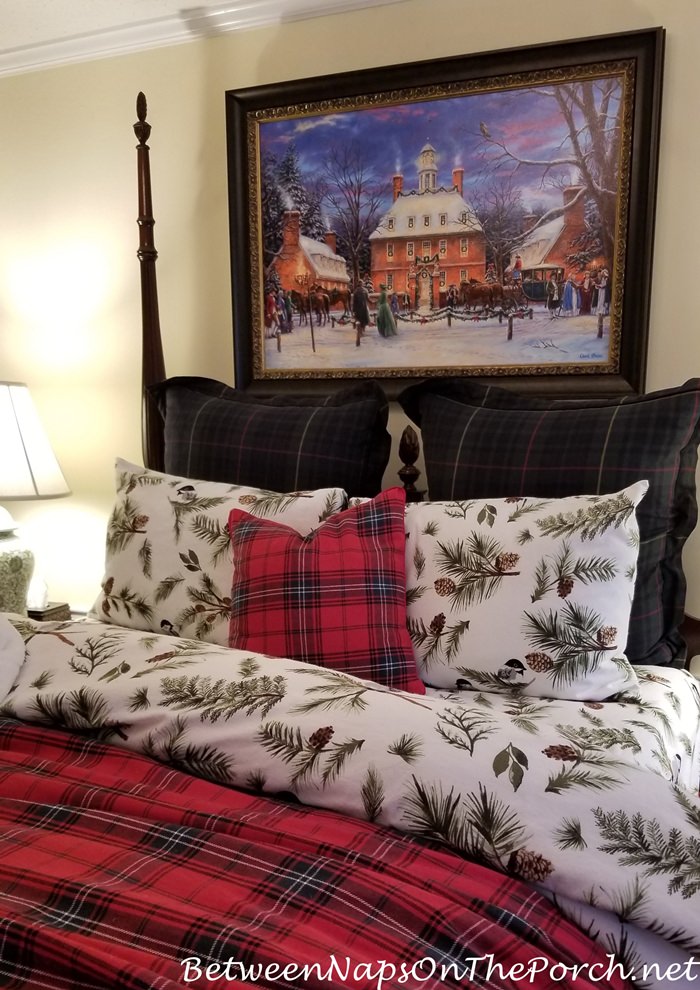 Of course, this beautiful, nostalgic giclee painting of the historic Governor's Palace in Colonial Williamsburg at Christmastime (that I finally had framed last month) had to make the November Favorites list. The name of the painting is The Governor's Party and it's available here: The Governor's Party. Or you can buy it directly from Chuck Pinson's website (which is what I did) here: Chuck Pinson, Art for Inspired Living.
For all you puzzle lovers (raises hand!) you'll find a puzzle of this gorgeous painting here: The Governor's Palace Puzzle. I have this puzzle and always love putting it together. I've worked it twice–time to pull it out again.
I've had the book, Arriving Home by James Farmer on my "book wish list" forever. I finally treated myself to it and it did not disappoint! I can definitely recommend it if you love beautiful, traditional decor or need a Christmas or Birthday gift for someone who does. It's available here: Arriving Home.
Also, very much recommend his book, A Place to Call Home. You'll find it here: A Place to Call Home. I hope James continues to put books out like these two because I will definitely continue to buy them!
Last month I purchased this super affordable dinnerware by Gibson. I think it would be perfect to use all throughout autumn, Thanksgiving, and the Christmas/winter season. Since it's reasonably priced, I feel completely comfortable using it every day without worrying about breakage. It was the adorable snow-covered cottages that really stole my heart. Then there's the wonderful old-fashioned sleigh ride…gahhh! Had to have it!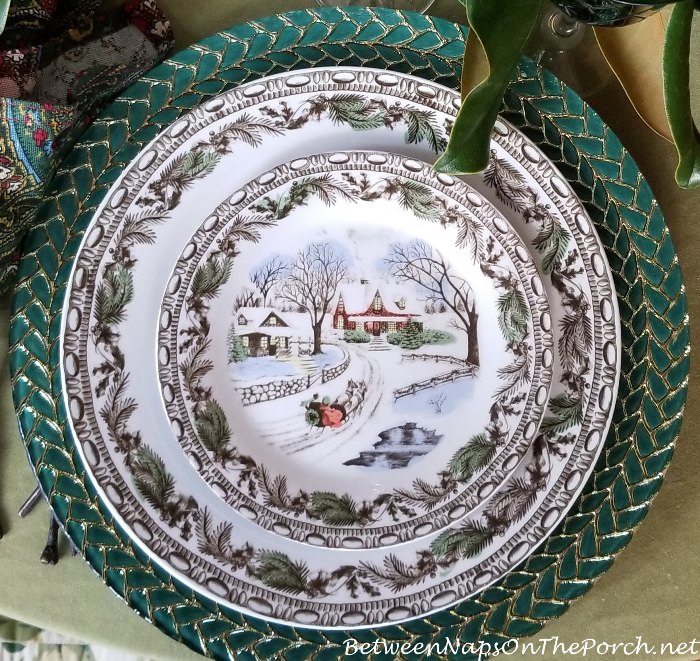 I especially loved how they designed this pattern with different homes on the dinner plate instead of just repeating the same pattern that was on the salad plate. The homes on the dinner plate are a bit more stately–love those, too! Love this pattern and I'm so happy to have discovered it this year. You'll find it available here: Christmas Toile Dinnerware.
Of course, you know how much I love the green and gold chargers I used in the table setting above. Those were a new addition in November, too. I purchased the red ones below first after seeing them in the store, then you guys convinced me I needed the green ones, too. You were right! I definitely would have kicked myself later if I hadn't bought these this year. I love how they look with my new Gibson holiday dinnerware and the red is beautiful with my Lenox Holiday china.
I'm surprised how reasonably priced they are considering they are glass chargers. It appears they are still available online. You'll find this beautiful charger in both red/gold and green/gold here: Green and Red Glass Chargers.
This final item may be a bit of a surprise to find in a "Favorites" post, but it's had a big impact because it's saving me a bunch of steps and a lot of frustration. Last month I purchased three sets of these small screwdrivers.
When winter rolls around, the occasional wood louver in my plantation shutters will shrink every so slightly and sometimes droop. Fortunately, my shutters were built with tension adjustment screws designed into the panels, so tightening the louvers back up is a super quick and easy fix. I open up the shutters and with a wee turn, gently tighten the tension adjustment screw. It only takes a teensy turn of the screwdriver to do the trick and the random drooping louver is gone for another year. I have plantation shutters in all my windows and usually, it's only 3-4 panels throughout the whole house that may require a little tightening.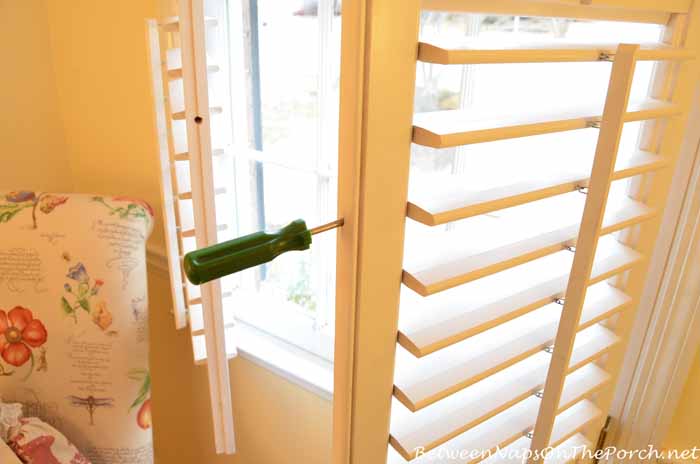 Since I can never find a screwdriver handy when I need to tighten a loose louver, I bought three sets of these cute screwdrivers. They are adjustable in length and have reversible dual ends, meaning that they have both a flat head and a Phillips head on opposite ends.
At first, I ordered two sets. When they arrived, I liked them so much, I ordered one more set. So now I have a screwdriver available in almost every room of my home. That will come in handy for more than just tightening the louvers when they need it, seems like I randomly need to tighten something around the house from time to time. Sometimes it's the little things that make life a lot easier–know what I mean? These handy, small screwdrivers are available here: Small Screwdriver (Package of 2). Ummm, just thinking, these would actually make a neat stocking stuffer.
Hope you enjoyed or found helpful this little list of my November favorites! Looking forward to Tablescape Thursday!
*If a post is sponsored or a product was provided at no charge, it will be stated in post. Some links may be affiliate links and as an Amazon Associate, I may earn from qualifying purchases. *