Recently I shared an outdoor lamp I purchased for the oval table here on the screened porch after I nabbed the lamp that had been there for use in the guest room.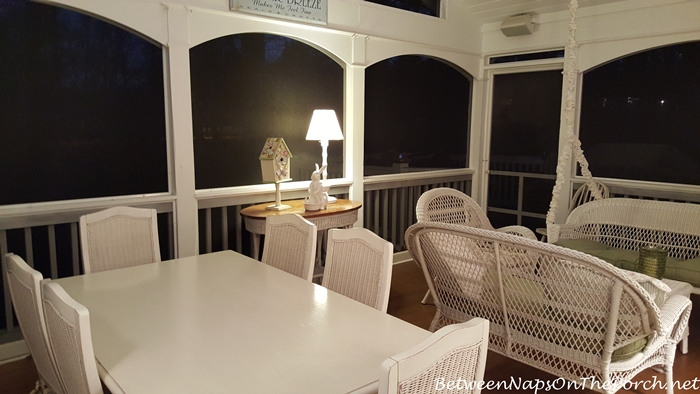 When I shared that lamp, I also shared this rather blurry photo of a floor standing version of the same lamp.
I've always had three lamps on the porch, two are visible in this photo below.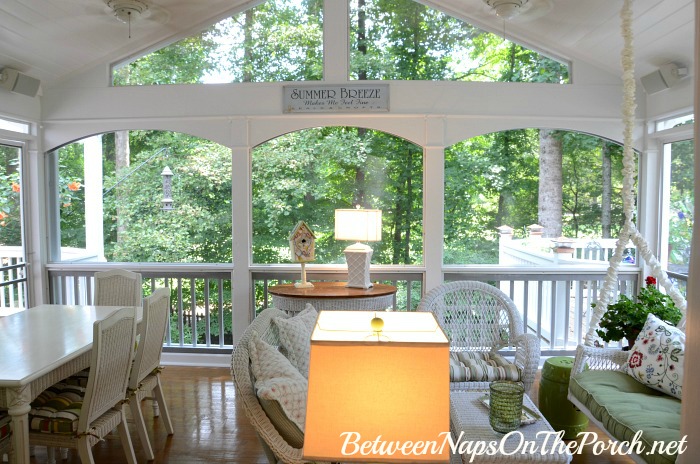 The third lamp is here on the hutch near the dining area of the porch. (Previous post can be viewed here: The Summer Porch: Beach Cottage Decor)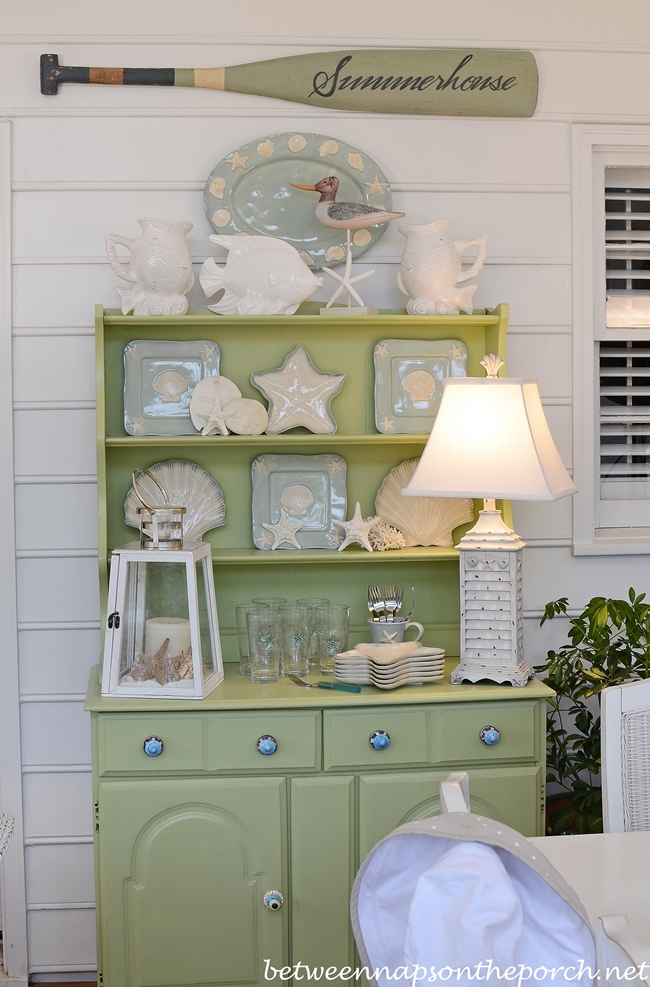 I really loved the look of this lamp and thought a floor standing lamp would make a nice addition to the porch. I also hated to pass up getting one because who knows how long they will make it and I don't want to be kicking myself later for not getting it while I had the chance, especially since these outdoor lamps are so reasonably priced.
When my sweet friend, Sarah commented that she thought it would be a great idea, too, I decided to go for it. (Thanks, Sarah! 🙂 ) Ummm, but where should I place it?
In this old photo from May 2012 when I shared a Kimberly Queen fern I had just bought for the porch, there are two places where a floor lamp could work. One place is there behind the chair where the Kimberly Queen fern is sitting on a plant stand. The other spot is over in the corner behind the swing.
Since I don't need two lamps by the chair, I decided to place it in the corner behind the swing. Currently, the swing doesn't have a lamp near it and it would be nice to sit there and read late into the evening.
So that's where I tucked it, into the cozy corner right behind the swing. I checked and the swing will not bump it if someone swings unusually far back. There's plenty of distance so it's definitely not in the way.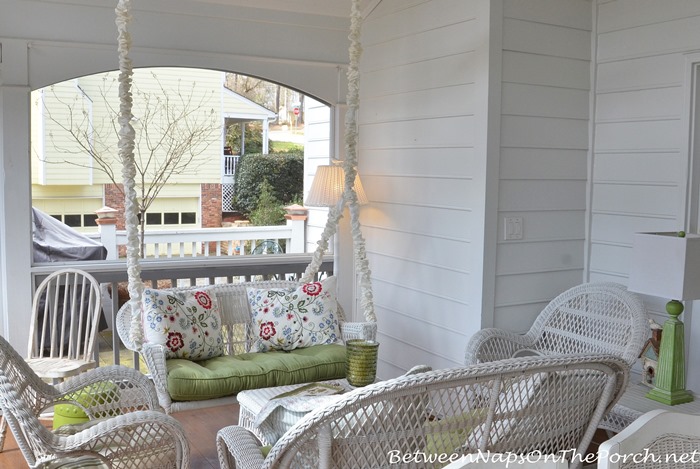 I love the little birdie finial on top. I think it will be nice having this corner of the porch lit up at night. At Christmastime, I often place a skinny lit tree here, so I may move the lamp to the garage temporarily when Christmas comes along.
BTW, these lamps (table lamp and floor lamp) are VERY heavy. The base is super heavy and weighted, I guess they are designed that way so they can stand up to the wind wherever it's used. That's perfect for a porch!
If you need a floor lamp for your porch, you'll find this one here: Outdoor Wicker Floor Lamp. The table lamp can be found here: Outdoor Wicker Table Lamp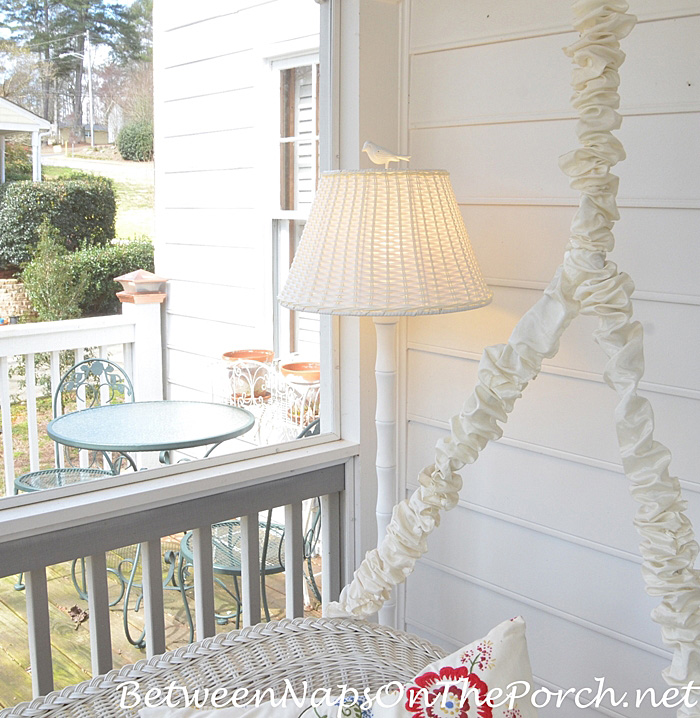 Outdoor lamps are so much cuter than they were years ago when I first added on the porch. Can you believe that this is an outdoor lamp! So cute! This whimsical rooster weathervane lamp is available on sale here: Weathervane Lamp
A Lazy Hill Dovecote Birdhouse
The Lazy Hill Dovecote I ordered arrived this past week and it's beautiful! I had been reluctant to order it because they are now made of something called cellular vinyl. I was envisioning something that felt kind of soft and vinyl-like.
Well, apparently cellular vinyl is nothing like the vinyl siding I felt many, many years ago. I would not have known this wasn't wood, by just touching and seeing it. It pretty much looks just like my older Lazy Hill dovecote birdhouse. When you touch it, it's just as firm and sturdy. It's also quite heavy, like my other dovecote. So if you've been wanting a Lazy Hill Dovecote, don't let the fact that they are now made with cellular vinyl put you off. I'm very pleased with this one and I've heard from several readers who have told me their cellular vinyl dovecotes have held up very well.
I also like that these birdhouses are made in Maine, right here in the good ole United States. If you're interested in a dovecote like the one I bought for my garden, you'll find it available here: Lazy Hill Dovecote with Polished Copper Roof . That price is a good bit less than what I paid for my other Lazy Hill dovecote many years ago.
The nice folks at Good Directions, the company that makes Lazy Hill birdhouses, also sent me some new shingles for my old dovecote that was attacked by a woodpecker.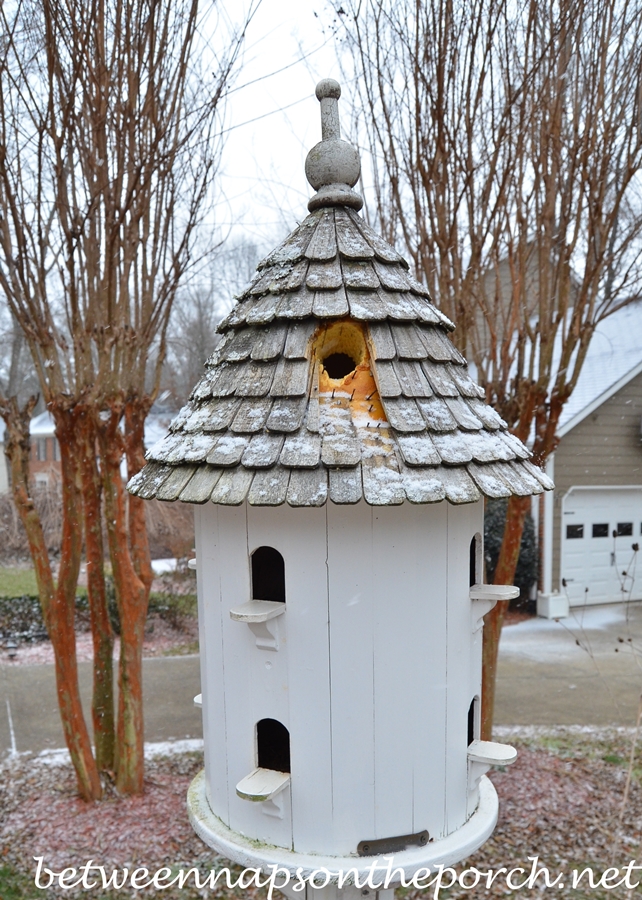 I'll be working on it this weekend and I'm looking forward to sharing the repaired house with you soon!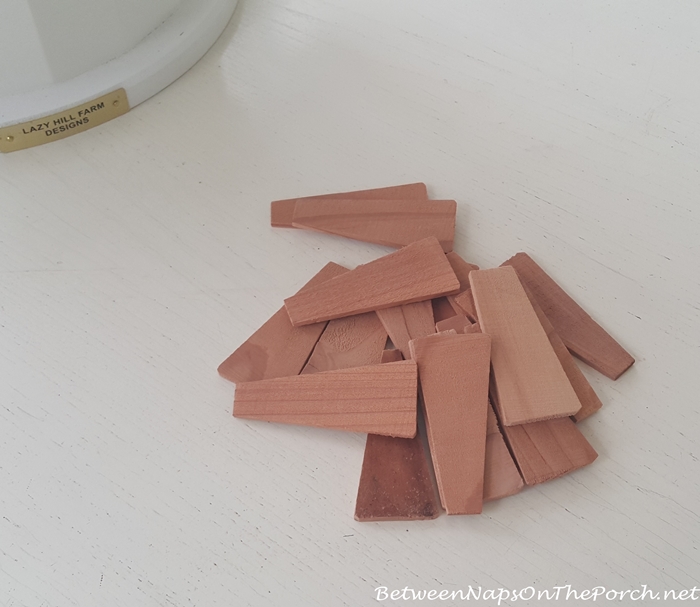 Hope wherever you live, you'll be getting some of this warm weather I've been hearing it's moving in this weekend. I'm seriously looking forward to a little porch time. What are your plans for the weekend?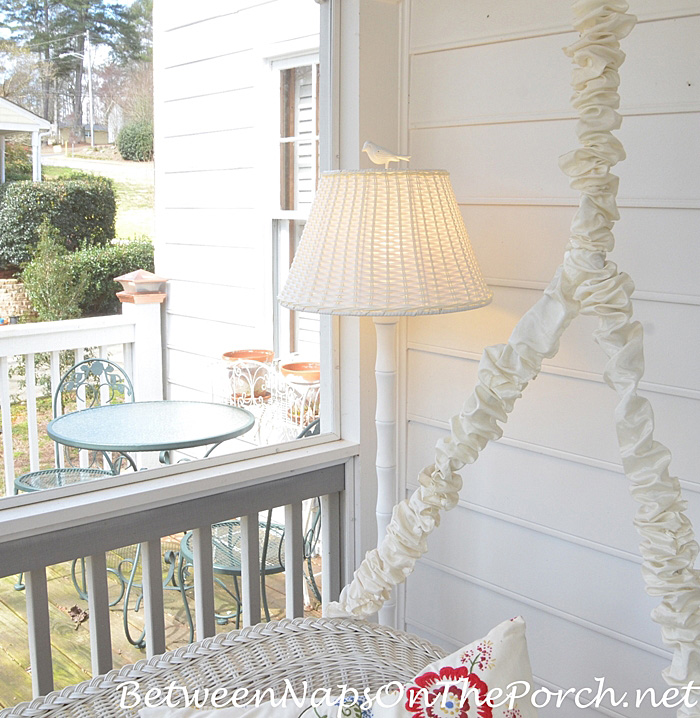 *If a post is sponsored or a product was provided at no charge, it will be stated in post. Some links may be affiliate links and as an Amazon Associate, I may earn from qualifying purchases. *