In a few short weeks, I'll be heading off on a new adventure. I'll be leaving for a 16-day trip to Egypt. This will be my third time visiting the continent of Africa–somehow it keeps drawing me back.
It's going to be quite hot in Egypt, I'm guessing very much like the summers here in Georgia but with less humidity since it's really a desert environment. Today I'm sharing the wardrobe I plan to pack, although I'm sure there will be some last minute additions and subtractions.
And before I get any criticisms about how much I take along when I travel, yes…I know it's possible to pack light when traveling, but that's not what I enjoy. I love clothes and I love dressing in something I really like each day on a trip. To me, that's part of the fun of travel.
If you prefer to travel for a 16 day trip with just the clothes that will fit in a carry-on suitcase, occasionally washing clothes along the way, that's awesome! I prefer to not have to wash clothes while traveling, although the places we'll be staying do offer that service. I hope you'll still find this post helpful even if you prefer to travel super light.
I'm making a few changes this time regarding luggage but one item that will definitely make the trip is my travel handbag. Since I first started traveling, I've always taken along bags that had RFID protection, cut resistance or cut-proof design and latching pockets to thwart pickpockets. I upgraded to this particular bag just before leaving for Morocco because of the two pockets on either end designed to hold a water bottle.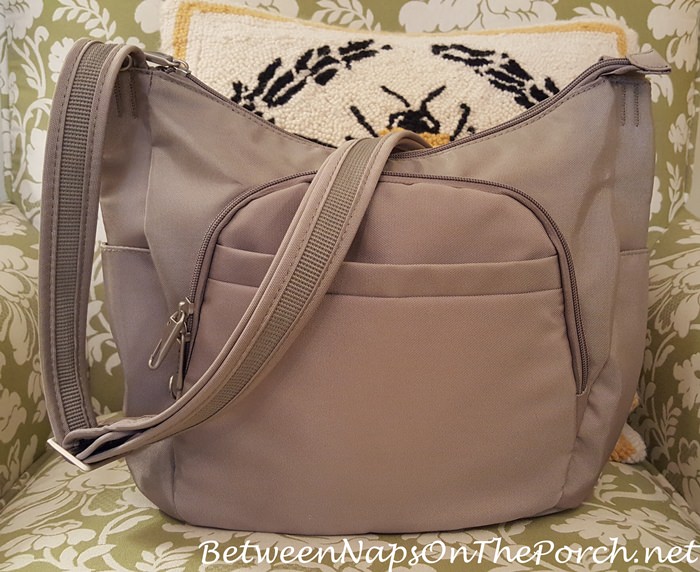 I will definitely be needing that feature again on the trip to Egypt. From what I've read, I'll most likely need to avoid drinking the local water. Plus, I'll need to stay well-hydrated in the heat. I really like how the pockets on this bag collapse down flat when not in use as seen in the photo above.
This bag has a ton of safety features, including RFID pockets so a bad guy can't scan your credit cards or passport. The zipper openings cleverly lock to prevent pickpocketing and it's slash resistant so someone can't slice it open at the bottom in a crowd. It's also roomy enough to hold my large DSLR camera with a good size lens on it.
You can see all the colors it comes in and read more about the design and layout of this bag where I purchased mine here: Secure Travel Bag.
Clothes for Hot Weather Travels
Okay, let's dive into the clothes I plan to take on this trip. I'm going to be sharing a lot of shirts/tops in this post that I plan to take and wear on this 15-16 day trip. For the bottom half, I'll be wearing mostly white jeans. White is reflective so I'm hoping white pants will help reflect the sun.
I have a pair of casual white linen pants that I bought many years ago for wearing to the beach, but they are just a little too see-through for me to feel comfortable wearing them in Egypt. So white jeans will be my primary "pants" for when I'm out and about.
I already have a pair of these white jeans, I wore them a ton this summer. I just ordered two more pairs a few days ago since I love how they fit and they are currently on sale. For blue-denim jeans, I often go with Jeggings, but for white jeans I find the "Slim-Ankle" fit to be more flattering than a jegging style which is a lot snugger.
You'll find my favorite white jeans here: White Jeans. I wear the "curvy" fit because the regular fit jeans tend to gap at the waist on me. If you don't have that problem with pants, you'll find the regular fit jeans here: White Jeans.
Note: The tops I'll be wearing are longer tops so they will cover my bottom. That's a flattering look, but also a modest, "non-attention-drawing" look for traveling through Egypt.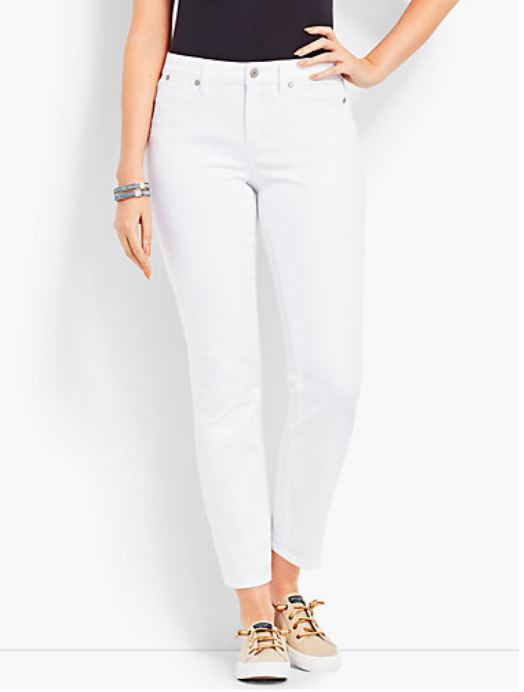 As I was taking photos for this post, I kept including the white jeans in the photos. I finally just focused on the shirts since white jeans will go with all the tops I'm taking on this trip.
The Tops
I purchased these two shirts a couple of months ago. I purchased the top on the left online, along with a dress. The dress didn't work out for me, but the shirt was perfect! When I stopped by the store to return the dress, I spotted the shirt on the right (below) and decided on a whim to try it on. Oh my gosh, I instantly loved it! It's silk, so a lot more $$$ than I would normally spend on a shirt, but it was so pretty on, I had to get it!
The design of the shirt is super flattering. I have a feeling it would be that way on almost all body types because of how it's designed. Both of these tops are very flattering!
Here's how the silk top above looks when worn. I love the bell sleeves, they are so feminine and just flow so beautifully as you move your arms. I don't own anything else with bell sleeves so I was surprised how lovely they are.
Since this shirt is all silk, it hangs beautifully, just skimming over the body as it softly flows with your body. I've found it to be incredibly comfortable and flattering to wear.
I will use THIS PRODUCT when it needs washing, definitely will not take it to the cleaners since I hate what they do to clothing during the dry cleaning process. This shirt is still available here: Silk Seashell Top.
I've been wearing the other top a lot this summer! It's cool, comfortable and again, very flattering on. I love the neckline, it looks great with a pretty necklace. This top is available here: Floral Top.
I'm going to take along a few pairs of my favorite scalloped white shorts, but I won't be wearing those out on the streets of Cairo/Egypt since it's best to keep the legs covered when out and about. I think the shorts will come in handy when lounging around the pool at some of the places where we'll be staying.
I don't care for swimming, I'm just not a "water" person, though I can swim. So, I won't need a bathing suit on this trip, but shorts should work well if I want to walk along the beach in Hurghada or lounge around the pool at the hotel where we'll be staying.
I LOVE these shorts, I have 5-6 pairs now. Each time they've gone on sale this summer, I've bought a couple more. They are super comfortable and much more flattering on the legs than non-scalloped shorts. I've worn them almost every single day this summer while at home and running errands. In fact, I'm wearing them now. They are super well-made so should last me for many years. They are currently on sale again here: Shorts.
These two tops will definitely make the trip, I absolutely LOVE both of these and have worn them to death all summer. You'll find them on sale here: Sleeveless Pansy Shirt AND Floral Lace Shirt.
I'm super tempted to buy another one of the floral lace tops seen below on the right. I already have two of the pansy shirt. If you've been reading BNOTP for a while, you know that I tend to do that…buy two of a top if I really, really love it and it goes on sale. I love having a spare in case one's in the wash when I really want to wear it.
I will be taking all of my long linen shirts along on this trip. I purchased several of these long, 100% linen shirts last summer and the summer before. They are soooo cool and very flattering on. My favorite feature of all is how the sleeves roll up and button, so if you're out in the blazing hot sun and need more protection for your arms, you can easily roll down the sleeves to protect them.
By the way, this is also an outstanding style of top/shirt to take with you on a safari. You stay cool but protected from bug bites for the most part. LOVE this style shirt and buy them whenever I come across them in a color/pattern I like.
Here's a close up of the fabrics. Vertical stripes are always so slimming…super flattering. Again, I'll pair these with white jeans. I've had these for several years, so not sure if they or somthing similar is still available. If I can find it online, I'll link it later in this post.
I just purchased this shirt this past summer and it's really pretty on! It's super cool since it's made of linen, and vertical stripes are always so flattering.
Here's how it looks on…sooo pretty! For sizing in case it's helpful, I took a small in all the shirts I've shared thus far.
I found this shirt runs a bit big. I ordered a medium to start with and it swallowed me whole…had to exchange it for a small. You'll find it on sale here: Striped Linen Shirt. Update: I think this shirt has sold out. That link will take you to other striped linen shirts, though.
These are oldies but goodies that I'll take along with me. The shirt on the left is linen, so again will be nice and cool. The other is all cotton, so should also be cool in the heat. Can you tell I'm obsessed with cotton and linen for summer! lol
Again, both tops have the sleeves that roll up and button. Love that! Neither of these is available now, unfortunately. Again, I plan to wear all of the tops with my white jeans, although I am taking along one pair of blue denim jeans.
I will be taking several pairs of Sperry Topsiders with me on this trip. I'm sure I'll take along a couple pairs of sandals, too. I've heard it can be very dusty when walking around the pyramids, so shoes tend to get quite dirty. On past trips, I've found my topsiders to be very comfortable for walking a lot, so I know from experience they work well for me while traveling. They also clean up pretty well, so these and another pair or two shoes that will accompany me on this trip.
This is one of the other pairs of topsiders I'll be taking on this trip. The mesh sides should help with the heat. You'll find all of Sperry's current topsider styles here: Topsiders. They are a staple in my wardrobe year around. I love them! I also love their rain boots and have several pairs. They make quality stuff!
This is what I use to clean my leather shoes and purses.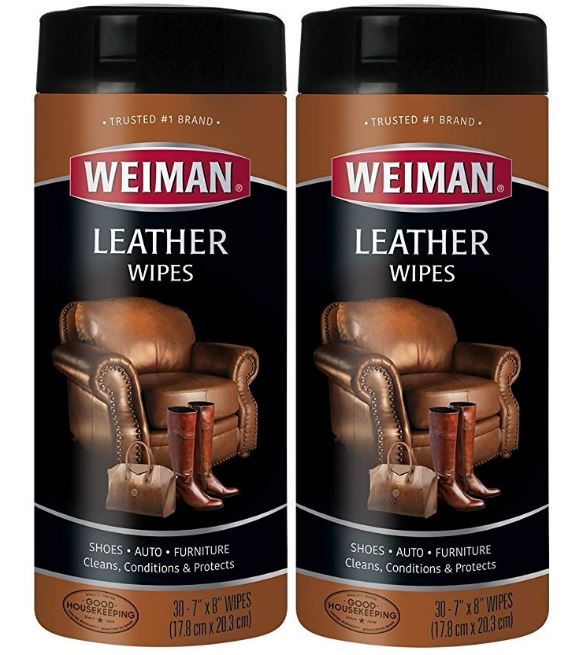 Last night I got these shoes out as I was planning what I would take on the trip. I was shocked to see this dark streak across the top. I have no idea if I dripped something on them or what caused that.
I got out the leather wipes and gave them a quick cleaning. I wasn't sure if the wipes would getthe stain out since I'm not sure what caused it, but I hoped they would. They were completely dry within about 15-30 minutes and the stain was gone! Love these leather wipes! I definitely recommend these for cleaning leather shoes…very pleased with how they worked on my topsiders. ! You'll find these leather wipes available here: Leather Wipes.
I'll take along one shorter dress, in case I want to wear it at some point…maybe on the Nile Cruise portion of the trip. I purchased this dress in Maui this past summer and have worn it several times. It's sleeveless, so I'll take along this lightweight sweater in case it gets a bit chilly on the cruise in the evening.
Here's how this dress looks on, except it comes down an inch or two longer on me since I'm only 5′ 3-1/2″. I will pair it with sandals if I have the opportunity to wear it. I love the color! I'm obsessed with this "Tiffany-Blue" color and each year that obsession seems to grow! lol
This dress is still available here: Sea Glass Linen Dress. Have no idea why it looks so pale in the photo at that link…it's a beautiful blue in person.
This maxi dress will also make the trip. It was another purchase from my trip to Maui. I think it will be nice for dinner one night as we're cruising the Nile River. It's seems so surreal to say that! I've heard about the Nile River my entire life, can't wait to see it in person. Did you know the Nile River flows south to north? Apparently, quite a few rivers do that from what I've read.
I love the "frog" buttons down the front of this dress. I found it in a shop on Maui called, Blue Ginger. I didn't see it at their online shop when I looked today.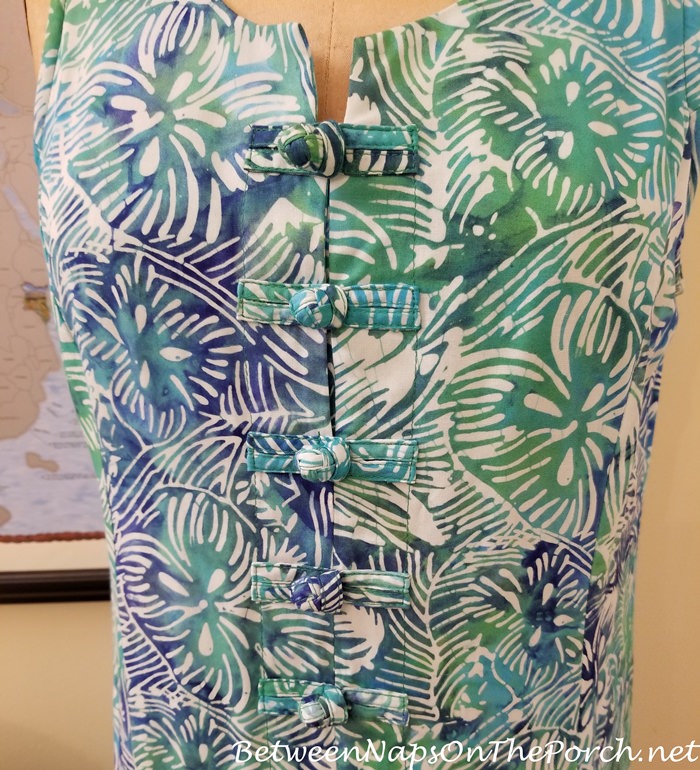 This dress will also make the trip…it's another purchase from Blue Ginger in Maui. It's all cotton so should be nice and cool for this trip. Not sure if/when I'll wear it, but these cotton maxi dresses take up almost no space in a suitcase, so I'll take them along just in case I need them.
I ordered this dress last night. I've been eyeing it all summer long. I think it would be nice and cool to wear on this trip. If I wear it out somewhere, I can pair it with my lightweight, white sweater so my arms are covered for a more modest look. It's fully lined, I like that! It's currently on sale here: White Maxi Dress.
I'll definitely be taking along one of my straw hats for extra sun protection.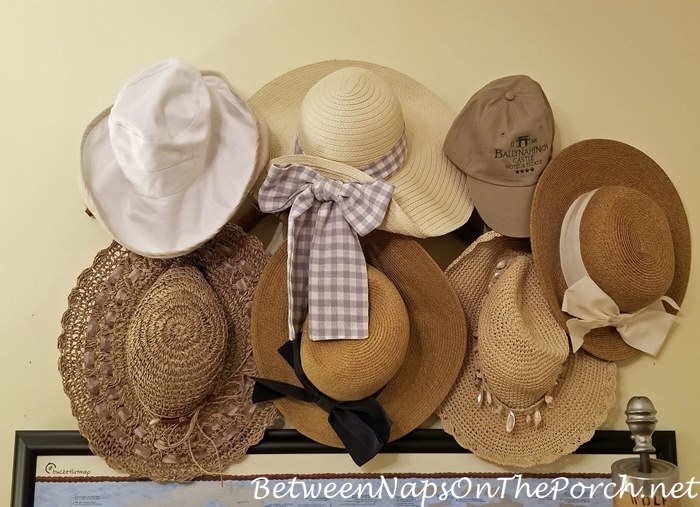 Will probably take this one or the one with the navy bow.
Oh, almost forgot. I will take along this rain jacket in case it gets chilly on the cruise. I purchased this jacket in 2015 and it has gone with me on so many trips, including my trip to Italy in the fall of 2015. That's Bramasole (the home of Frances Mayes) behind me. Remember the movie, Under the Tuscan Sun? My hair was so light back then, it's a lot darker now and much longer.
I was really layered up in the photo below. I was wearing a thin long-sleeve t-shirt, a navy and white striped shirt and a green sweater under my coat. lol I was afraid I might be cold for a minute! 😉 Those are Sperry boots on my feet. They are so comfortable for walking and touring in. So cushy!
I love this jacket so much, I just purchased it again in the exact same color. That's the new one on the right, it just arrived yesterday. I had purchased it in pink a year or so ago, but returned it. The pink was so light, the gray lining seemed to show through and dull down the pink color of the jacket. But I love it in this aqua color so decided to just go with the same color again.
My old jacket still looks great in person, despite regular wear over the past three years and being crammed into the front pocket of my large suitcase on every single trip, but I was ready for a fresh one. This is THE jacket that goes with me on every single trip (even if I take along other coats) because it takes up no space and keeps me both warm and dry. It's old reliable! I especially love that it has a hood, which means I don't have to lug around an umbrella when traveling. If it starts to rain, I just tuck my camera inside my coat.
So this jacket will definitely make the trip, just in case I feel extra chilly one night on the cruise. I probably won't need it, but would rather be safe than sorry. You'll find it available in a lot of different colors here: Rain Jacket. Update: This coat is also available here: Jacket.
I'm sure I've left some things off, but this is what I know I'll be taking for now. I'm taking a different carry-on bag this time. It will arrive on Tuesday and I'll create a post sharing more info about it after it comes. If you have any questions about anything in this post, let me know and I'll be happy to answer it if I can.
Have a wonderful weekend! See you Monday for Metamorphosis Monday!
Update: As mentioned, I'll take along a pair of pretty sandals to go with some of the dresses I may wear on the cruise or to dinner in the hotels, but I will also be taking along this practical pair of sandals. They are outstanding for walking long periods of time. If I find my topsiders are too hot, I'll just wear these every day with my white jeans and deal with the sand/dust as best I can.
I LOVE these sandals. They have great arch support and are the most comfortable sandals I have ever owned! You'll find them available in a ton of colors here: Sandals. I have them in this neutral color shown below because it goes with every thing.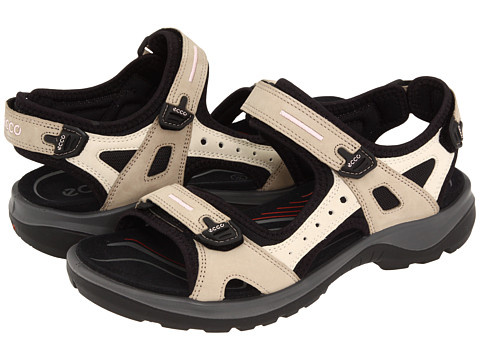 *If a post is sponsored or a product was provided at no charge, it will be stated in post. Some links may be affiliate links and as an Amazon Associate, I may earn from qualifying purchases. *