I'm back! I had hoped to get this post up this morning but it took a lot longer to go through all my photos than I ever anticipated. I've saved the best part for the end, a surprise visitor, so no peeking ahead! 🙂
With spring here, my backyard feeders have been going gangbusters. I always have a lot of birds visiting but it's busier than ever. It can be tricky photographing birds because if there's one thing I have learned in my attempts to shoot them, it's that they never stop moving. They are continually moving some body part and often it's their heads as they scan for predators or more aggressive birds.
They are also very wary of humans bearing cameras. I was able to capture a few pics worthy of sharing here on the blog but most of all, I can't wait to share my surprise visitor!
I always have wrens stopping in…they are cute little butterballs.
I've been covered up in Goldfinches the last few weeks. I used to buy nyjer seed for them since that's what birding books recommend, but I've found they enjoy safflower seed every bit as much, maybe more. That seems to be their fave food to pull from my feeders. I'm not sure if this was a female or a baby bird coming in for a bite.
He/she was keeping an eye on the male Goldfinch that was already eating at the feeder so I'm thinking it might be a baby.
So adorable!
I have a lot of bluebirds visiting. They are nesting again in the dovecote so they are frequent visitors to the feeders. A bluebird was eating at this feeder when a Goldfinch flew in. They kept skirting around the perch, kind of chasing each other a little. The Goldfinch eventually flew up to a branch on a topiary on my deck. It was funny watching the Mr. Bluebird trying to figure out where she went. You can see her there on the branch while he's looking to see where she is on the feeder.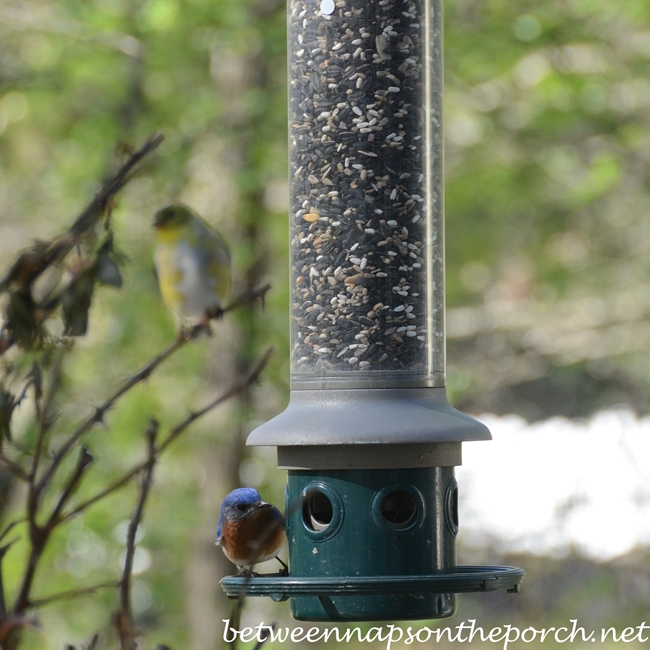 I've also been putting out mealworms for all the birds but the bluebirds are the ones that seem to really be going for them.
Off in the trees I could see a beautiful Cardinal.
He eventually flew down to eat, too.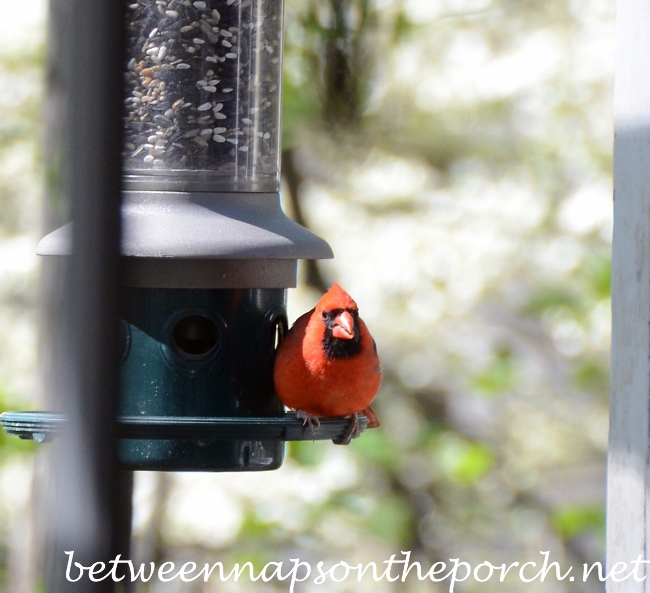 All the birds are absolutely loving the heated bird bath. Adding a bird bath to my deck was one of the best things I've ever done. It has brought in so many more birds. It got really cold last night so I plugged it in to make sure it didn't freeze over. I'll unplug it for the rest of the spring and summer.
Someone else is really enjoying the bird bath these days.
After he chows down on the suet pellets I have on the table…
…he heads over to the bird bath for a cool sip of water.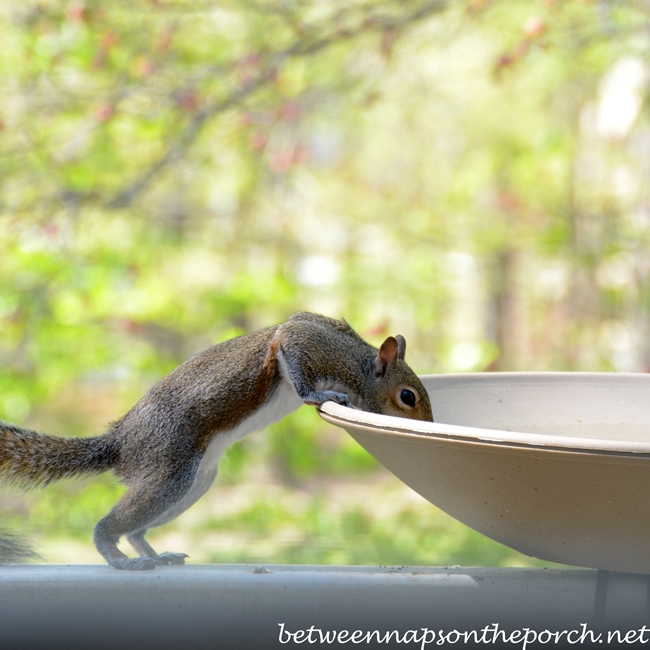 My suet feeder gets a fair number of visitors, too. Downy woodpeckers visit it all the time, as do the Red-bellied woodpeckers like the one eating here in this picture below. But this week I got a jaw-dropping visitor, someone I've only seen in the birding books and once while on a birding trip to Jekyll Island. Ready to meet her? 🙂
A Pileated Woodpecker! I think I set a land record running upstairs to my office to grab my camera!
These birds are soooo big, they make special suet feeders that are big enough to handle them. They can range in size between 15.7 inches and 19.3 inches in length and have a wingspan of 26-29.5 inches! If I had known she was coming, I would have bought a bigger suet feeder!
The larger suet feeders will hold two suet cakes and have a long "tail prop" so the Pileated Woodpeckers have a place to prop their tail while eating. I was amazed the Goldfinch was brave enough to come to other feeder nearby while she was eating just a few feet away.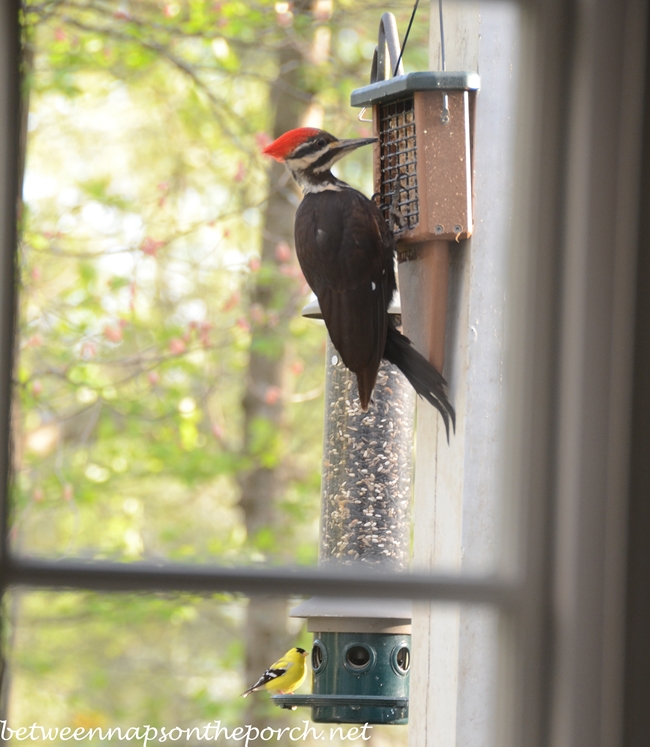 Fortunately, I have this small suet feeder hanging against one of the pergola supports so she was able to prop her tail on that. Isn't she amazing?!
Update: Ms. Pileated Woodpecker is coming back each day so I just ordered one of these suet feeders with large openings and a tail prop. I think the bigger openings will make it easier for her to get her large beak inside for the suet, plus the longer size feeder will allow more space for her tail.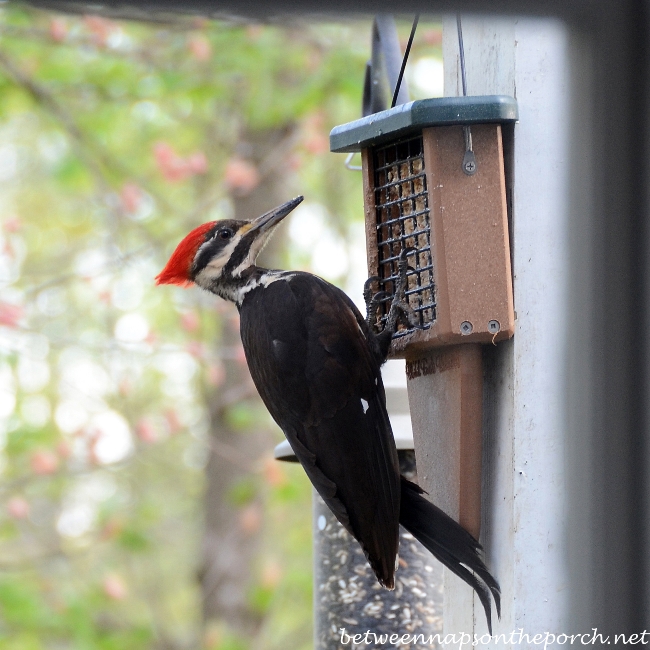 After she stopped in, I was doing some Googling and found the most amazing video! Be sure and watch this on "full screen" mode for the full effect. To watch full screen, just click on the box down in the right hand corner, then hit escape when you're finished. Turn on your sound, too. It's so funny because he keeps swinging his head right and left to look up. I think the camera must have been a recent addition and he was checking it out.
I had never heard of a GoPro camera until I watched this video, now I'd love to have one. So many things you can do with it! Are you seeing a lot of birds this spring? Do you have Pileated Woodpeckers in your area? I'm wondering if that's who made the big hole in my dovecote now? Pssst: You'll find additional posts about birding here: For the Love of Birds
*If a post is sponsored or a product was provided at no charge, it will be stated in post. Some links may be affiliate links and as an Amazon Associate, I may earn from qualifying purchases. *