I'm often asked where I get ideas for the tables I create for Tablescape Thursday. The actual answer isn't very helpful because it changes every week. The true answer is: everywhere. Sometimes it's dishware I already have and that I'm itching to use, or it could be an upcoming holiday. Inspiration can really come from anywhere.
Today I was shopping in Publix and saw these. They reminded me that the Super Bowl was coming up soon. I stopped my grocery shopping long enough to Google "When is the Super Bowl?" on my phone and discovered it is scheduled for February 3rd.
Umm, the cookies reminded me of some football-shaped glasses I bought in Dollar Tree several years ago, but had never used. That got the wheels turning and I thought I'd try a "football-themed" table setting and use those long-neglected glasses.
If you come across some of these glasses in Dollar Tree, one warning: they are hard to hold onto, even when not being washed. I dropped one in the sink while washing it today and amazingly, it didn't break. I sat it over on the counter upside down to dry, making a mental note that I really needed to be careful as I washed all the others. I placed a large washcloth in the bottom of the sink just in case another one slipped out of my hands.
As I finished washing a second glass, I got the bright idea to place a paper towel on the counter and to move both glasses onto the paper towel to dry. I promptly dropped the second one onto the granite counter where it shattered. Drat!
What is wrong with me that I couldn't hold onto these glasses??? I don't know what it is about these glasses that makes them so hard to hold onto. I guess it's the odd shape. I had 6, now I have 5. Oh well, I'll make a run to Dollar Tree this week, just in case by some miracle they have any in stock. Not holding my breath on that!
Update: Just discovered these glasses are also available here: Football Glasses. They look pretty cute with something in them, don't they? lol I guess that's a Coke float.
I also picked up these cupcakes up while in Publix. I thought they would make a cute centerpiece in my football/Super Bowl-themed tablescape.
The idea is to display them on this cake pedestal with a cute "football helmet" mini. I know the University of Georgia isn't playing in the Super Bowl this year, but the helmet will have to do since I don't have the "football" mini.
I bought a football mini when I was collecting these last year, but I gave that one to my son and dil, along with a UGA helmet mini (they both graduated from UGA) since they are avid UGA fans and often have friends over to watch the games.
Umm, I have time to order a football mini for myself since I won't be putting this table together until around January 30th. I'm still waiting on one more item that I ordered today, and based on the shipping schedule, it should arrive before the 30th.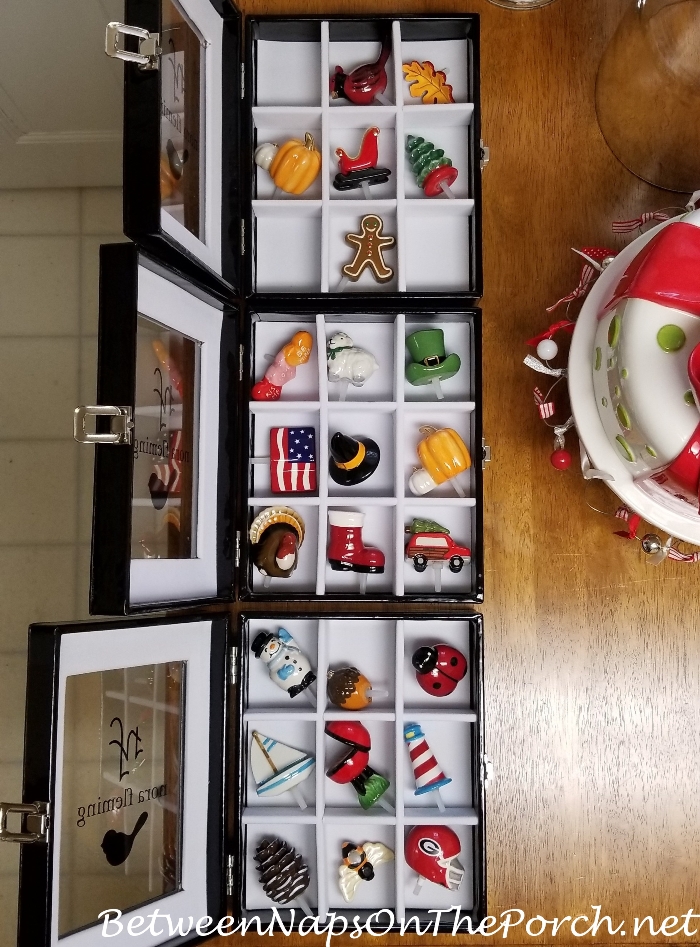 Update: I was able to order the football mini, it's still available here: Football Mini. Yay! You'll find all the serving platters for the minis here: Serving Platters.
Football-Shaped Plates
So, this is the item I ordered today, aren't these adorable?! I thought the price was excellent at only $19.99 for 4 plates, and they are such a nice size at 8-inches across. They would be perfect as salad or appetizer plates on game day. If you're throwing a Super Bowl party or just want them for next year's game days, you'll find these available here: Football Plates.
I ordered two sets for a total of 8. I think I'll give the football plates, along with the football glasses, to my son and daughter-in-law next time I visit since they love having friends over to watch the games. Hopefully, they can hold onto the football glasses better than I can! Ha!
I don't normally share details of a table setting before I actually create it for Tablescape Thursday, hate to ruin the surprise, but since I can't share this table/party idea for this week's Tablescape Thursday since I only just ordered the plates today, I knew by the time I did share it, it would be too close to game day for you to get the plates in time for your Super Bowl party. So that's why I'm sharing all the details now.
Shipping is showing my plates will arrive prior to January 30th. that's 4 days before the Super Bowl. So, if you want these plates in time to use them this year, don't wait too long to order them.
Before I close this post, if you were hoping to order something from L.L. Bean, I got a reminder email today saying that their sitewide sale ends today. I took advantage of the sale to order a few things. You'll find the sale here: L.L. Bean Sale.
Talbots Spring Sale
If you're itching to get started with your spring shopping, Talbots is giving 25% off any one item at their site with the code FEB25. I don't think that sale is advertised at their website. I'm definitely going to do some shopping this evening. I love getting a jump on buying a few new things for spring! Check out all their new arrivals here: New Arrivals for Spring.
Have you noticed the daylight is staying with us a little longer each day now? I am so, so excited for spring!!! It won't be long now! 🙂
*If a post is sponsored or a product was provided at no charge, it will be stated in post. Some links may be affiliate links and as an Amazon Associate, I may earn from qualifying purchases. *