Welcome to the 521st Metamorphosis Monday!
Do you collect anything? Is there something that you truly love and are always on the lookout for when you're out shopping or antiquing–like rare stamps or first-editions of your favorite books?
I know someone who used to collect cute pig figurines until everyone in her family caught on and she became inundated with them. lol My mother-in-law used to collect butterfly jewelry, frog figurines and decorative apples–like those made of marble, ceramic or glass.
I've always been a little wary of starting any collection because I tend to have an "all-in" personality. If I do something, I usually go all out. If I started a collection today, I would most likely collect handbags because I really do love them. I think that passion has grown over the past couple of years as I've watched fashion videos on YouTube while working or sorting through photos I've taken for blog posts.
I have a small handbag collection. I try to be very selective about adding to it since I don't want to accumulate more handbags than I'll actually use throughout the year. No matter what you collect, there's one thing that all collections have in common: Once you start one, you're going to need a place to store it.
Recently, I came across a photo on Instagram that stopped me dead in my tracks. I've mentioned in previous posts how much I love organizing. Anything that has to do with making our homes and the things we use and love more accessible and organized, I love it!
The photo that caught my eye had originally been posted by luxurylver on Instagram and was being reshared byDustyLuxeBags, which is where I saw it.
If you're a handbag lover, this will definitely grab your attention! Not only is it an amazing collection of beautiful handbags, just look at those storage bags! I've watched a lot of YouTube "handbag" videos and I've never seen a collection of handbags stored this way. Designer handbags often come with their own dust bag, but a lot of the YouTubers I follow do not store their bags in their dustbags because they enjoy seeing them as you would anything you collect and love.
Personally, I don't store the few handbags I own inside their dust bags because if a bag isn't visible, it's probably not going to get much use. It's very much like the silver jewelry problem I posted about in this post: Keep Silver Jewelry Visible, Yet Tarnish-free while Stored.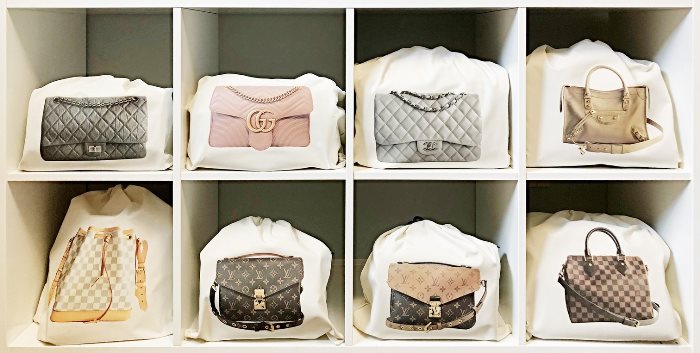 I followed the link I found at DustyLuxeBags on Instagram and discovered they make their storage bags to order. This is apparently a growing business because under their frequently asked questions tab, they state:
Our products are made to order, thus requiring some time to custom make your dustbag. We will provide you with an email once your order is placed and when the order is shipped. From the time your order is placed to the time your order is shipped, we like to estimate 10-14 business days – please understand that production time can vary depending on demand!
I'm so intrigued by this storage method because even though my handbags are stored inside closets, I worry about not keeping them inside their dustbags. I worry that being exposed to light could possibly cause them to fade with time.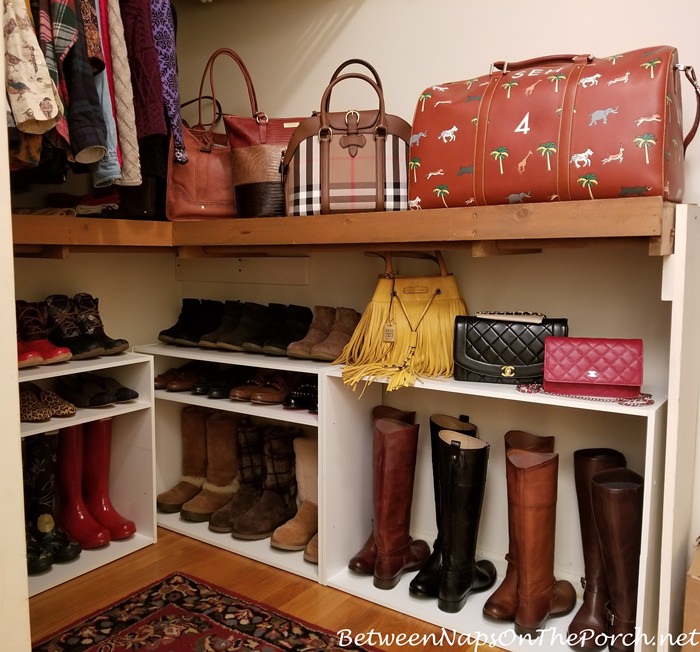 This seems like a good way to have your cake and eat it, too. You can see your bags, yet they are protected from dust and light. That would be especially important if a closet has windows. The closet where I store my winter bags has no windows, but the closet where I store my summer bags opens up facing right into a window, so I have to remember to keep those closet doors closed.
I think I'm going to order one of their bags just to see how I like it, then I may order a couple more. If I do order one, I'll let you know how I like it in a future post, in case you're interested.
From what I've read on the Dusty Luxe Bags website, they have the images to create the dustbags for many of the most popular designer handbags. If you have a bag that they haven't already created a dust bag for in the past, they can custom make it. They don't use photos from online due to copyright issues (I like that!) but they are normally able to access a bag and take their own photo. I think they sometimes use photos supplied by their customers, too.
I'm sure their database of handbag photos is growing every day as they get new requests. I have several bags that they don't list on their website (like the Burberry bag in the photo above) so those dust bags would probably need to be custom made.
If you're a lover of designer/luxury handbags, how do you store them? Do you keep them in their original dustbags, or do you keep them on shelves where they are visible?
Here's another exciting method I came across recently for storing handbags. Check out how Elaine stores her handbags in this previous post: Great Storage Idea for Handbags or Collectibles & All the Details to Create It.
Looking forward to all the fabulous Before and Afters linked for this week's Metamorphosis Monday!
Pssst: Follow Between Naps on the Porch on Instagram here: Between Naps On The Porch.
If you enjoyed this post, subscribe for free email updates when a new post is up here: Subscribe for post updates.
Tip: If possible, please do not use a Hotmail e-mail address to subscribe. Hotmail's servers are notorious for filtering out perfectly good emails. Also, it helps if you add my e-mail address, [email protected] , to your "contacts." That will help emails get through to your Inbox and not be filtered out by your email service provider.
Metamorphosis Monday
Metamorphosis Monday is a party that's all about Before and Afters. If you are participating in Met Monday, please link up using the "permalink" to your MM post and not your general blog address. To get your permalink, click on your post name, then just copy and paste the address that shows up in the address bar at the top of your blog, into the "url" box for InLinkz when prompted.
In order to link up, you'll need to include a link in your MM post back to the party so the other participants will have an opportunity to receive visits from your wonderful blog readers.
Feel free to link up Before and After posts that are home, gardening, decorating, crafting, painting, sewing, cooking, fashion, travel or DIY related.
Be sure to include a link back to the party in your post, so your readers will be able to find and visit the other bloggers who are participating.
Do not link up to the party if you're only doing so to promote or sell a product.
To those linking up, if you notice a shop or online store linking up to sell products (yes, unfortunately, that happens) please let me know so I can remove their link and block them from participating in future parties. No one wants to visit a link expecting a Before and After, only to find a spam link to an online business/store.
*If a post is sponsored or a product was provided at no charge, it will be stated in post. Some links may be affiliate links and as an Amazon Associate, I may earn from qualifying purchases. *