Recently, I had a little New Year's Day dinner party and for the party I decided to prepare a roast. Normally, I'd cook it in the oven or if I was really in a hurry, I'd pull out the pressure cooker.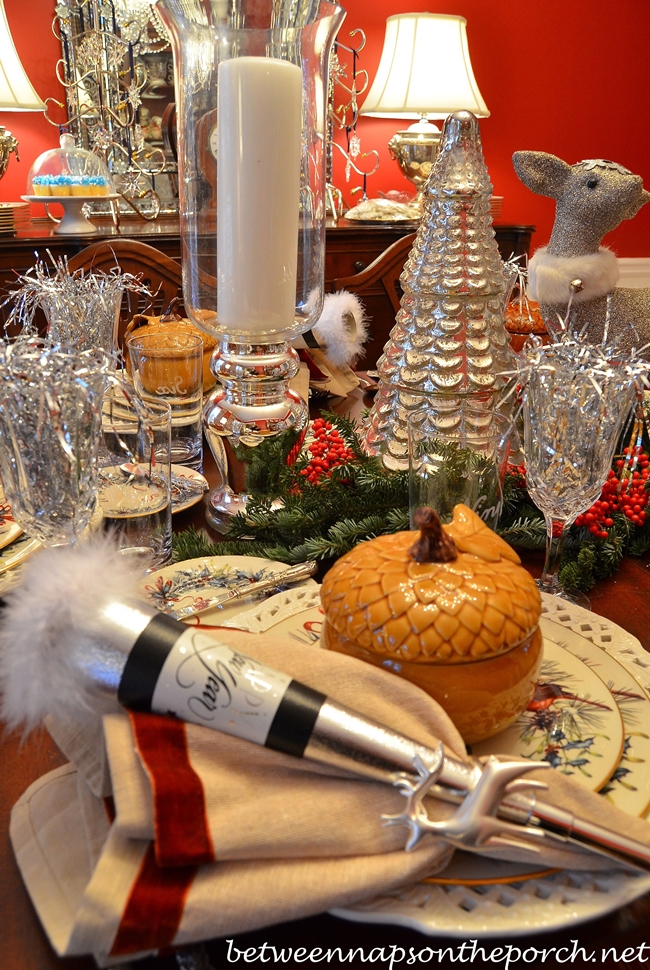 I get bored making the same old thing so this time I decided to check online for a new recipe. I was especially interested in something that could be cooked in a crock-pot since that would leave me free to work on other things that day, like making dessert, picking up balloons, final decorating, etc…
I Googled "crock pot roast" and a Paula Deen recipe popped up at the very top. Since it had such high ratings (5 stars out of 460+ reviews), I decided to give it a try. I quickly realized my 30-year-old, 3 1/2 quart crock pot wasn't going to be large enough to hold a roast for 10 dinner guests. I love this crock-pot and it still works great, but I decided it was time to purchase a bigger one.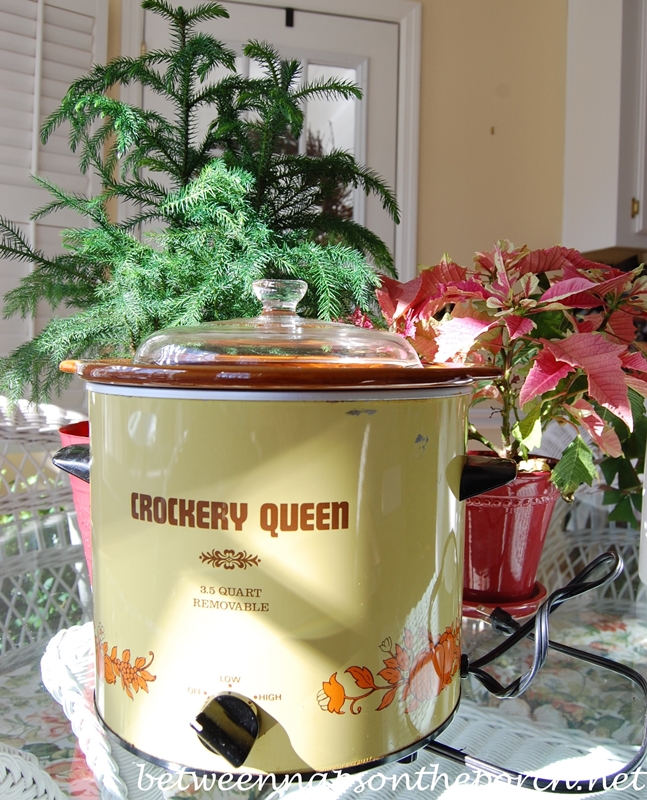 This one holds 6 quarts, if I'm remembering correctly. I went for a plain stainless one but was so tempted to get one of the cute "team" crock pots. Have you seen those? They would be perfect for a tailgate party.
Slow-Cooker Pot Roast
(Recipe by Paula Deen, printable version at the end of this post)
This slow-cooker recipe calls for a 3-pound chuck roast and is supposed to serve 6. Since I was having 10 for dinner that night, I purchased two roasts. I had to cut one of the roast in half to get all of of it into the crock pot.
You start by sprinkling all sides with Paula's house seasoning, which is just salt, pepper and garlic powder.
Next, sear all the sides of the roast in a small amount of oil until they are nice and brown. I've always done that for the roast I cook in my pressure cooker, too. I read somewhere it helps seal in the flavor. It also makes the roast look prettier when you serve it.
Place the roast into the slow cooker and layer onions, bay leaves, crushed bouillon cubes and garlic.
Then add the Cream of Mushroom soup on top.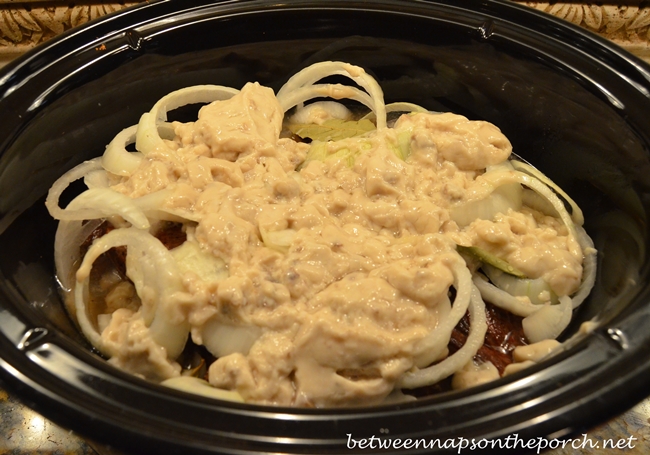 After you have all the ingredients in the crock pot, pour the Chardonnay over the top along with enough water to "cover all ingredients." (Caution: Read the additional info. toward the bottom of this post. Next time I'm using much less water.)
I also added in some carrots, halved and sliced in long pieces. I was super tempted to add in some potatoes but since it was the first time I had ever tried this recipe, I didn't want to veer too far off course and do something I might regret later.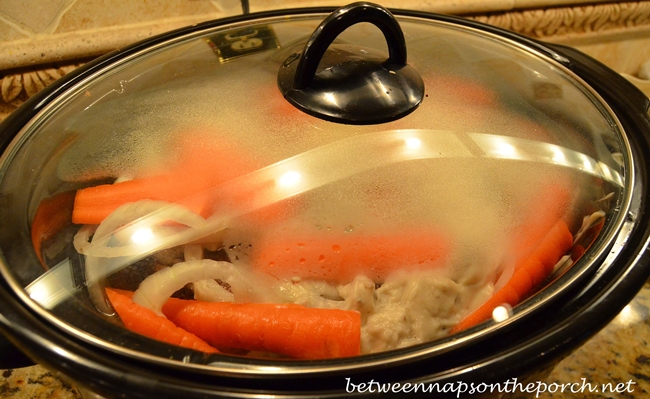 Now, I really need to mention this! When I first found this recipe online, HERE, I noticed in some of the comments, folks were complaining if you add enough water to cover all the ingredients as the recipe states, there's way, way too much water when it's done.
I experienced something similar. Since I had read the comments, I tried to not add too much water, adding just barely enough to mostly cover the roast, but I still had a HUGE amount of liquid in the pot in the end. Let's just say I could have added those potatoes I had been tempted to add and they would have cooked just fine.
I just barely covered most of the ingredients with water but the next time I make this, I'm going to use less, even if the ingredients don't end up covered in water at the start. I couldn't believe how much liquid there was in the pot in the end. I have no idea where all that comes from but it was crazy.
Unfortunately, since the party was in full swing, I didn't think to take a photo of the roast once I had it on a platter. I didn't want to just plop (that's a specialized culinary term, so use it wisely) my roast onto a platter and call it a day…how not-appetizing would that look. So, while I was in Whole Foods earlier in the day, I picked up a big bunch of kale. It was super curly and really pretty.
Hope you can get a mental picture of this. I placed the kale all over the platter and placed the roast on top. The roast was so tender, it was tricky getting it out of the crockpot. It kind of fell apart into bigger pieces but that worked out well because a knife wasn't needed for serving. My guests were able to just pull away pieces with a meat fork. I placed the carrots all around the edge of the platter. I think next time I make this, I may toss in some red potatoes about halfway through. They would have been pretty displayed around the edge, too.
If you make it, let me know how much water you add and how much liquid you have in the end. I'm definitely going to add less next time. Oh, one more thing, I wanted to make sure my roast was really tender so I turned the slow cooker up to high for about 2 hours later in the day, then dialed it back down. I cooked my roast around 9 hours and it did come out nice and tender.
Here's a printable version of the recipe. Hope you enjoy!
Pssst: You'll find additional recipes under the RECIPES category at the top of BNOTP or click here: RECIPES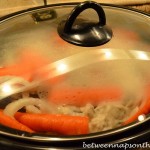 Print Recipe
Slow-Cooker Roast
This is a great roast to make when you have a busy day ahead. Flavor is great and roast comes out nice and tender.
Ingredients
1

3-lb boneless chuck roast

1 1/2

teaspoons

Paula's house seasoning

which is salt, pepper and garlic powder

1/4

cup

vegetable oil

1

onion

thinly sliced

3

bay leaves

3

or 4 beef bouillon cubes

crushed

2

garlic cloves

crushed

1

10 3/4 ounce) can condensed cream of mushroom soup

1/2

cup

Chardonnay
Instructions
Sprinkle all sides of roast with house seasoning.

On high heat, sear roast in oil until brown.

Place roast in slow cooker, layer onions, bay leaves, crushed bouillon cubes, garlic and cream of mushroom soup.

Add Chardonnay.

Cover with enough water to cover ingredients.

Cook on low setting 8-9 hours.
Notes
This is a Paula Deen recipe I found online via Food Network. I ended up with way more liquid than I would have liked in the end, so next time I try this recipe, I'm going to use a lot less water even if the roast isn't fully covered. If you make this, let me know what works for you.
*If a post is sponsored or a product was provided at no charge, it will be stated in post. Some links may be affiliate links and as an Amazon Associate, I may earn from qualifying purchases. *