Welcome to the 454th Tablescape Thursday!
Whenever I set a table for friends or family, I often use a charger plate underneath the dinner plate. I love the way they enhance a setting, adding another pretty layer and providing a base for each place setting. They are also practical as they help catch drips that would otherwise fall on the table or tablecloth.
Back in early 2008, before I ever began blogging or even knew what a blog was, I purchased two different sets of chargers from Horchow: a dozen white chargers and a dozen cream chargers. I was starting to entertain more, which at that time included more dinner parties. They were a bit of an investment at the time but definitely worth it since I knew with white and cream chargers, I'd have chargers to match/go with all my dishware patterns.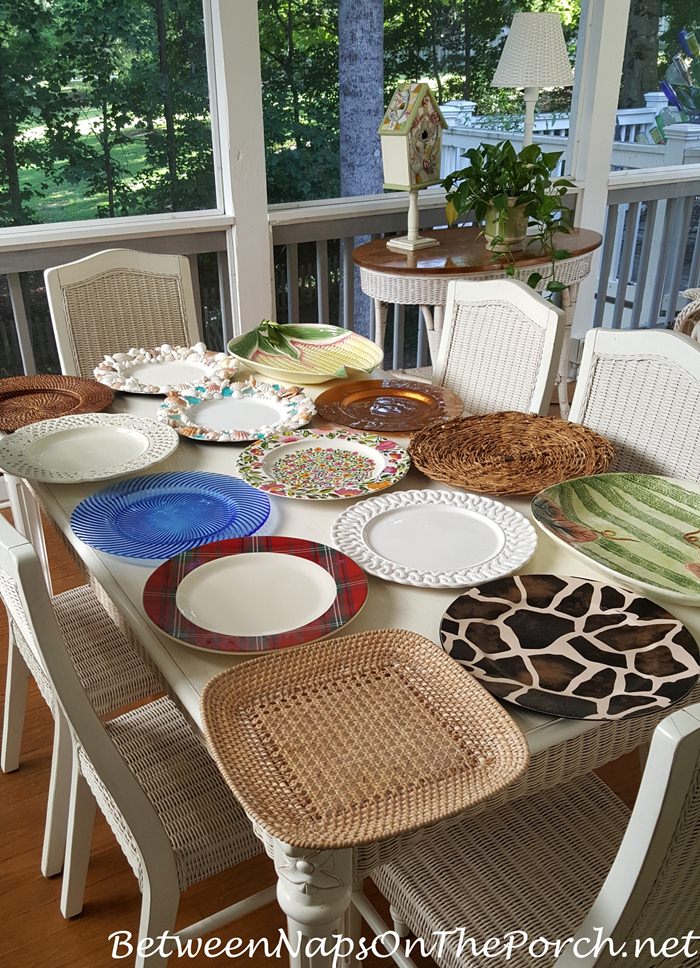 Over the past 9-10 years as I've created table settings each week for Tablescape Thursday, I've gradually added to my charger collection when I've come across chargers that were on sale or deeply discounted. Chargers can be expensive so I prefer to catch them during a good sale. Occasionally, I've made my own if I wanted a particular style charger that was no longer available.
This photo below best shows the true color of all these chargers. The light was fading fast, so the chargers may look a bit dark in the pictures in this post, but this is their true color.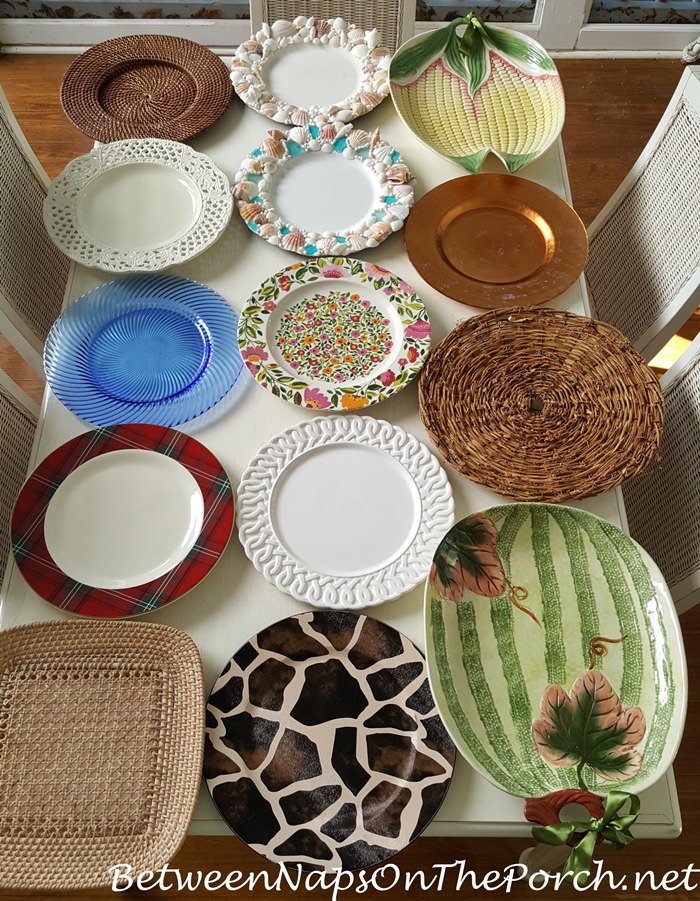 I'm often asked if a charger should remain on the table throughout the whole meal. Over the years I've read so many different opinions and contradicting information regarding this. Some sources say the charger should be removed after the appetizer and soup course are finished, while others say it can stay in place until after the entrée or main part of the meal is complete.
Personally, I prefer to leave chargers in place until the main part of the meal is complete, removing it along with the dinner plate before serving dessert. I just love how they look in a table setting, so prefer to leave them there throughout the meal.
For this week's Tablescape Thursday, I'm sharing my entire charger collection. As I share each charger, I'm also sharing a tablescape where that charger was used. If you would like to view that table in full, click on the title of the table which will be a link to that tablescape.
It was really hard choosing which tables to share since over the past 10 years these chargers have been used a lot! I've also included a bit of information about each charger and why I purchased them if I had a special reason in mind.
1. White Swirl Charger
This was the white charger I purchased back in early 2008 when I purchased a dozen white chargers from Horchow. On the back it's hallmarked: Vintage Garden, Ambiance Collections.
Spring Easter Table Setting with Wisteria Centerpiece (Click title to view)
I've used this charger many times over the years whenever I've needed a crisp, white charger for a table setting.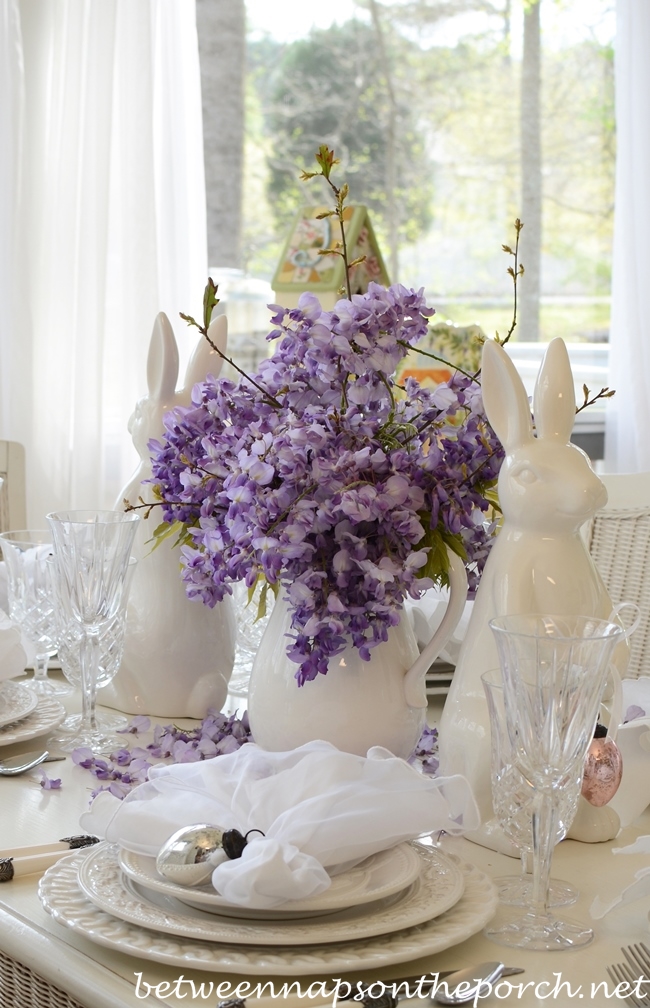 2. Pierced, Filigree, Lattice Charger
This was the other charger I purchased from Horchow back in early 2008. Again, I purchased a dozen. Back then I always purchased twelve place settings whenever I purchased dinnerware. I had done that with my everyday pattern and with my fine china when I married, so when I purchased chargers for the first time, I purchased twelve so I'd have enough for each of the dish patterns that I already owned.
These days I normally just purchase six or eight, but occasionally I still do purchase a dozen. It just depends on how I think I'll be using them and the cost.
I get more questions about this charger than any other charger I use in table settings for Tablescape Thursday. Unfortunately, it doesn't have a pattern name or any markings on the back. I remember when they arrived they were in plain boxes without a brand name or anything on the box. That made me think they were produced exclusively just for Horchow/Neiman Marcus.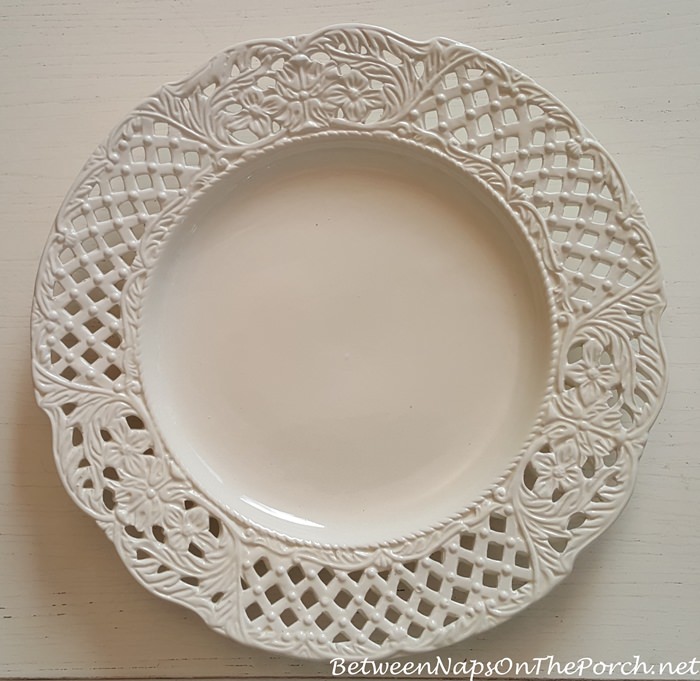 Valentine's Day Table with DIY Heart Tree (Click title to view)
3. Straw-Colored, Woven Charger
I purchased these in Steinmart right after adding on the screened porch in 2008. I had purchased some beachy dishware to use on the porch and these were the chargers they had paired with that set in the store. I rarely use them since I don't have a lot of square plates, plus they are relatively small in size.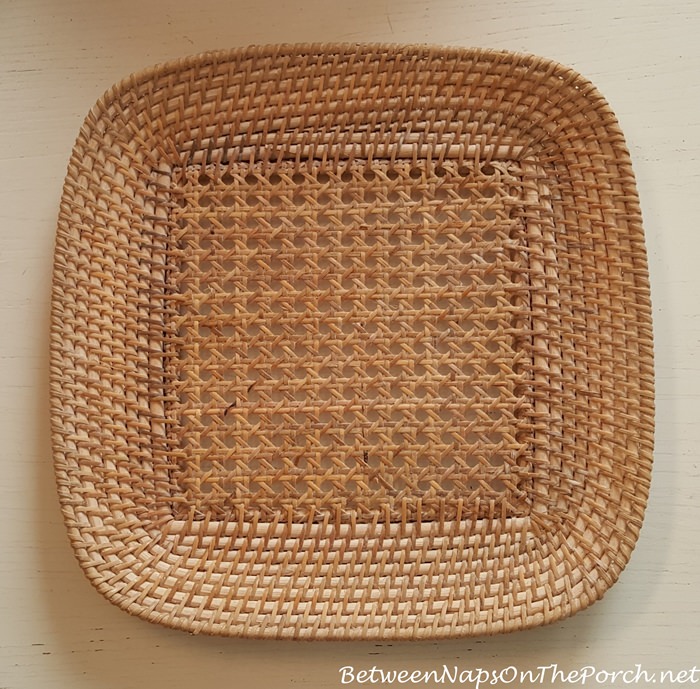 Beach-Nautical Table with Candlelit Centerpiece (Click title to view)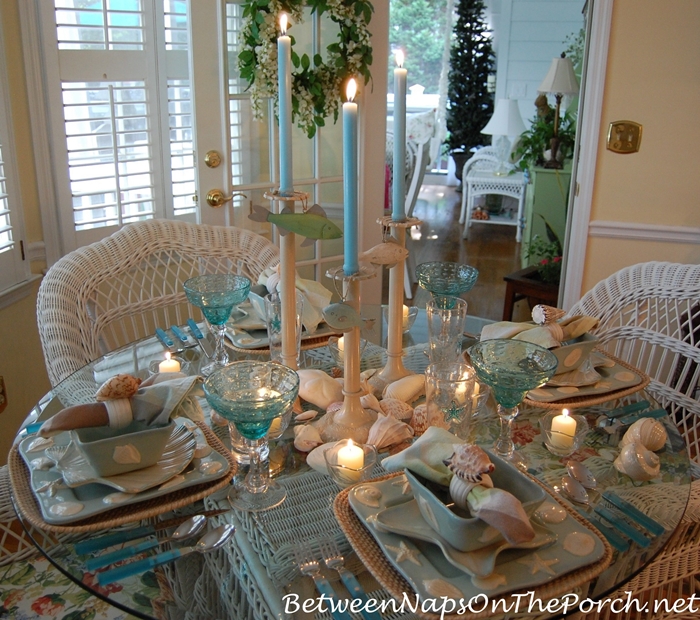 4. Gold, Glass Charger
I came across these in the clearance aisle in Hobby Lobby. They were drastically reduced to (I think) $2 or $3 a plate. They are heavy glass and work great in fall table settings. I've even used them in Halloween and Christmas settings.
Halloween Table Setting (Click title to view)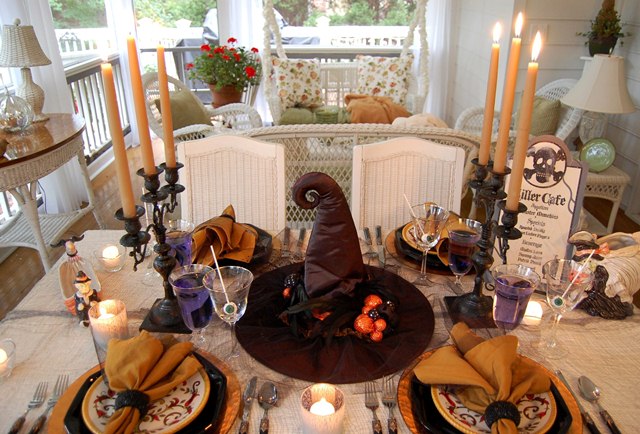 Santa Claus is Coming to Town (Click title to view)
5. Corn Platter Charger
This is actually a large platter. I found these on sale half-off in Old Time Pottery many, many years ago. I purchased six of these and six of another style thinking they would make cute chargers for a summer table. Hard to remember, but I think they were marked down to around $6 each.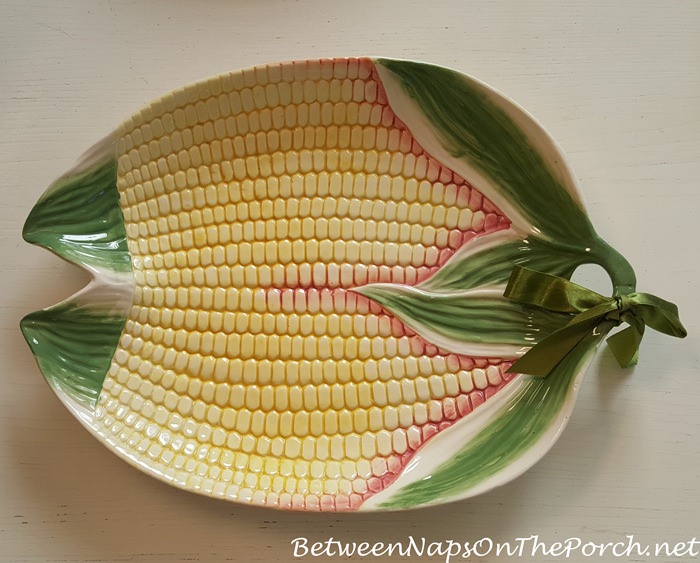 Country Style Tablescape with Corn on the Cob and a Clever Scarecrow (Click title to view)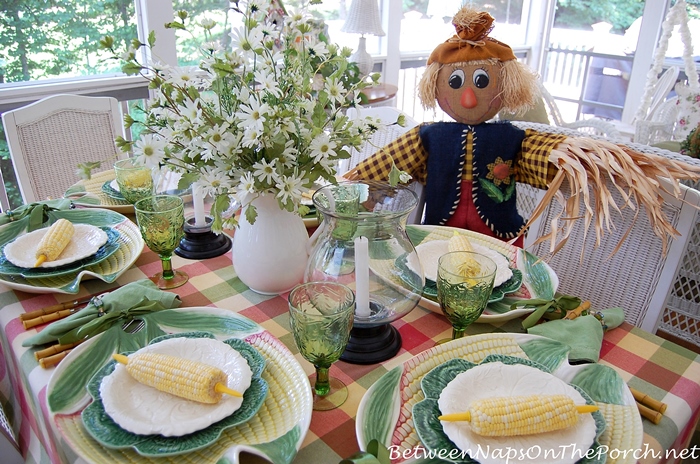 6. Watermelon Platter Charger
This was the other large platter that was on sale that day in Old Time Pottery. They really do make cute chargers!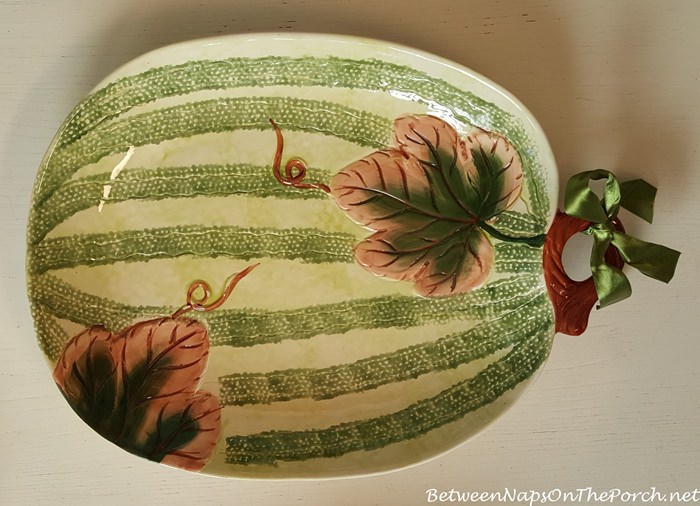 Summer Table with Carved Watermelon Centerpiece (Click title to view)
7. Brown, Rattan Charger
Found these on sale in Pier 1 and added them to my charger collection to work with fall place settings. I definitely recommend having a set of brown, rattan or woven chargers to work with patterns that need that darker base or background. They are still available here: Rattan Chargers.
Dashing Through the Snow (Click title to view)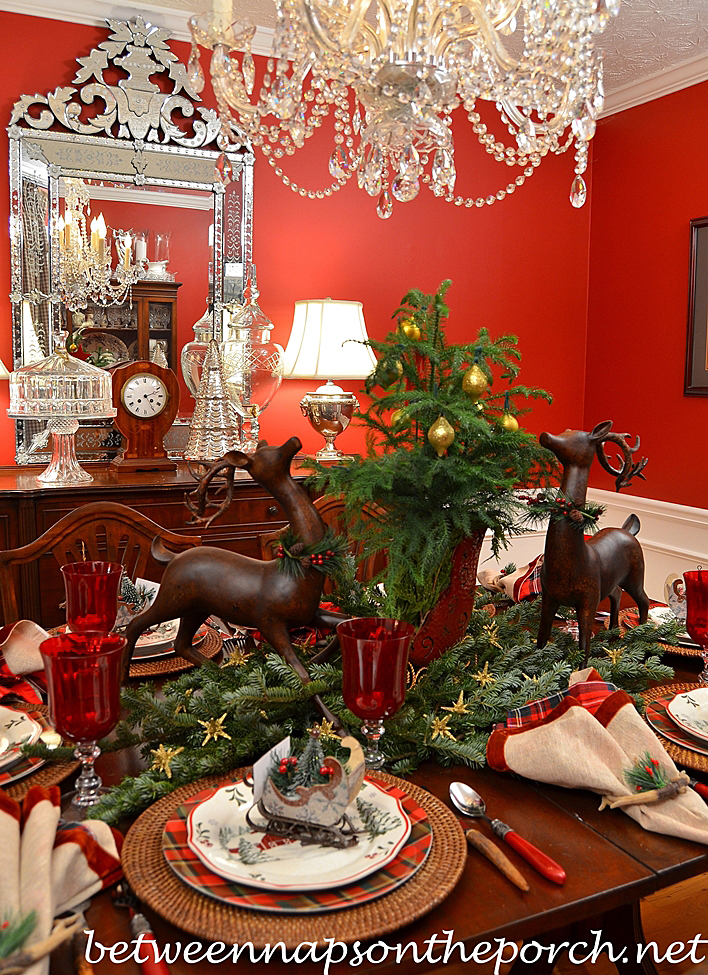 8. Blue, Glass Charger
There's a story that goes with these but I'll just share the quick version. I came across three of these blue, glass chargers in Marshalls for $1.99 each. I purchased them hoping to find more in another Marshalls, but never did. I reluctantly returned them, then ended up coming across one in a Marshalls several weeks later in another town.
I hurried back to the original Marshalls and fortunately the three I had returned were still there. I really wanted six and mentioned that in a post when I ended up using the four that I had in a tablescape. See that tablescape HERE. A lovely reader spied two more in a Marshalls near her home and mailed them to me. So appreciative of the lovely Dearheart who helped me complete this set!
Nautical Table Setting (Click title to view)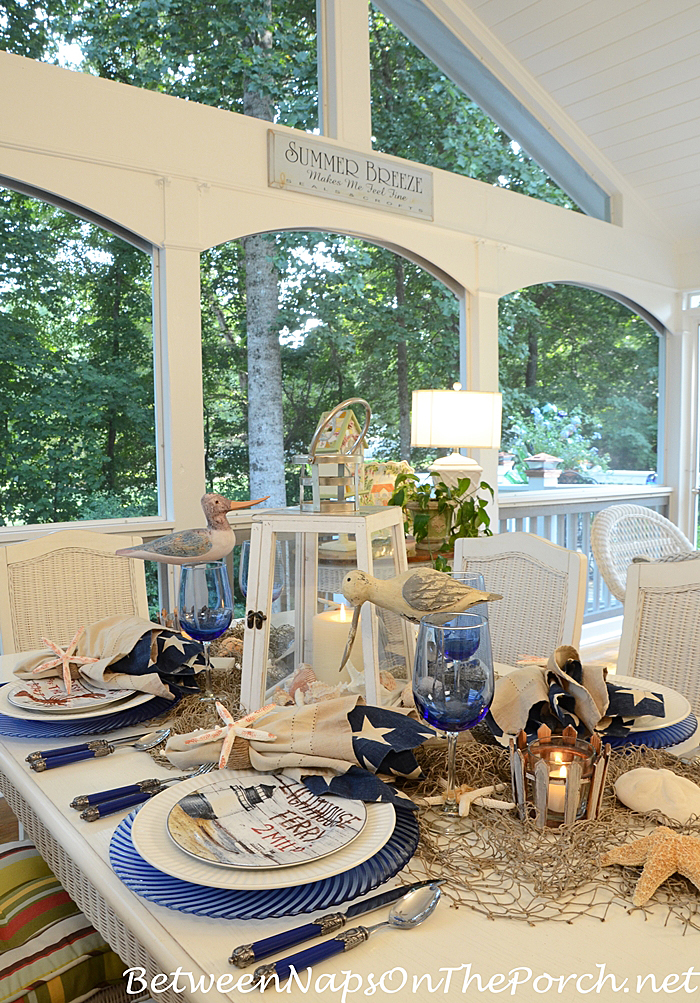 9. Kim Parker Emma's Garden Floral Charger
Came across these in Marshalls one year and it was love at first site. They were only $2-3 each and I bought all that they had, which I think was six. Later I found three more in another store and bought those, as well. I didn't realize what an amazing deal that was until later when I saw them on sale someplace online for drastically more than what I had paid. They are one of my absolute favorite chargers. The colors just make my heart sing!
A Romantic Dinner in the Garden (Click title to view)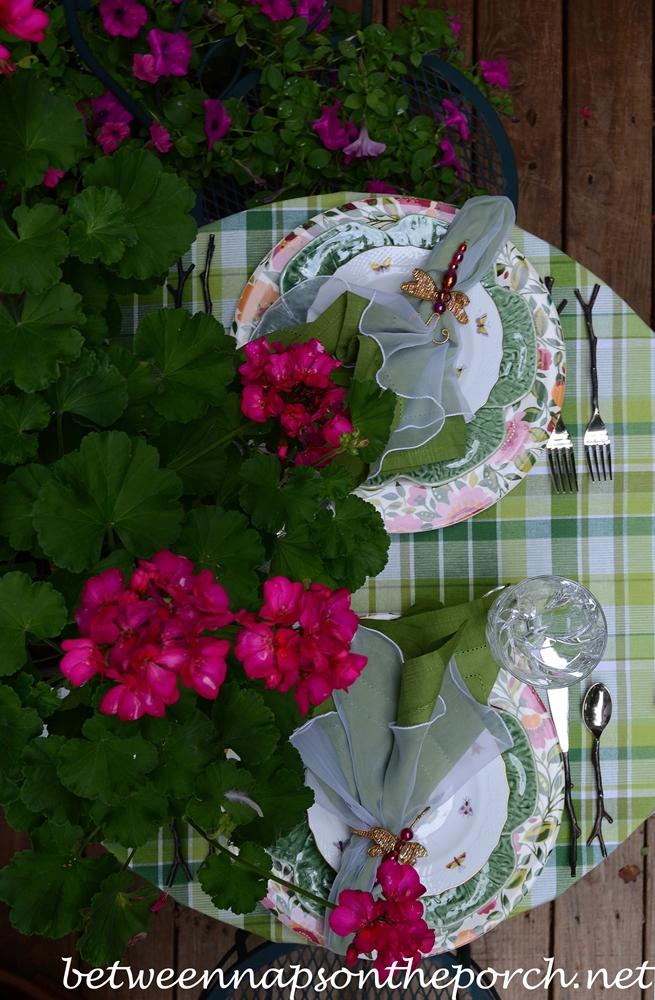 10. Grapevine Charger
I think I purchased these from William-Sonoma. I remember they were on sale, greatly reduced. The price was so good I posted about it on the BNOTP Facebook page so anyone who was interested could get a set. As I recall, they were on sale for just a few dollars each.
Halloween in Pumpkin Hollow (Click title to view)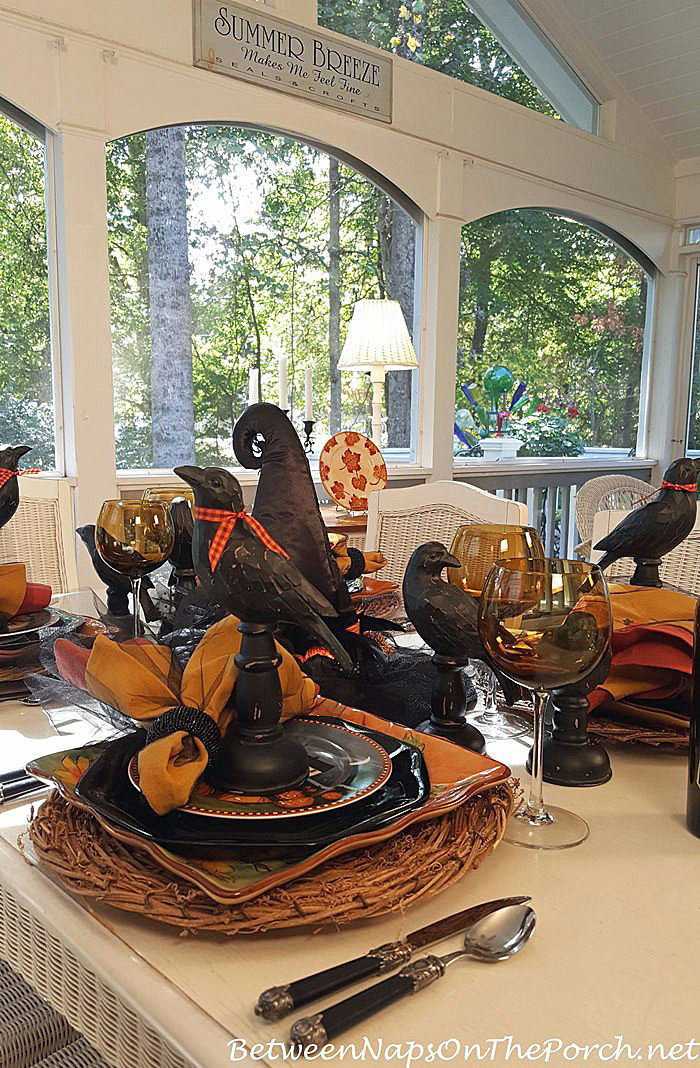 Woodland Themed Valentine's Day Table Setting
11. Green & Red Plaid Charger
Found these on sale online at Williams-Sonoma one Christmas. I love plaid dishware and had purchased dinner plates in the exact same pattern the year before, so I was thrilled to add the chargers to my collection.
Christmas Table Setting, Toy's Delight (Click title to view)
When Williams-Sonoma does a theme, they go all out, often making table and bed linens in the same pattern. I love red and green together, so I also purchased the bedding to use as my winter bedding.
I had the bedskirt custom-made from the heavy-weight tablecloths since they didn't make a bedskirt in this pattern. The tablecloths were the exact same fabric as the comforter and shams, so it all worked out well. Read more about this project here: Tartan Bedding for Winter.
12. DIY Shell Charger
I came across shell chargers on eBay one year and loved them. They were originally from Pottery Barn. The auction sky-rocketed to over $200 for six chargers. Ugh.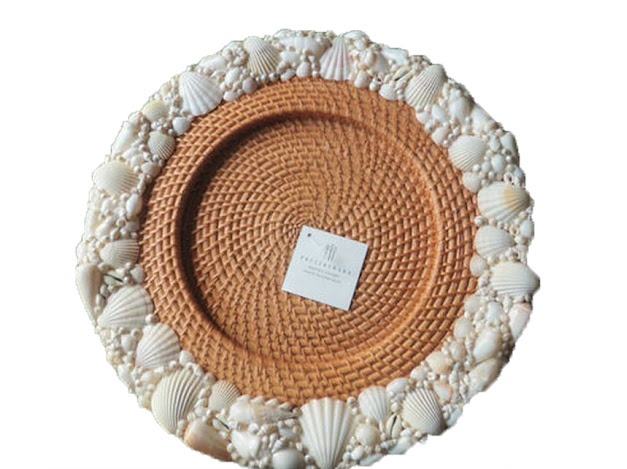 I decided to make my own using inexpensive plastic chargers that I already had as the base. The majority of the shells were collected during a family trip to Sanibel and Captiva Islands back in 1983. I had kept the shells all those years, never knowing exactly what to do with them. I filled in the tiny gaps with little shells found in Marshalls and purchased online. Tutorial for making these shell chargers can be found here: Shell Chargers.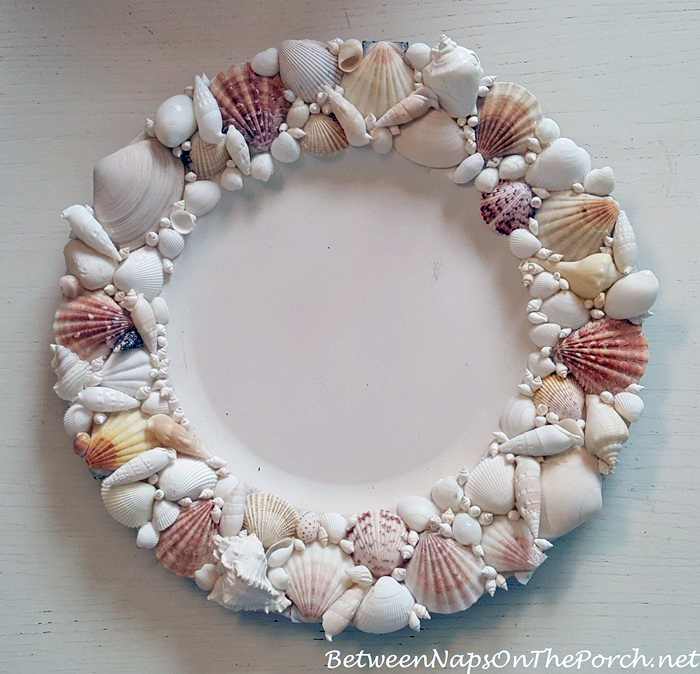 Lobster & Crab Fest: Beach Party Table Setting (Click title to view)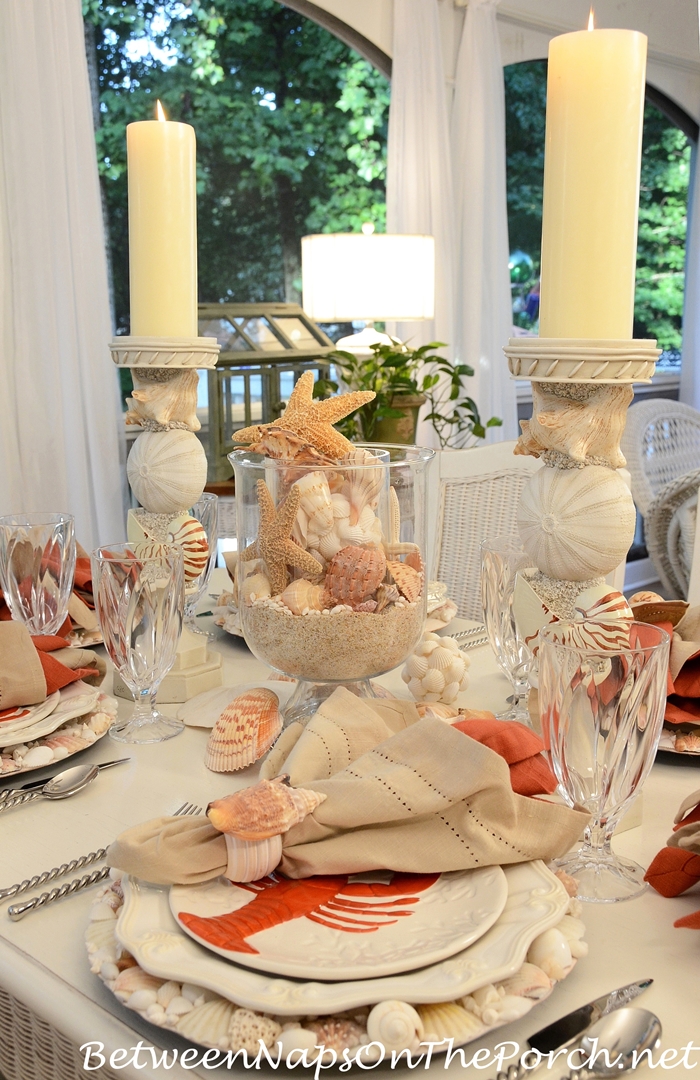 13. DIY Shell and Sea Glass Charger
I had always wondered how the shell chargers I made would look with a bit of sea glass mixed in. When I spotted this "sea glass" in Marshalls one summer, I decided to make six more shell chargers, this time incorporating in the pretty blue glass.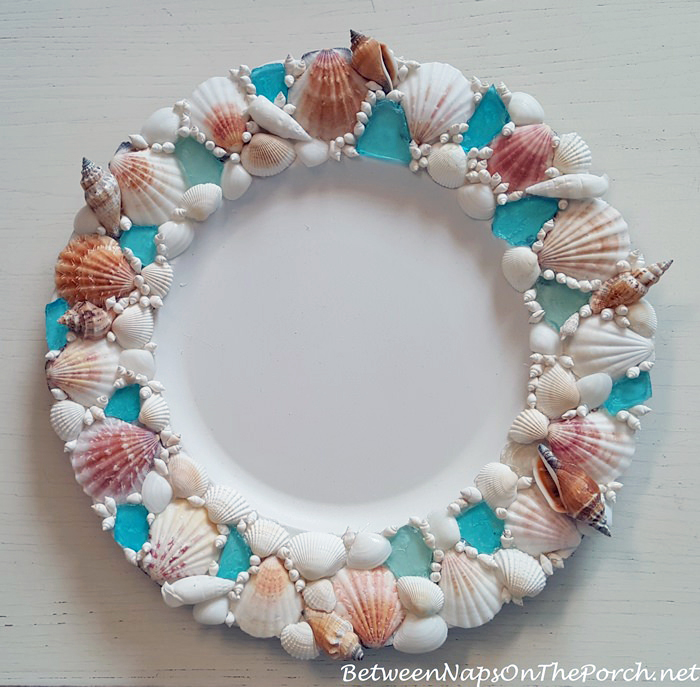 Surf's Up! Beach Vacation Time! (Click title to view)
14. Giraffe Charger
After bringing back six giraffe wine glasses from the gift shop during my visit to Giraffe Manor, I came across these giraffe chargers on sale online and knew they would be perfect in an "African Safari" table setting. I think I purchased these in Bed, Bath and Beyond.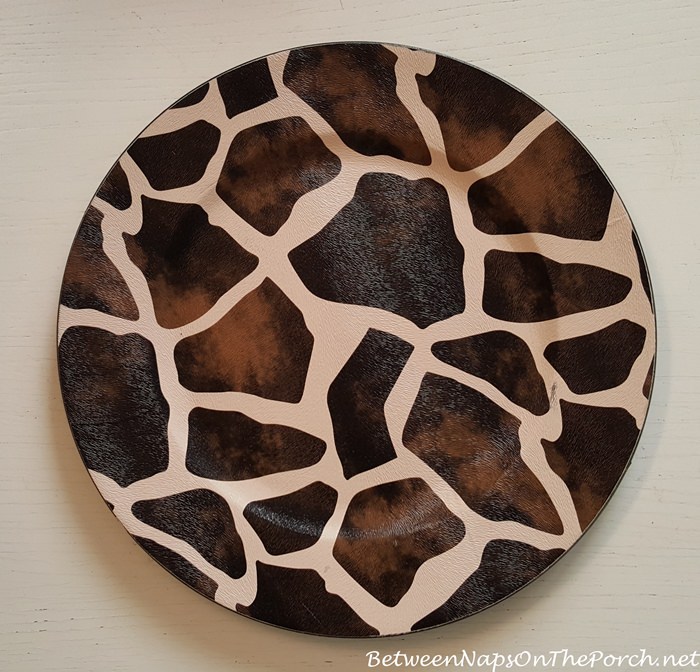 On Safari: An African Safari-Themed Tablescape (Click title to view)
15. Magnolia Leaf Chargers (Click title to view)
Sometimes it's fun to improvise and create your own chargers from whatever is handy in the garden at that moment.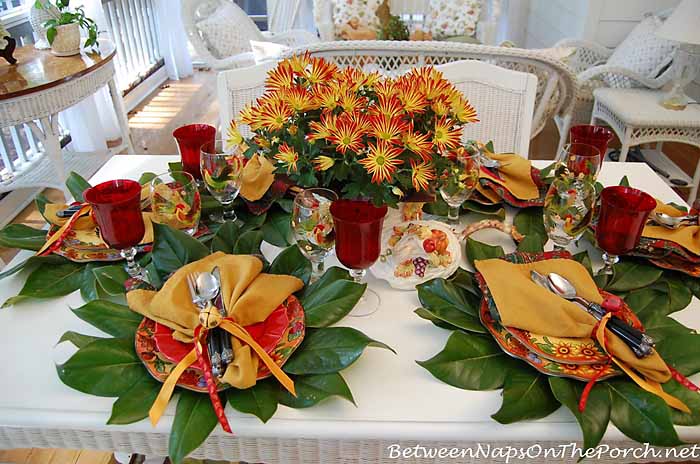 16. Queen-of-Hearts Card Chargers (Click title to view)
Playing cards from the dollar store worked great as whimsical chargers for this Alice in Wonderland table setting. They were 2 packs for $1 and the ♥ cards were the only ones I needed from each pack for this "Queen of Hearts" table setting.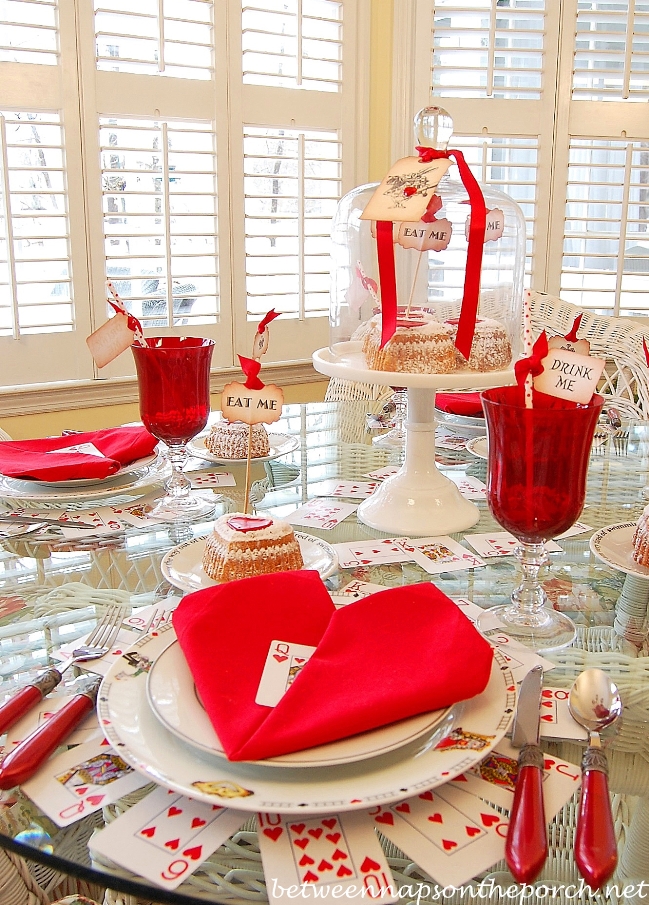 17. Clay Saucers (Click title to view)
Clay saucers from your local garden center are perfect for a garden party table setting. Just measure your dinner plates first so you'll know what size saucer to purchase.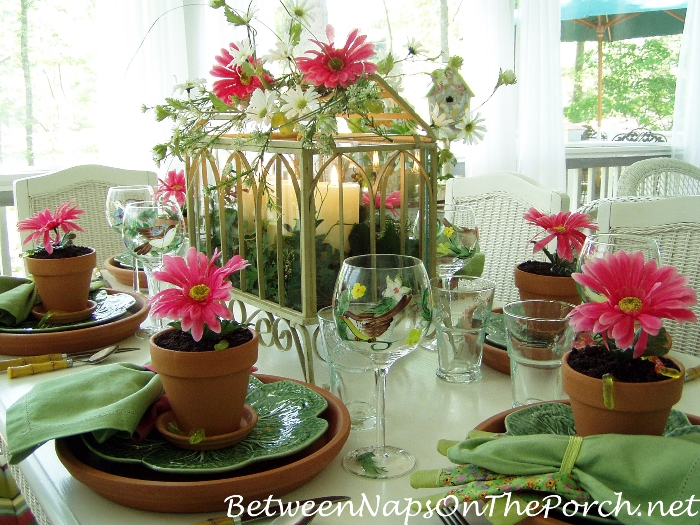 Hope you enjoyed this little peek at the chargers I've collected over the past 10 years. Happy Tablescaping, dear Friends!
To view my flatware collection, check out this previous post: Flatware for All Seasons and Holidays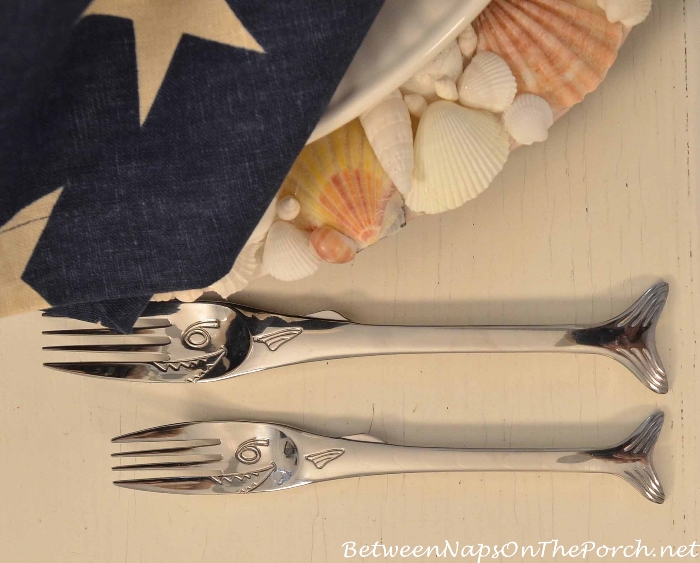 Pssst: I post almost daily to Instagram. Follow Between Naps on the Porch on Instagram here: Between Naps On The Porch.
Update: I get a lot of questions regarding storage and where I store all my dishware. You'll find the answer to that question here: Dish Storage. Just scroll down to the button of that page where you'll see the heading: Tablescaping Questions.
Looking forward to all the tables linked for this week's Tablescape Thursday!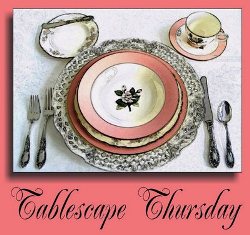 If you are participating in Tablescape Thursday, please be sure to add your permalink below, and not your general blog address.To get your permalink, click on your post name, then copy and paste the address showing in the address bar, into the "url" box when you link up.
You'll need to include a link in your post back to the party to link up and participate. That's so visitors to your blog will be able to find the party and the other Tablescape Thursday participants. Requiring a link back also prevents businesses and scammers from linking up to sell their products. (Yup, that really happens, unfortunately.)
Please Note: After 1 week, party links are still available to view by clicking on the blue button below.
*If a post is sponsored or a product was provided at no charge, it will be stated in post. Some links may be affiliate links and as an Amazon Associate, I may earn from qualifying purchases. *