Welcome to the 465th Tablescape Thursday!
I took the new tablescaping storage for a spin yesterday, and I have to say, it definitely made putting a table together for Tablescape Thursday a lot easier with everything so accessible. If you missed that previous storage post, you'll find it here: Tablescaping Storage.
With an upcoming trip to Ireland just a few days away, I couldn't resist having a little fun with this week's table setting.
Just like Ireland, my table is "40 shades of green." Okay, maybe not 40, but there's definitely a lot of green going on here. lol
This is the first time I've ever brought out Mr. Leprechaun for a non-St. Patrick's Day table. He was a little bleary-eyed and confused at first, having been awaken from hibernation in the middle of August. He couldn't understand how St. Patrick's Day had rolled around again so quickly!
After I explained I was heading off to his native country in a few days, he understood all the excitement and his interrupted slumber.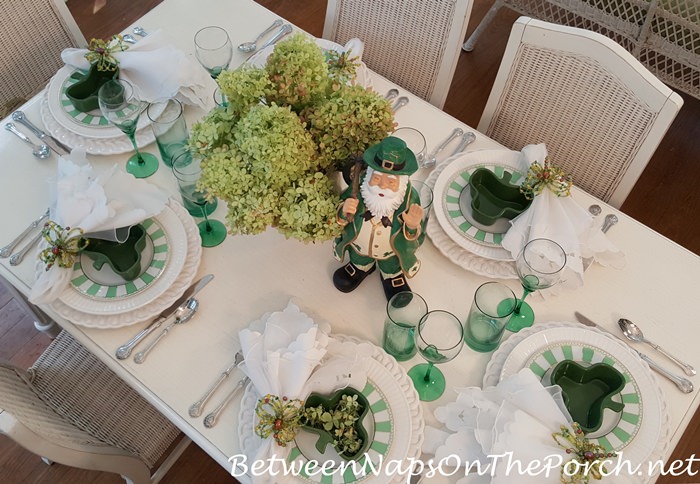 The Limelight Hydrangeas also cooperated, changing all their fluffy, white blossoms into a gorgeous shade of green for this table celebrating Ireland's forty shades of green.
For this table setting I'm using Carnivale plates provided by Noritake. I love green and white together, it's such a pretty combination that feels so fresh! The Carnivale pattern is available in several colors including blue, lavender, yellow and pink. See all the colors here: Carnivale by Noritake.
Update: Noritake Carnivale is currently on sale 1/2 off here: Carnivale
View this table set with Noritake Carnivale in blue, here: Blue & White Carnivale Tablescape.
Butterflies have alighted on our napkins for a little rest…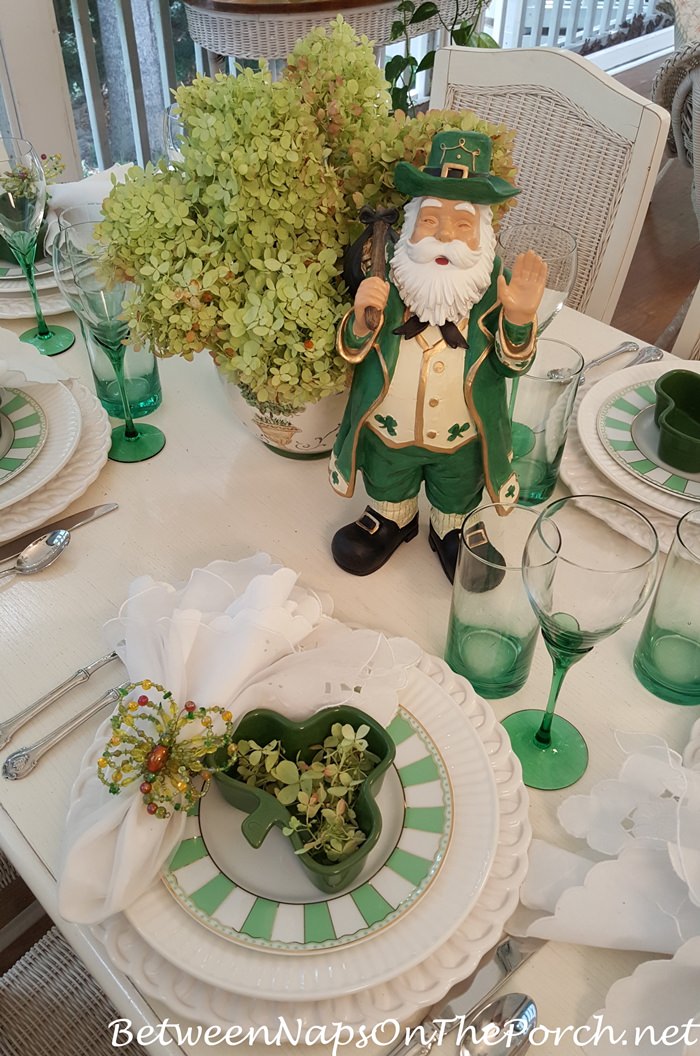 …while bees have settled down atop our flatware.
The bee flatware is currently on sale here: Bee Flatware.
So many beautiful shades of green!
I rediscovered this pretty pitcher during my recent organizing and storage project. With all the newly freed up cabinet space in the laundry room, I've been able to gather all my pitchers together in one place.
Thank you for all the great tips and suggestions you left on my recent "packing" post. I've taken your advice and ordered this thermal underwear and this pair of gloves for the trip. Hopefully I won't need them but am glad I'll have them, just in case. I'm also glad I purchased a larger travel handbag recently, I think I'm going to need that extra space for carrying gloves and such.
Looking forward to sharing the beautiful country that Johnny Cash sung about in his famous song, Forty Shades of Green. Ever since announcing I would be visiting Ireland, I've heard nothing but wonderful things about the country and the lovely people who live there. Thanks for sharing so many wonderful details about your visits to Ireland, I've loved hearing them all!
I plan to post a few times while I'm away, but if you would like to follow in real time, be sure to check the BNOTP Instagram page HERE where I'll be posting regularly each day.
Looking forward to all the tables linked for this week's Tablescape Thursday!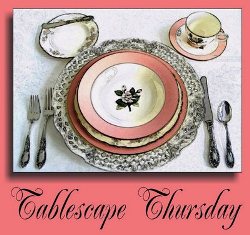 If you are participating in Tablescape Thursday, please be sure to add your permalink below, and not your general blog address.To get your permalink, click on your post name, then copy and paste the address showing in the address bar, into the "url" box when you link up.
You'll need to include a link in your post back to the party to link up and participate. That's so visitors to your blog will be able to find the party and the other Tablescape Thursday participants. Requiring a link back also prevents businesses and scammers from linking up to sell their products. (Yup, that really happens, unfortunately.)
Please Note: After 1 week, party links are still available to view by clicking on the blue button below.
*If a post is sponsored or a product was provided at no charge, it will be stated in post. Some links may be affiliate links and as an Amazon Associate, I may earn from qualifying purchases. *