Whenever I create a post sharing how I'm packing for a trip, the comments vary greatly from positive ones to folks who seem to think I've lost my mind for taking so many clothes. lol Some folks relish the idea of packing light for vacation with only a couple of pairs of pants and a few shirts, all tucked inside a small carry on bag. They will often take time to wash clothes during a trip. That's awesome, if that's your thing. I totally get it and respect your choice to travel as light as possible.
I'm not positive, but I'm guessing a lot of those folks who pack with just one small carry-on bag for a 10-15 day trip, are probably traveling alone or with a few family members where everyone is responsible for carrying their own bag. The kind of travel I've been doing is very different. I'm always traveling as part of a tour, small group tours have become my fave.
Part of the benefit of traveling as part of a tour is the tour company takes care of everything. About the only time I touch my suitcase after it's packed is when I carry it down the front staircase in my home to the garage, then back up the stairs, once I'm back home. That's it! That's pretty much the only time I move it during the entire trip.
The driver who always picks me up and takes me to the airport, takes my suitcase and places it in the car. Once we arrive at the Atlanta airport, he takes it out and sets it on the curb. I wheel it 10 feet over to the curbside check-in (when it's available) or just inside the door of the airport over to the Delta counter a few feet away. I don't have to pay anything for checking it since I have a Delta SkyMiles card. (T-shirt is available here: Vaca T-Shirt.)
When I arrive at my destination, I locate my suitcase in baggage claim and the tour company takes it from there. The next thing I know, my suitcase magically appears outside my hotel door. When it's time to move to a new location during the trip, I wheel my suitcase back out into the hallway outside my room, and the next time I see it will be when it magically appears outside my room door at the next place we're staying.
So the point I'm trying to make is this: if I were traveling alone, with family (or on a Rick Steve's tour) where I would be responsible for lugging around my own suitcase, I would probably pack lighter–although knowing me, probably not. lol Since the heavy lifting of suitcases is done by the tour company as part of the trip, it gives me more freedom to pack what I wish–and I wish to pack a lot! I mean, a girl needs options! 😉
So what are those options going to be this time? This is the 10-day weather forecast for Dublin, Ireland. When the high is going to be in the 60's and there could be rain, I'm thinking pants, long sleeves that roll up, sweaters, light jackets/coats with hoods, waterproof shoes and plenty of layers.
Pretty much a staple now for any trip where the temps could be a bit cool are my lightweight, cashmere sweaters. I have four of these in various colors, purchased many, many years ago. My two favorites are this lavender and dark pink color.
Tip: When traveling, pack 3-4 pairs of pants in basic colors like black, navy, white or khaki. Where you really want variety is in the tops you'll be wearing. With just a few pairs of basic/neutral colored pants or shorts, by wearing a different top each day, you'll feel as if you're wearing a whole new outfit every day.
For this trip I'll be carrying three pairs of jeans in dark blue, white, and black and a pair of black, somewhat dressy slacks. This is only a 10-day trip so those should work well for a trip of this length.
I purchased this madras shirt this past spring and it's definitely making the trip. It will look great with jeans. When it's chilly, I can roll down the sleeves and layer it with one of my sweaters. (Top is available here: Madras Top.)
Of course, you know I have to take along my favorite polka-dot shirt. I purchased the cardigan in both green and navy…great sweater! I don't think the shirt is still available, but the cardigan is available for just $20 here: Green Cardigan. The denim jeggings are available here: Denim Jeggings.
Here's how I like to wear these cardigans…with the shirt underneath turned up and showing.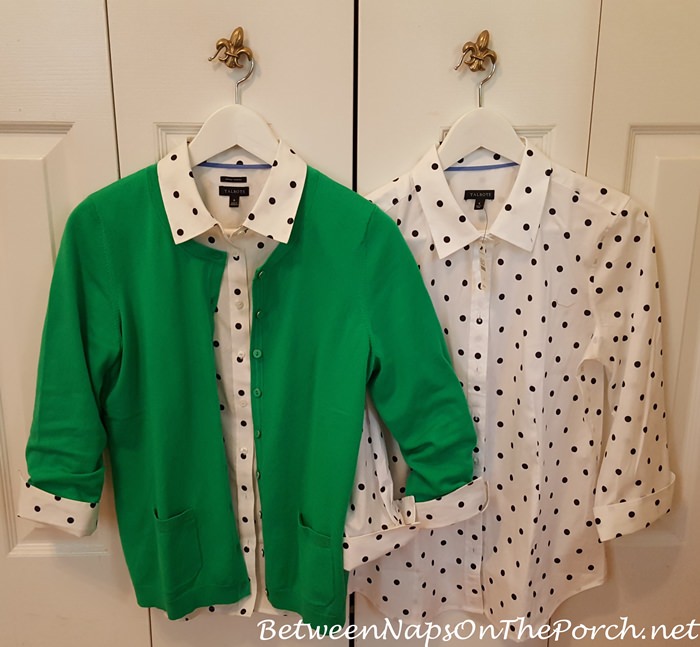 Since I'm so cold-natured, I'm taking along a couple of cotton sweaters. The navy sweater and wool, J. Crew shirt-jacket are no longer available, but you'll find the Fisherman Sweater here: Fisherman Sweater.
Don't know if I'll have an opportunity to wear this dress, but I'm taking it along just in case. It's available here: Shift Dress in Coastal Plaid. I purchased it in Petite because the length was better suited for my height. I'm 5'4″ for reference.
This is the other cardigan I purchased this year. As mentioned, I have it in both navy and green. It's on sale for just $20 here: Cardigan. I really like these cardigans for cooler days.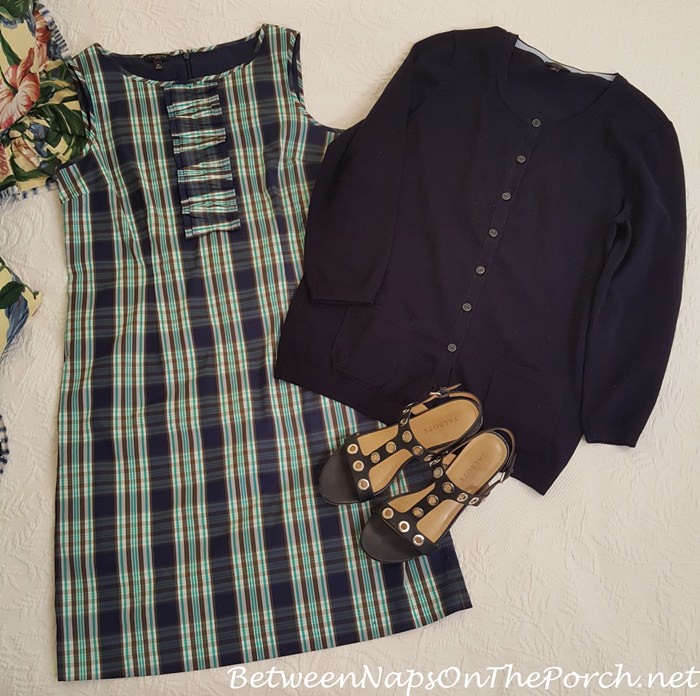 Tip: When preparing for a trip, while trying on clothes/outfits you're thinking of taking, snap a quick photo of yourself with your phone. Then when you're on your trip and getting dressed in the morning, you can quickly scroll through your photos on your phone to remember what you've packed and how you paired up various pieces. This especially comes in handy if you stayed up a bit too late the night before and the brain isn't firing on all cylinders the next day…not that this has ever happened to me! 😉
Another top that I plan to take is this beautiful blue and white mosaic tile top. It's available on sale here: Blue & White Top. I caught it on sale earlier in the spring and have been saving it for this trip.
The white jeans are available here: White Denim Jeans. I prefer the "curvy" fit because they fit my hips but aren't too large in the waist. Those are available here: Curvy Fit.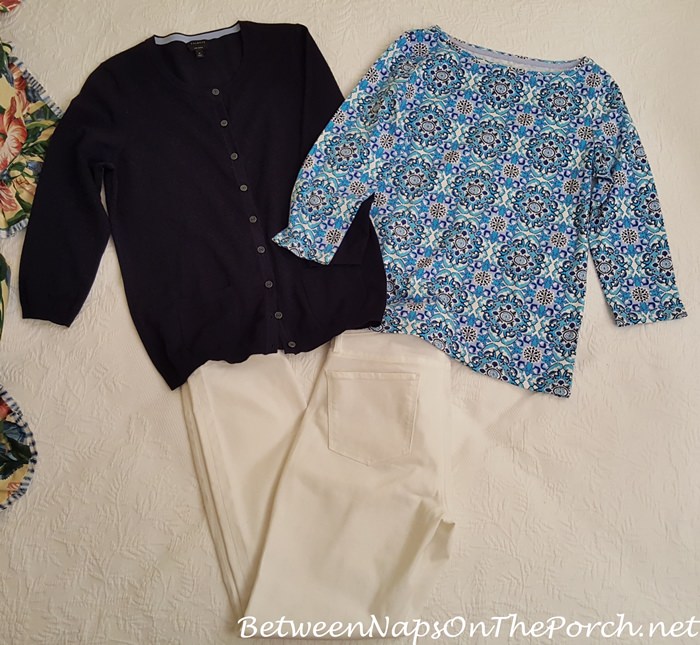 I think this shirt will look nice layered with the navy cardigan.
I wear a lot of linen in the summertime. I loved this linen shirt so much, I purchased it in three colors this spring: White, Oatmeal and blue/white striped. Linen wrinkles but I don't care…that's the linen way!
Both of these tops will make the trip. They are thin and light-weight, so won't take up much room in the suitcase. I'll most likely layer them with a sweater on chillier days. You'll find the striped linen top on sale here: Linen Shirt. (Not sure if the blue is still available.) The solid color linen shirts are on sale here: Linen Shirt.
I'll probably toss this shirt in for good measure. I purchased it last fall and it's super comfortable. It's that stretchy, doesn't-wrinkle-fabric like the blue and white top a few pictures up in this post.
Since I'm so cold-natured, I always take along a pair of flannel pajamas on every trip, even during the summer. You'll find the brand I always buy available here in a lot different patterns: Flannel PJs.
I'm eyeing these for Christmas…they are a hoot! I love the red car with the reindeer bringing home the Christmas tree. They are available here: Christmas PJs.
If you don't see the size you want, check eBay. They have tons of the P.J. Salvage pajamas here: PJs.
Does it remind you of anything? lol (See tablescape here: Christmas Tablescape)
Or, maybe this? hee, hee (View tablescape here: Christmas Table Setting)
Shoe wise, I'll be taking my favorite waterproof boots. They are incredibly comfortable and great for walking in all day. They kept my feet dry during the monsoons we had in Italy. I have this boot in several colors and love it. It's available here: Waterproof Boots.
Tip: These boots run about 1/2 size small, especially when wearing socks. I usually order them 1/2 size up.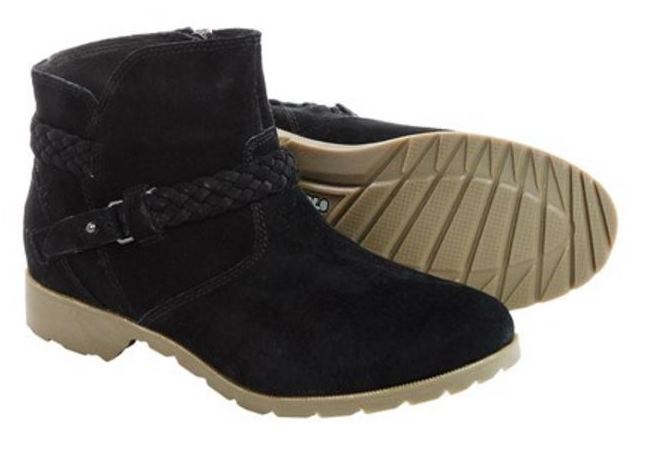 I'm probably going to take the Sperry Duck boots on the left in the photo below. I've taken them on several trips and love them! They are warm when worn with thick socks and really cute with jeans. They are also incredibly comfortable, comfortable enough to wear all day long while touring/traveling.
I wore them a lot in Italy during the 15 days I was there, including the day we visited the beach in Positano in the rain. (See that video here: Positano.)
If I don't take those, I'll probably take this pair purchased last fall. They are still available here: Plaid duck boots and here: Plaid Duck Boots. They are also super comfortable for travel, as well.
I'm taking two rain coats with me on this trip as shown in a previous post.
This coat is no longer available, but you'll find three very similar coats linked below. (Click any photo below to access that coat.)
This is the other coat I'm taking with me.
Have any last-minute summer trips planned? How about for fall?
*If a post is sponsored or a product was provided at no charge, it will be stated in post. Some links may be affiliate links and as an Amazon Associate, I may earn from qualifying purchases. *