Welcome to the 315th Tablescape Thursday!
It's that time of year. The days are getting shorter, the leaves are beginning to change color and there's a cool crispness to the evening air. That can only mean one thing; the smell of cotton candy and funnel cakes will soon fill the air.
The Country Fair is in town!
Each year Dawnette bravely takes up a most unique challenge–she enters a tablescape in her local county fair competition. Dawnette said, "I entered into the Best-Dressed Table at our Kern County Fair again this year and wanted to share my table setting with you. The themes this year were Informal – Rustic Cabin and Formal – Your Favorite Holiday."
Dawn decided to enter a table in the "Rustic Cabin" theme. She began her tablescape with a beautiful patchwork quilt handmade many years ago by her friend Rudene who has sensed passed away.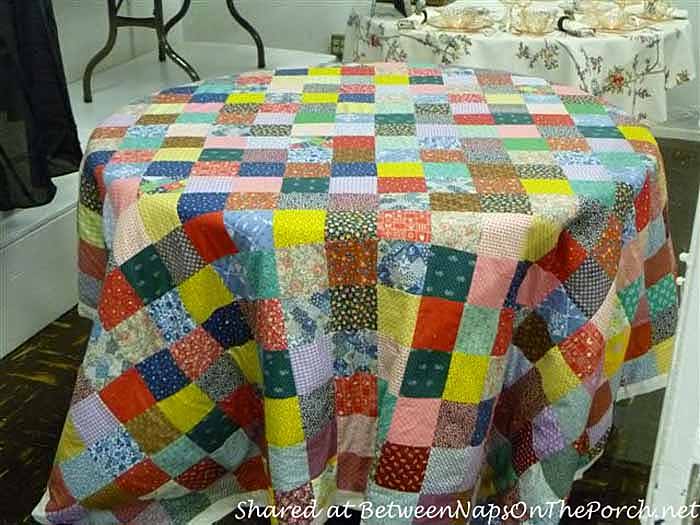 A dead oak tree in Dawnette's yard supplied the oak chargers for her rustic table setting.
Atop the oak chargers Dawnette placed pewter dishes belonging to her brother, Terry.
The antler flatware is on loan from Dawnette's friend, Marilyn and she found it at Bass Pro Shops.
Dawn's hubby made flint-knapped knives by hand for each place setting. Aren't these amazing?! I tell ya, if the world ever looks like it's coming to an end, I'm heading to Dawnette's house because her hubby's got skills! I'd last like 5 minutes without a Kroger or Target up the street! 😉
Dawnette said, "My hubby made all of the knives on the table as well as the arrowheads. The handles on these knives are all antlers but he has also made them with bone, oak and choate. The blades are all from obsidian."
Dawnette used beautiful red bubble goblets she found in Tuesday Morning a few years back. The clear goblets came from a local thrift store.
Antler placecard holders made from Christmas ornaments found in Bass Pro Shops marked each guest's place at the table.
Dawnette's centerpiece was a wildflower styled floral arrangement, perfect for her rustic cabin themed table setting.
I love the addition of the shed antlers around the centerpiece. There's also an antler wine holder on the table not visible in the pictures. Do you see the little arrowhead resting on the top of each charger? Dawn's hubby made those, too.
The menu was artfully displayed in an antler frame found in Hobby Lobby.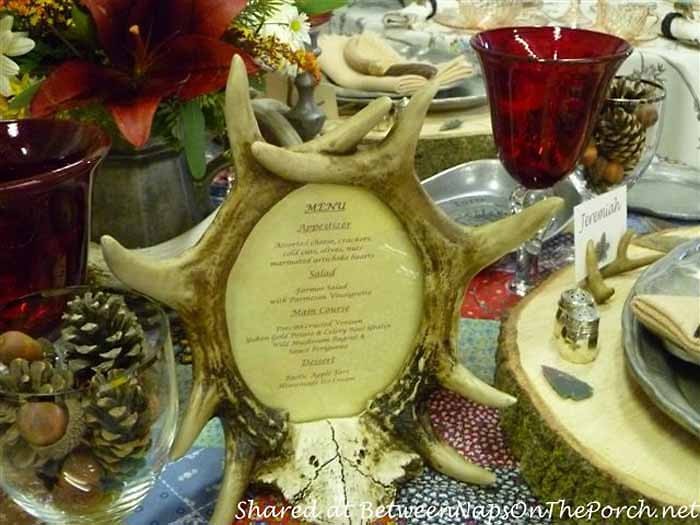 So, how did Dawnette's tablescape do in the "Best-Dressed Table" competition?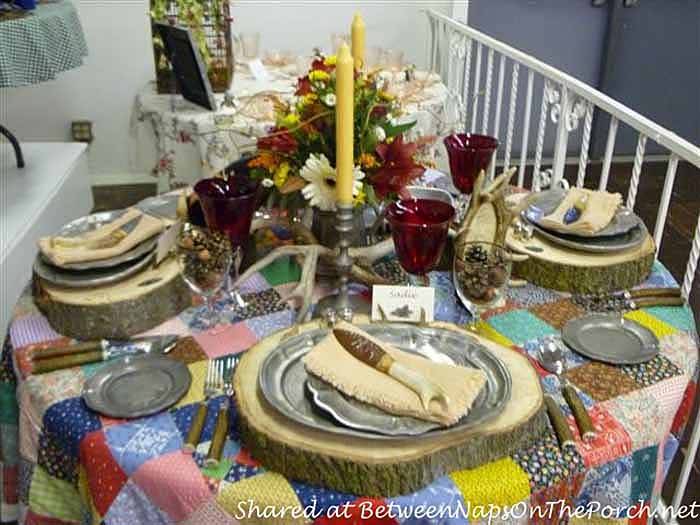 1st Place! Yipee! I am not one bit surprised! This was definitely a 1st place table if ever there was one!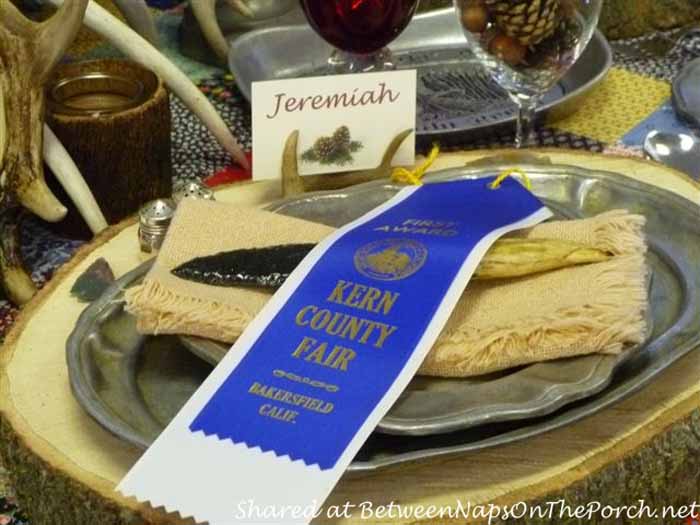 The judges must have been blown away by all the creativity and hand-made beauty of this wonderful table setting!
Dawnette said, "Putting this table together was so much fun. Seeing your beautiful tables inspires me to enter table settings at our local fair. This is the third year I've entered and the third year I've placed first for my table. Thanks for inspiring me and keep up the beautiful work."
Thanks so much to Dawnette for sharing her wonderful "Rustic Cabin" tablescape…such a great table setting to inspire us as we enter the fall and winter seasons!
Check out the "Engagement Party" table Dawnette created for the County Fair competition in 2012 here: Engagement Party-Best Dressed Table At The County Fair
Looking forward to all the beautiful tablescapes posted for this week's Tablescape Thursday!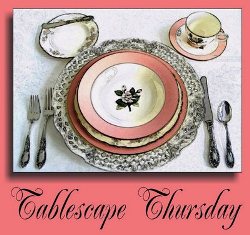 If you are participating in Tablescape Thursday, please be sure to add your permalink below, and not your general blog address. To get your permalink, click on your post name, then copy and paste the address showing in the address bar, into the "url" box when you link up.
You'll need to include a link in your post back to the party to link up and participate. That's so visitors to your blog will be able to find the party and the other Tablescape Thursday participants. Requiring a link back also prevents businesses from linking up to sell their products. (Yep, that really happens, unfortunately.)
If you would like to use the Tablescape Thursday logo button in your post, just copy and paste it to your computer and upload it to your post as you would any photo.
Please, don't add your post name/blog name ALL IN CAPS…it tends to create big spaces between the rows of links.


*If a post is sponsored or a product was provided at no charge, it will be stated in post. Some links may be affiliate links and as an Amazon Associate, I may earn from qualifying purchases. *