Welcome to the 563rd Metamorphosis Monday!
No major Before and Afters to post today so I thought I'd share some random updates along with the special souvenirs I brought back from England this past summer. By the way, I decided to give having my groceries delivered from Publix a try–a suggestion left in the comments on a previous post where I shared about Dorothy Lane Market in Oakwood, Ohio. The groceries were delivered this morning just as I started writing this post.
The delivery went okay but unfortunately, they were out of several of the items they had advertised and allowed me to purchase online last night. The "shopper" attempted to text me this morning to suggest replacements, but I had my phone on "Do Not Disturb" as I do 24/7 so I didn't get them.
I keep my phone in the Do Not Disturb mode full time so I'm never interrupted throughout the day with sales and scam calls. Family and friends can always get through because I have their names "starred" in my phone so it always rings or beeps when they call or text. I figure if anyone I do not know is calling, and they are legit, they'll leave a message.
Since I didn't answer their texts this morning, they ended up replacing the items with things I didn't want, so I'm not sure I'll do this again. I would have preferred they just left those off. It's a shame they don't keep the website properly updated with the items they actually have available. I would have to have a really good reason to use the delivery service again, like if I've just had surgery and couldn't drive. Just wanted to share my experience in case you found it helpful.
How Did the Puzzle Board Work for Transporting My Puzzle Home?
So remember the puzzle board I purchased while I was in Ohio visiting family?
I put it to the test to see how it would work for transporting my puzzle back home.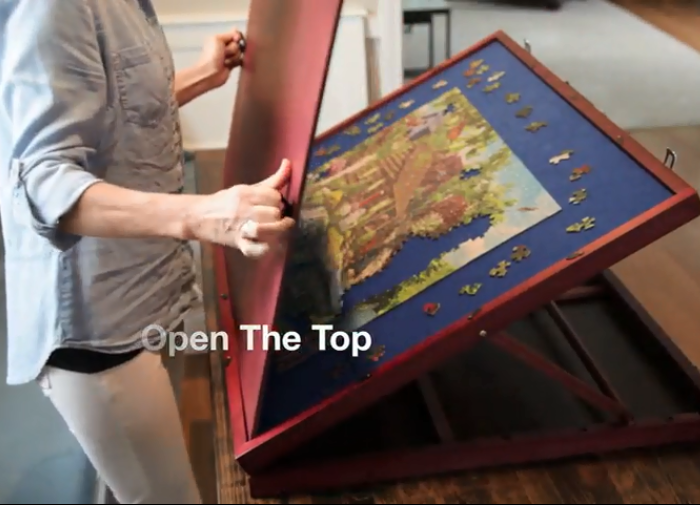 It did great! When I arrived home, the puzzle was still fully assembled. It had slid down to rest on the bottom of the puzzle board, but it was fully intact. I slid it off onto the floor of the upstairs family room since I wanted to start another puzzle right away. It always takes me a few days to get up the nerve to take one I've finished apart. lol I hate doing it! (Puzzle below is available here: Cat Library Puzzle.)
If you love doing puzzles but don't like how your back feels afterward, you'll find this puzzle board available here: Puzzle Board. It definitely saves the back and makes doing a puzzle a lot more fun!
This was the puzzle I was eager to start. I ended up doing it on my old puzzle board that I keep here ar home. I've decided to take the blue-back puzzle board back to Ohio when I next travel there since the black background ultimately works better in my office. Also, the blue one is better for transporting puzzles due to how the cover is designed.
This puzzle only had 500 pieces so it went very quickly. Kinda sad it went so fast because I love the scene. You'll find this puzzle here: Cozy Winter Puzzle.
What Did I Bring Back From England?
In a previous post I shared these hilarious rubber duckies I brought back from England after my friend, Mary Beth, shared how she collects them whenever she travels. I already had one ducky, a Maasai Warrior ducky, received as a gift during a visit to Mahali Mzuri in 2015.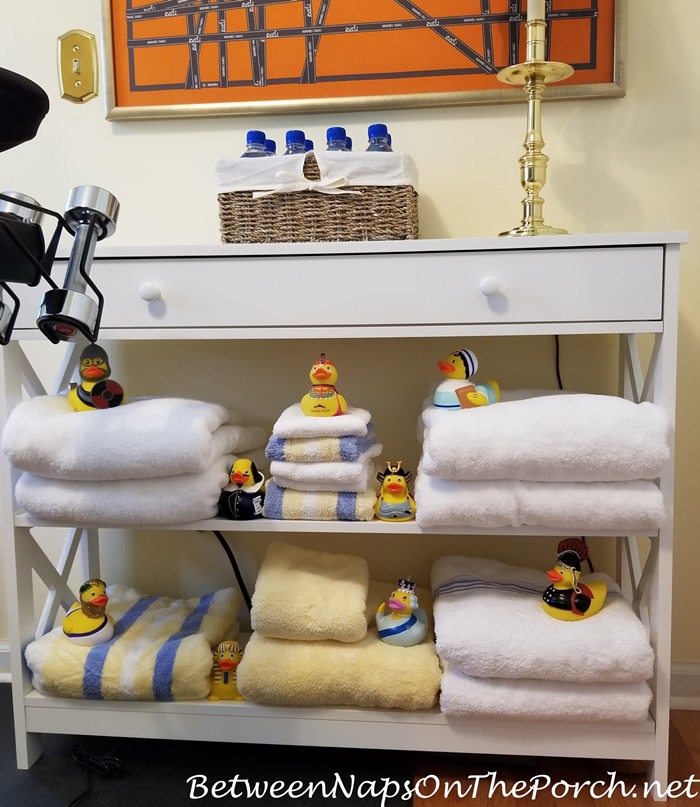 Once back home, Mary Beth always tucks her newly-collected duckies away in her linen closet to surprise and delight family and visiting friends when they seek out a towel for bathtime. Can you imagine opening a closet and finding these inside? I have my guest linen closet ready for when I have family here for Thanksgiving.
I loved that idea and posted all about it here: An Absolutely Ducky Idea for Shelving in a Bathroom or Linen Closet. I picked up all these adorable duckies while traveling across England, including this cute Shakespeare ducky I found in the gift shop of the Globe Theatre when we were there for a play.
This was one of the other items I purchased in the gift shop of the Globe. I'm a member of a Shakespeare class here at home that meets twice a month throughout the year, so this is perfect for transporting the books and items I need for class.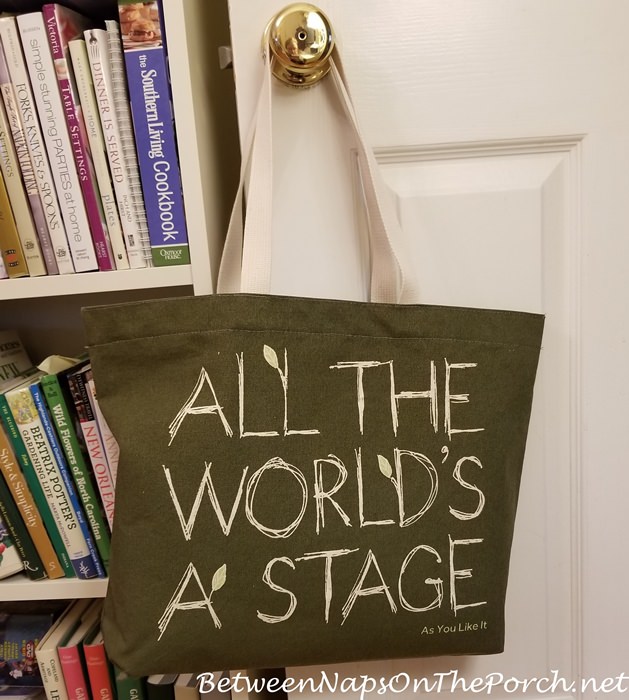 During my trip to England, I visited The British Museum where I saw the Rosetta Stone in person. I was in awe after having heard and read about this amazing discovery all of my life.
As you can see below, this photo is one I shared during my trip at the "Between Naps On The Porch" Instagram. It's so much easier and faster to share things with you there in real-time, so if you're not following me on Instagram, please consider doing that. You'll find the BNOTP Instagram here: Between Naps On The Porch.
Afterward, I purchased these cute socks in the gift shop for myself and for family. I wish I had purchased more because they are really comfortable, the perfect thickness for my winter boots. I noticed when I was in Ohio that my son and dil were wearing their Rosetta socks. I also purchased a Rosetta Stone-themed coffee thermos while there but I couldn't find it to share this morning. It's around here somewhere.
The other place we visited during that trip that left a huge impression on me was Stonehenge. I need to finish going through all my photos so I can share them with you. This was the photo I shared in real-time on Instagram as I stood with goosebumps just a few feet away from this prehistoric World Heritage Site.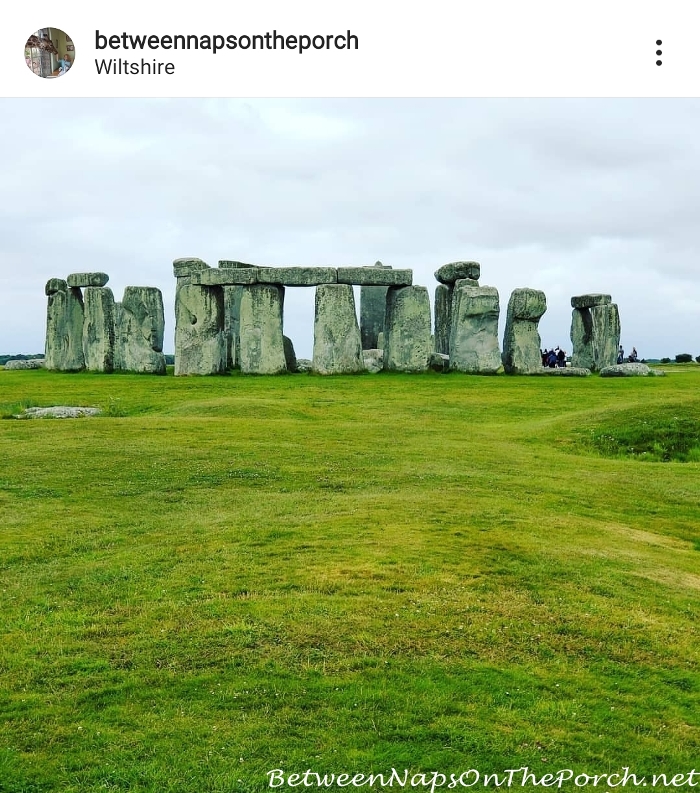 I made a beeline for the gift shop after touring the site and purchased several items to commemorate this special day. I picked up this super cozy fleece jacket, I've already worn it a few times this fall.
A close-up of the Stonehenge logo…
I also purchased this woolly throw. I have a thing for throws. I absolutely love them, the woollier the better! If there's ever an apocalypse and a throw shortage ensues, just stop by my house. lol
I double-checked to make sure it didn't say, "Made in China" before buying it. This was one item I wanted to make sure was made locally.
The final item I'll share is this beautiful, light-weight scarf I purchased in the gift shop of the Fashion Museum in Bath.
I loved the blue and white print and it's the perfect weight for a summer scarf.
The day I purchased it I was wearing this dress and I was surprised to see how nice it looked with it. I ended up wearing it the whole day.
So, those are the purchases I made during my trip to England, or at least the ones I could find last night as I gathered them together. I bought a few books, too–I think.
I'll try to go through my England photos soon so I can share more from that trip with you. In the meantime, check out the photos at Between Naps On The Porch on Instagram at the links below. Looking forward to all the great Before and Afters for this week's Metamorphosis Monday!
Pssst: Did you know Between Naps On The Porch is on Instagram? You'll find my home and garden postings on Instagram here: Between Naps On The Porch AND my fashion postings here: Under Moonlight and Magnolias.
Like to know when a new blog post is up and available to read? Subscribe for email updates, it's free and your email will never be shared.
Subscribe here: Subscribe for free post updates via email here: Subscribe.
Metamorphosis Monday
Metamorphosis Monday is a party that's all about Before and Afters. If you are participating in Met Monday, please link up using the "permalink" to your MM post and not your general blog address. To get your permalink, click on your post name, then just copy and paste the address that shows up in the address bar at the top of your blog, into the "url" box for InLinkz when prompted.
In order to link up, you'll need to include a link in your MM post back to the party so the other participants will have an opportunity to receive visits from your wonderful blog readers.
Feel free to link up Before and After posts that are home, gardening, decorating, crafting, painting, sewing, cooking, fashion, travel or DIY related. Please do not link up to the party if you're only doing so to promote/sell a product.
To those linking up, if you notice a shop or online store linking up to sell products (yes, unfortunately, that happens) please let me know so I can remove their link and block them from participating in future parties.
This party has ended, click button below for the links to all who participated.
*If a post is sponsored or a product was provided at no charge, it will be stated in post. Some links may be affiliate links and as an Amazon Associate, I may earn from qualifying purchases. *