Welcome to the 392nd Metamorphosis Monday!
Recently we took a tour of Ben's (played by Robert De Niro) brownstone home in the movie, The Intern. If you missed that tour, you'll find it here: Ben's Brownstone in the movie, The Intern.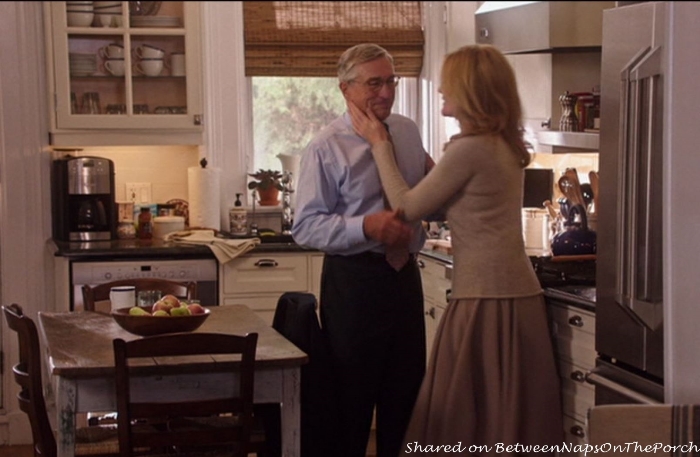 Today we're going inside the home of the character, Jules Ostin (played by Anne Hathaway) and her husband, Matt, played by Anders Holm. The Intern featured two beautiful homes, so it was no surprise to learn that Nancy Meyers wrote, co-produced and directed this movie.
In the movie, The Intern, Jules (the founder of the company for which Ben interns) lives in this brownstone home located in Brooklyn. The actual filming inside Jules home took place in a newly renovated home located in the Clinton Hill neighborhood of New York. Much of the movie was filmed on location in Brooklyn, Manhattan and the Bronx.
Let's go inside and check it out! By the way, did you know Nancy Meyers uses Pinterest, too? Yup, she does! Nancy pinned ideas she had for the sets on Pinterest boards and referred back to those for inspiration as she worked with designer Kristi Zea on the sets for The Intern. Loved learning that from the article I read in Architectural Digest about the making of the movie.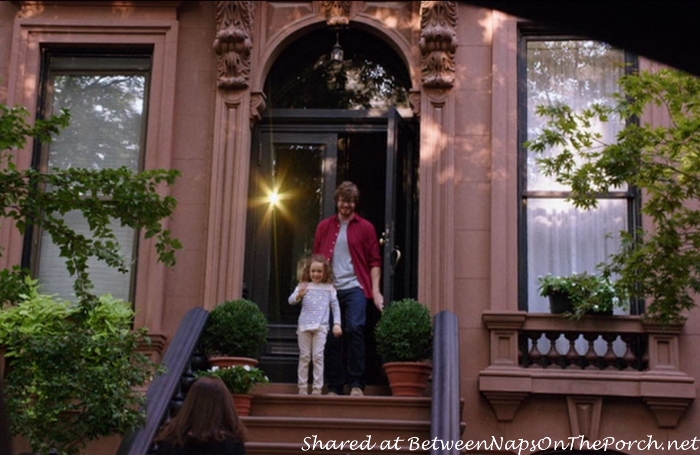 We get a view of the entry in this scene where Ben (Robert De Niro) is visiting Jules' home. Look at that beautiful staircase with one of the most beautiful newel posts I've ever seen! I'm guessing that the paneled areas we see in this shot may have once looked like the newel post but they were eventually painted.
I have this ongoing battle with myself because I love a beautifully paneled room, but in some cases a home can feel dark if every room has stained paneled walls. Yet, I don't think I could bring myself to paint over real wood in a historical home.
I think this entry would feel really dark if everything was left like the staircase, and I have to admit, I do love the look of that painted paneled wall or door we see to left.
Do you fight this battle inside your head, too: painted woodwork vs natural or stained? Anyway, I am glad the newel post, railing and balusters were left unpainted because they are gorgeous!
We get one more view of the stairway in this scene and look at that beautiful molding around the door! Wow! It's like a gorgeous wedding cake with layer upon layer of beautiful molding.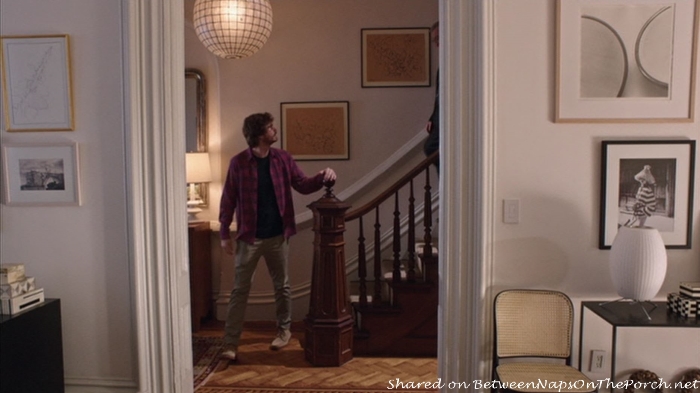 When you come in the entry of Jules' home, a right turn would take you into her living room.
The living room leads into the dining room which features built-in bookcases, a beautiful arched doorway with pocket doors and more of that gorgeous molding. The crown molding in this home is just as stunning as the molding around the doors. Love those high, high ceilings!
I wonder if all brownstone homes in New York are blessed with molding this rich and beautiful? Anyone know? That fireplace is pretty awesome, too! Love the mirror above it! Jules's home feels classic, but not at all stuffy. The design really does suit her character in the movie.
Another view of the dining room and living room in a scene where Jules is opening product she's ordered from her own online company to see exactly how it looks when it arrives in a customer's home.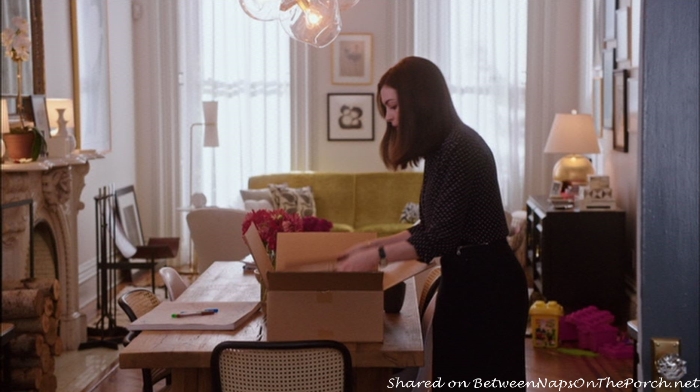 Nancy Meyers knows that often a kitchen is the heart of a home. In this movie, the kitchen definitely plays that role. The kitchen has a bit of an industrial feel but with elements of cozy mixed in like the farmhouse sink and painted cabinetry. Those cozy parts keep it from feeling cold. I wonder how the original kitchen looked when the home was first built. I bet it was a lot smaller.
I wonder if originally there was a wall and it was taken down to make the kitchen nice and big. So glad they didn't cover up or remove the fireplace when this kitchen was renovated. Even when a fireplace isn't a working fireplace, I love seeing it in a room. If I had an older home with fireplaces in every room, I would go a little crazy at Christmastime with decorating the mantels.
This kitchen has a lot of open shelving on both sides of the room. I've always wondered if open shelving is hard to keep clean and if all the dishes have to be removed periodically for washing and to wipe down the shelves.
I love the little play table in the corner that belongs to Paige, the young daughter of Jules and Matt in the movie. Nancy Meyers even gave it a Louis XVI ghost chair. I didn't know they made ghost chairs that small! Cute!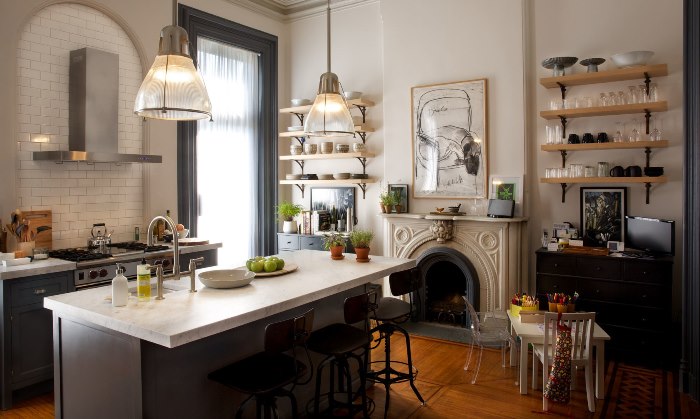 A few more views of Jules' kitchen in the movie, The Intern.
Love that the island includes a sink.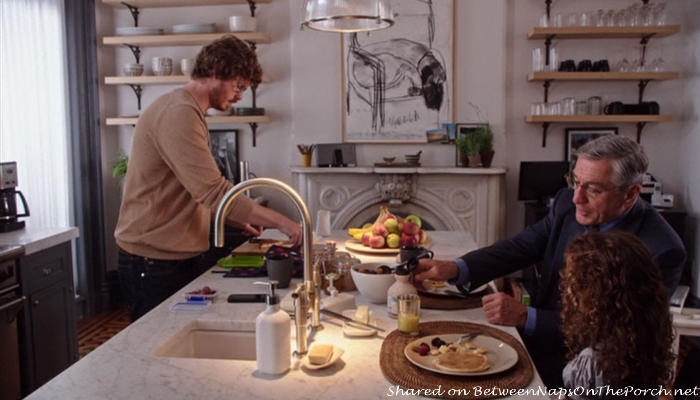 Heading upstairs, this is the smallish master bedroom of Jules and her hubby, Matt. Some sad scenes take place here since they are having serious trouble in their marriage. To put it succinctly, Matt has a wandering eye. 🙁
Besides the fact he is cheating on Jules throughout much of the movie, I didn't really like his character in the movie. I would love to have seen someone else play the role of Matt. Anyone else feel that way after watching it?
Notice how they gave the room table lamps as well as wall-mounted, reading lamps. Do you like that look? The table lamps adds a cozy feel to the room while the wall lamps provide function.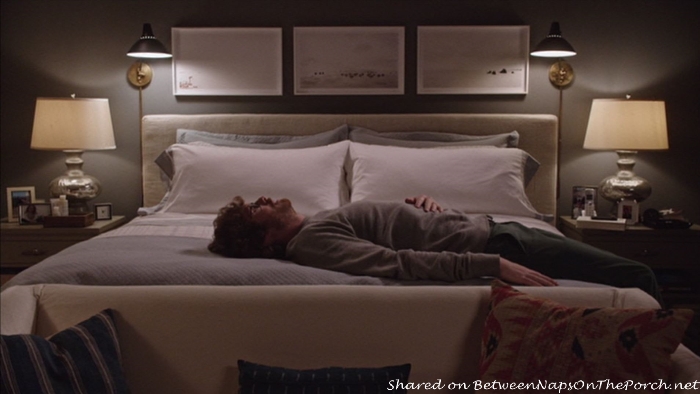 It makes sense that Jules would have the wall lamp off in this scene since it would have made it hard to see her laptop screen. Plus it would have been right in Matt's eyes. Jules is always working in the movie as most entrepreneurs are when they are just getting a business off the ground.
This was a sad scene in movie as Jules mulls over the sad state of her marriage. I love the brass fixtures in this bathroom! I read an article recently that said folks were starting to turn away from using so much silver and nickel in homes and were turning back to using brass fixtures in baths. Have you read/heard that, too? Forgot where I read that now.
Notice how the fixtures are mounted into that small shelf area along the back. I really love how that looks. Sometimes you see the fixtures kind of floating and very visible. There's nothing wrong with that but this shelf idea is genius! It hides the mechanics of the fixture where it goes into the floor while providing a handy spot for placing items you might need while bathing.
I remember many, many years ago when the trend was to remove silver fixtures from baths and install real polished brass. In fact, I knew someone who was changing out all the fixtures in her home to Baldwin brass, expensive but beautiful.
Jules and Matt's daughter, Paige, has an adorable bedroom in the movie, The Intern. Again we see a wonderful fireplace.
Love the sweet linens visible in this scene where Jules falls asleep while reading with Paige.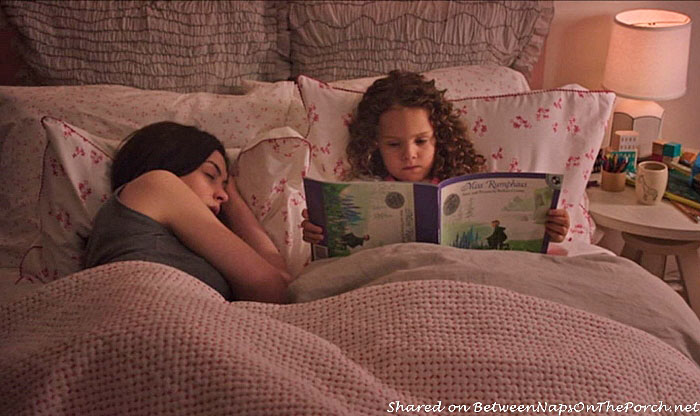 Another fabulous movie house thanks to the talents of Nancy Meyers! And thanks goes to Diána who emailed me a few weeks ago suggesting a tour of the homes in the movie, The Intern.
If you know of a great movie house we should tour, leave me a comment with your suggestion! In the meantime, you'll find all the other movie houses we've toured under the category "Movie Houses/ Movie House Tours" at the top of the blog.
If you're a movie fan, also check out the category Movie Houses/More TV Movie House Fun. There are some really fun posts under that category, including two I shared in Postcards From The Porch, the Between Naps on the Porch newsletter that went out this past weekend. If you're not currently getting the newsletter I send out each Sunday, you can subscribe (it's free!) here: Postcards From The Porch.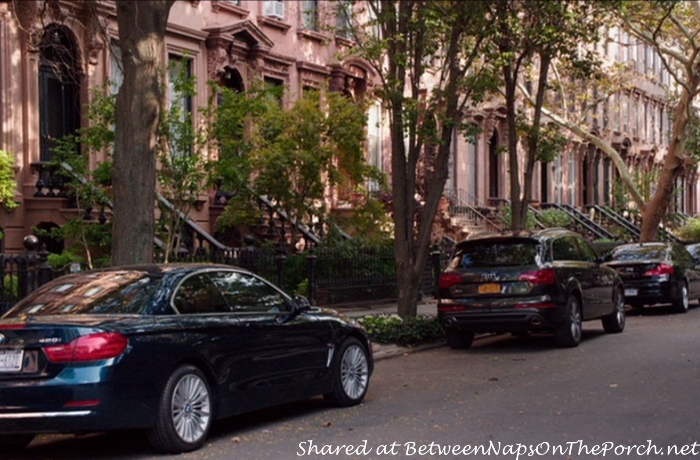 Take a tour of Ben's beautiful home in this same movie, The Intern, here: Tour Ben's Brownstone Home in the Movie, The Intern
Looking forward to all the wonderful Before and Afters linked for this week's Metamorphosis Monday!
Metamorphosis Monday
Metamorphosis Monday is a party that's all about Before and Afters. If you are participating in Met Monday, please link up using the "permalink" to your MM post and not your general blog address.
To get your permalink, click on your post name, then just copy and paste the address that shows up in the address bar at the top of your blog, into the "url" box for InLinkz.
In order to link up, you'll need to include a link in your MM post back to the party so the other participants will have an opportunity to receive visits from your wonderful blog readers.
Please observe these few rules:
Only link up Before and After posts that are home, gardening, crafting, painting, sewing, cooking or DIY related.
Do not link up to the party if you're doing so to promote a website or sell a product.
Do not link up a post that was just linked up last week since readers would have already seen that post.

*If a post is sponsored or a product was provided at no charge, it will be stated in post. Some links may be affiliate links and as an Amazon Associate, I may earn from qualifying purchases. *