When I was in Morocco, we visited some truly fascinating places. I wish I could have put you in my pocket before I left and taken you on every inch of this trip. At least I can share those parts that I think you'll find interesting or maybe even helpful.
Whenever I do share something from my travels, I always ask myself, is this something I would find interesting or fascinating even if I didn't really have a lot of interest in travel? Is this a topic that's "post worthy?" The two places I'm taking you today pass the post-worthy test and one even has some cool ideas you can use in decorating or furnishing an outdoor space or in the renovation of a bathroom in your home.
When we were in Fez, after walking all through the Medina, an amazing well-preserved medieval city dating back to the 12th century and a UNESCO World Heritage Site, we stopped by a local factory where they produce leather purses, coats and other leather goods. You know you're about to experience something very different when your tour guide gives you a large stem of mint and tells you you'll need to press it to your nose for part of the tour! lol
We climbed and climbed and climbed the steps of the tannery, winding our way to the top of the factory for the best vantage point. Once we reached the top of the building, we stepped out on the rooftop area and looked around. This is what we saw: part of the ancient medieval city of Fez spread out in front of us.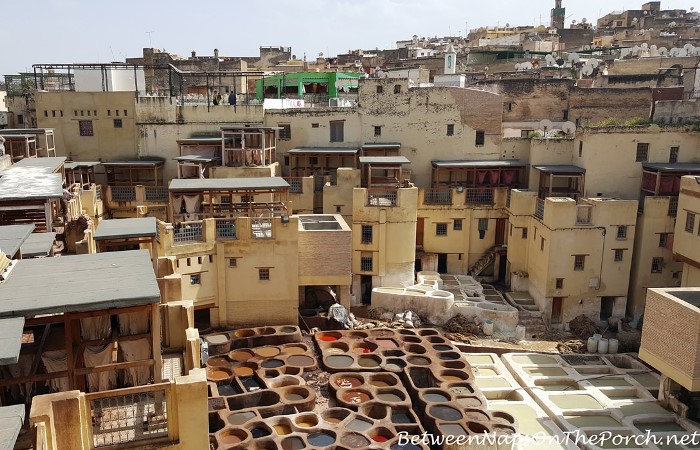 At first there was no need for the mint, then the winds shifted and the worst smell ever wafted in. O.M.G! Where's my mint?! The best way I can describe the smell was it was like a rotting, dead animal (or 20) was somewhere nearby. Thankfully the mint pressed against my nose almost completely hid the obnoxious odor.
Why had we climbed all the way to the top of the leather factory? Our guide instructed us to look down and there below we saw lots of small pits filled with various colored solutions.
These are the pits where the leather is dyed before it's turned into coats, shoes, bags, etc… If I'm remembering correctly, the section on the right where the solutions are very light in color is where the leather is pre-treated before dyeing. I think the really stinky part of this process occurs there because our guide told us that the hides are soaked in a solution that includes pigeon droppings which helps soften and prepare the leather so it will accept the dye. That awful, awful odor we were smelling was from the pigeon droppings. Ugh!
As I looked down at the people working in this area of the tannery, I couldn't help but wonder if anyone ever slips and falls in. I bet it wouldn't take very long to scramble back up and out! Our guide told us that the process is still the same as it was so many years ago and natural vegetable dyes are still used in the dyeing process: Mint is used for green, Indigo for blue, Poppy Flower for red and Cedar Wood for brown.
He asked what color we thought was the most expensive to create? My fellow travelers yelled out various answers but none of them were correct. I guessed yellow because it just seemed like it would be a hard one to create in a pure, sunshine-yellow color. That turned out to be the correct answer. Our guide said in order to make a yellow coat, they have to use Saffron which is very, very expensive.
Our tour ended in one of the rooms where they store many of the coats they ship out to stores all around the world.
Several of my fellow travelers purchased beautiful coats and leather ottomans. I didn't, though I was very tempted.
A Visit to Manar Marble
On another day of this Moroccan adventure, our tour guide took us to Manar Marble, a factory/shop in Erfoud where they create beautiful furniture and stone products for the home and garden. The neat thing about the stone they use is that it's filled with ancient fossils! Morocco has vast amounts of this type stone which dates back to the Devonian Period of the Paleozoic era around 360-410 million years ago. (Read more about that HERE and HERE.)
Since there's so much of this type stone/rock all throughout Morocco, companies are allowed to apply for a license to mine it to create unique, one-of-a kind products.
Our tour started outdoor where our guide gave us some information about Morocco's geological history and showed us some of the rock that they have on hand…basically the raw material that they use to create the exciting pieces that they make.
I don't remember the names of all the ancient fossils but they were truly fascinating to see. It was so amazing to think these creatures once lived right here. The rock on the right is full of fossils, but they are hard to see when first mined and the rock is dry and in its natural state.
But when you wet the rock, the fossils magically appear! Our guide poured a bit of water down this rock and the fossils revealed themselves!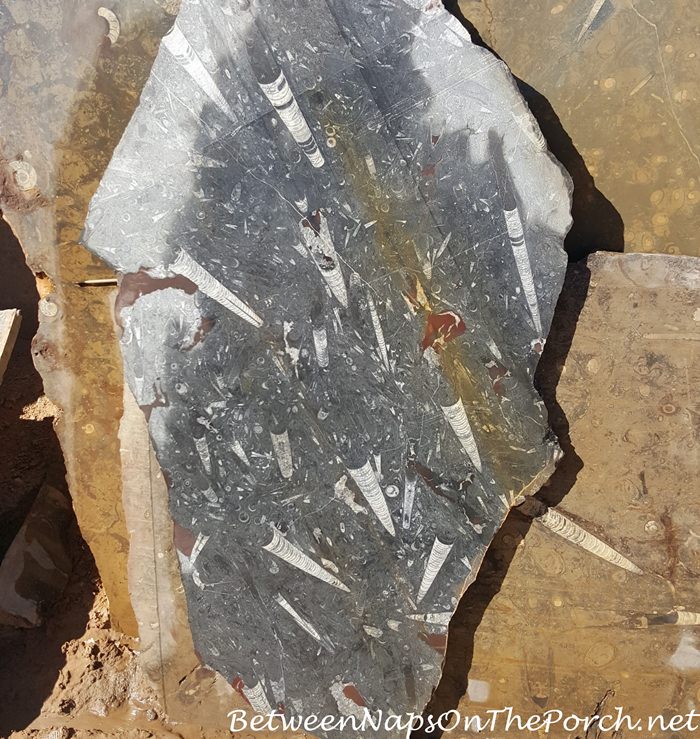 Here's a chart showing a few of the fossils that can be found in Morocco.
After some background history about the intense process of carving out around the fossils to bring them out in 3-D form…
…we went inside the factory to see some of the beautiful pieces they've produced for homes and gardens. All the items you see below have been made from rock filled with fossilized creatures. Each piece is truly unique and a one-of-a-kind.
The fountains were gorgeous and would be amazing in any garden setting. I was especially taken with all the beautiful tables. Imagine this table outdoors in a seating group in front of an outdoor rock fireplace. This truly is an antique! 🙂
Another beautiful and unique table…
The various designs we saw were amazing!
I really loved them all. I took their business card since they ship all over the world. If I ever have a back yard that's great for an outdoor space/seating group, I would love a beautiful fossil table in that space. Of course, these could be used on a porch or inside, too.
Imagine renovating a bath….
…and including a sink like this! My camera made the sink look like it's set really far back, but in the photo above you can see it's not that far back.
Several days later we drove out to an area of the Sahara Dessert where we hopped out and went on a short hike. There are areas of the Sahara where the landscape almost has you wondering if you are on the moon.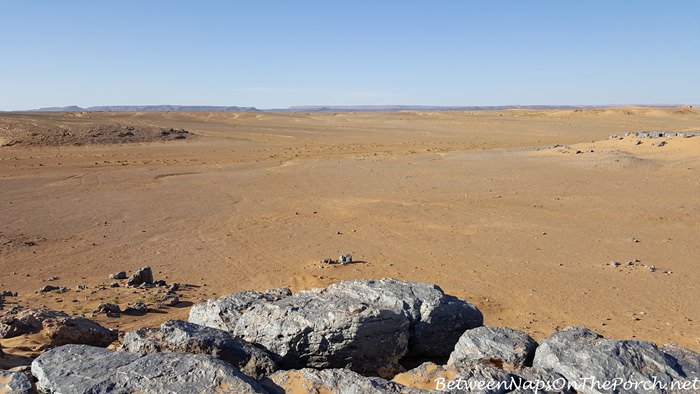 Truly fascinating…the diversity of the Sahara landscape!
While walking around, we could see tons of fossils in the surrounding rock.
They were everywhere!
I only purchased three souvenirs on this trip: a wood camel for my oldest grandson, a beautiful bowl made in a tile factory that we toured (shared a photo of the bowl on Instagram HERE) and this heart-shaped, stone box below from Manar Marble. I can't remember the name of the fossils in the stone of my box. I need to do some research to figure that out. The one on top may be a type of ammonite.
Currently it's holding some of the dirham coins I had left over from the trip.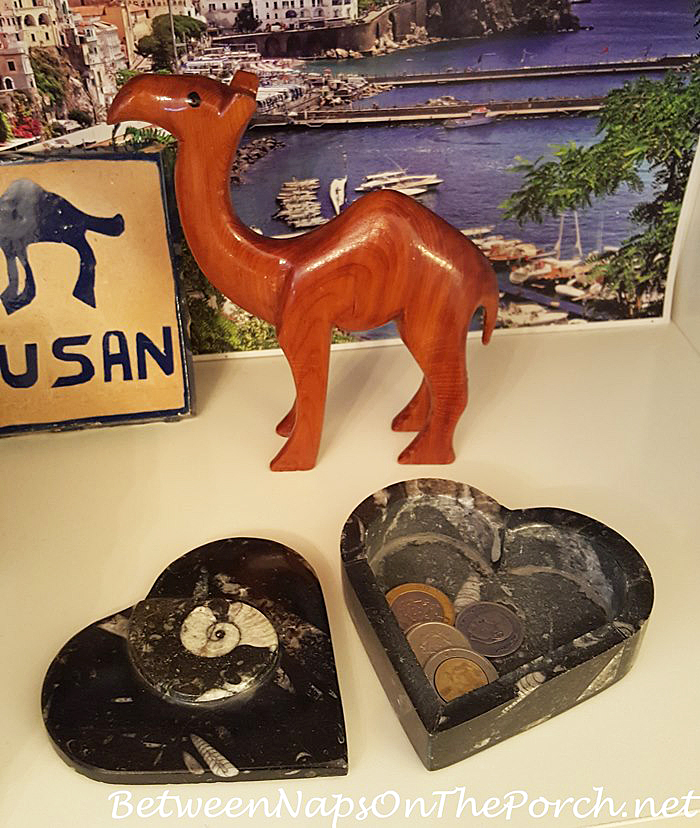 Hope you enjoyed this little pocket tour as I bring a bit of Morocco back to you!
*If a post is sponsored or a product was provided at no charge, it will be stated in post. Some links may be affiliate links and as an Amazon Associate, I may earn from qualifying purchases. *