I almost titled this, "This is Not a Christmas Post." I figured we could all use a non-Christmas post for a minute. 🙂
So, I was out doing a little Christmas shopping and I stumbled across something in the "Clearance" section of the store that caught my eye. Can you guess what it was?
It supposedly started out at $249.99, marked down to $100.00. I used a 20% off coupon bringing it down to $80, which is still higher than I normally like to pay for this type "thing." But, it was blue and white and I'm a little obsessed over decorating in blue and white. Plus, it had blue birds on it and who can resist blue birds! Okay, they are stylized blue birds, not painted in the colors of a real blue bird, but still pretty darn cute.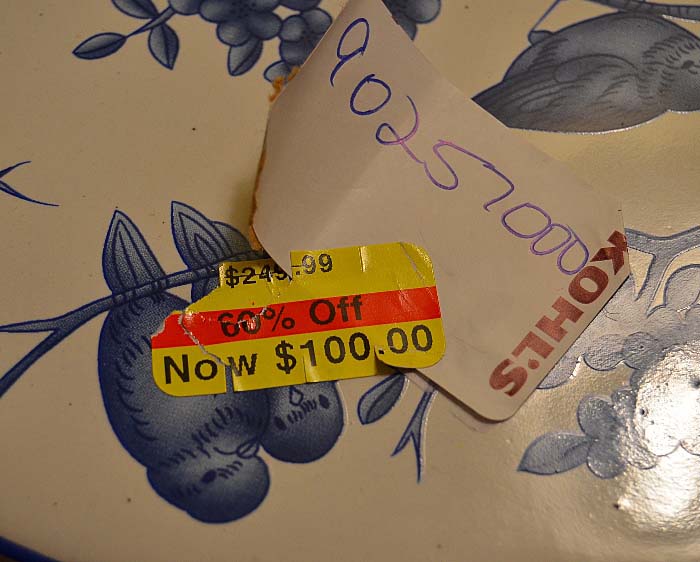 I brought it home for the guest room, but I'm not sure if it's staying.
So what do you think? I have no idea why the walls look sooo yellow in some of the pics, they are a pale yellow, not a buttery yellow.
Here's the garden seat that was in this spot. It will have a new home in another room if I keep Mr. Bluebird. (This pic is more accurate of the wall color.)
This seat is by Safavieh Accents and an internet search found the same seat online at several other stores for around $110. That's why I say it was supposedly priced at $249.99. Do you do that…buy something then come home and look online to see if you can find it for a better price?
Online those seats look a lot lighter in color, which wouldn't work in this room. Not sure if those other seats just look that way or if they are really that light, but this one is a nice match for this blue and white guest room. Plus it was $80, not $110…and no shipping cost.
So what do you think?
Like the white one that was here better or do you like Mr. Bluebird better?
There's one more little addition to the guest room, something just for the season. Christmas still managed to sneak into this post, didn't it? 🙂
Every time I see it, it makes me smile. I bought one for the upstairs family room, too. It's from HomeGoods and is sooo soft. I think it has a down insert, most of their pillows do.
I found two pillows for the screened porch for Christmas. I still need to share the porch dressed for Christmas…will do that soon.
So, let me know your thoughts on Mr. Bluebird, does he stay or does he go?
*If a post is sponsored or a product was provided at no charge, it will be stated in post. Some links may be affiliate links and as an Amazon Associate, I may earn from qualifying purchases. *