Recently I noticed one of the lamps on my desk had become a bit wobbly. The next day I dropped it by my favorite lamp shop, Flourish Antiques, to have it repaired. David Puffer, the owner of Flourish, has his lamp shop inside the Marietta Antique Mall. To fill the time while David was repairing my lamp, I took a stroll up and down the aisles inside the mall, snapping photos of some of the beautiful antiques that caught my eye that day. There were several that I found super tempting, but I managed to leave without buying anything.
The first thing I spotted in one of the booths just inside the front door was this wonderful old hall tree.
English Hall Tree with Marble Top, $1,025
I especially loved this area for holding umbrellas. As I recall, there was one on both sides of this piece. I just love that design!
Beautiful curios!
Lane Curios $750
Love this piece! Not sure if it's old or a reproduction. It looked in such great shape, I tend to think it may be a reproduction.
Pine Welsh Dresser, $1,050
This piece was really lovely! It was on sale, too!
1800s Welsh Dresser with Spice Drawers, Original Hardware, Was $4,200, Now $3,200
I thought this sideboard was priced really well.
1890 English Sideboard with Carved Doors, $449
This table was the piece that tempted me the most during my visit. It can be displayed open as shown below or it folds closed to create a demilune console. In its former life, it must have mostly been used in console form because there were definitely some signs of use when it was folded closed. If I had a spot to use it in the open position, I would have been super tempted to bring it home.
Hekman Banded Mahogany Table with Satinwood, $375
This table was really pretty in person! The description says: Theodore Alexander Mahagony Dining Table, Althorp Living History Collection, $2,195. Flame mahogany extending dining table, rectangular reeded edge top with rounded corners, crossbanded in Chestnut burl and Morado with two additional self-storing leaves, above a mahogany apron on two baluster turned pedestals, each issuing four downswept legs terminating in finely leaf cast brass cappings.
There was a whole aisle of chandeliers!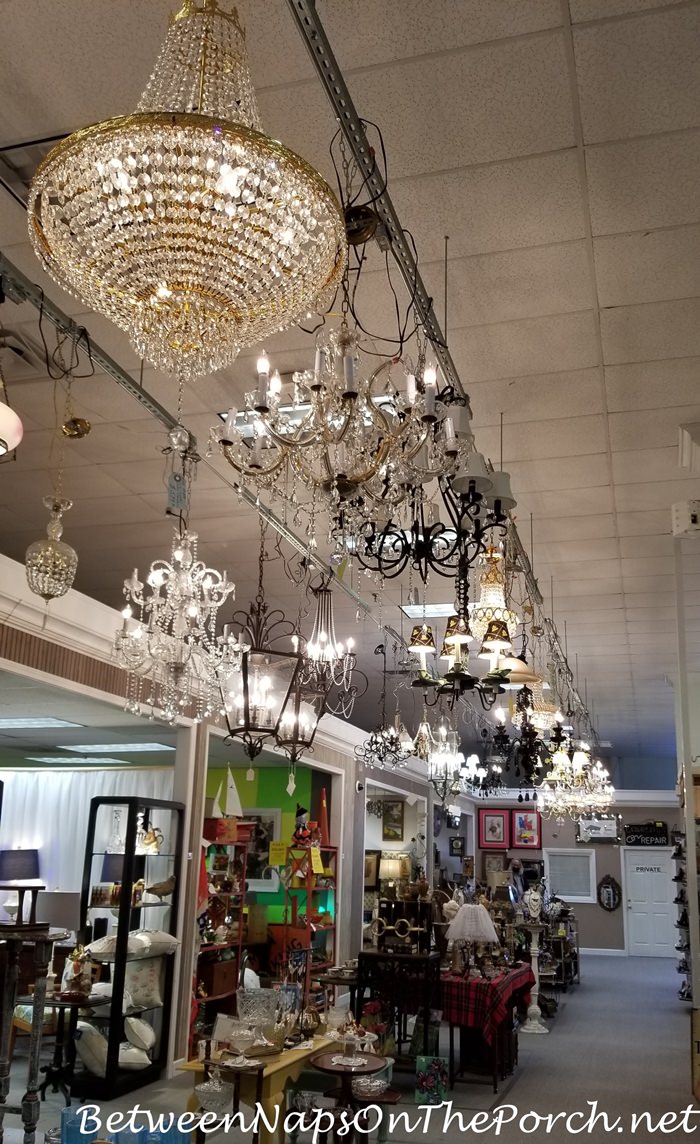 I really liked this one! $1,199
Plenty of dishware to see throughout the antique mall.
Victoria Austria Covered Dish, $12
Love all the cubby holes in this beautiful, roll-top desk.
Solid Oak Roll Top Desk, $695
This piece brought back sooo many memories! I was working as a Media Parapro in my son's elementary school when technology took over and we added a barcode to the inside of every book, then scanned each book into the new computer system making our card catalog obsolete. The librarian thankfully kept the card file as a backup, at least for a while. If I visited the library today, I sure it's gone now since it would require extra work and time creating cards for all the books that are added or removed from the library each year. It's definitely faster looking in the computer to see if a book is is available. I hope all the old card catalogs found a loving home where they could be repurposed. How would you repurpose this piece if you had it in your home?
30-Drawer Century Index Card File, $675
Gorgeous antique Tray, Hand-painted Porcelain, $39
I'm always drawn to secretaries…love everything about them including the wonderful storage they offer.
French Country Secretary, Was $849, Now $695
Love the pretty detail on this secretary.
In addition to repairing lamps, David also designs and creates really unique, one-of-a-kind lamps. This was one of my faves of those he had available to purchase. I didn't see a price on this one.
This one is so unique! The tag stated it was one of a kind.
19th Century Wood Carved Dragon Lamp with Art Glass Shade, $600
David designed/created this one himself. Wouldn't it be fabulous in a beach house?!
Coral and Shell Table Lamp, $325
Here's a close up of the coral and shell base.
I wish I had a spot in my home for this one! I've never seen a shade like this before…so unique!
1940s Japanese Porcelain Table Lamp with New Pagoda Shade, $215
So beautiful when lit! Love, love, love that shade!
Hope you enjoyed this visit to the Marietta Antique Mall. I'll try to take us antiquing more often because I really do miss it!
*If a post is sponsored or a product was provided at no charge, it will be stated in post. Some links may be affiliate links and as an Amazon Associate, I may earn from qualifying purchases. *