Welcome to 545th Tablescape Thursday!
It was so beautiful out today with temps reaching into the high 60's, I was super tempted to set a table outside on the porch. In the end, I stayed here in the breakfast room for this week. But it won't be long before we're out on the porch for Tablecape Thursday.
I bought two Shamrock plants this week with full intentions to set a St. Patrick's Day table, but after my shopping trip recently, I couldn't resist putting together a spring table.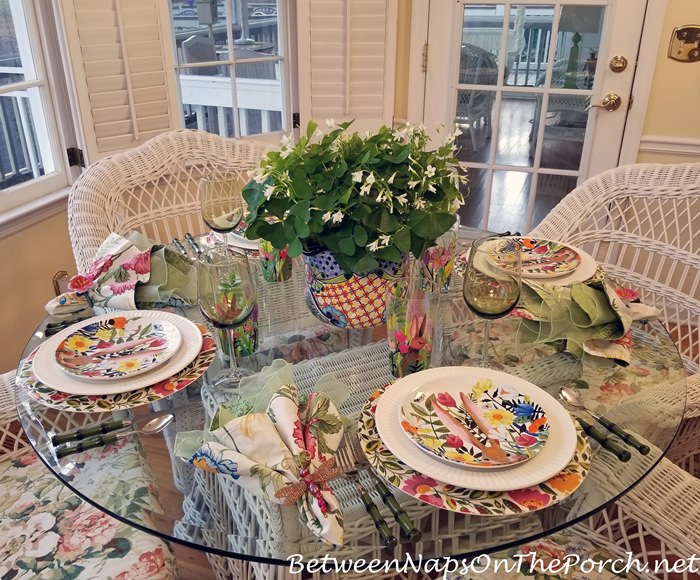 Did you know Shamrock plants come in a purplish red color, too? I think it's called a Mock Shamrock, or something like that.
I tried it in the center but decided the green looked best with this setting. You may remember this post from when a mischievous chipmunk kept taking dirt baths in it when it was outside with a geranium planted inside. (Chipmunk Baths.)
Remember the floral chargers I used recently? They are making another appearance in this week's table. I did something different this week that I don't think I've done before. Instead of using the sheer napkin cover over my napkin, I actually placed it over a second napkin and inside this little napkin bundle. It sorta happened as an accident: I had placed it outside as I normally do for three of the place settings, but then accidentally layered it differently for the last place setting. I loved how it looked so went back and redid the other three so they all looked like the one that was an accident.
So below I have a solid green napkin, followed by a sheer/organza cover followed by the floral napkin you see on top. Guests would be welcome to use any or all that they wish, except the sheer napkin which would be pretty useless as a napkin–it's really more for decoration.
Remember the plates I shared in yesterday's post from my recent spring shopping trip?
I love how they look with these Spode Kim Parker floral chargers!
You'll find these floral bunny salad plates on sale here: Bunny Plates. I went dark green bamboo style flatware for this spring table.
I couldn't make up my mind on the napkin rings. I started out with these cute beaded dragonfly napkin rings, purchased at Pier 1 many years ago.
I also liked these little pink floral napkin rings with this setting. Can't remember where I found those now, it was so long ago. It may have been Old Time Pottery.
Here's a bit better view of the dark green bamboo flatware. I love how it looks in this setting, I really should pull it out and use it more often! I couldn't find this green bamboo flatware available online, but I did find similar flatware available here: Bamboo Flatware. I'm tempted to buy it in that color, as well.
Of course, I had to use the glasses I shared in yesterday's post! I can tell now, these are going to be my favorite glasses for spring!
They are surrounded by a beautiful garden, these would be perfect for a garden party.
There are even a few butterflies on one side.
My favorite part is Mr. Bunny, though. He's the reason they had to come home with me. lol These adorable glasses are currently on sale here: Bunny Garden Glasses.
Happy Spring to you dear friend! I hope you are starting to see some warmer temps where you live!
Looking forward to the beautiful tables shared for this week's Tablescape Thursday!
Pssst: Follow Between Naps on the Porch on Instagram here: Between Naps On The Porch on Instagram and on Facebook here: Between Naps On The Porch on Facebook.
Tablescape Thursday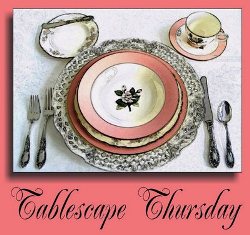 If you are participating in Tablescape Thursday, please be sure to add your permalink below, and not your general blog address. To get your permalink, click on your post name, then copy and paste the address showing in the address bar, into the "url" box when you link up.
You'll need to include a link in your post back to the party to link up and participate. That's so visitors to your blog will be able to find the party and the other Tablescape Thursday participants. Requiring a link back also prevents businesses and scammers from linking up to sell their products. (Yup, that really happens, unfortunately.)
Pssst: InLinkz has upgraded to a new system for linking up for blog parties. If you have any trouble linking up today, please check to make sure you're using the most current version of your browser.
If you are using the most current version but are still having a problem linking up, please let me know so I can report it to InLinkz. Thanks for your patience as we all adjust to the new InLinkz system.
This party has ended, click button below for the links to all who participated.
*If a post is sponsored or a product was provided at no charge, it will be stated in post. Some links may be affiliate links and as an Amazon Associate, I may earn from qualifying purchases. *