Happy Weekend!
Phoebe Update (Not into birds? Click HERE to skip the Birdie Update.)
The baby birds left the nest yesterday. I awoke yesterday morning and checked in on them. Two solemn little faces peered down on me. lol It has been so much fun watching their progression, it has reminded me a lot of a human baby's growth, only on a much more accelerated scale.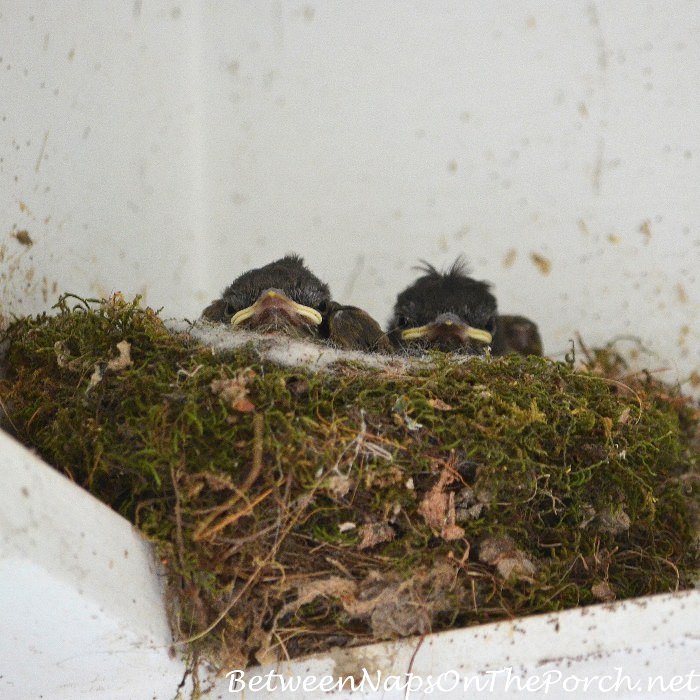 When they were teeny-tiny, they were oblivious to my presence on the porch. As they got a little bigger, I noticed movement in the nest whenever I opened the front door. Eventually they were big enough to actually react and go into a protective mode, hunkering down in the nest when they heard or saw the front door open.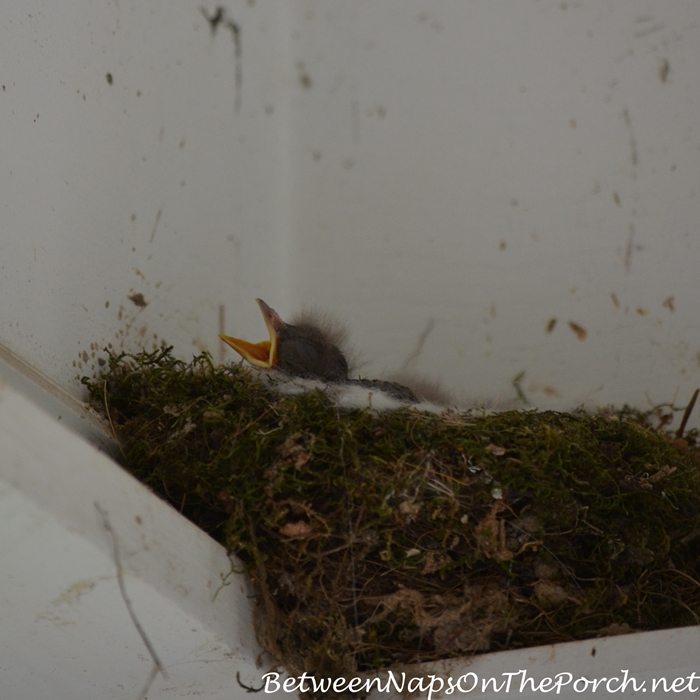 After just a couple more days, they began perking up and started actually craning their necks to see me each time I opened the door. I think they had begun to realize that often after the door opened, mom and dad would deliver scrumptious mealworms to the nest. lol
All these changes took place over a meer 15-16 days. Amazing how fast baby birds go from helpless to self-sufficient, especially compared to human babies.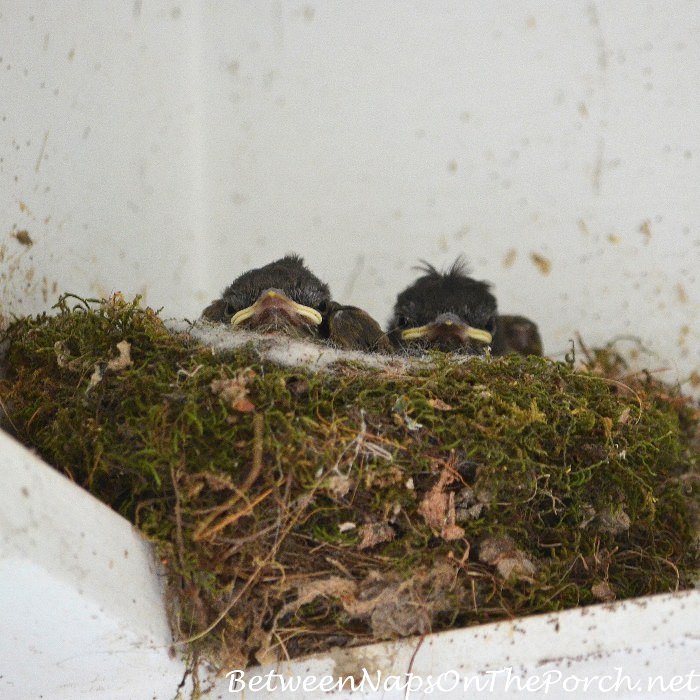 I knew fledge time was drawing near because both babies have been perching on the edge of the nest and exercising their wings the last 2-3 days. I'm so ticked off with myself because I missed both leaving the nest.
After checking on them yesterday morning, I went upstairs to get dressed to head over to Nordstrom to return the Barbour coat I ordered recently. I had ordered it in a small since my other Barbour coat is so generously sized, but the new one turned out to be a little snug through the shoulder/arm area. It definitely wouldn't have worked with a sweater underneath.
Before I left for Nordstrom, I glanced out the sidelight one last time and saw only one bird in the nest! What!? I missed it leaving while I was getting dressed! The remaining bird had always looked a bit smaller to me, I think his big brother always beat him/her out for worms and bugs. So, I figured I still had at least another day to catch the other one leaving.
I zipped off to Nordstrom and returned the jacket. Once back home I found the other bird had fledged! Dang it, I missed both of them leaving! I should have stayed home and kept watch! I've had so many birds nest in my yard over the years and I have yet to see even one baby leave the nest. Oh well, they are probably somewhere now doing happy birdie things and learning how to catch bugs from their mom and dad. lol
I left the nest up in the corner all day yesterday in case anyone had second thoughts or wanted a spot to sleep for the night. No one came back and the nest was empty long after dark. From what I've read online, they do not come back, and it's recommended old nests be removed. Apparently, insects often move into old nests, so it's better for birds to start fresh with a new one each time.
Isn't it just the most wonderous little work of art! Bird nests always amaze me. I can understand how they find all these little bits and pieces, but how do they fit them all together so beautifully?! The nest was really stuck in the corner, like it was glued to the wood. I guess they used mud or something to hold it there, because as well as it was attached, it would have been there 10 years from now.
Quick story: The Mama Phoebe was such a good Mom! The night of July 4th when my neighbors behind me were shooting off fireworks, she stayed perched on the side of the nest the entire night. The nights before and after that, she slept in the magnolia tree nearby, there really wasn't room for her in the nest with the babies and they probably would have been too hot, anyway.
But that night she stayed perched on the edge of the nest with her back facing out onto the porch. She was doing her best to shield them from any danger. She stayed there all night until the loud explosions finally stopped. That was the only night she did that, so I know she was trying her best to protect them.
Since the blue Barbour Jacket was too small, I decided to look online for another rain coat for my upcoming trip to Ireland. (This coat is still on sale here: Blue Barbour Jacket.)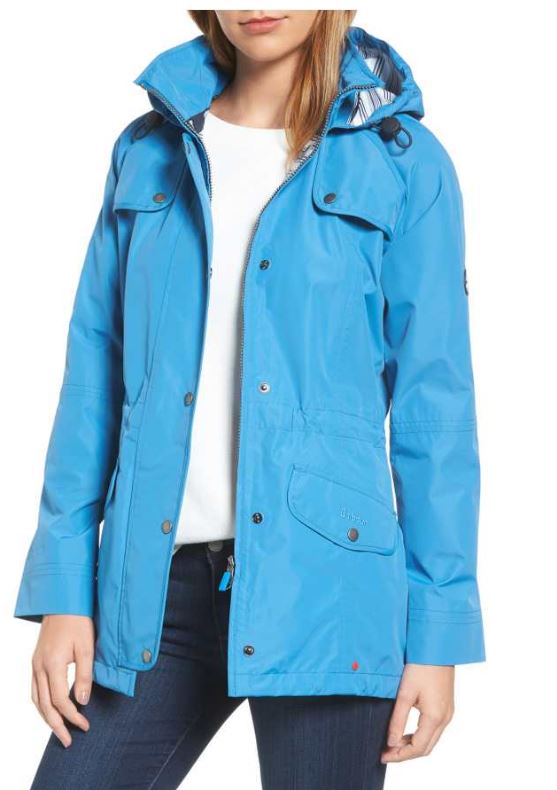 You may remember from my previous post, I had originally wanted the Trevose jacket above in yellow, but it was sold out everywhere. I've always had a hankering for a yellow raincoat. I finally found it on sale 20% off and ordered it yesterday.
Yellow isn't always the best color for me. I'll see how it looks with different shirts sweaters underneath and if I don't absolutely LOVE it, it will be going back. I'm hoping it's a bold/dark enough yellow that it will work.
If you've been searching for this coat in yellow, which seems to be sold out almost everywhere, check out Country Club Prep. I'm not sure if the code, INDEPENDENCE, still works for 20% off. If it doesn't, give them a call and tell them you read about their recent 20% discount at BNOTP and ask if they will honor it. They don't know me from Adam's house cat, but maybe they will honor that discount since I think they are a smaller, privately owned company. I noticed they are starting to sell out of some sizes now, not surprised since they are the only folks who appear to have it available, at least that I could find.
Update: The jacket arrived just after I published this post, and it's perfect! The color is more of a rich gold, not pastel at all. I can't believe they got it to me in just one day! Talk about amazing customer service! Wow!
A Picture Won Me Over
I get in so much trouble when I start on a hunt for something online! I was minding my own business looking for a replacement coat for the blue Barbour jacket that was too small, when I saw this photo below. I don't know what it is about this photo but I instantly loved the coat she was wearing! It's amazing how a photo/scene can sell a product!
The only problem was, the site where I saw the photo (which I think was also Country Club Prep) didn't have a coat like it available. So you know I had to solve the mystery and find out if it was still available! I was pretty sure it was a Barbour coat since it was on a site that sold Barbour coats. Plus, it just looked like a coat Barbour would make.
In my searching I came across this photo advertising a red Barbour coat. Hey, same dog, same boots! Yup, it had to be a Barbour coat!
It is! It's the Barbour Gustnado Weather Comfort Jacket in a color called, "mist." It was sold out in the mist color everywhere, so I finally had to admit defeat that night and go on to bed.
The next morning I awoke, and of course the first thing of my mind was that coat. lol Do you do that, get something in your head and can't shake it! I will not be defeated by a coat! Ha!
I love the lining inside. It's Barbour's "summer" tartan lining, a lighter color than the one they use in their fall-winter coats.
I like that it has a removable hood that snaps on and off.
After additional searching, I finally found a shop in Ohio called Geiger's that had two "mist" coats left: one in size 8 and one in size 12. I ordered it, then followed up by calling the store to make sure the order went through. After all, I'm pretty sure it's the last one in my size in the entire world! lol
I spoke with the owner, Gordon, who was incredibly nice. He assured me they had gotten my order and had already verified they had the coat in stock ready to ship. Yay! It should be on its way to me now. I just checked and it appears the size 12 is still available here: Gustnado Jacket.
If you would prefer it in red (which I think is beautiful!) you'll find it here: Red Gustnado Jacket. It's on sale, plus you get an additional 25% off with the code FINALSALE25. Awesome deal! I also found it in a pretty olive-green here: Olive Green Gustnado Jacket. I love this coat! Now I want a red one, too! Ha!
A New Bag for Travel
The other item I purchased this weekend for my upcoming travel is this large Frye tote. I love its rugged good looks! It can be carried as a shoulder tote or by hand.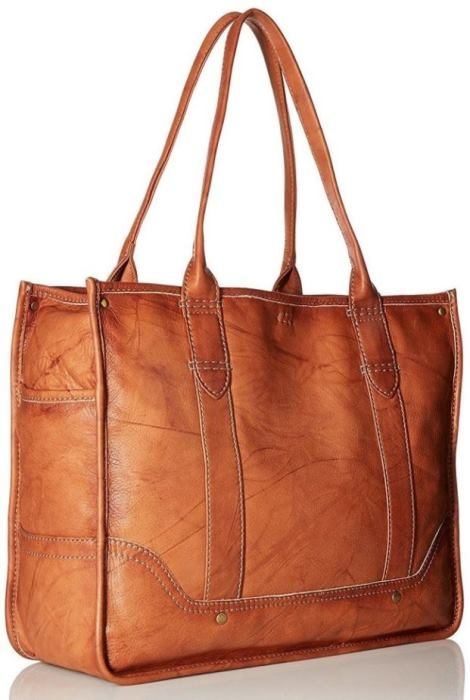 On all my other travels, I've always taken my laptop in this adorable rolling tote. I get so compliments on this bag every single time I use it on a trip, even from total strangers in the airport. I bought it so I wouldn't have to carry my heavy laptop through the airport and could just roll it instead. It's always been my carry-on bag when I traveled. You'll find it available here: Rolling Tote.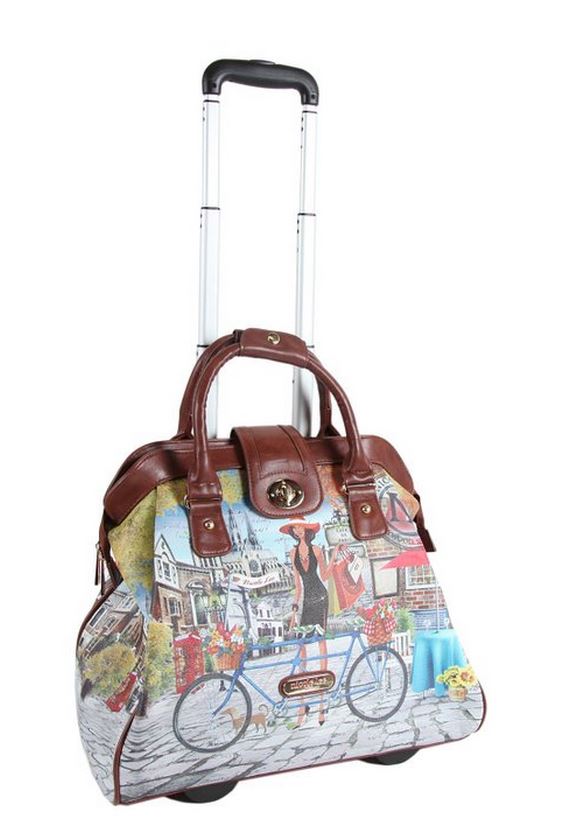 But since I may not be able to carry my laptop to Ireland, I am thinking of using this bag, instead. I won't have to worry with putting it in the overhead bin, will just keep it with me under the seat.
Here's how the inside looks. I like the pinstripe lining and the extra pockets with the zipper pocket.
I purchased this bag on sale here: Frye Tote. It's actually available for a slightly better price here: Frye Tote. You'll find it in yellow and dark walnut at that link, as well.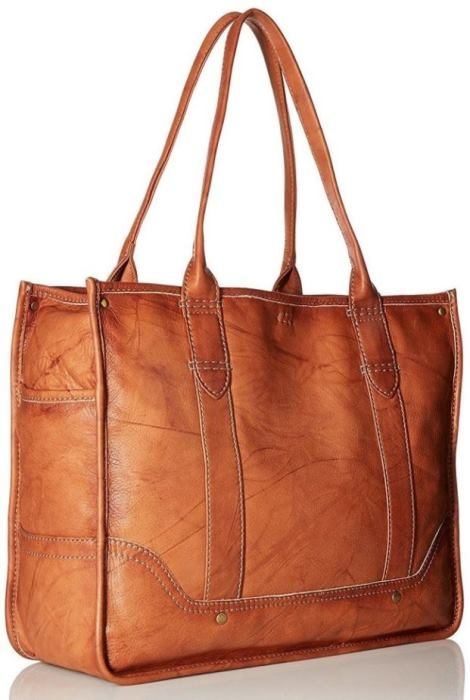 I just discovered it in Black and Red here: Frye Tote. Ohhh, I do like the black! Ummm, tempted to order the black, then choose between the two.
The other item I purchased a few days ago is some new patio furniture. If I can get it put together this weekend, I'll share it on Monday. It's looking like it may rain, so that may not happen.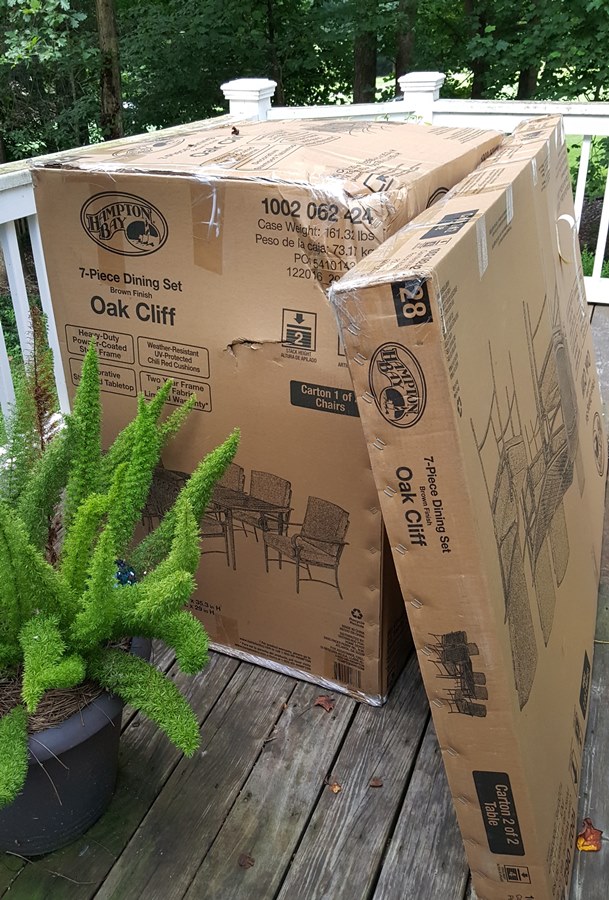 It's supposed to look like this when together. I caught it on sale at Home Depot for $299 for the entire set, including all six chairs and cushions! It has mixed reviews online, though–something about rust coming out from inside the legs. I decided for that price, I'd take a chance. My old furniture was looking really rough!
But first, I need to clean my deck and stain it. I'm thinking about buying THIS to clean it. It has great reviews and looks easy to use.
So, that's it around here…no more birdies, some travel clothes shopping and a new dining set for the deck. What's shaking at your place? What are you working on?
Happy Weekend, dear Friends!
*If a post is sponsored or a product was provided at no charge, it will be stated in post. Some links may be affiliate links and as an Amazon Associate, I may earn from qualifying purchases. *