I have to kick off this month's Monthly Favorite's post with a surprise purchase I wasn't expecting to make. Back in the spring of last year, I ordered this adorable bamboo bag below. Originally, I thought this bag design was inspired by the Cult Gaia bag that's been so popular the last few years but then I learned these bamboo arc bags have been around for many, many years. I guess Cult Gaia just brought them back to life and popularity again after a long hiatus.
I loved carrying this bag last summer. It drew so many compliments every single time I wore it. One big advantage it has over the famous Cult Gaia bag is that it comes with a pretty insert that offers privacy for the items carried inside. The insert also keeps items like keys, pens, etc…from poking through the little spaces.
Recently, I discovered another version of this bag, again at a price drastically less than the popular Cult Gaia version. It also included the insert but there were two new changes that caught my eye:
1. They added beads to the bag to hide the mechanism that holds all the bamboo pieces together. I love that! The beads really add a lot to the look of the bag, too.
2. They've also offered the bag in a slightly larger size. In chatting with my daughter-in-law, Nancy, I discovered she had been thinking of buying one of the bamboo arc bags for a while. I went ahead and ordered the new style bag in both sizes so we could see them in person. Nancy loved the larger size and surprisingly, so did I! It holds so much more, yet it's not at all too big.
I love the larger size much more than I thought I would, so I ended up ordering a large one for myself, as well. I ended up keeping the smaller size, too, since they are so reasonably priced. I love having both sizes although I may find myself just using the larger size the majority of the time since it holds everything I carry with room to spare.
Here's a close up of the bag, love that bead detailing! I held up both my old bag (without the beads) and the new version in the same size and asked Charlie, my 4-year-old grandson, if he saw any difference. He immediately pointed out the beads. I was shocked that he noticed and so quickly!
If you've ever thought about buying one of the arc bamboo bags, I definitely recommend this one. I really like the privacy the insert offers. You'll find this one with the pretty bead detailing in two sizes here: Arc Bamboo Bag. (Click the drop-down arrow to see both sizes available at that link.)
If you're not sure which size you would like, I recommend ordering both and returning the one you don't need since returns are free. If I had to choose only one, I would definitely go with the larger size because it holds a lot more and doesn't feel too large at all. It makes a great statement/accent piece–just love it!
Update: A couple of people asked to see a size comparison between the Small and Large Arc bag. Here are mine (Small and Large) side by side with an object in front of them for size comparison.
I measured my two bags and here's what they measure:
Small Arc Bag: 11-1/8″ wide, 3-1/4″ deep, 9-1/4″ tall
Large Arc Bag: 12-3/4″ wide, 4″ deep, 11-1/2 tall
Standard mouse in front…
Rotating pencil caddy in front…hope this helps with size comparison. You'll find measurements for each bag and a photo of a woman holding what I think is the Large Arc bag here: Arc Bag.
If I had to choose between the two, I would probably go with the Large because it holds a lot. However, if you only carry a compact wallet, some lipstick, your phone and a few other small items, the small Arc bag should be fine. But if you like to carry a fair amount with you, I would go with the Large Arc bag.
The Shorty PJs I purchased last month have to make this favorites post since I've enjoyed wearing them every single night since they arrived. I ordered two pairs in this bird/laurel design.
Because I've enjoyed them so much, I recently ordered another pair in this lavender/floral pattern. They are so comfortable for sleeping; I'm never going back to gowns again! You'll find these here: Shorty PJs.
Love the flatware organizer I purchased last month. It's designed to fit any size drawer, so I no longer have that useless weird gap down the side of the drawer. Now I can fully use the entire width of the drawer! You'll find this organizer here: Flatware Organizer.
I upgraded my old, everyday flatware that was missing a few teaspoons and salad forks to this pretty service for 12. The price was way too good to pass up and I love that it includes 12 place settings! You'll find this set in two styles–the style below and one with gold accents here: Mikasa Flatware for 12.
Jill, a lovely BNOTP reader, recently left a comment sharing this very reasonably priced, 90-piece, stainless flatware set with a beautiful shell design. It includes an additional 12 teaspoons and 12 salad forks, so no washing forks and spoons when it's time to serve dessert. You'll find it available here: Shell Flatware.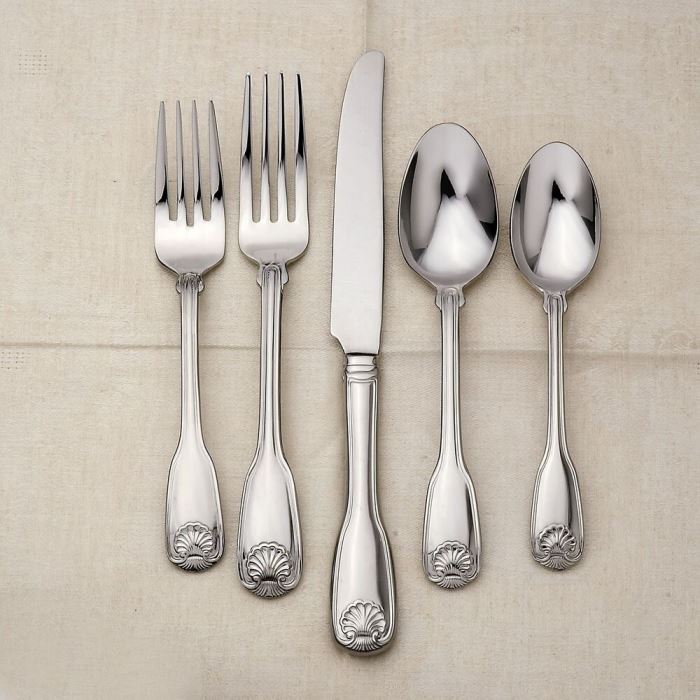 Had to include my new showerhead in this month's favorites post! I've so enjoyed it each time I've showered and it was super easy to install. If you buy this shower head, be sure to read the instructions carefully. They offer small details that make the installation fast and easy. I love it when the instructions are so well-written! You'll find this showerhead here: Rainfall Showerhead.
I've also enjoyed the little shelf I purchased to hold all the stuff I use when I shower. So much better than sticking it in the corners of the tub or on top of the towel rack at the back of the shower, hoping it won't fall off. The shelf doesn't require any screws and has held beautifully! You'll find this cute shelf here: Shower Organizer.
I just purchased a new pair of my favorite summer sandals that I so often rave about. I couldn't resist this new color in pink, burgundy, and gray!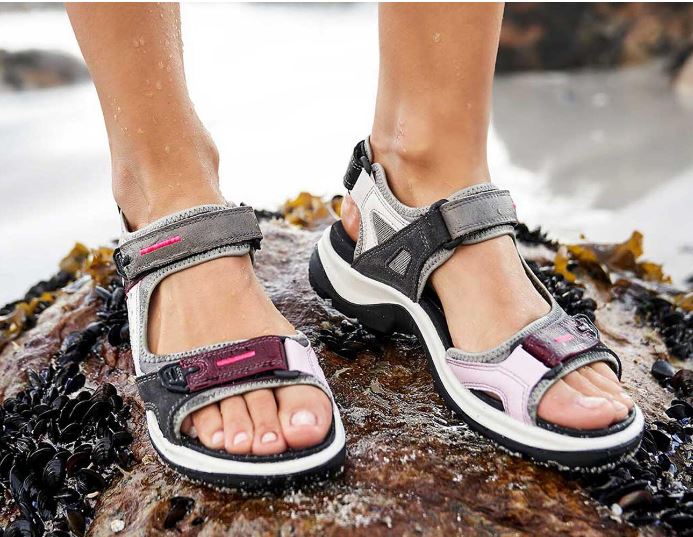 You'll find this super comfortable sandal here: My Favorite Summer Sandal!
Had to include this miracle cleaner in this month's favorites post. You may remember from a recent post, it saved a small, white chest in my bathroom from ruin after I accidentally got droplets of hair color on it!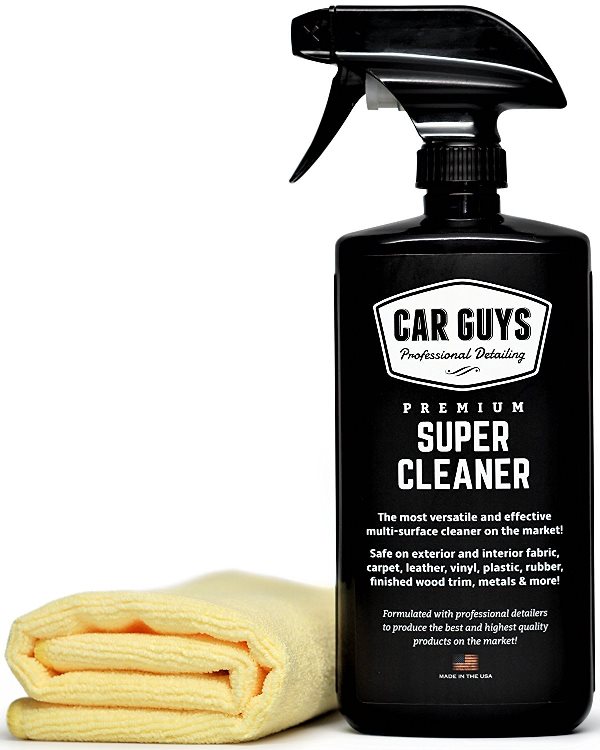 After I wrote that post HERE, a few days later I received this comment from J on that post:
Comments like that make my day! J, thanks so much for sharing your experience with this Super Cleaner. I hope they never stop making it because it's truly the best cleaner I've ever used. I use it to clean so many things in both my home and out on the porch, even denim transfer off my car's leather seats! You'll find this cleaner available here: Super Cleaner.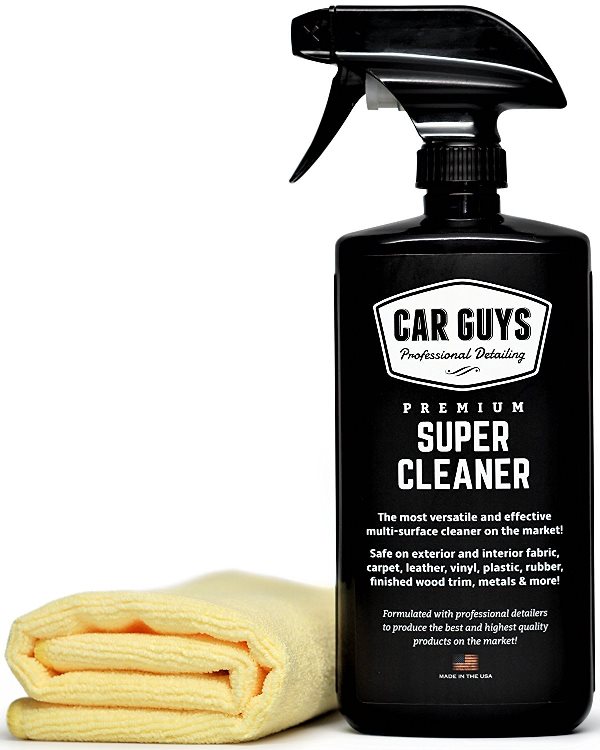 Had to include the stars I added to my bedroom ceiling in this month's Favorites Post. Love them so much! They make bedtime a completely magical experience!
You'll find all the links to the different types of domed stars (and the moon) I used to create this magical, starry effect listed at the end of this previous post: Add Stars to Your Bedroom Ceiling.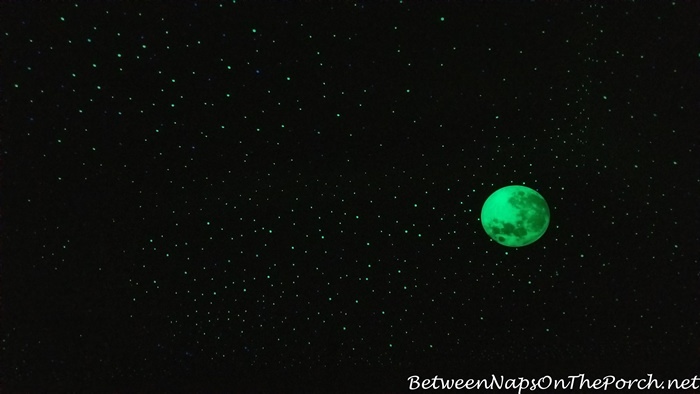 See you tomorrow for Tablescape Thursday!
*If a post is sponsored or a product was provided at no charge, it will be stated in post. Some links may be affiliate links and as an Amazon Associate, I may earn from qualifying purchases. *