Working on a table setting for tomorrow's Tablescape Thursday, but thought I'd pop in with a few goodies and ideas I've been wanting to share ever since I arrived back home. One of the first things I needed to do upon my return was head to the grocery store to stock up on a few things. If you've been reading BNOTP for a bit, you may know I'm not the biggest fan of hot coffee, but I do love iced coffee, especially when the weather turns warmer.
On a whim, I decided to try this Land-O-Lakes Lactose-Free Half and Half since regular milk and my tummy do not get along. I prefer my coffee unsweetened but do love it with a little milk. I spotted the non-dairy Coconut Milk whipped topping nearby and decided to give it a try, too.
Oh. My. Gosh! This combo is so good! It feels so indulgent, like a wonderful specialty drink from the corner coffee shop. Amazingly, as delicious as it looks and tastes, it's not very many calories. The iced coffee (Stoks) is unsweetened, so zero calories there and 2 tablespoons of the half and half is only 40 calories. The Reddiwip whipped topping is only 10 calories for two tablespoons. So, the whole drink is only around 50 calories but tastes sooo indulgent! I feel very fancy drinking my iced coffee right now as I type this. 😉
Anyway, just had to share this concoction because it is delish and makes me feel just a tiny bit spoiled! lol
When I visited Italy several years ago, it rained almost the entire time I was there. Literally. The entire time! Arggg. I still took pictures though almost all included gloomy skies.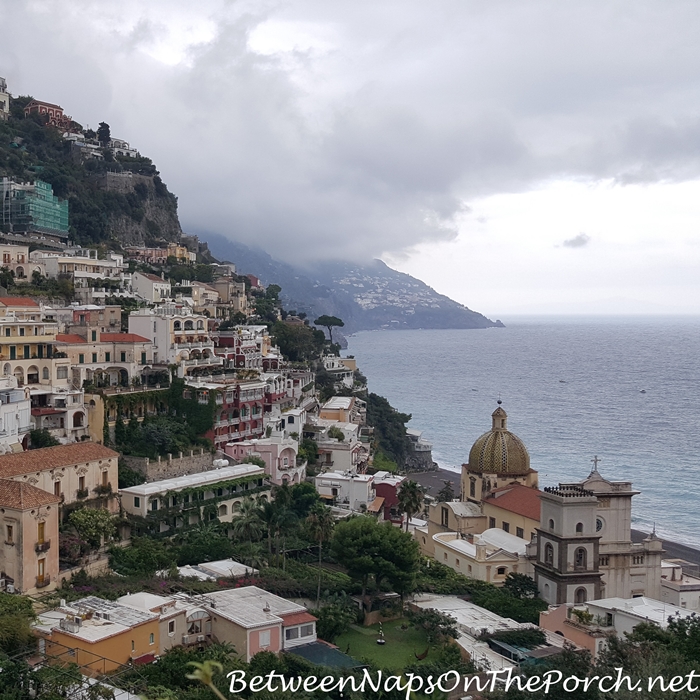 I was so excited to find this puzzle a few days ago. It's almost the exact same view I captured in my cloudy-sky photo, only it pictures a gorgeous sunset. I couldn't believe it when I saw it's actually in stock! Puzzles have all been completely sold out the last few months since so many folks have been stuck at home and buying them all up.
Not sure how many they have, but as I type this, there's at least one of these available here: Positano Puzzle.
Here's one more that's currently available, you'll find it here: Space, Planets Puzzle. It feels very timely with the recent Space X launch back in May.
Puzzles are still pretty scarce right now and they will probably remain that way for a while, but here's one more I found that appears to be in stock. I love this view! You'll find this one here: available here: Puzzle of Dreamy Positano.
Once you complete your puzzle, if you can't bear to tear it apart, I found a super-easy way to preserve them for framing or display.
I love this method because it doesn't involve using messy, sticky glue that distorts the surface of the puzzle. You'll find my fast/easy tutorial on how I preserve puzzles I wish to keep here: How to Save or Frame a Jigsaw Puzzle Without Using Messy Glue.
Changing gears, you may remember I purchased a pretty floor lamp for my workspace while I was away visiting with my son, dil, and grandchildren.
I liked it so much, I ended up buying a second one to use back home. I knew right where I wanted to place it and couldn't wait to see how it looked!
I had been hoping to find a floor lamp for this corner of my bedroom for a while now. This lamp is a bit more modern/transitional than the other floor lamps I have in my home, but I love how it looks here in this corner. It will provide some much-needed light in this corner when I settle down in the evening for a bit of reading before bedtime.
If you're in need of a pretty, sparkly floor lamp, you'll find this one available here: Mercury Glass Floor Lamp.
Okay, I'm off to play with the dishes! See you tomorrow for Tablescape Thursday!
*If a post is sponsored or a product was provided at no charge, it will be stated in post. Some links may be affiliate links and as an Amazon Associate, I may earn from qualifying purchases. *