Thanks so much to Gail for letting me know about a sale I would have surely missed. Gail knows how much I love Fair Isle sweaters, especially the beautiful ones L.L. Bean carries every winter. This one below was one I purchased a few fall seasons back and I still wear it often during the winter months. It' sooo warm!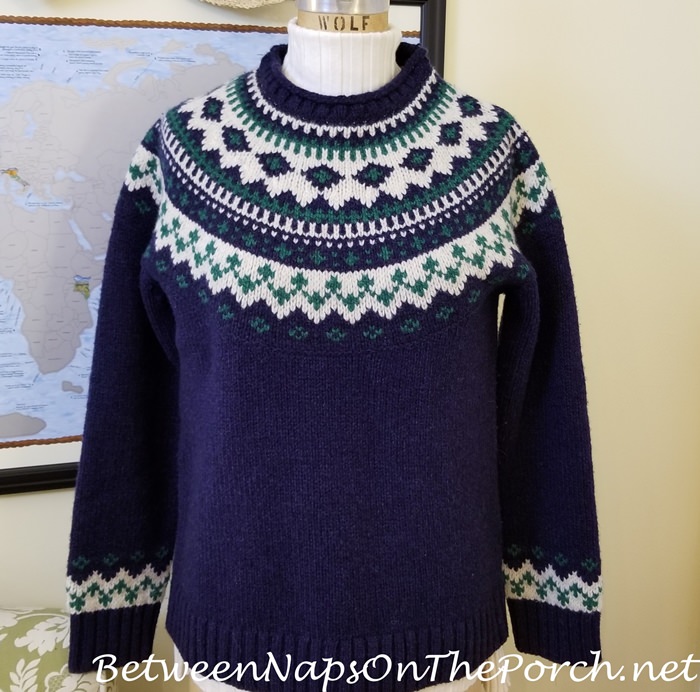 They have some really pretty ones on sale right now. This one has been a popular seller and is almost sold out.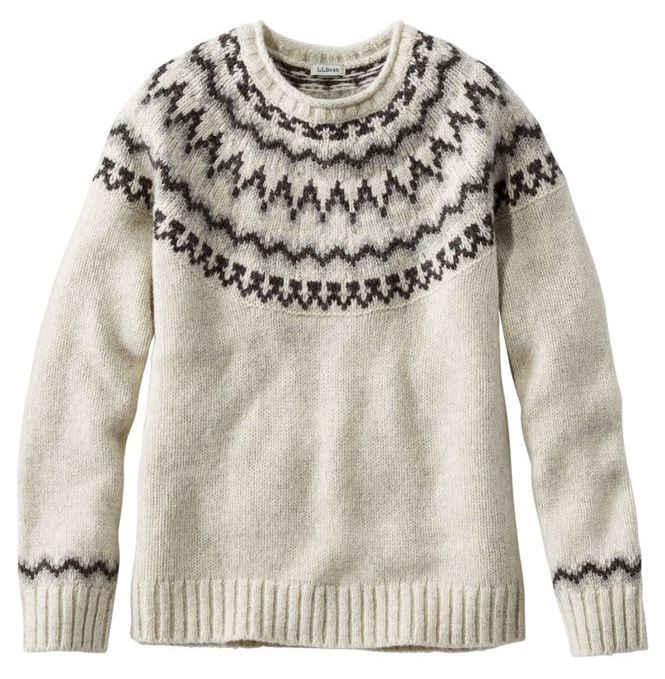 You'll find it on sale here: Bean Classic Fair Isle Sweater.
This is the one I have my eye on. I love, love, love these warm caramel colors for autumn. This one is currently on sale here: Bean Classic Fair Isle Sweater.
This one is sooo pretty! I may have to break down and get more than just one. This one is on sale here: Bean Classic Fair Isle Sweater.
They have quite a few on sale that have the mock turtleneck design, which I also really like. Love the colors in this one that's on sale here: Beautiful Cotton Fair Isle Sweater.
Another gorgeous one with the mock turtleneck that's also on sale. You'll find it here: Navy Fair Isle Sweater. You'll find everything that's included in this end-of-summer and pre-fall sale here: End-of-Summer and Pre-Fall Sale.
I have started my Christmas shopping and purchased two sweaters for my son. I love the Henley style and I think he will love it, too. It's on sale here: Men's Fair Isle Henley Sweater.
This was the other one I bought my son for Christmas. It's currently on sale here: Men's Fair Isle Henley Sweater.
I had a hard time choosing for him because I love so many of the men's sweaters that are currently on sale. This is another beautiful one, you'll find it on sale here: Men's Fair Isle Henley Sweater.
I was also tempted by this one, I love the autumn colors! It's on sale here: Men's Organic Cotton Sweater.
Fortnum & Mason, Piccadilly London
Completely changing gears here, I have fallen down another wonderful rabbit hole! For many years I've been intrigued by the British Store, Fortnum & Mason. They were originally founded in 1707 and hold two Royal Warrants, one from HM The Queen (Grocers & Provision Merchants) and the other one is from HRH The Prince of Wales (Tea Merchants and Grocers.) Just look at how they decorate their beautiful historic Piccadilly store at Christmastime! I snagged this image from their video HERE and if you look closely, you can see that they turn the store into a big Advent Calendar for the holiday season. I would love to visit in person one day!
As I was perusing their website a few weeks ago, I fell in love with this musical biscuit tin that's made in the image of F & M itself. This adorable tin can be found here: Musical Biscuit Tin, Piccadilly Selection. I would have ordered it right then, but I wanted to wait and order a few more things along with it–maybe even put together one of their famous "Hampers."
They are also known for their wonderful "hampers" which are all handmade from willow and are considered quite collectible. You'll often see them displayed or used in creative ways online and in decor magazines. Some Fortnum & Mason products are available at Williams Sonoma here: Fortnum & Mason Hampers.
They have hampers available that are already filled for gift giving or a customer can create their own bespoke hamper. I just sent this fun Birthday Hamper to a friend for her birthday and she loved it. The aqua-blue biscuit tin is a music box and plays Happy Birthday. 🙂 Unfortunately, the teacakes that were part of this hamper somehow got left out, probably because they are currently showing unavailable on their website. F&M is sending her another one of their yummy offerings to make up for it. If you know someone who has a birthday coming up, you'll find this Birthday Hamper available here: The Birthday Hamper.
The musical biscuit tin, (filled with biscuits) can be purchased separately here: Musical Birthday Biscuit Tin.
The Birthday Hamper also includes this adorable little cake, chocolate, and a pretty tin of their Royal Blend tea.
The Birthday Gift Hamper goodies come in one of Fortnum and Mason's "Medium" size hampers. I noticed this Piccadilly Hamper collection says that the items come in their "small" hamper but I think that's an error because their small hamper is supposed to hold 1-4 items…and this Piccadilly Hamper comes with 7 items! I bet it comes in a Medium" hamper and that definitely looks like a Medium Hamper in the photo. Anyway, this hamper includes the adorable musical tin that looks like the F & M building. You can read more about it here: The Piccadilly Hamper.
Here's a link to view all their musical biscuit tins: Musical Biscuit Tins. Some are showing temporarily unavailable, but with the holiday season just around the corner, I'm sure they will all be back in stock soon.
If you're thinking ahead to Christmas or know someone who loves tea, I love the design of this Tea Hamper! It's available here: The Tea Basket Hamper. Some Fortnum & Mason products are available at Williams Sonoma here: Fortnum & Mason Hampers.
You'll find all the Fortnum and Mason Hampers available for shipment to the United States and Canada here: Hampers & Gift Baskets for USA & Canada Delivery. For everything that's available for Worldwide Delivery, check out this page: Hampers for Worldwide Delivery. You can create your own hamper here: Fortnum & Mason Create Your Hamper. That's what I ended up doing in the end because I decided to order their "Large" size hamper. I'll take some photos to share how it looks once it arrives. I have a feeling the hamper will ultimately end up being used in the upstairs living room.
I am pretty sure I'm going to order one of their beautiful Advent Calendars this year. They always have amazing ones each year. The one I'll probably go with is this musical one below that's designed to look like their Piccadilly shoppe. I saw it demonstrated in a video last year and it plays several different songs, not just one. I'm so smitten with the exterior of the Fortnum & Mason building–I just love it, especially at Christmastime! This Advent Calendar is available here: F & M Advent Calendar. The non-musical version of this Advent Calendar can be found here: F & M Advent Calendar, Non-Musical.
They also have an Advent Calendar in the shape of a beautiful Christmas tree. I don't believe it's a musical calendar. You'll find this one available here: Christmas Tree Advent Calendar.
Switching gears again…
I keep meaning to mention that KitchenAid mixers are currently on sale, $100 off. You'll find the sale here: KitchenAid Mixers. I love the yellow one and the teal/aqua blue mixer! I need a beach cottage so I have a reason to buy an aqua mixer. Ha!
One more sale that's worth checking out, Talbots has a great sale going on for all their new arrivals…and the fall lineup is looking really nice! I love this jacket! You'll find the sale here: Talbots 25% off New Fall Arrivals.
Can't wait to share the bespoke hamper I put together once it arrives. It should be here in around 7-10 days. Hope you have a wonderful weekend!
*If a post is sponsored or a product was provided at no charge, it will be stated in post. Some links may be affiliate links and as an Amazon Associate, I may earn from qualifying purchases. *