Several years ago, I had this fabulous, extra-large mouse pad on my desk. I love a super large mousepad because you never run your mouse off the pad, plus, it provides extra cushion for the arms and wrists.
When I shared this photo in a recent post, a BNOTP reader asked about that mousepad. I chose one with a large world map design back then because I had just started traveling a good bit.
That mousepad is currently on the small built-in desk in my dressing room where I sometimes use my laptop. You can just see it there on the left side of the photo.
When I was staying in Ohio for several months last year, helping with my grandsons who were being homeschooled since all the schools were closed, I set up a mini-office there in the guest room. For that desk, I went with this pretty, soft-green, desk pad. I loved the color and how it looked. It was comfortable and functioned quite well, although occasionally the mouse seemed to drag a bit.
My daughter-in-law has a pink one on her desk and she loves it!
Sooo cute! Desk pads like this one feel good underneath the arms and the wrist. In addition to adding a nice big surface for the mouse, they are just more comfortable than resting your arms against a hard desk. You'll find this pink desk pad that's available in several colors here: Desk and Mouse Pad.
When I returned back home in January, I ordered a second green desk pad for my office here. I loved how it looked but after a while, I noticed again my mouse seemed to drag a bit while using it, almost like the surface was too soft. It may be because I keep my home fairly warm in the winter and keep the A/C pushed up at a pretty high temp in the summer since I'm so cold-natured. So maybe the vinyl or whatever it's made of doesn't like our humidity here. Not sure. Anyway, I ended up ordering a semi-large mousepad to go on top. That didn't fit very well on my desk so eventually, I removed the green desk pad and I've just been using the black mouse pad seen below.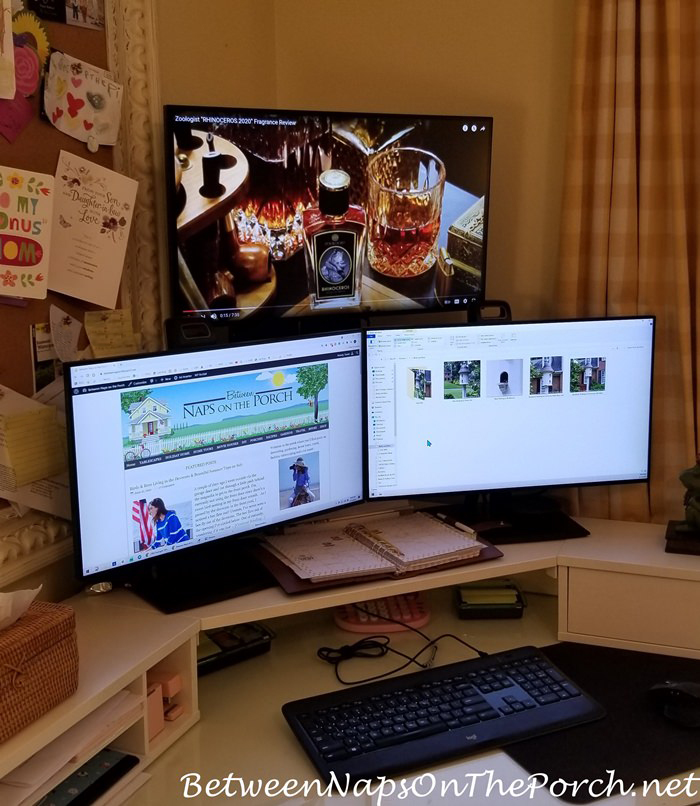 After I got the question recently about my super large "map" themed mousepad that I had been using in the past, I realized I missed having that one on my desk. It had worked flawlessly, the mouse never dragged on it, and it provided so much soft cushioning for my arms. I loved it! So I went online a few days ago and found it again. I looked at all the styles that were available and fell in love with this forest design.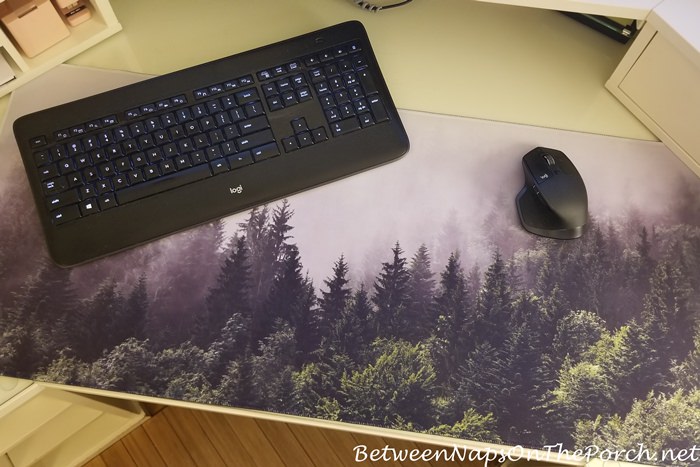 You can see how nice and big it is. I shoved the keyboard out of the way so you could see the design.
If you could use a large, comfortable, high-performing mousepad on your desk, you'll find this one in many different designs here: Super Large Desk/Mousepad. There are so many beautiful designs, I had a hard time choosing. I do very much love this forest design–it's so peaceful.
I'm headed out to do a little antiquing. Will share what I find in an upcoming post. See you tomorrow for Tablescape Thursday!
*If a post is sponsored or a product was provided at no charge, it will be stated in post. Some links may be affiliate links and as an Amazon Associate, I may earn from qualifying purchases. *