Welcome to the 416th Tablescape Thursday!
We're still having beautiful weather in the 80's each day, but the table I set for this week has more of an autumn feel.
Have you been wondering what's happened to the seat cushions I normally have on the chairs around the table? I still have them, I've just been removing them for photos each week if the colors in the cushions detract from the tablescape. You can just barely see one peeking out on the other side of the table where I didn't remove them. 🙂
This week's table was inspired by another beautiful David Carter Brown dish pattern, one I just discovered a few months ago. I've never met a DCB design that I didn't love. He has created so many beautiful scenes that have been turned into enchanting dishware. I wonder if he creates them for the china companies like Sakura or if they adapt the lovely scenes he creates to use on their dishware? Would love to know more about that since his art is so wonderful!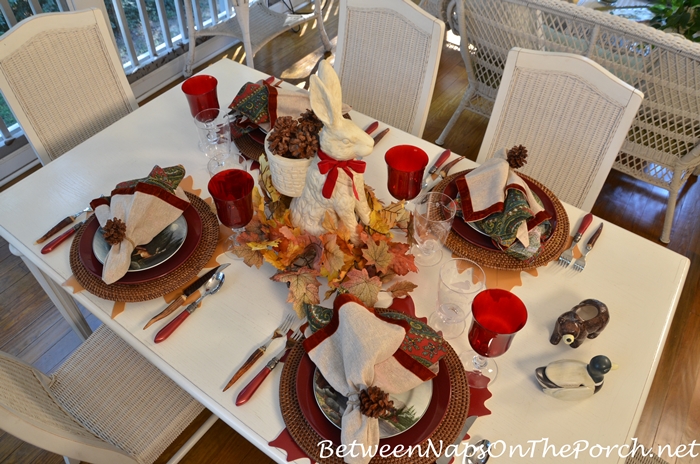 Mr. Bunny wanted to help with this week's centerpiece.
Last time we saw him, he was carrying eggs for our spring Easter tablescape. (Tablescape can be viewed here: Spring Table with Spode Emma's Garland) One day I'm going to create a post and show all the roles he's played in tablescapes over the years. 🙂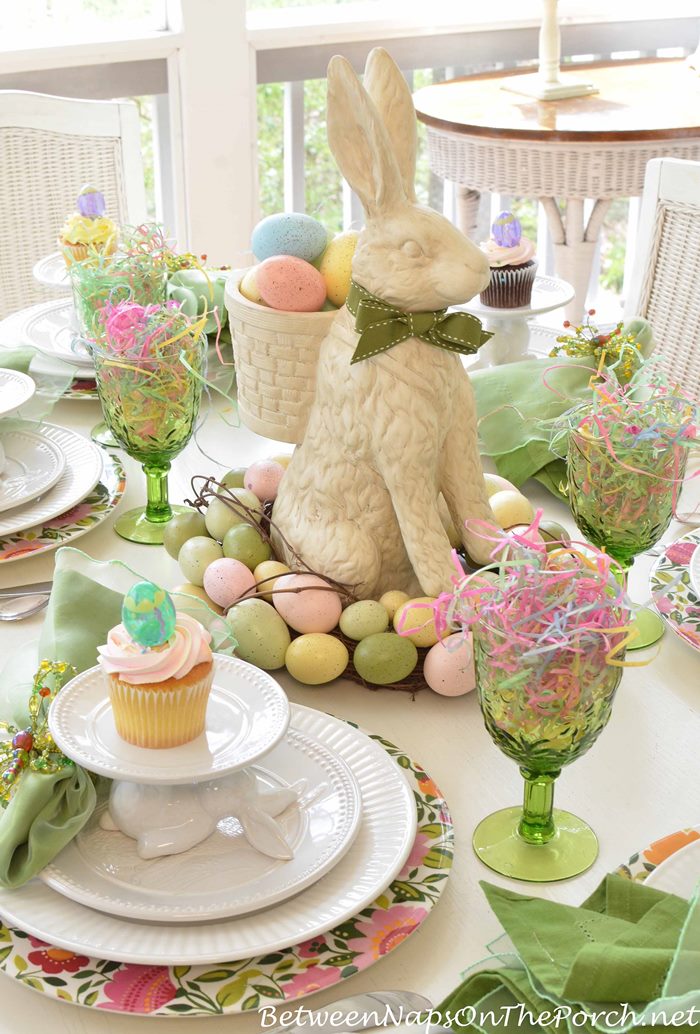 Ummm, what does he have in his basket this time?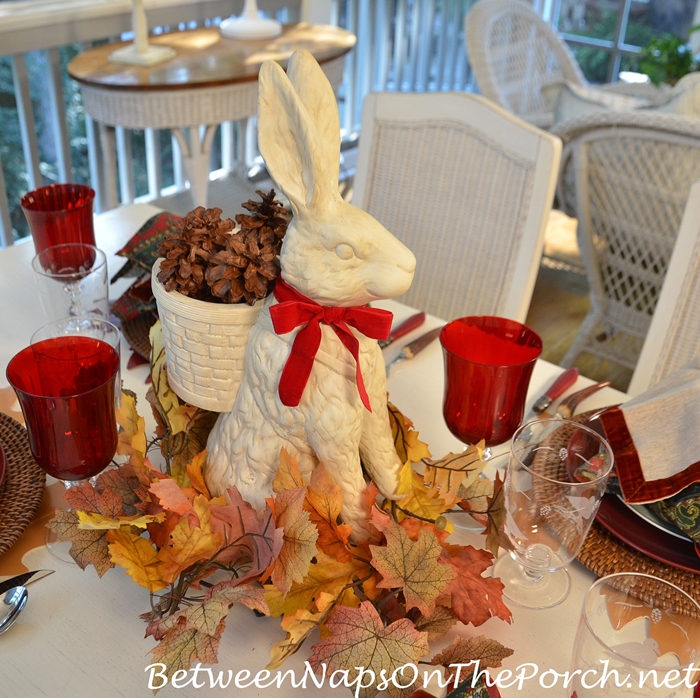 Oh, it looks like pine cones he's gathered from the Northwoods Forest!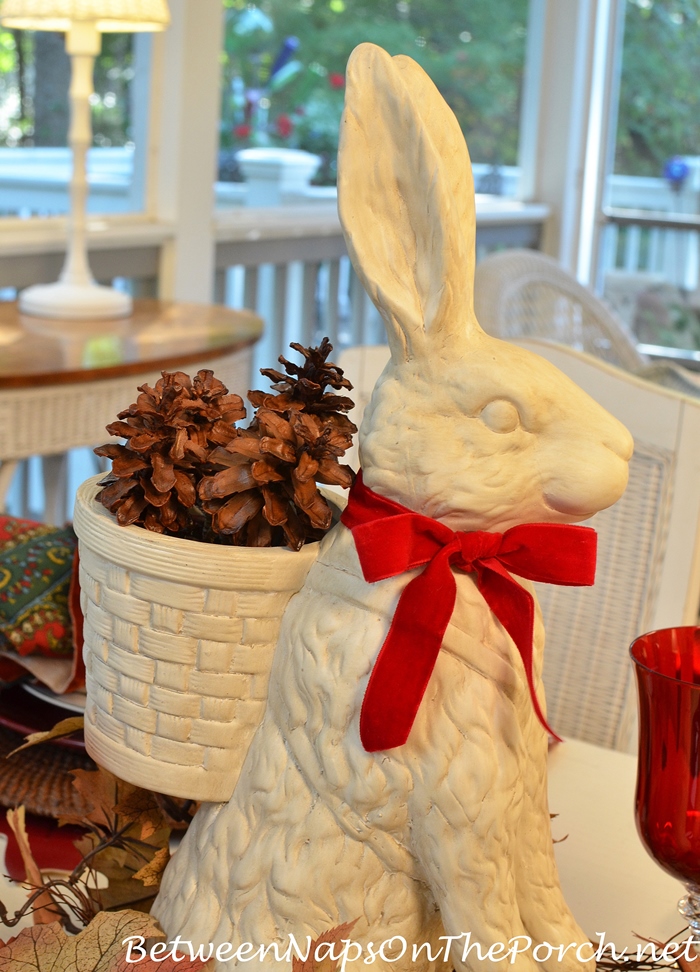 We'll take a few from his basket to use as our napkin rings for this week's table. (You'll find a tutorial for making pine cone napkin rings here: DIY Pine Cone Napkin Rings)
I found the antler flatware many years ago on eBay. It worked well for this week's woodland inspired table. Since the antler flatware only included a knife and fork, I like to mix it with other flatware when using it in a table setting. The red flatware is available HERE and you'll find a previous post where I share a lot of the flatware I use in table settings here: Where Did You Get That Flatware?
I added an extra layer to each place setting this week, red and gold leaf-shaped placemats are peeking out from under the rattan chargers. (Rattan Chargers are currently on sale and available here: Rattan Chargers.) I think the placemats came from Dollar Tree, but I've had them so many years, it's hard to remember now.
The burgundy dinner plates are from Dollar Tree, if I'm remembering correctly. The salad plates were the inspiration for this week's table. I absolutely love a woodland theme so was excited to find this delightful pattern by David Carter Brown on eBay.
Though I was thinking "autumn" when I created this table, I think this pattern would work really well for a Father's Day table, especially if it's for the guy who loves camping, hiking or fishing. It would also be cute used in a birthday table for anyone interested in those pursuits.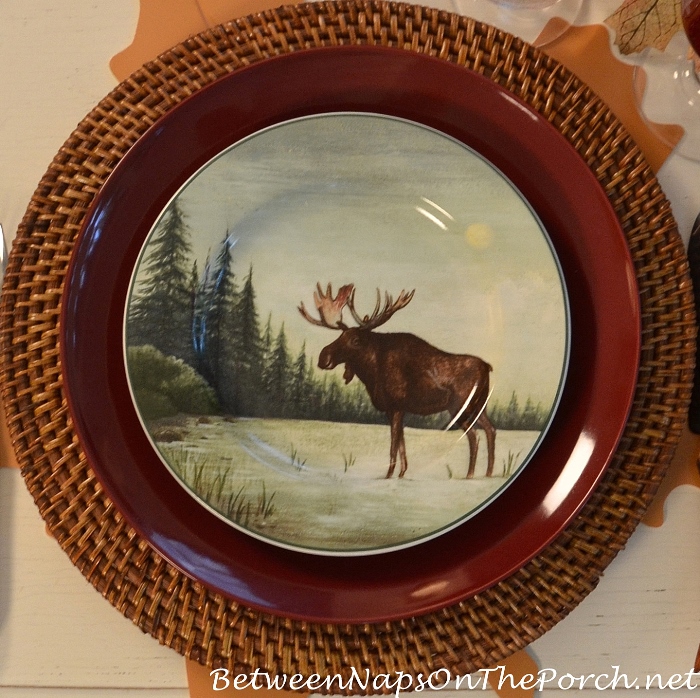 All four plates depict a different woodland scene. The pattern is called, "Northwoods." I figured that was just a cute made-up name until I Googled it last night. Turns out, Northwoods is a real place!
Wikipedia tells me that the Northwoods is a boreal forest in North America. It covers about half of Canada and part of the states of Minnesota, Maine, Montana, Wisconsin, Michigan and Vermont. You can read more about the Northwoods forest here: Northwoods Forest
This plate depicts a guy fly fishing and it looks like he's caught a big fish. You can see his tent set up on the other side of the river. I'm afraid I could never fish. I'd feel too sorry for the fish and end up throwing them all back in.
Lots of woodland animals can be found in the Northwoods Forest including deer and moose.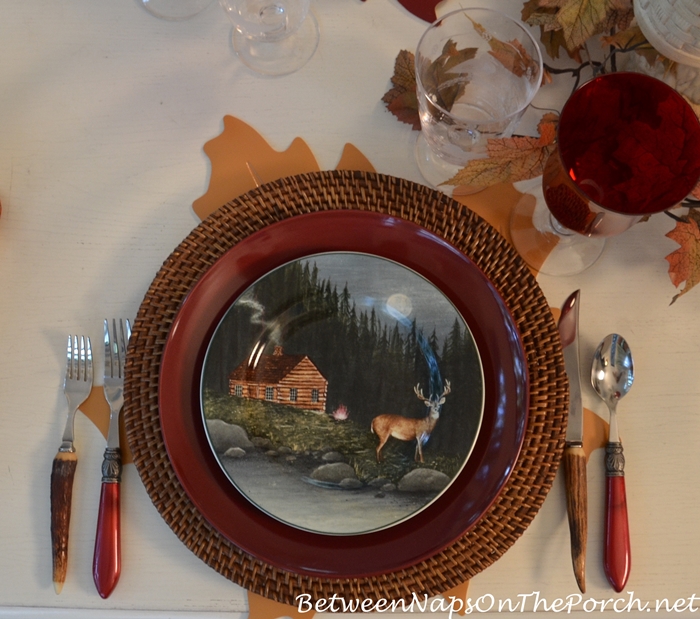 I love this nighttime scene with the log cabin, deer and the moon rising just over the trees. Do you see the little campfire?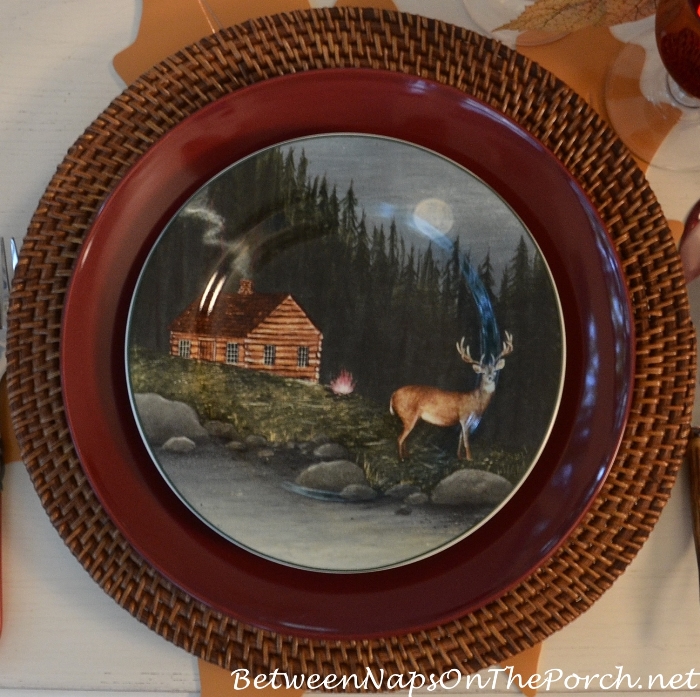 I guess they have bears in the Northwoods Forest, too!
Just love this pattern and the colors make it perfect for an autumn table.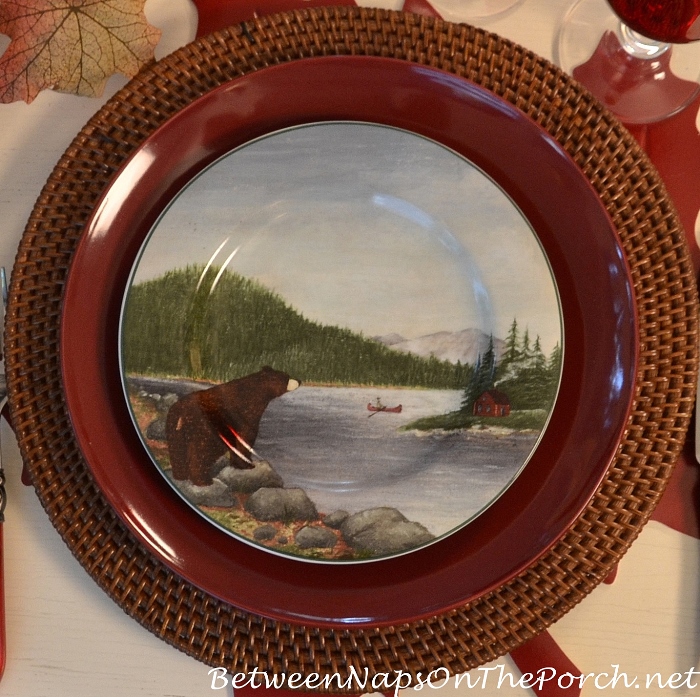 Many years ago, probably 5-6 years now, I was visiting a friend in Virginia and we went shopping in a Tuesday Morning. I saw these cute duck glasses and they were marked down to just $1.50 each. I have them in two glass styles and they depict a duck on each side with a pine cone garland surrounding the top of each glass. They were just what I needed for this week's table.
I've found over the years, if you come across a really awesome bargain and it's something you love, buy it even if you can't think of how you're going to use it right then. If you buy what you love, somehow it all comes together and works at some point.
I don't normally buy sugars and creamers for the patterns I collect, but I couldn't resist these two. They are part of the David Carter Brown Northwoods dishware line and I found them both on eBay. Mr. Bear is designed without a handle so I guess you just grab him around his chubby little middle to pour out the cream. 🙂
Hope you enjoyed this week's table here on the porch. It won't be long before all those green leaves start turning colors. Can't summer just last forever, is that too much to ask? 😉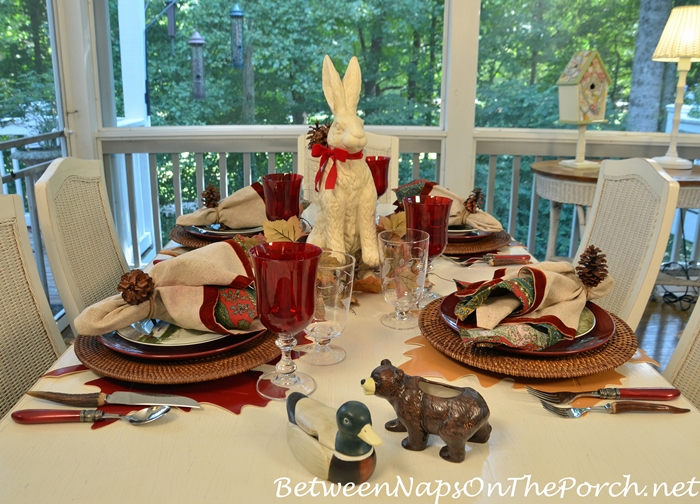 Looking forward to all the wonderful tables linked for this week's Tablescape Thursday!
Pssst: I'm still answering questions left on the previous post, so if I haven't answered your question yet, I will do that today. Thanks so much for all your lovely comments on that post. You filled my heart to overflowing with your kind words yesterday! Love you guys! ♥♥♥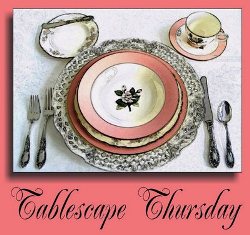 If you are participating in Tablescape Thursday, please be sure to add your permalink below, and not your general blog address.To get your permalink, click on your post name, then copy and paste the address showing in the address bar, into the "url" box when you link up. You'll need to include a link in your post back to the party to link up and participate.
That's so visitors to your blog will be able to find the party and the other Tablescape Thursday participants. Requiring a link back also prevents businesses and scammers from linking up to sell their products. (Yep, that really happens, unfortunately.)
Please, don't add your post name/blog name ALL IN CAPS…it tends to create big spaces between the rows of links.
*If a post is sponsored or a product was provided at no charge, it will be stated in post. Some links may be affiliate links and as an Amazon Associate, I may earn from qualifying purchases. *