So last night and this morning I've been working on a "Favorites" post. That was one of the posts requested in the comments on my "Questions" post earlier in the week. It's been a while since I wrote a Favorites post and I had so many things I wanted to share, I finally realized I needed to divide it up into two posts. So, this will be Part 1 and on either Monday or Tuesday, I'll share Part II.
Recently I shared some hilarious moose mugs that are replicas of the ones Clark and Eddie drank from in the funny Christmas movie, Christmas Vacation.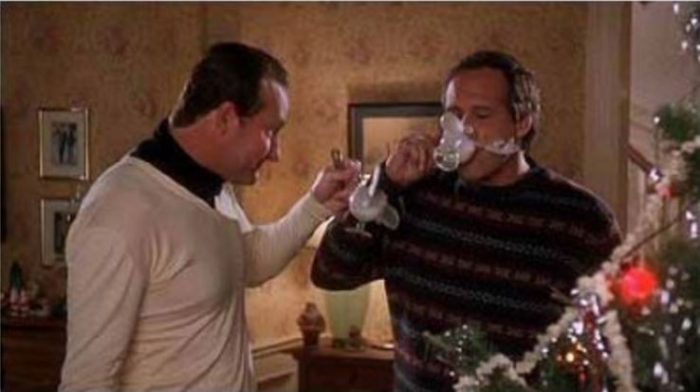 They come in a glass style here: Glass Moose Mugs
And an acrylic style seen here: Moose Mugs
I ordered 6 in the glass form: 4 for myself and 2 for my son and dil. I also ordered 2 acrylic ones for my two grandsons. Here's an example of each below. The one on the left is acrylic and the one on the right is glass. I'm not sure if we'll use them for eggnog or some other drink, but I'm sure we'll have to drink a little eggnog out of them for nostalgic reasons since that's what Clark and Eddie are drinking in the movie. 🙂
So, I have this dilemma: the acrylic size on the left comes in a bigger 8 oz size, which I really like. The glass ones (shown on the right) are only available in the 4 oz. size. If you're only drinking eggnog from them, that's probably big enough since eggnog is so rich.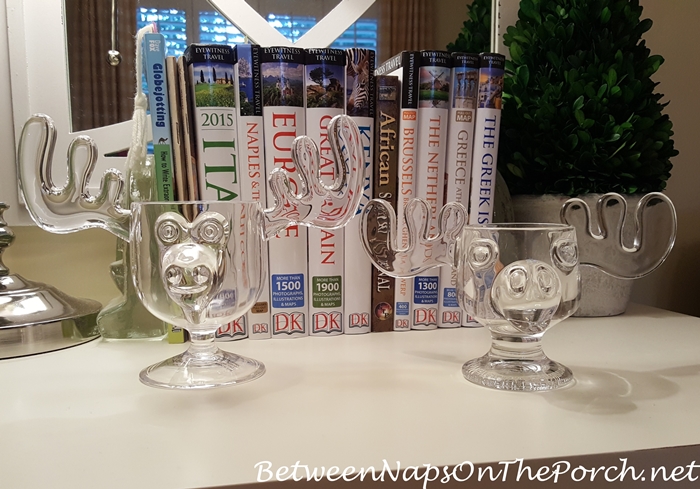 You can really see the dramatic size difference in this photo. There's a big difference between 4 ounces and 8 ounces, isn't there?
Another big difference between the glass mugs and the acrylic mugs is that the smaller, 4 oz size on the right is very heavy, you definitely wouldn't want to drop one on your foot!
The larger acrylic mug (seen on the left) is much lighter and probably more comfortable to hold, but I don't like the moose face on the acrylic as much as I do on the glass mugs. I wish they had made the moose face on the acrylic mug more like the face on the right, but they are made by two different companies. The smaller, heavier, glass version on the right (with the cuter moose face) is the "Officially Licensed National Lampoon" mug, where the larger acrylic mugs are not. The cost of each glass is very similar, so that's not really a factor.
So, should I stick with the heavy glass, 4 oz version for the adults, which will mean a lot of refills since they are so small. Or should I go with the bigger, acrylic mugs for the adults (like I'm doing for the kids) which hold a lot more and are a bit easier to hold since they've not as heavy, but don't have as cute a moose face? What would you do? I hate decisions like this, feels like there's no right answer. Drat!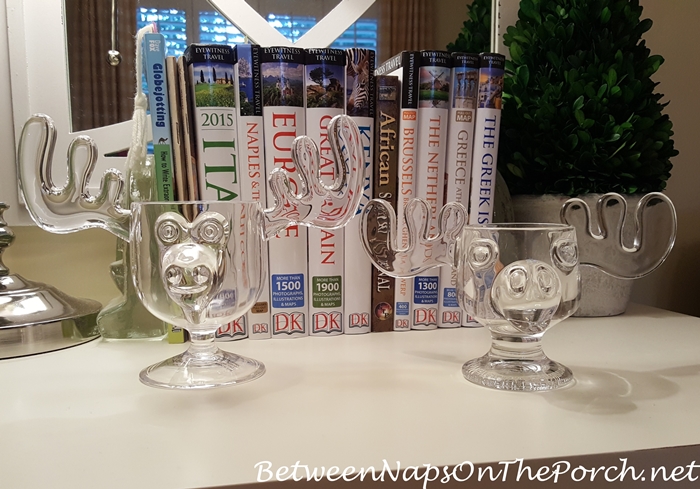 Pretty Garden Stool
I was in Home Depot recently and saw these really cute garden stools. Wouldn't they be great outdoors beside a table or lounge chair? So pretty for a small outdoor side table.
Pretty Pebbles and Gems
Sometimes when I've used pebbles in my table setting centerpieces, folks ask where I found them. (Tablescape can be viewed here: Candlelit Dinner on the Porch with DIY Candle Holders)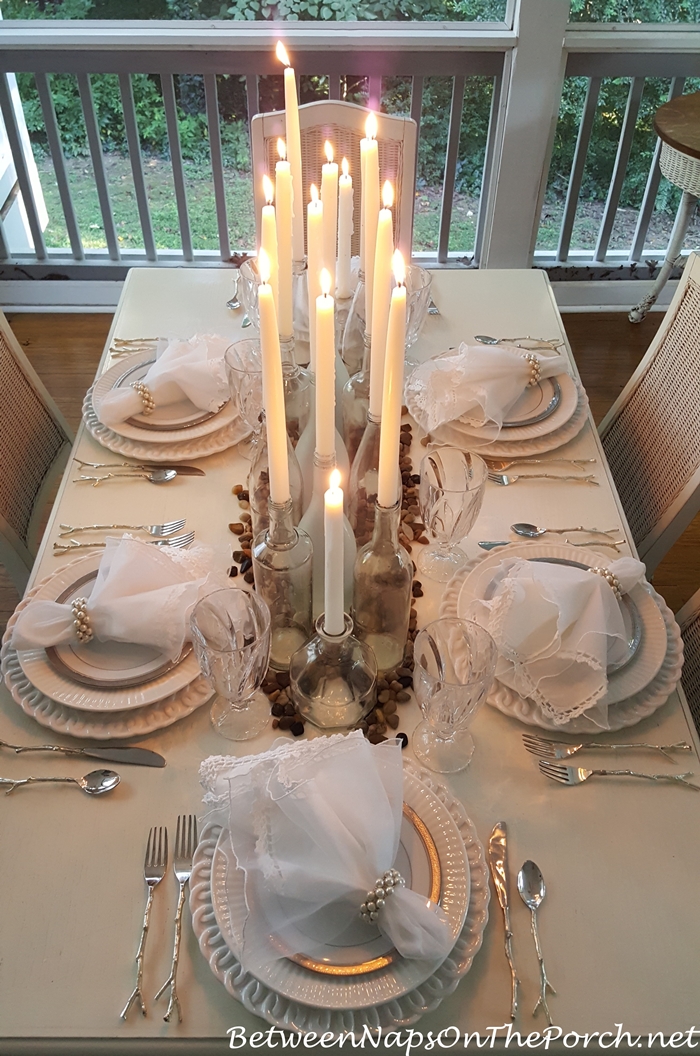 I noticed Home Depot had containers of pebbles, stones, gems, etc… in case you're looking for those for your centerpieces and such.
For the Handbag Lover
Are you a purse or handbag lover? Ever heard of a Birkin? I had never heard of one until a couple of years ago. They are made by Hermes and are apparently the "it" bag for celebrities and serious bag aficionados. I don't currently have plans to buy one because they are very, very expensive, but I love reading about them as I do all types of handbags.
A Birkin handbag is completely handmade by one artist from start to finish. I've read that a Birkin takes 20+ hours to make, depending on the size of the bag. Larger bags can take 30-40 hours to make! Consequently, new Birkin bags are not in tremendous supply. Often folks wait years and years to get a new one, if they ever get one at all.
If you were to walk into a Hermes store, you wouldn't even know they existed because they don't display them in the stores. From what I've read, there used to be a waiting list to get a new one, but supposedly Hermes did away with that.
Since Birkin handbags are so hard to come by, many folks pay several thousand dollars more to buy them on the preloved market. This is one of those rare handbags that costs more to buy used than to buy new, if it's in great condition. If you are fortunate enough to be offered one while shopping in Hermes, you will probably have to take whatever color they have in stock since they are so hard to find.
One day I came across a book called, Bringing Home the Birkin. Have you read it? It sounded really good so I ordered it. Oh my gosh, I could not put it down! I literally read it in one weekend. It's one of those stories where you can't help but root for the underdog.
So without giving away too much about the book in case you want to read it, the author shares how he accidentally cracked the code and could buy as many Birkin handbags as he could carry on his shopping excursions to Hermes stores around the world. The books feels very personal as he shares what was happening in his own life at that time, too.
It's an awesome book if you're into handbags, love travel (the author does a lot of that) or just love seeing a mere mortal take on a big company and beat them at their own game. The book is very well-written and the author has a wicked, dry sense of humor, which I always love. You'll find the book here: Bringing Home the Birkin, My Life in Hot Pursuit of the World's Most Coveted Handbag
Need a Travel Mirror?
Recently, I was watching a YouTube video where the YouTuber was raving about a mirror like this one. I just ordered it so it hasn't come yet, but I think it will be great for those times when I need some extra lighting and to get a closer view. Since it folds up, it should be great for travel, too. I purchased it here: Lighted LED Travel Mirror
Update: My mirror arrived and it was just what I needed–very pleased. The little lights down the side shine through heart-shaped cut-outs. So cute!
Have a fabulous weekend, Friends! See you on Monday for Metamorphosis Monday!
*If a post is sponsored or a product was provided at no charge, it will be stated in post. Some links may be affiliate links and as an Amazon Associate, I may earn from qualifying purchases. *