As mentioned in a previous post, I decided after much deliberation to go with another Away bag as my carry-on bag for future trips, only this time I went with the non-aluminum version since it's lighter and not prone to dings and dents. It arrived this past week and I couldn't wait to unbox it!
Here's what I found inside. The Away bag comes in a really nice storage bag that will come in handy for storing it when it's not in use. Out of the 10 colors Away makes this bag, what color do you think I chose? If you want to see all 10 colors before guessing, you can see them all here: Away Bigger Carry On Bag.
Did you guess, White? Okay, I know what you're thinking! You're thinking it's going to look a mess in no time. Right? LOL
The reason I chose white is two-fold: 1. It will always look great with whatever color tote I'm pushing along on top of it AND 2. I've read several reviews where folks have said it's easy to remove scuffs with a Magic Eraser sponge.
The Amazing Away Warranty
Away has an excellent warranty so I know I can try this color out, risk-free. Away's warranty states:
The first hundred days with your Away suitcase is a get-to-know-you period. Go ahead and test it out–live with it, travel with it, roll it down to the grocery store, whatever. If at any time in the first hundred days you feel like it's just not working out, you can return the suitcase for a full refund–no questions asked. No ifs, ands, or asterisks.
That amazing warranty definitely takes the worry out of buying one of their bags!
The built-in/removal battery for charging phones, iPads, computers, etc… was another big factor in my decision to go with another Away Carry-on bag. I used the charging feature (as did my travel companions) when I took my previous aluminum bag on a trip to Egypt. I loved how it worked and would miss not having a charging station built into my suitcase.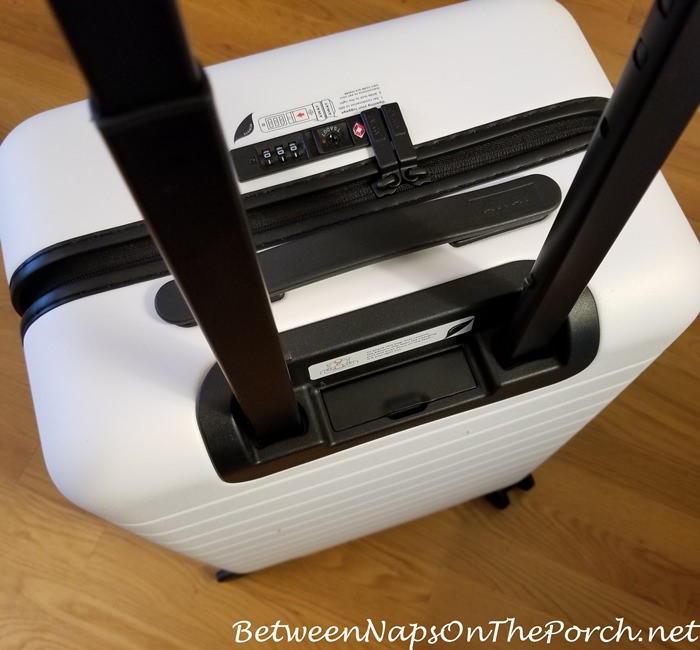 I also love that it will charge a phone 5 times before the battery has to be charged back up. Since it's removal, I'll never have any issue with security/TSA because I can easily pop it out by the push of a button, if needed. I was never asked to do that going or returning from Egypt, but it's good to have that function available, if necessary.
Inside the suitcase, I found a little goody bag. It contained a charging cable (not visible in the photo below) for charging the built-in battery and several outlet adapters to use when traveling outside the U.S.
Away also included a sponge for removing marks that may occur during travel. I haven't opened it yet, but I'm guessing it's something similar to the Magic Eraser trick I've read about so many times.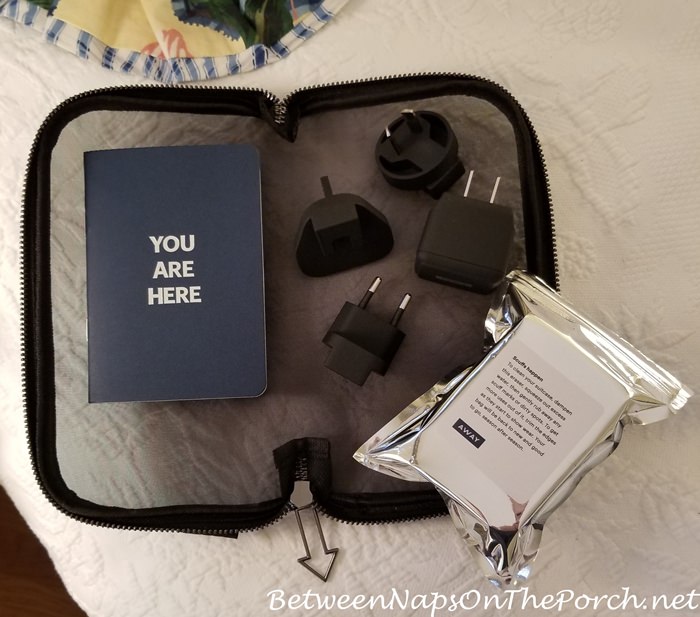 I like the TSA friendly locking mechanism. If someone ever attempts to get into my bag with the pencil trick through the zipper, they won't be able to hide their attempt since they won't be able to rezip the suitcase as they can on a regular suitcase.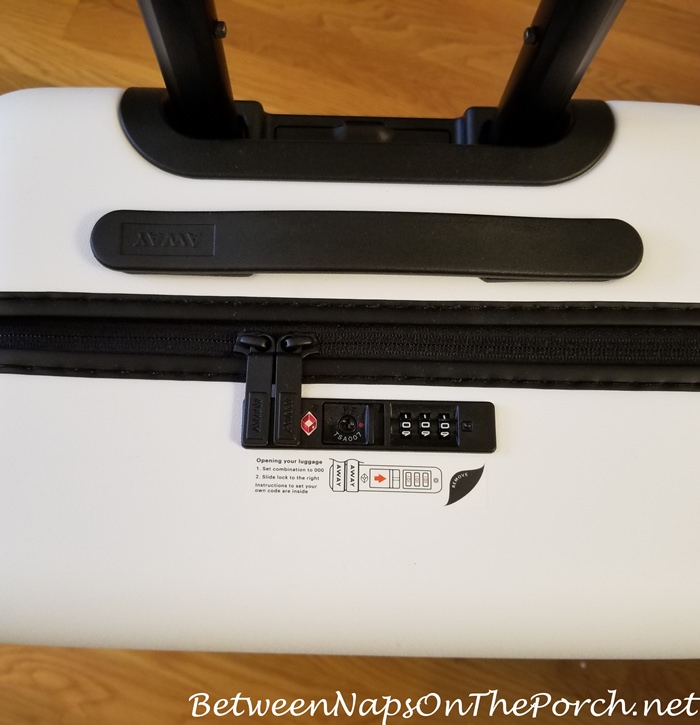 This is the tote I used recently when I traveled to see family in Ohio. I didn't have my Away suitcase then, so I'm happy to see the handles of the tote fit easily over the handle of the Away Bigger Carry-on Bag. So if I don't want to wear my personal item (tote) over my shoulder, I can let the Away suitcase carry it for me. The wheels on an Away bag glide with very little effort, definitely a great feature of this bag.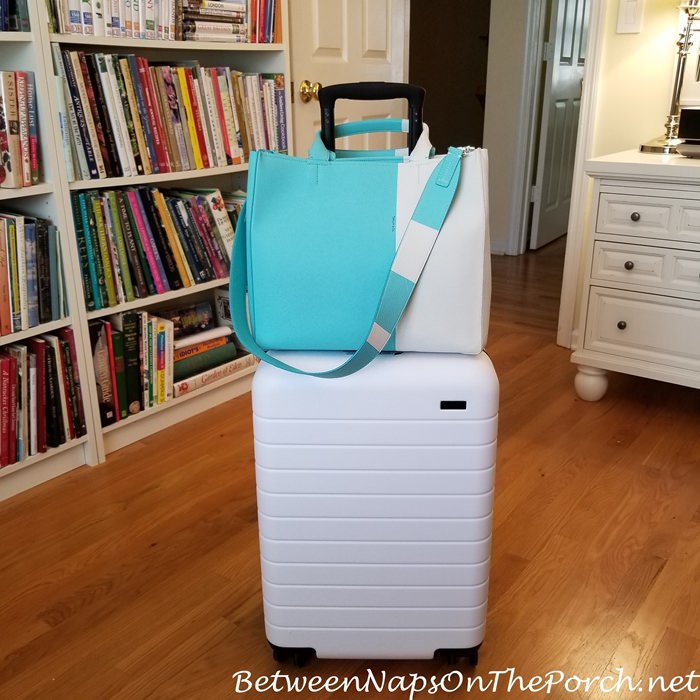 For Metamorphosis Monday, I'll be sharing what fits inside. I packed it today as if I were heading out on a week-long trip to the beach just to see what would fit. Spoiler alert: I was amazed! It actually has me toying with the idea of traveling with only a carry-on bag and not checking a bag on trips that are 10 days or less, although I worry about not having room for larger souvenirs. I guess I could always ship those back. Ummm…
You can see all the colors this bag comes in, as well as the other bags Away makes here: Away Suitcase. That link will also give you $20 off any purchase. I used their $20 off link to get a discount when I purchased my bag. If that link doesn't work, feel free to email me at [email protected] and I'll send out a referral from their website.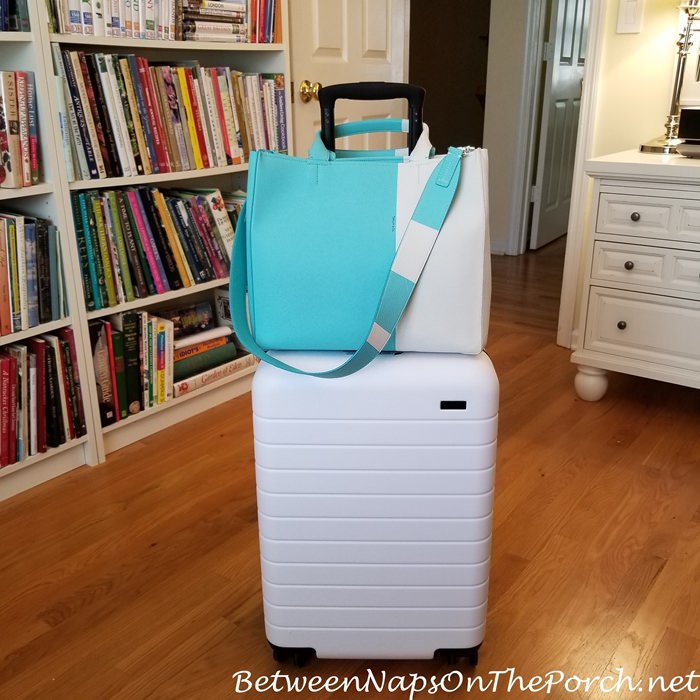 While you're checking out the luggage, take a look at Away's "The Everywhere Bag." It comes in 6 colors and I would love to buy one in pink. I think it would look so pretty sitting atop this white bag! That's one thing I love about white…looks great with any personal item/tote you take along.
See you on Monday for Metamorphosis Monday and a "What fits in this bag" reveal. 🙂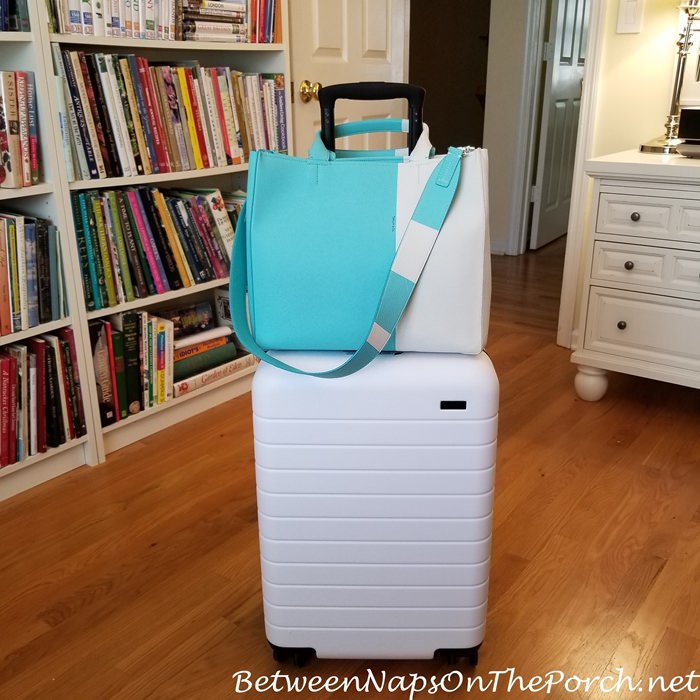 *If a post is sponsored or a product was provided at no charge, it will be stated in post. Some links may be affiliate links and as an Amazon Associate, I may earn from qualifying purchases. *