A few weeks ago I drove into Buckhead (Atlanta) to shop at The Shops Buckhead Atlanta. I was in search of Dior's Tribale earrings. (Read more about that trip here: The Shops Buckhead Atlanta.)
Well, I must be a glutton for punishment because I did it again, only this time I headed to Lenox Square to try on some shoes. I had ordered them a 1/2 size up like all the reviews online at Nordstrom had recommended, but they turned out to be a bit too big and were slipping on my heel. I reluctantly decided to drive in to Neiman Marcus, the only place I could find them in stock, so I could try them on in a smaller size for comparison.
Of all the times I could choose to start shopping in Atlanta, this is definitely not the ideal time. Traffic is never great in Atlanta, but right now it is especially heavy on what the radio traffic guys called the "alternate routes" or "surface streets." It took forever to get down West Paces Ferry and Peachtree Road over to Lenox Square. Everyone is staying off the surrounding interstates due to the I-85 bridge collapse, so the regular roads are packed.
Once I reached Lenox Square and got my shoe situation sorted, there was no way I was heading back out into the mayhem, especially since it was almost 4:30–going-home time. The craziness fun was just starting to get underway on the Atlanta streets with everyone heading home from work. So I decided to just enjoy and make an evening of it. I'd rather walk around Lenox Square and look at pretty things than sit in bumper-to-bumper traffic for two hours.
I visited a ton of stores, including Ralph Lauren.
Look what I saw inside! I was so surprised to see a beautiful setting in plaid this time of year.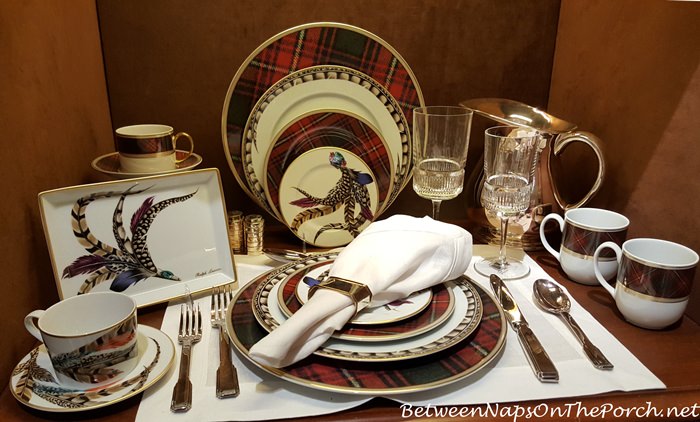 I would have expected this display closer to fall, but isn't it fabulous! Oh, how I love plaid dinnerware, and no one does plaid better than Ralph!
This Ralph Lauren store has a bit of everything, including furniture and linens.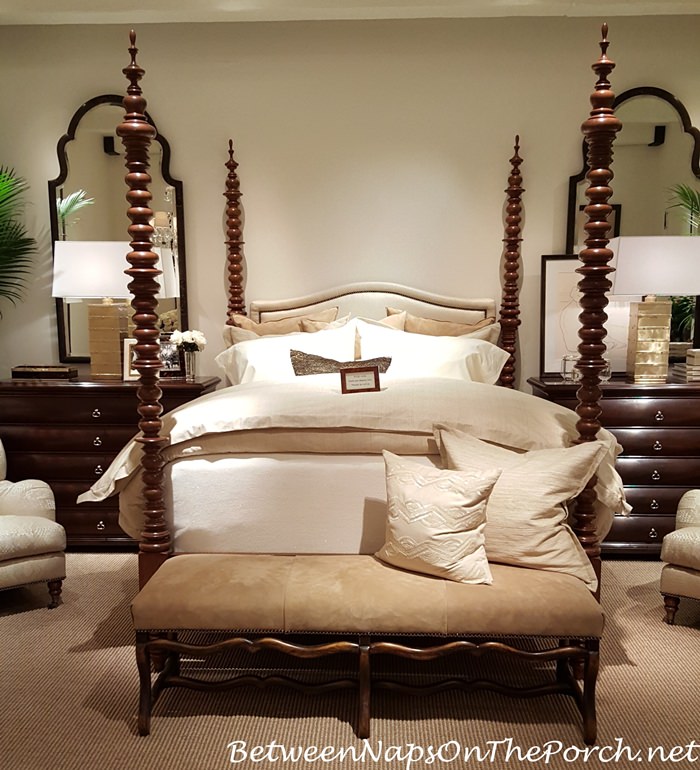 I love this spool bed!
I shopped a ton of stores, stores I didn't even know existed in Atlanta. Eventually, I worked up an appetite and grabbed a bite to eat in the Corner Bakery Cafe. I ordered one of their "half & half" meals where you get 1/2 a sandwich and a side. The sandwich I chose was their turkey, avocado and bacon. I took a little bite off the end before I thought to take a photo. lol
I chose their pasta/chicken dish as my side. The sandwich was so filling, I only ate a couple of bites of the pasta/chicken dish and ended up taking it home to have for lunch the following day.
One of the stores I visited while walking around Lenox Square was Pottery Barn. I have a PB two miles from my home, but this location is huge so I always love checking it out when I'm in Lenox Square.
They had some great summer tables on display!
I love Pottery Barn's Seashore collection for this spring-summer. I found the shell napkin rings online, but unfortunately they appear to be sold out. You can see them here: Shell Napkin Rings. I think I'll call the PB near me to see if they have any because I really like them!
The little bottles filled with sand are actually place card holders. They are so cute and are available here: Message in a Bottle Place Card Holders.
These adorable seashore plates are available here: Seashore Plates. I would love a set of those!
They had it displayed with starfish napkin rings, too. The starfish napkin rings are available here: Starfish Napkin Rings. A while back I posted a tutorial for making some that look very similar. You'll find that tutorial here: Starfish Napkin Rings.
The shell chargers used in this setting are available here: Shell Chargers. I think the pricing on those is very good.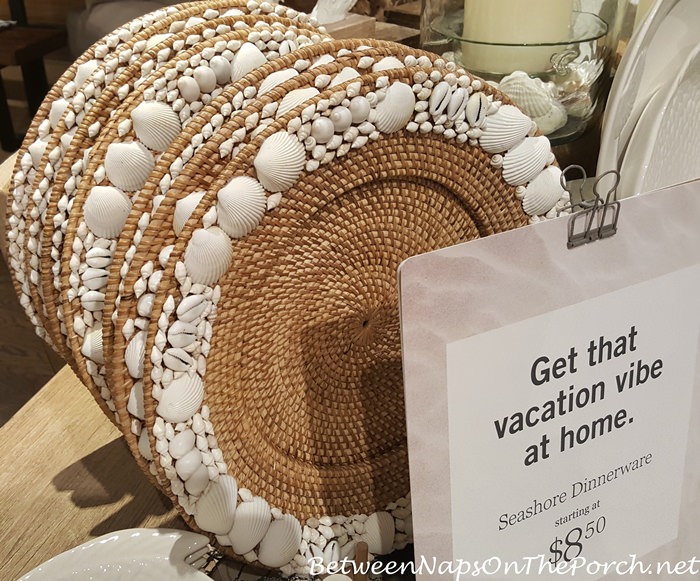 Or, if you like, make your own following this tutorial: DIY Shell Chargers . Also, check out this follow-up tutorial where I incorporated sea glass: Shell & Sea Glass Chargers. They are a tremendous amount of work, but a good project to do while watching TV or listening to a book.
Around 7:30 PM I decided it was time to brave the traffic. This was the line leaving the parking lot onto Peachtree Road. Can you see the traffic light waaaay up there?
The reason it's so awful getting out of Lenox Square is because Peachtree Road is pretty much a parking lot these days due to the I-85 bridge debacle. So even when the light turns green, there's nowhere to go. It took about 20 minutes to just get out of the parking lot. Thank goodness for Audible, that's how I keep my sanity when stuck in traffic.
The only good thing about the traffic mess in Atlanta right now is when you go shopping in any of the stores in the Buckhead area, the sales people are really happy to see you! The stores are pretty empty, so you get fast service and little to no waiting to check out. That's why there were so few people around when I shared photos recently of The Shops Buckhead Atlanta. I've read that the bridge is supposed to be repaired by sometime in June. So things should get better soon.
Update: The bridge was repaired way ahead of schedule and traffic has returned to normal, well–normal for Atlanta!
The Shirt I Had To Buy Twice 🙂
Two quick stories: A couple of weeks ago when I shopped in Dior for my Tribale earrings, the lovely sales associate who helped me had a fit over this shirt. I was wearing it that day with this orange sweater and she wanted to know where I had found it.
I told her it was currently my fave shirt and I had bought it at Talbots. She immediately Googled Talbots on her phone, saw there was one nearby and said she was going to go buy one as soon as she got off work. It's amazing how many compliments I get on this shirt every time I wear it!
Fast forward a week later and I wore it with different sweater for this Lenox Square shopping trip. When I was upstairs in the home/linen/dishware section of Ralph Lauren, another sales associate commented on how nice I looked. We had been standing talking about the traffic situation around Atlanta when out of the blue he commented how stylish and put together I looked. I'm telling ya, it's this shirt!!! I've never gotten as many compliments in my life on anything as I have on this white and black polka-dot shirt! lol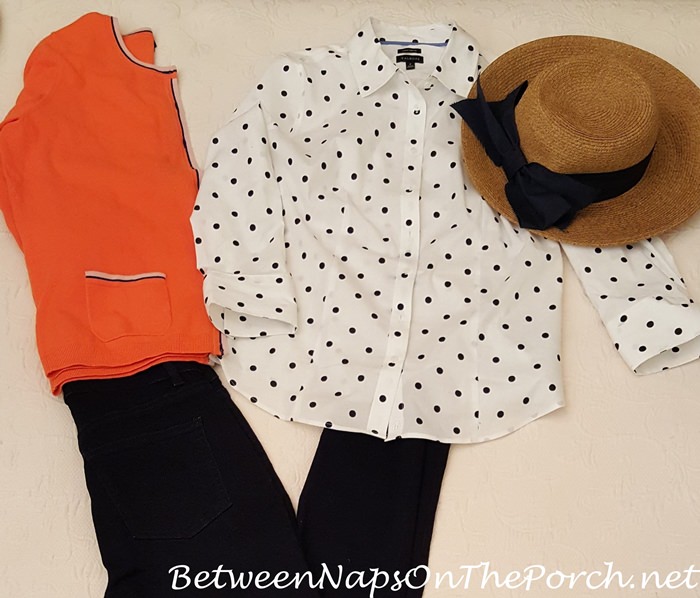 So, guess what I did! Just as I said I was going to in a previous post, I bought a second one! I love this shirt so much, I knew I'd be sad when it wears out one day, so I wanted to have a second one in reserve.
I caught the recent Talbots sale and used some of my reward points to buy it and the green sweater below. I love Talbots cardigans because they reinforce the button placket down the front so it lays properly and doesn't flop all around like you see on some cheaply-made cardigans. I just donated a cardigan purchased a few years back at Coldwater Creek that did that. It never laid properly and always looked a mess. I love the quality of Talbots clothing!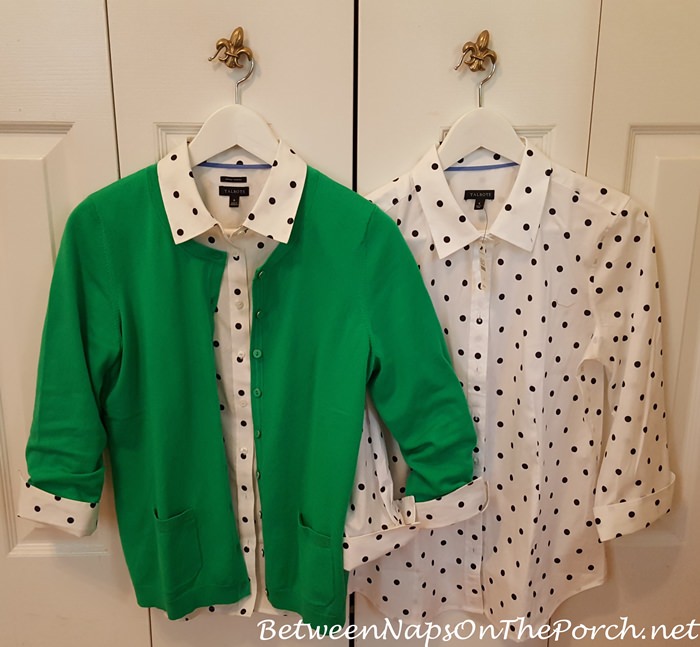 If you want this shirt, Talbots just recently restocked it after it sold out. You'll find it available once again here: Shirt. Update: It says it's out-of-stock online, but I know they have gotten more in. They just may not have them online, yet.
The cardigan is available here in a lot of different colors: Cardigan. I think I'll order another one in the Indigo Blue-navy color. I do love their cardigans!
The other item I purchased was this sweater. It was hanging on a sales rack at the back of the store. I had eyed it earlier in the season but was buying too many other things to get it then.
I love the stitching on the front. When I used to crochet, I made a throw with a similar stitch called a popcorn stitch.
I also ordered this shirt since they didn't have my size in the store. Love the colors! It's available on sale here: Shirt.
I think my spring clothing wardrobe is pretty much done. Maybe. I still need some white jeggings. Talbots didn't get any in this spring. I love their jeggings so I really wish they had!
Happy Spring Shopping, Friends!
Update:
I just ordered this "leather lotion" to clean and protect my leather handbags. It came highly recommended by someone who says this is what Chanel told her to use on her Chanel bags. Anyone else ever use this? It has excellent reviews so I'm looking forward to trying it on a few of my bags. I purchased it here: Cadillac Select Premium Leather Lotion.
*If a post is sponsored or a product was provided at no charge, it will be stated in post. Some links may be affiliate links and as an Amazon Associate, I may earn from qualifying purchases. *